Laura Turton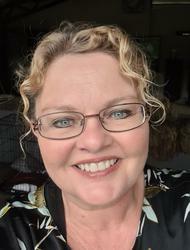 Role
Rm 8 (Yr 2)
Email
General Information
My name is Laura Turton and I love being a teacher at Pokeno School.
I am thrilled to be a Year 2 teacher supporting the children on their learning journey. I am the Whanau Leader of Ruru Whanau. You will find me in Room 8 with a welcoming smile.
I moved to Pokeno with my family in 2016 and thoroughly love being part of the Pokeno community. I am married to Shaun and have two beautiful daughters, Jessie-lee who is 26 and Jamie who is 15.
I am an experienced teacher of 23 years and I have a real passion for teaching. I believe building positive relationships and developing a fun and safe learning environment are essential in order for children achieve in their learning. I love to have fun with my students and believe laughter is an important part of the classroom.
In my spare time, I love to spend time with my family and to go for walks. I love reading and take every opportunity to read a book. I also love spending time at Waihi Beach with all of my family.
I am really looking forward to getting to know you all a little more during the year!