welcome to Room 5 Ruma rima
Term 3 Holidays begin
That's a wrap! I am in awe of the resilience that our young Tamariki show us. Thank you to all parents, caregivers and whaanau for all your support as we have navigated these term 3 waters. I hope you all have a restful holiday with your loved ones, and I really hope to be able to see you all safely soon.
Arohanui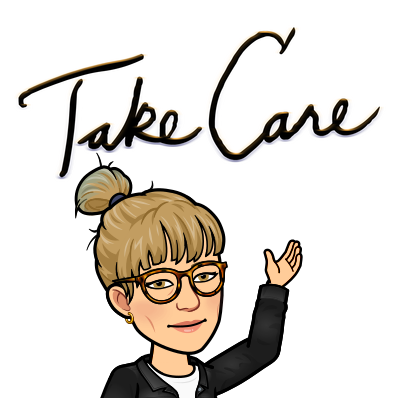 Lockdown August 2021
The home learning slideshow is available each week (Wednesday) under the 'learning from home' tab and I will also post links here for you to access if you wish to. Please do what works for you and your family as you navigate this 'tricky' time. I love seeing photos of what your tamariki have been up to so please keep them coming!
He waka eke noa. Arohahui.
Lockdown Birthdays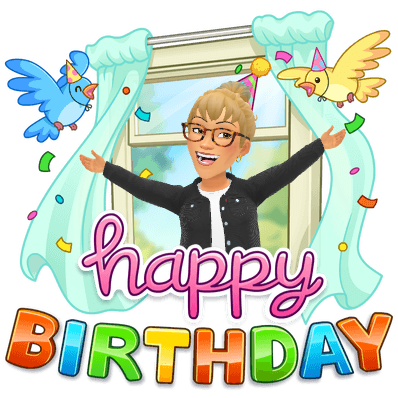 Bronson, Japji, Nathanael and Emma-Joy have all turned 6 during lockdown. Happy Birthday!!! Let's sing them all happy birthday when we are back in the classroom. I wonder in what other ways we can make them feel special?
Miss Foord will be handing out these 'Lockdown Superstar' Certificates. Please keep sending me your photos so I can see what you've been up to and I know what special message to write on your certificate :)
Phonics
For the children in Room 5, it is essential that they focus on learning their alphabet letter names and sounds. If you would like to watch these phonics videos at home with your child it will support the development of their letter and sound knowledge.
Mathematics
Here are some of our class favourite videos. We love Numberblocks on Youtube - you can find many different episodes on there :)
In Room 5 we love to learn sign language. If your child wants to please visit https://www.nzsl.nz/ and take a look!
baby photo challenge....
Check out these entries to the baby photo challenge - how gorgeous!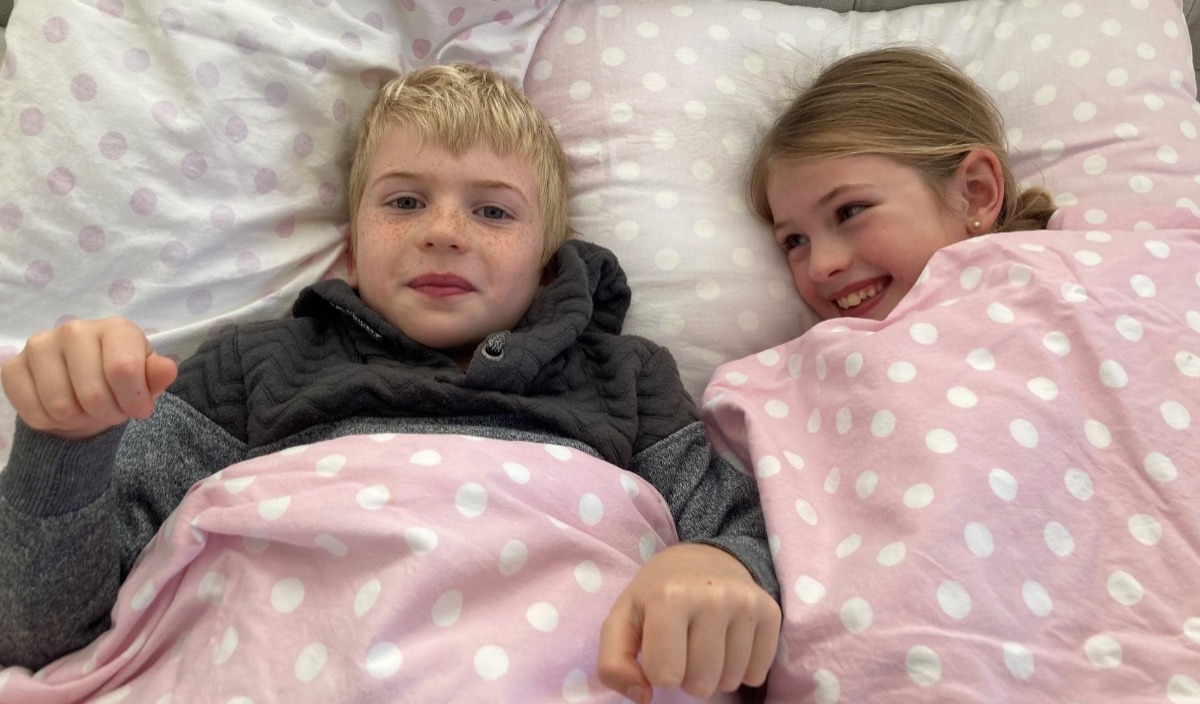 Lockdown photos - check out what we have all been up to....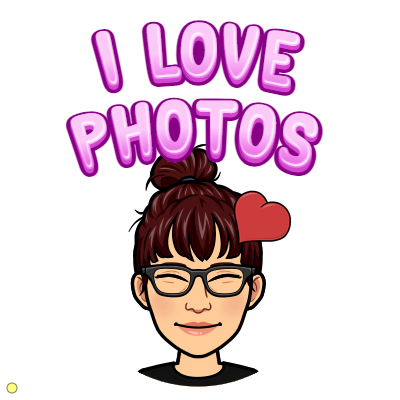 Happy Birthday Bronson! Another Ruma Tahi 6 year old. I have no doubt that you will tackle that awesome Lego with your usual perseverance and dedication.
We look forward to celebrating when we are back in the classroom. I hope it's not too far away!

Otsukimi, or Jyugoya (viewing the moon) is a traditional Japanese custom where, traditionally, thanks is given to the Gods for the Autumn harvest. In Japan, it is said that there are rabbits on the moon because shadows can be seen that look like rabbits making rice cake.
Emma and her family witnessed the beautiful full moon during lockdown. Here are photos of Emma making rice cake balls to offer to the moon. Thank you so much for sharing about your culture Emma!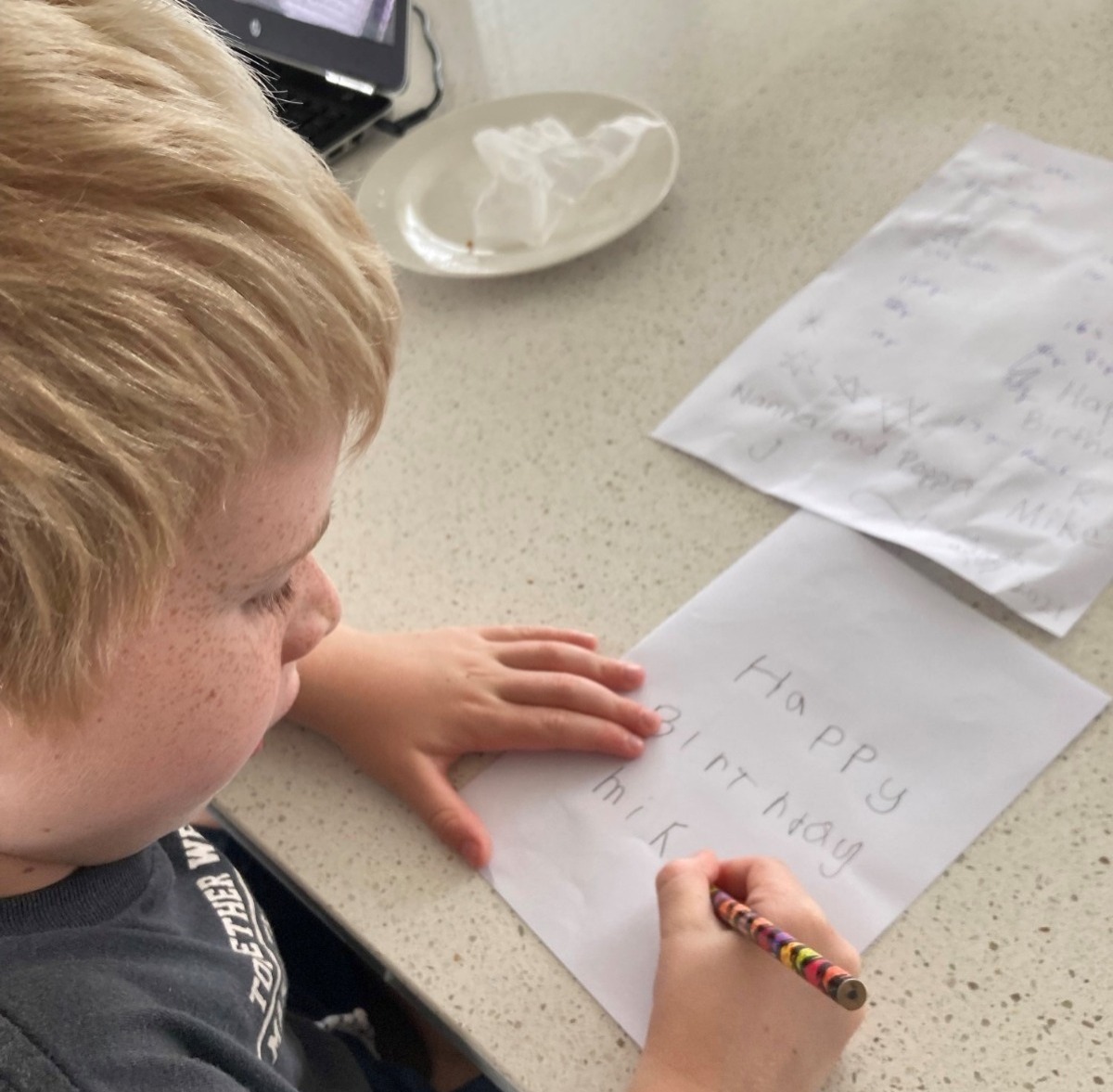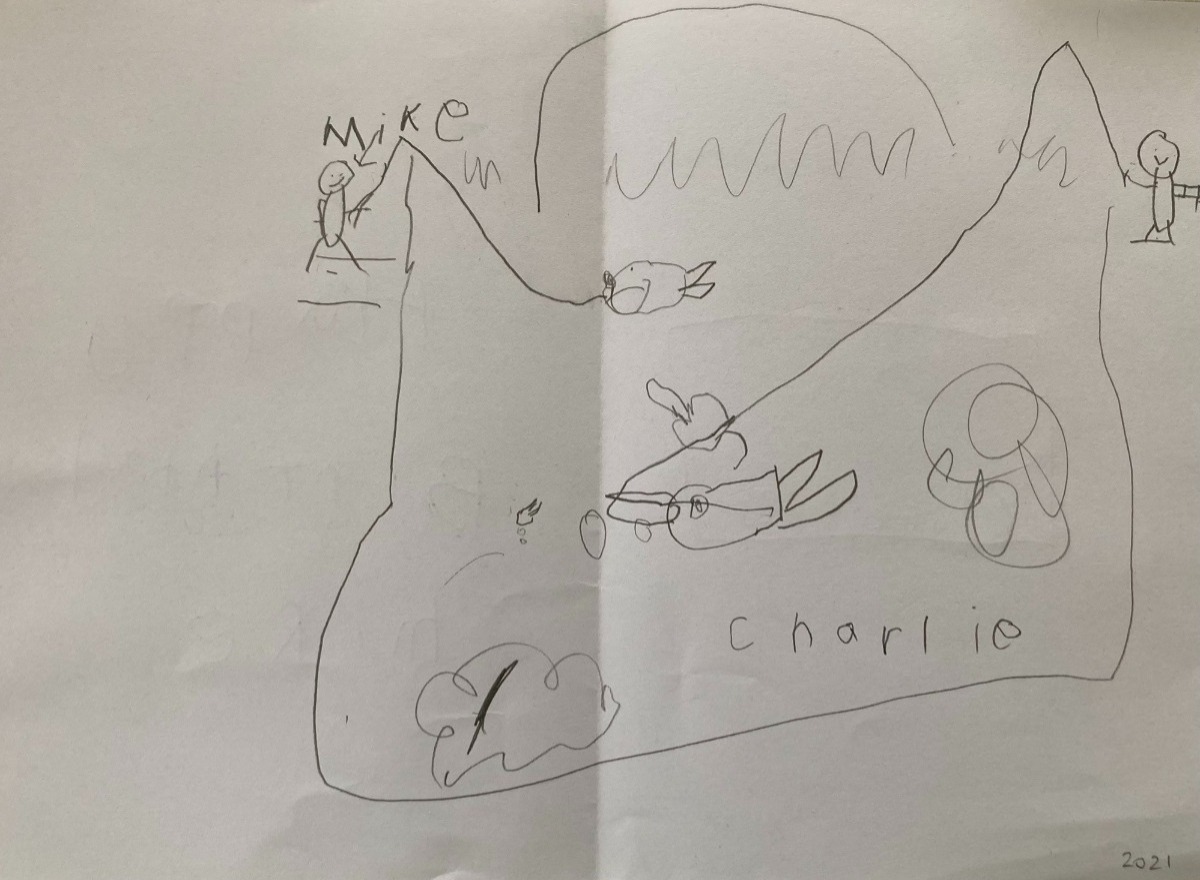 Charlie is making his favourite Uncle a card for his birthday. What a special reason to write. Well done Charlie.
Japji is learning her sight words - tino pai! Keep up the awesome work, Japji.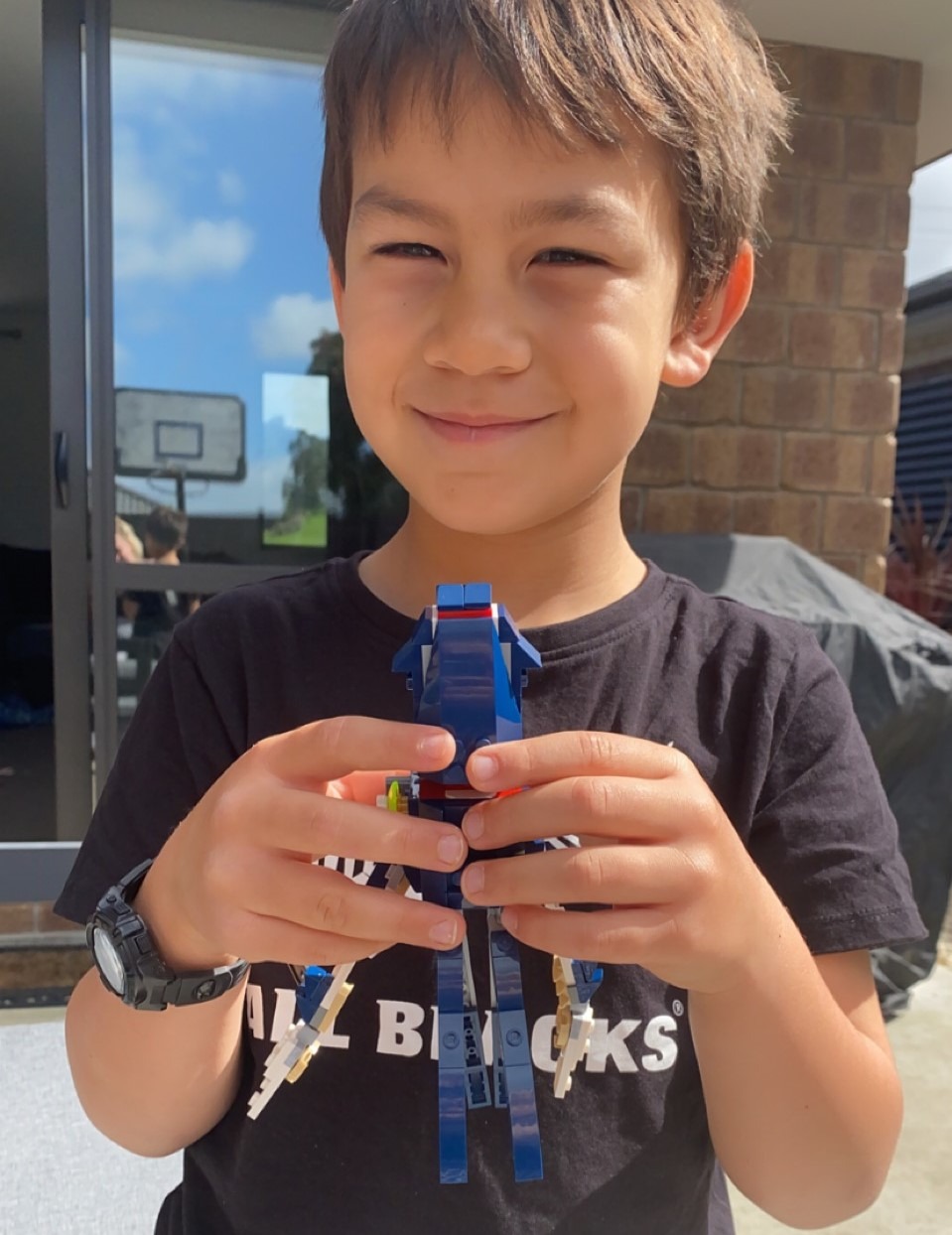 Here Bronson has created his own 'Kraken' out of Lego, clever boy! On the right do you notice something different?
Bronson has also been learning about the history of Maori Language with his Brother Kayden this week. I look forward to you sharing that with us when we are back in class Bronson!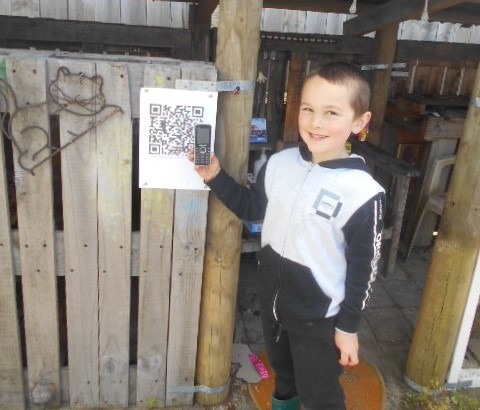 Neil made his own supermarket in the cubbyhouse - essential items only! You will notice the QR scanner for his customers to sign in. Cool idea Neil :)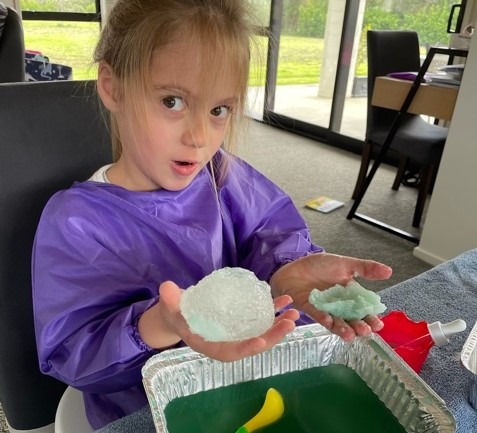 It looks like Kyla has been enjoying lots of sensory play - how fun! She has also been working on the home learning slides including these sentence builder worksheets. Tino Pai Kyla!
Neil has taken on the challenge of drawing a bee for Bee Aware month - ka pai Neil!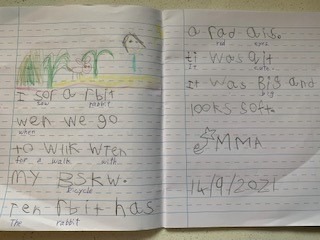 Emma has been a busy bee with her writing and sending it to me so I can give her some feedforward, just like we would do in class. Ka Rawe! I love reading these clever room 5 stories! Check out the story about Spoonville - have you all been to visit and add your spoon character?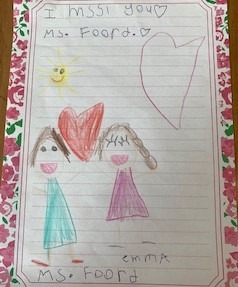 Thank you for my note, Emma! I love the beautiful picture. I miss you and all of Room 5 too and I cannot wait to get back in the classroom to see you all.
Neil and Emma took on the letter art challenge - haven't they done an awesome job!!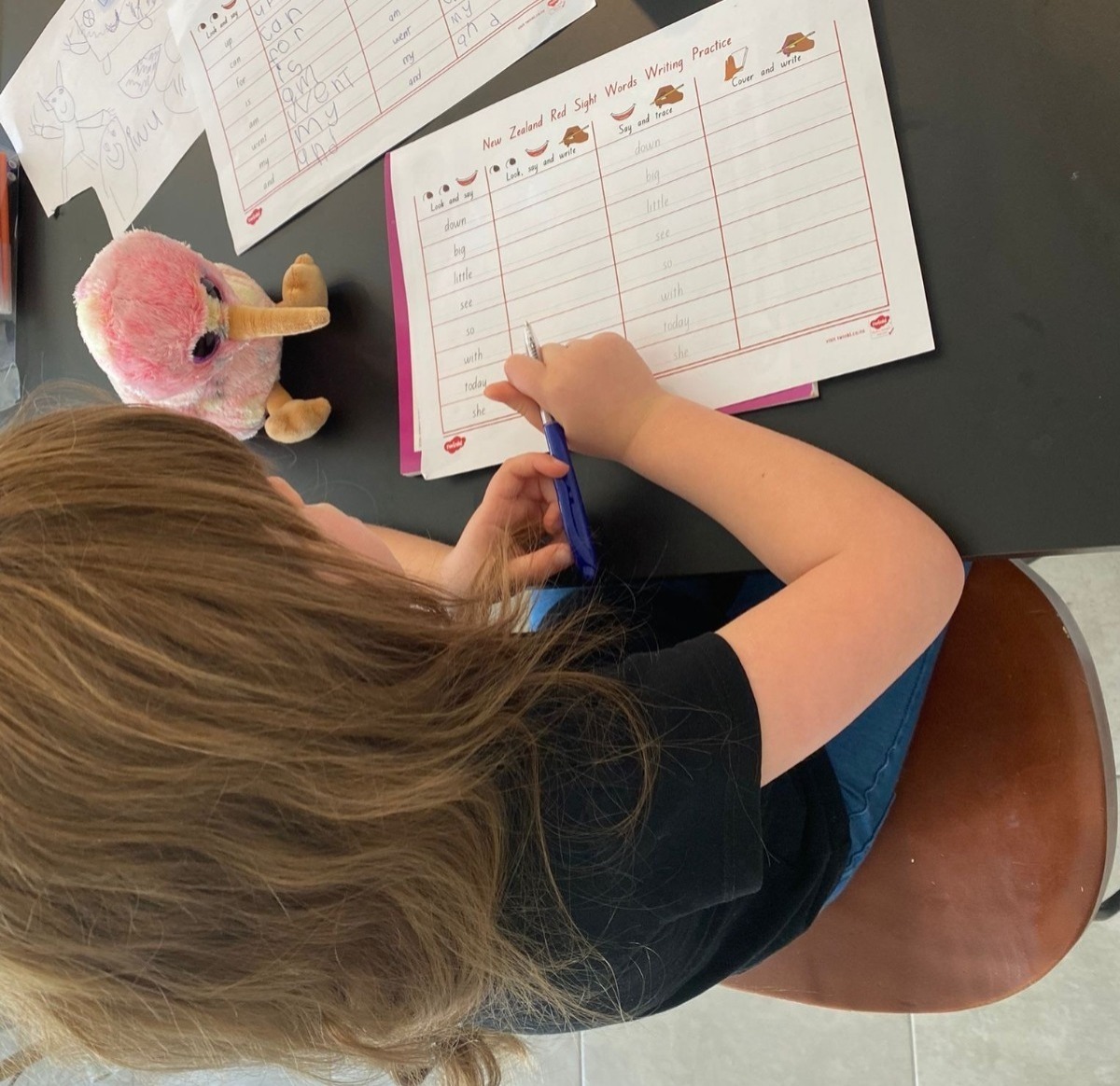 Timicke is learning her sight words - Tino pai Timicke!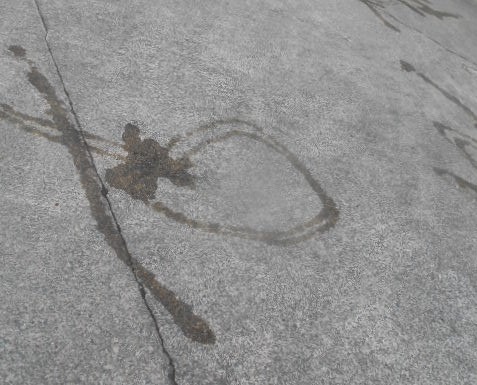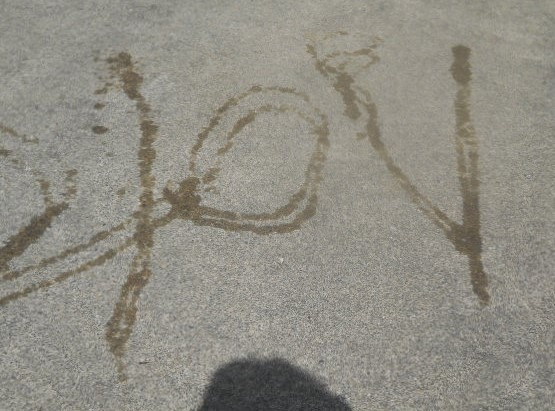 Neil used a spray bottle in the sun to write a message. It says "To Miss Foord I miss you"
I miss you too Neil and all of Room 5!!
Using a paintbrush to write or draw in the sun is also really cool fun - try and grab a picture before the sun dries it up!
Here Timicke is taking care of her wellbeing enjoying the fresh air on her bike. More cooking too! I wonder if Timicke might like to create a 'menu' for her family for the week?
More Ako being demonstrated as Kayden supports Bronson in his learning. Nice one boys! Check out that kai with the gorgeous message in the middle. Oh my beating heart!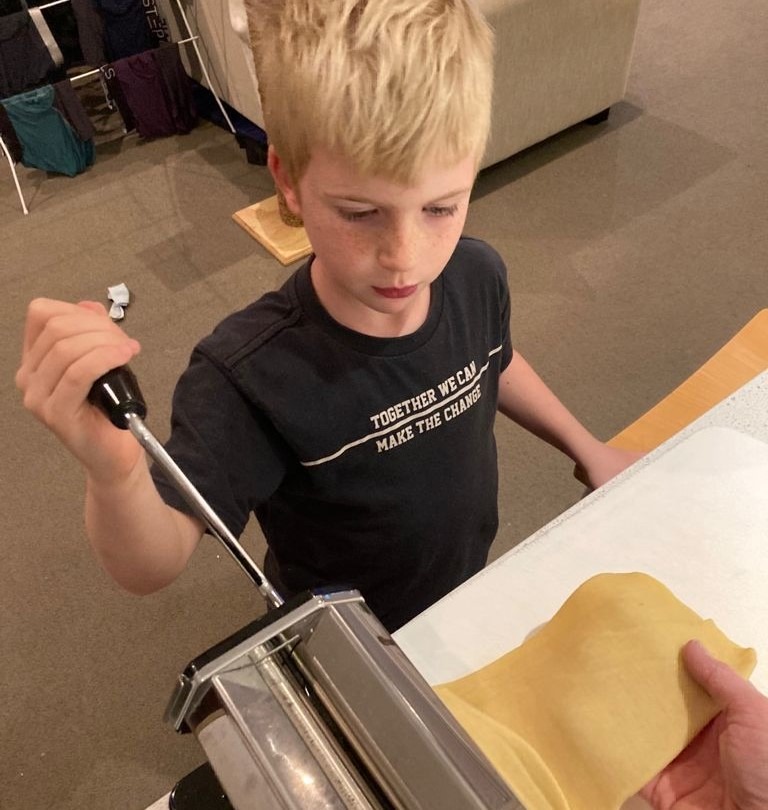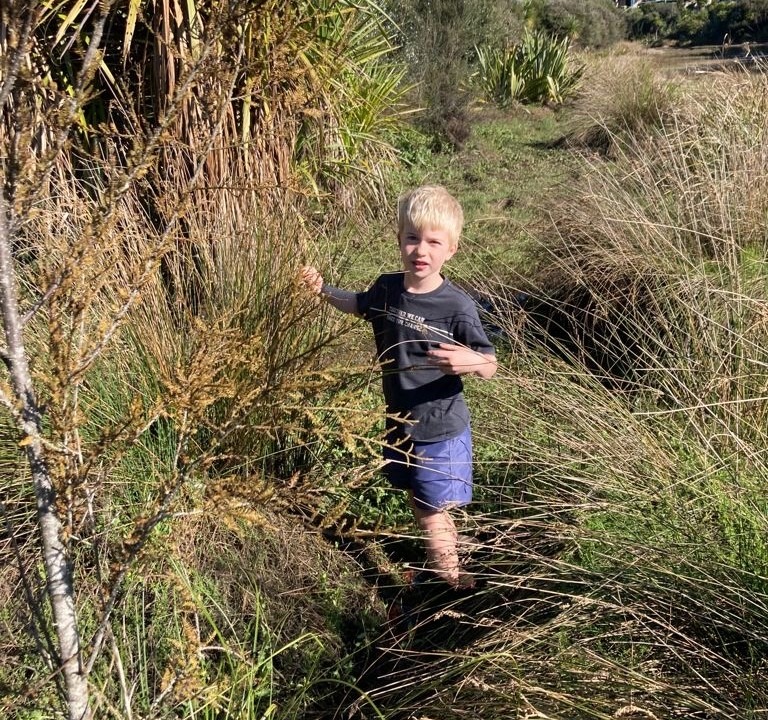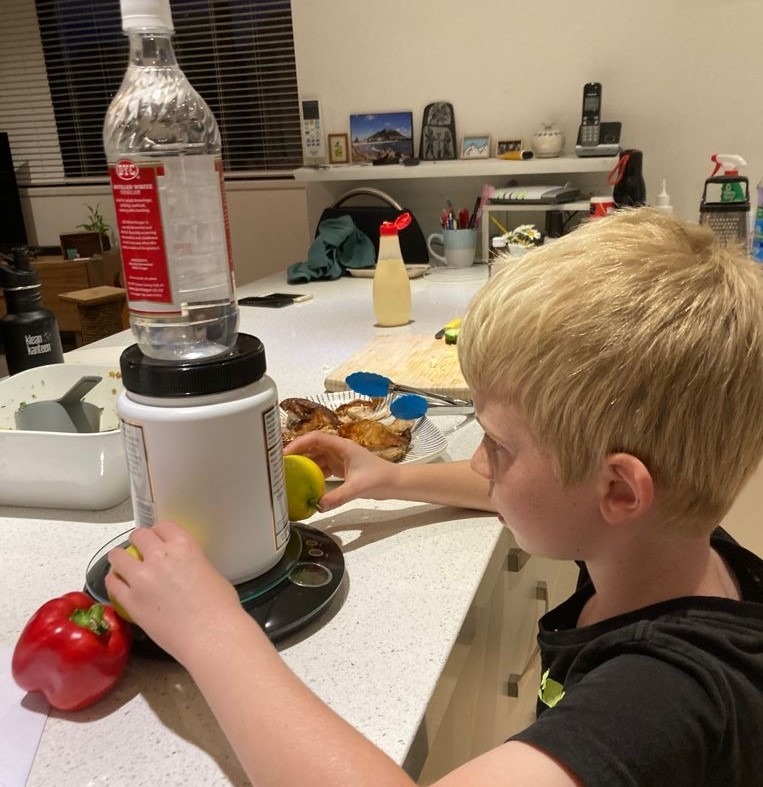 Charlie has been doing lot's of learning in his play and adventures - cooking, carpentry, the natural world, science! Charlie, you have a curious nature and I like the way you have asked yourself "I wonder which of these is the heaviest?". 'I wonder' is one of Miss Foords favourite things to hear....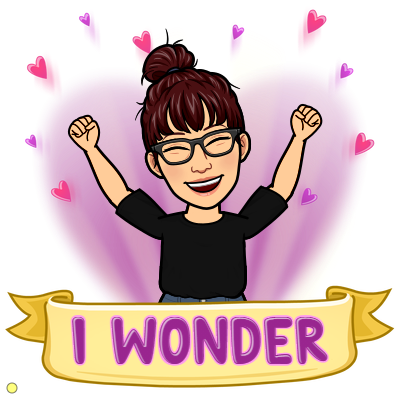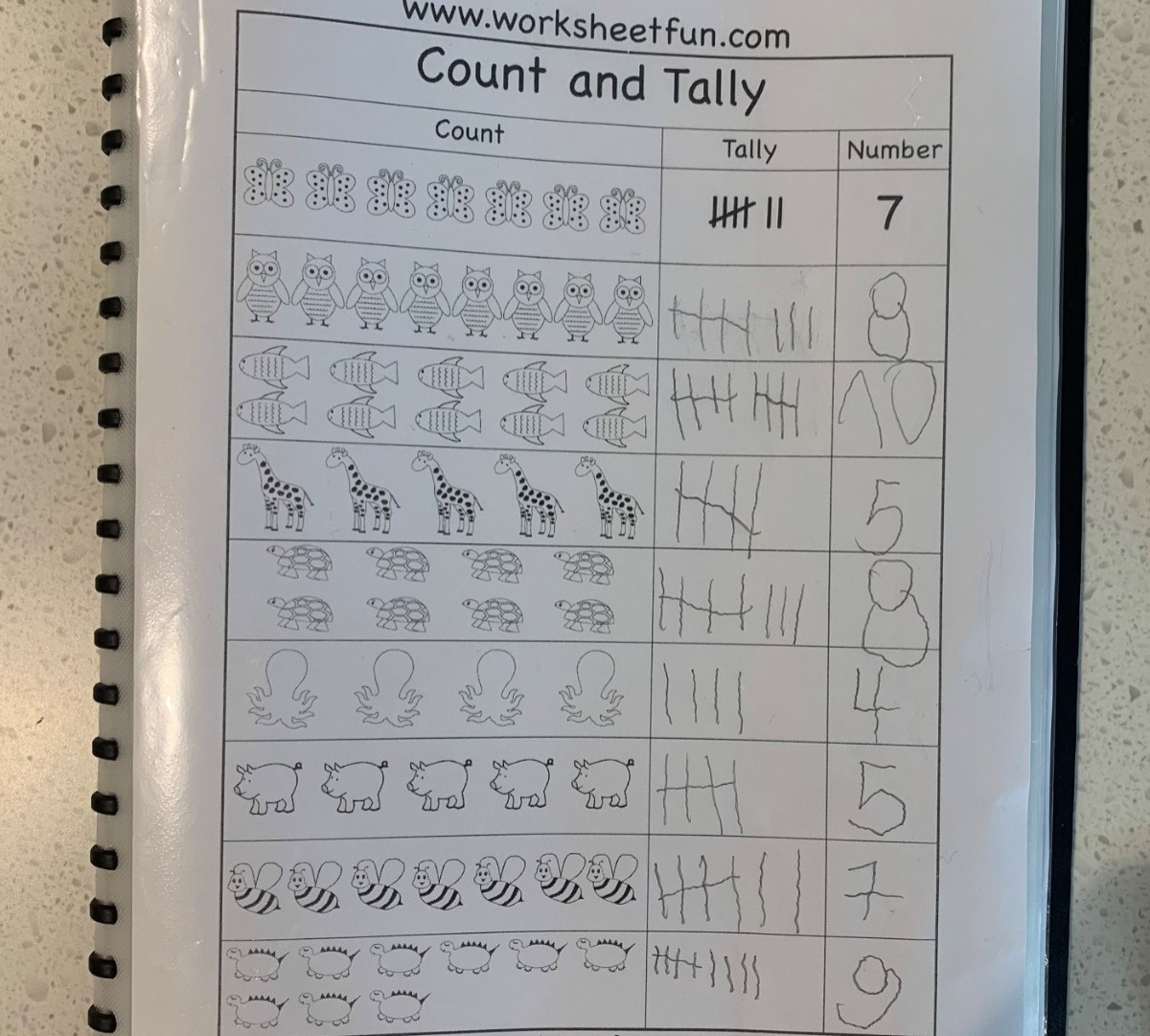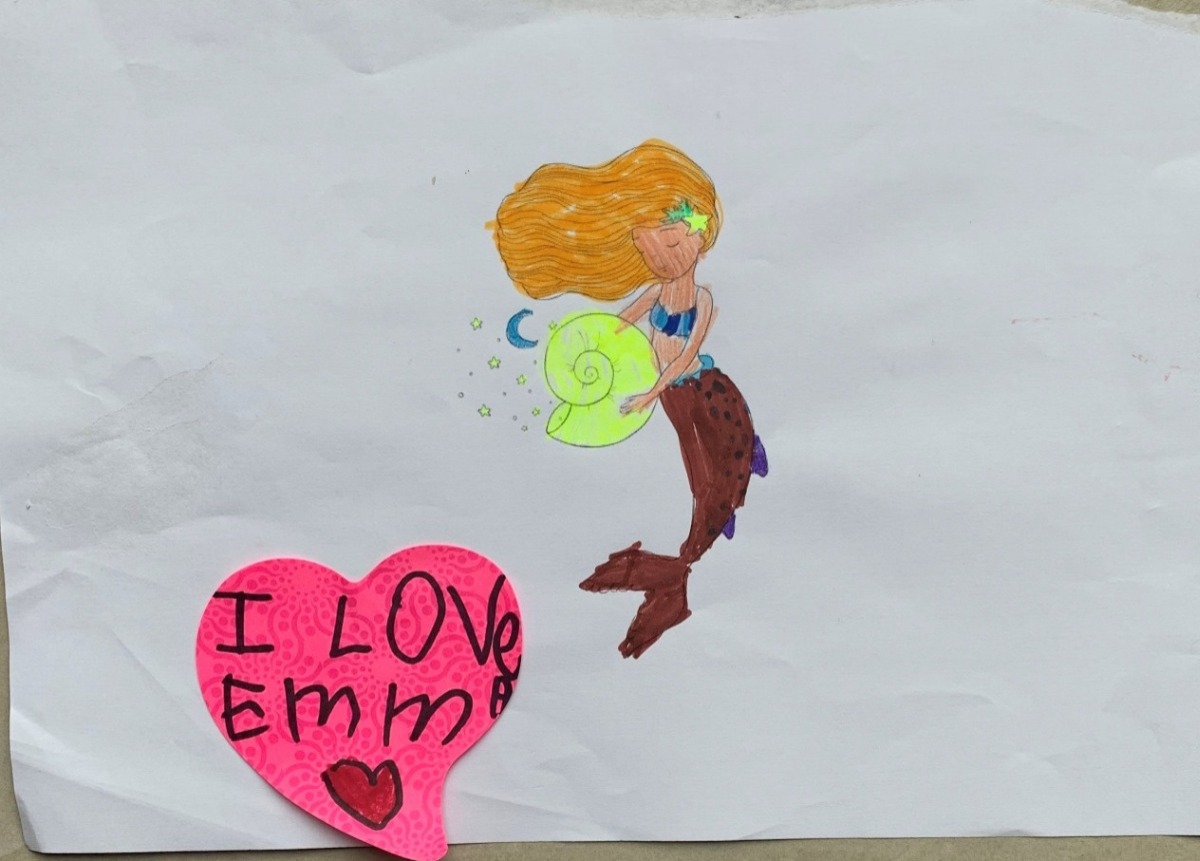 Adeline has been a super learner. What do you notice about Adeline's story "The fish has a fin. For Miss Foord"? Look at all those ....... ?? :)
Adeline loves to write messages to people and in her awesome creations - a lovely reminder that writing can come from anywhere. It is easier and more fun to write when we feel inspired and during our play.
Fantastic maths too Adeline! Remember to check out the slides if you're after any Maths worksheets to print :)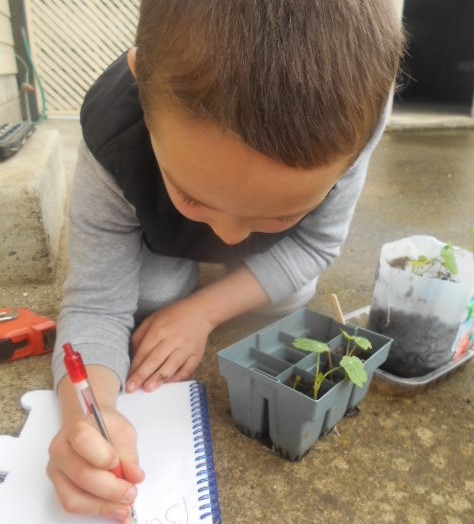 Neil is using a measuring tape to measure how much his plant has grown. Ka mau te wehi! How cool! There is learning in everything we do :)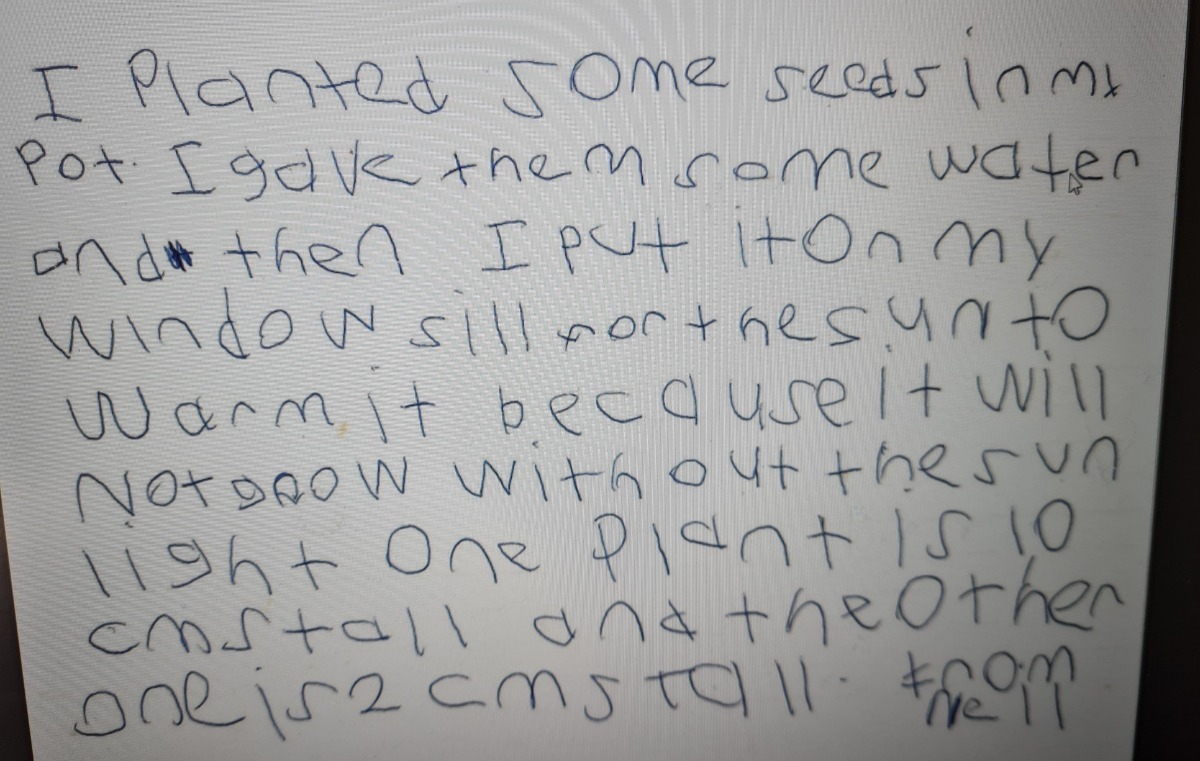 Neil did this fantastic writing about his plant where he has described in sequence what he did to help is plant grow from a seed. Well done Neil! I think our classroom plants are going to need some special care when we return to school.
Japji is demonstrating Ako showing her little sister numbers. Well done for being a teacher and a learner Japji!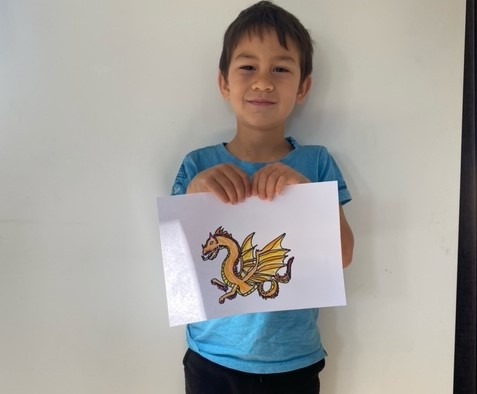 Look at Bronson's amazing artwork!!
Look at Emma's beautiful spring artwork. Can you spot what she has used? What shapes do you notice?
Vedhya has written this adorable note to her new baby brother. He doesn't have a name yet. We look forward to meeting him when we can!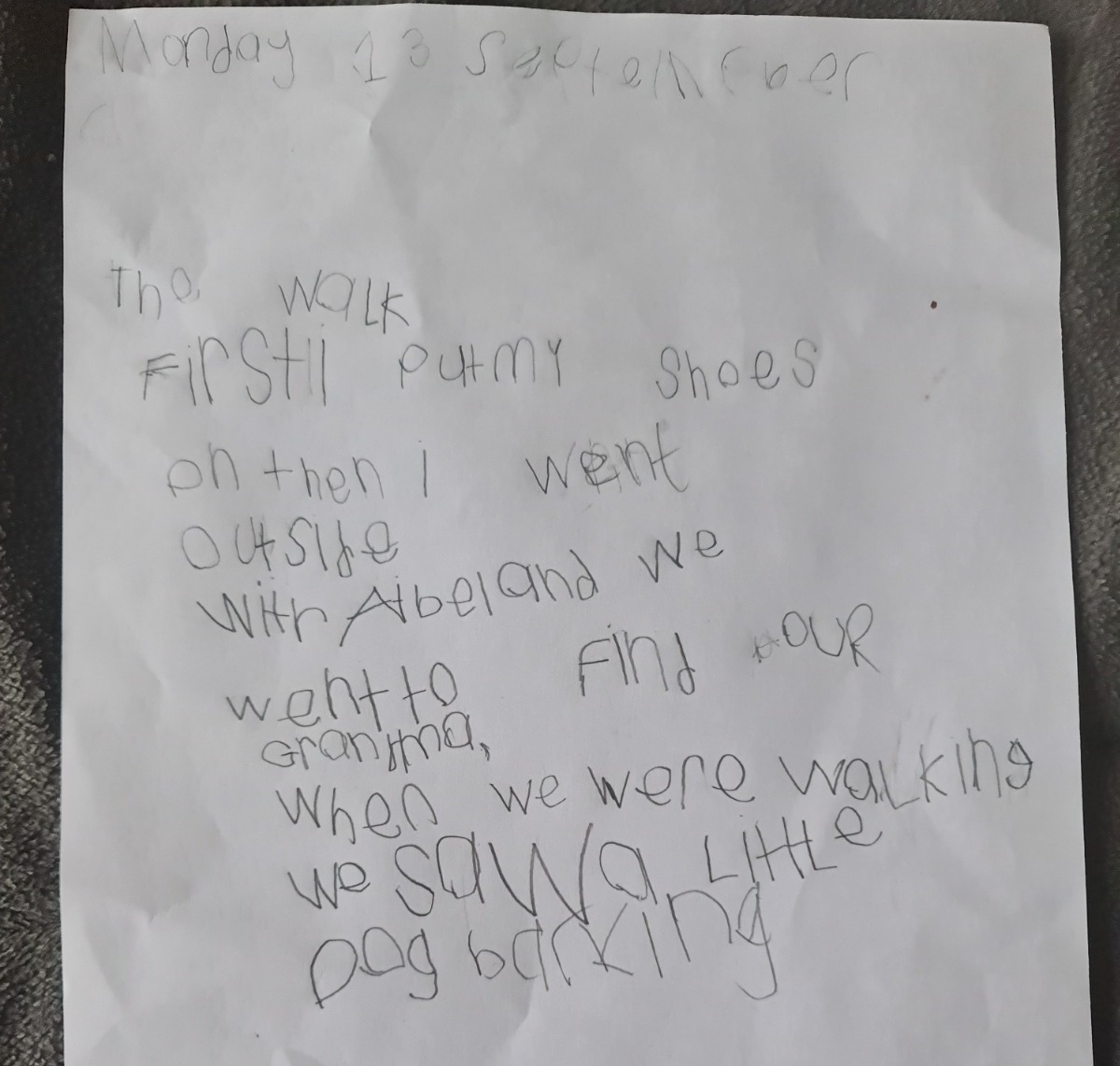 Here is a wonderful piece of writing from Nathanael where he has described his walk in detail. Well done Nathanael!! I wonderful what the weather was like on your walk?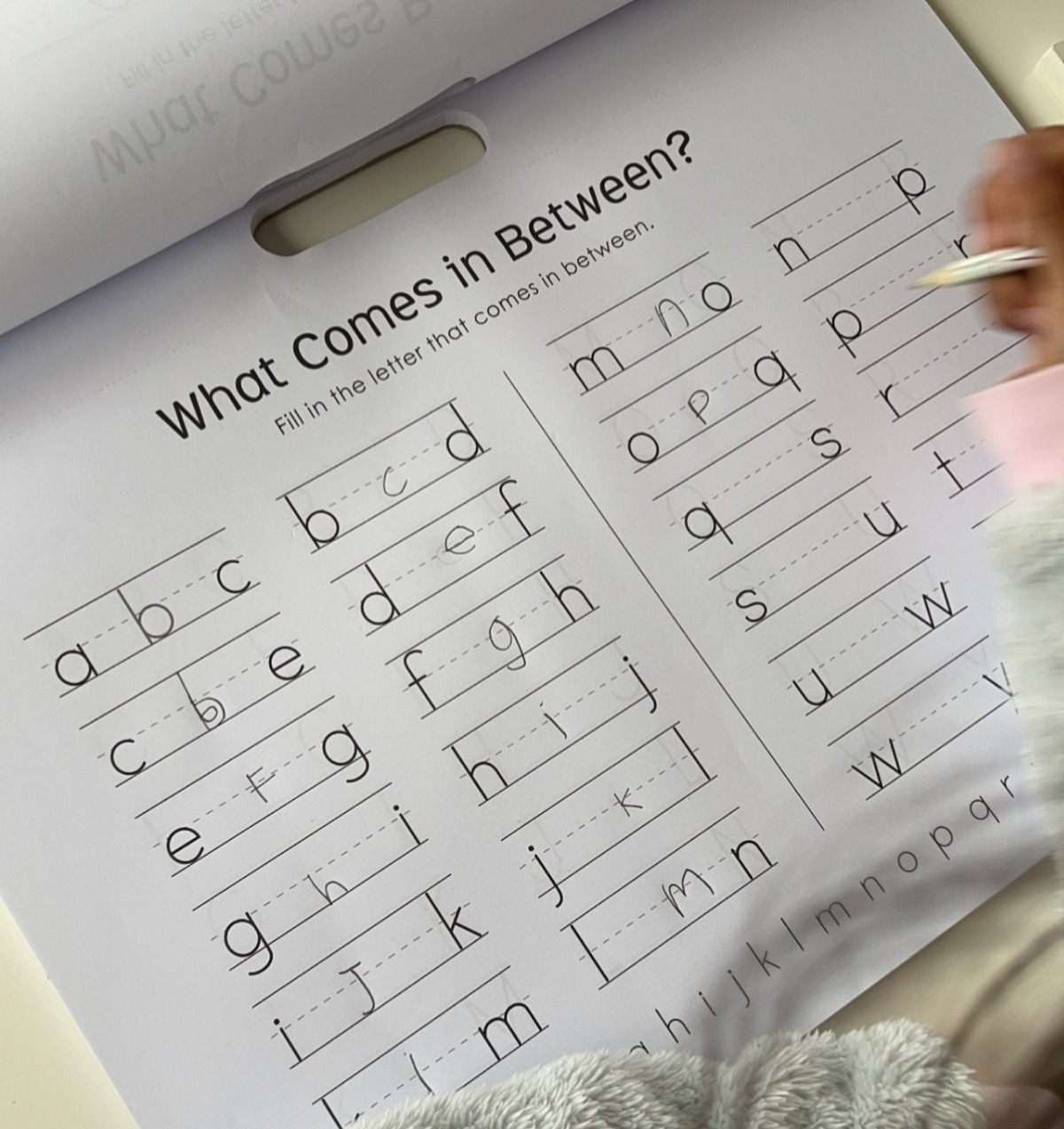 Jessie is working on her alphabet handwriting, well done Jessie!
Neil is using play dough to practice his letters and his name. Fantastic!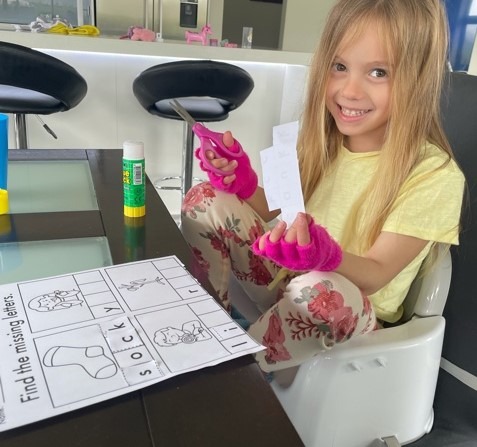 Kyla is working on her digraph (ck) worksheet here! Well done Kyla. I bet you coloured it in beautifully too.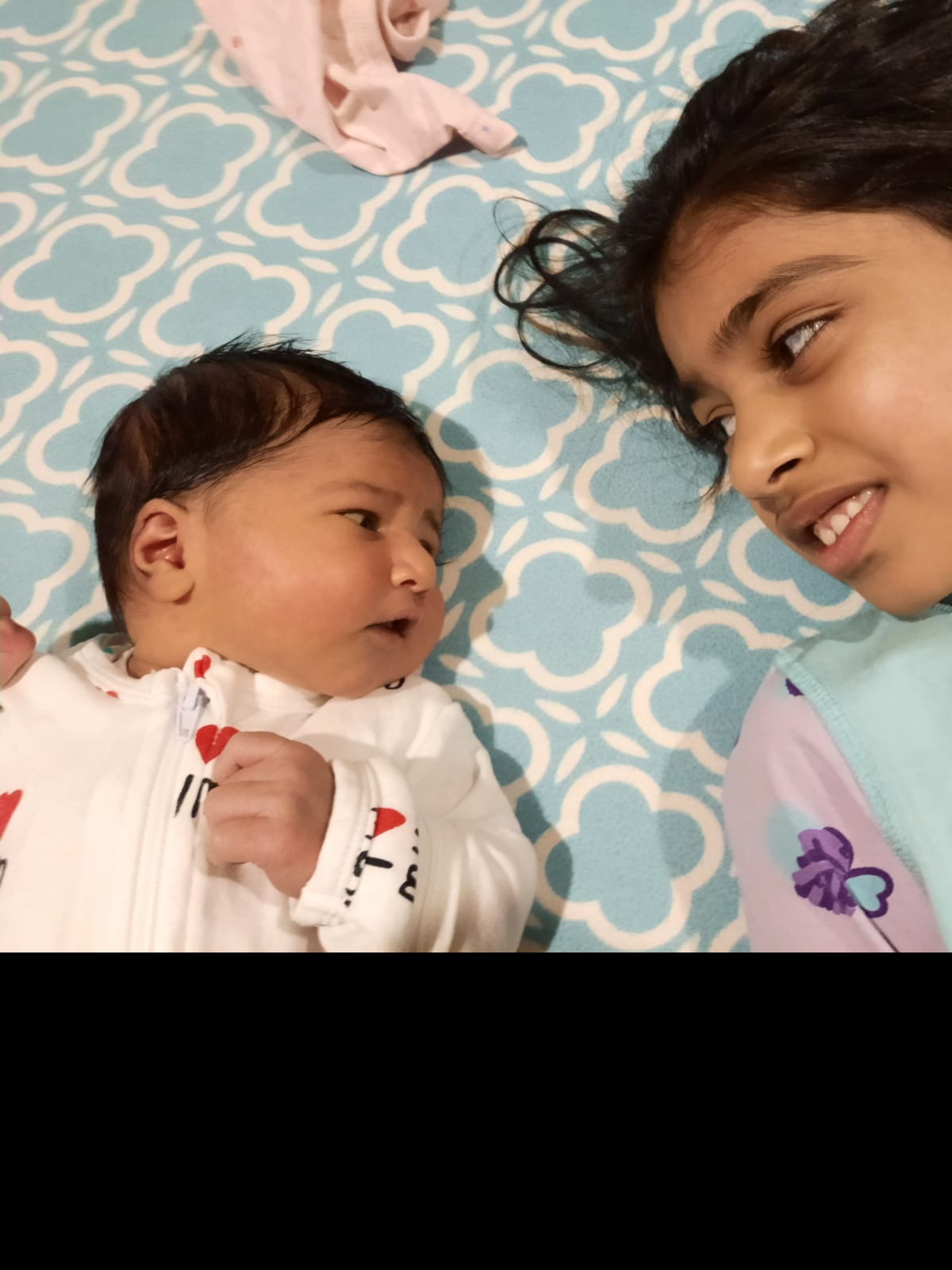 Vedhya was gifted the most precious lockdown present - a new baby brother. Isn't he adorable?! Congratulations Vedhya and family!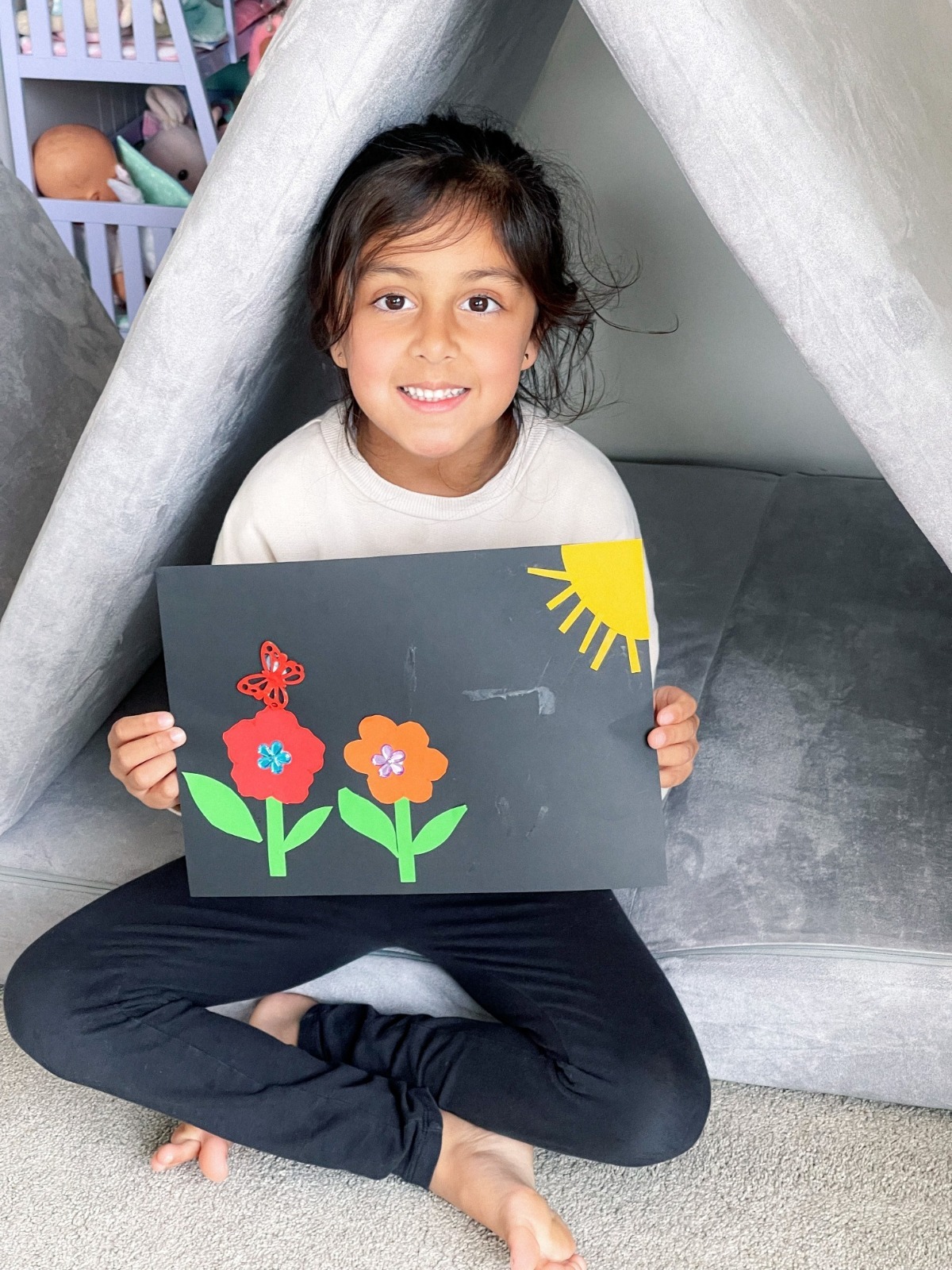 Here is Jessie's spring art. Isn't it beautiful?!! Spring is Miss Foord's favourite season - with the beautiful blooms and the bees and butterflies that come to feed.
Emma has made her own photo frame. Look at that face!! She is so proud of herself.
Look at this fantastic writing from Timicke. She has written about and described her new friend. He is a guinea pig named Ragnar. He is soft and friendly and loves cuddles! Ka pai Timicke!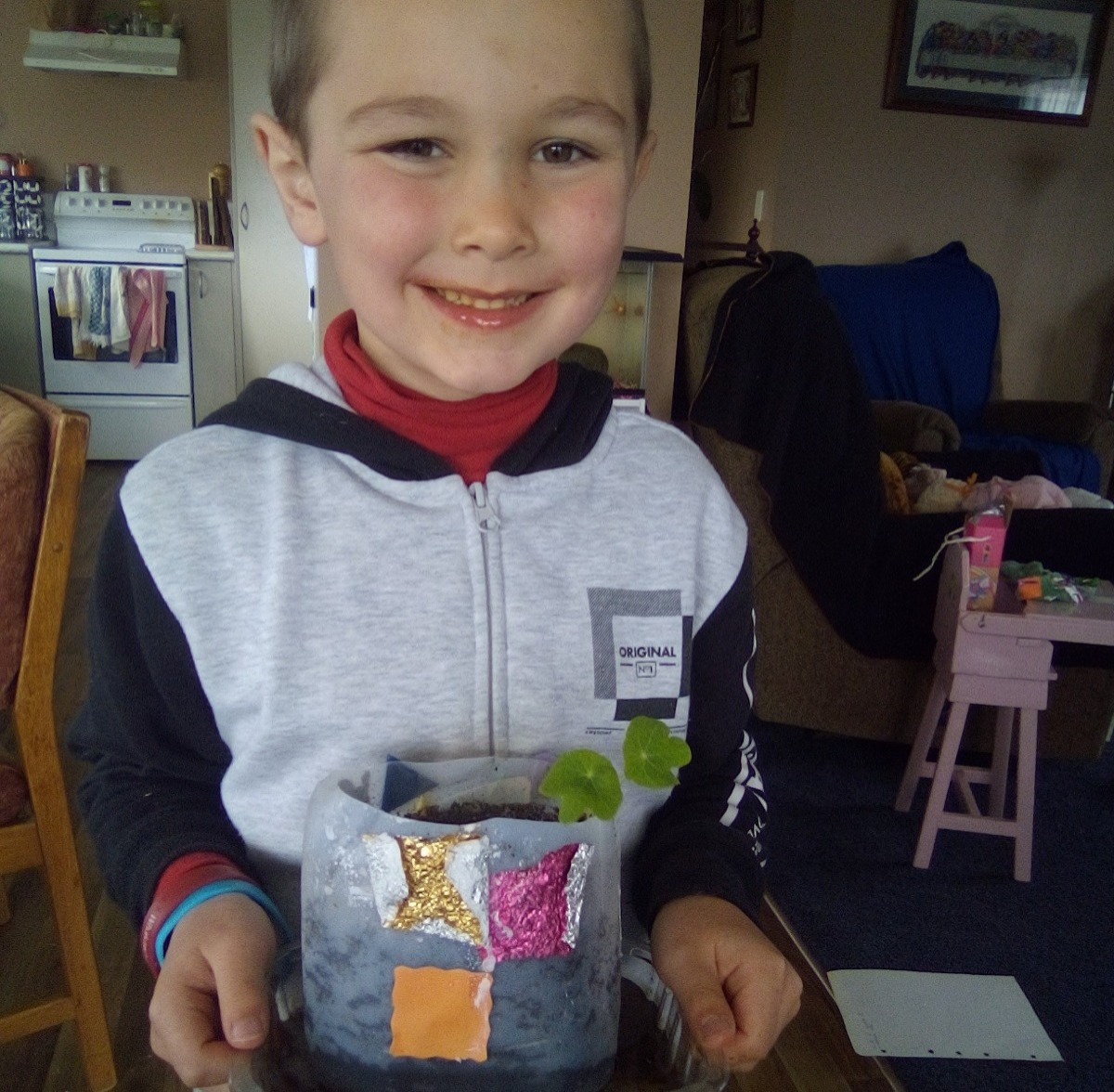 Room 5 you might remember Neil planted this Nasturtium a short while ago. Today he sent me a message:
Look miss foord my plant is growing!! From Neil
Hi Neil It is!
I am so happy to hear from you. Well done. You are a superstar carer. Please keep sending photos. Can you write to me and describe what you have been doing to help your plant grow?
Take care Miss Foord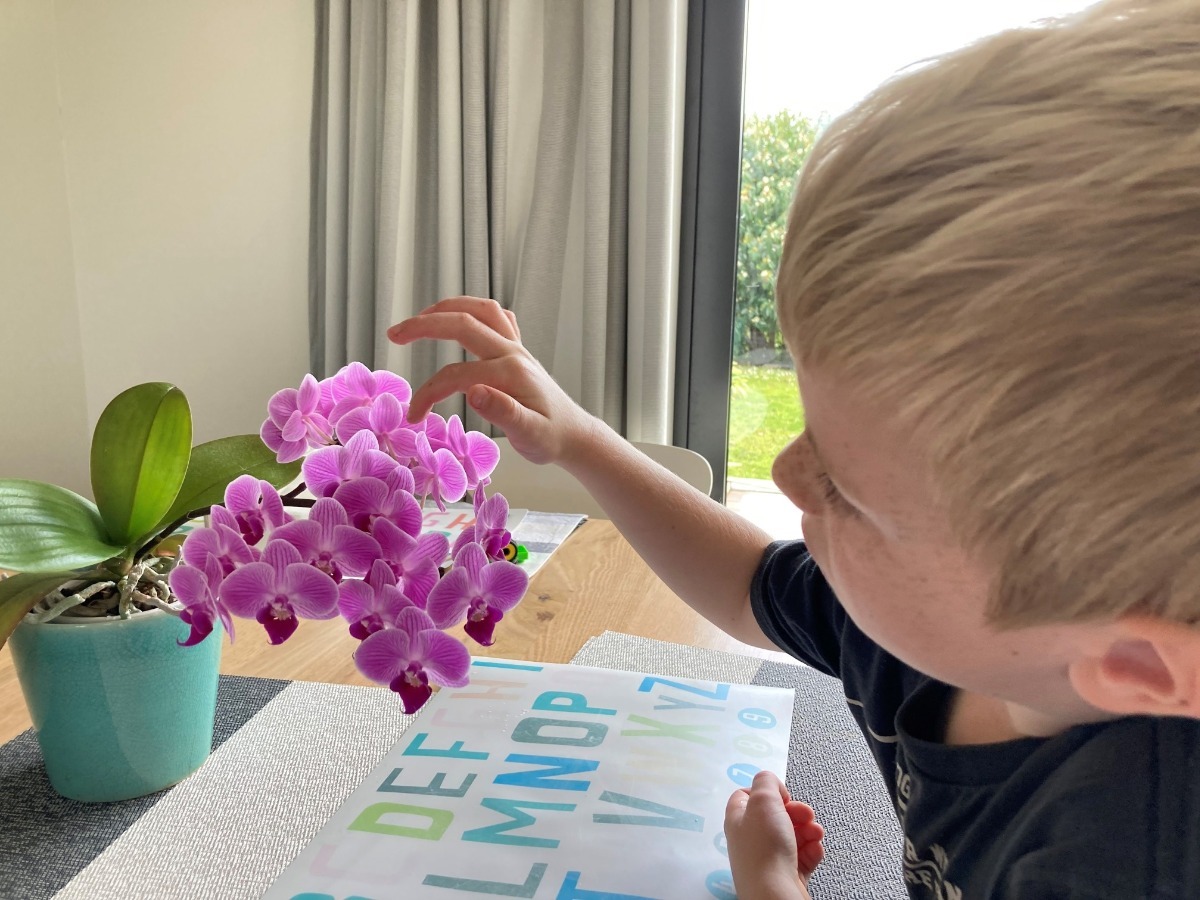 I received a special email from Charlie today! This is what I read and my reply.
Hi Miss Foord
Today I did some dinosaur addition and then some counting. I counted 21 flowers on this orchid plant! How are you? From Charlie

Hi Charlie, It is so lovely to hear from you. You have made my day. What wonderful counting! I am so proud of you. I wonder if you can count how many flowers are on the plant and how many petals are on each flower.
Could you work out a multiplication problem? It might look something like this...
(The number of flowers) by (the number of petals on each flower) = (the total number of petals on the plant).
You might need to ask someone in your family for a little help. I asked my daughter to help me too!! :)
Take good care
Miss Foord

That is a big worm Charlie! Big worm, slippery worm, slimy worm, dirty worm, long worm, brown worm..... I wonder what else we could say about it?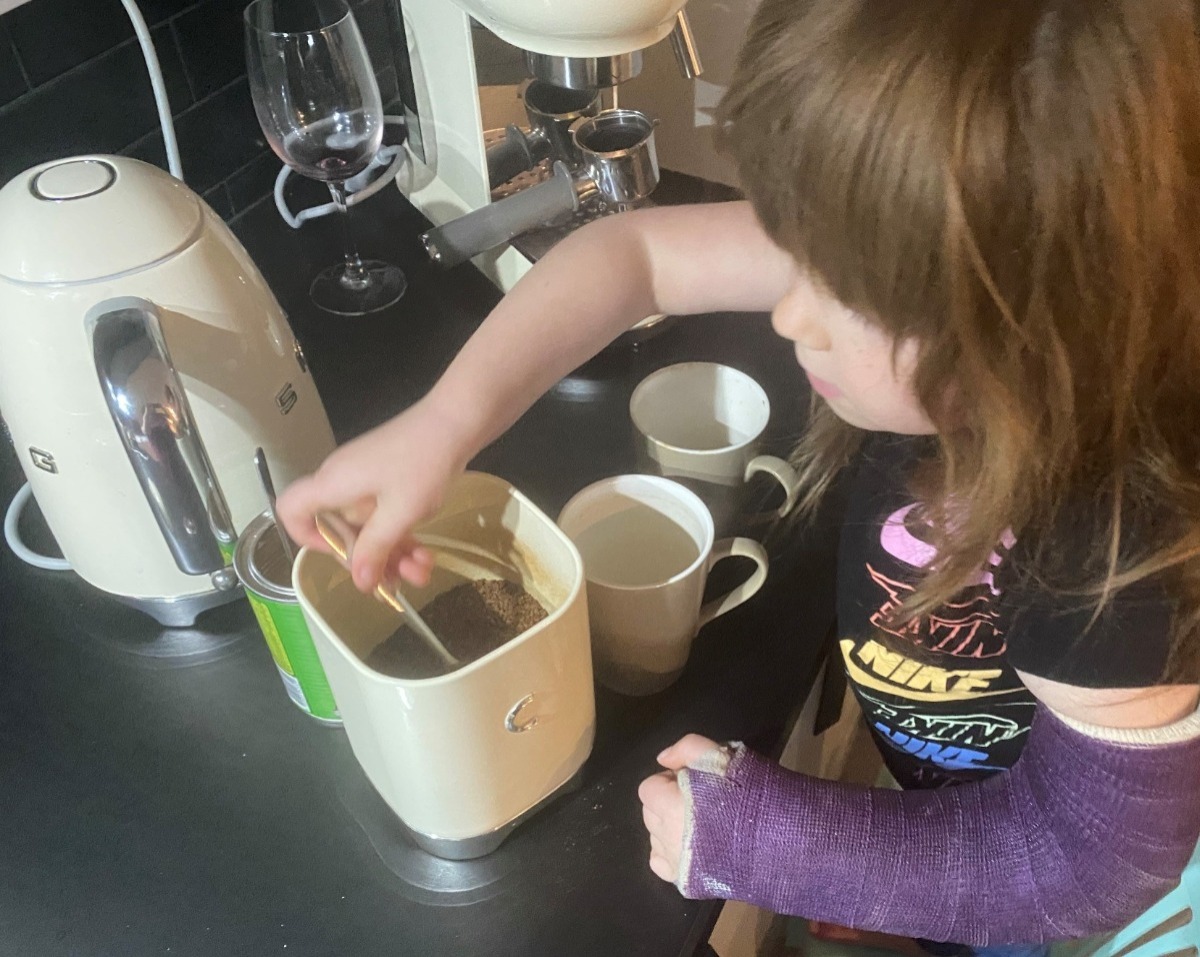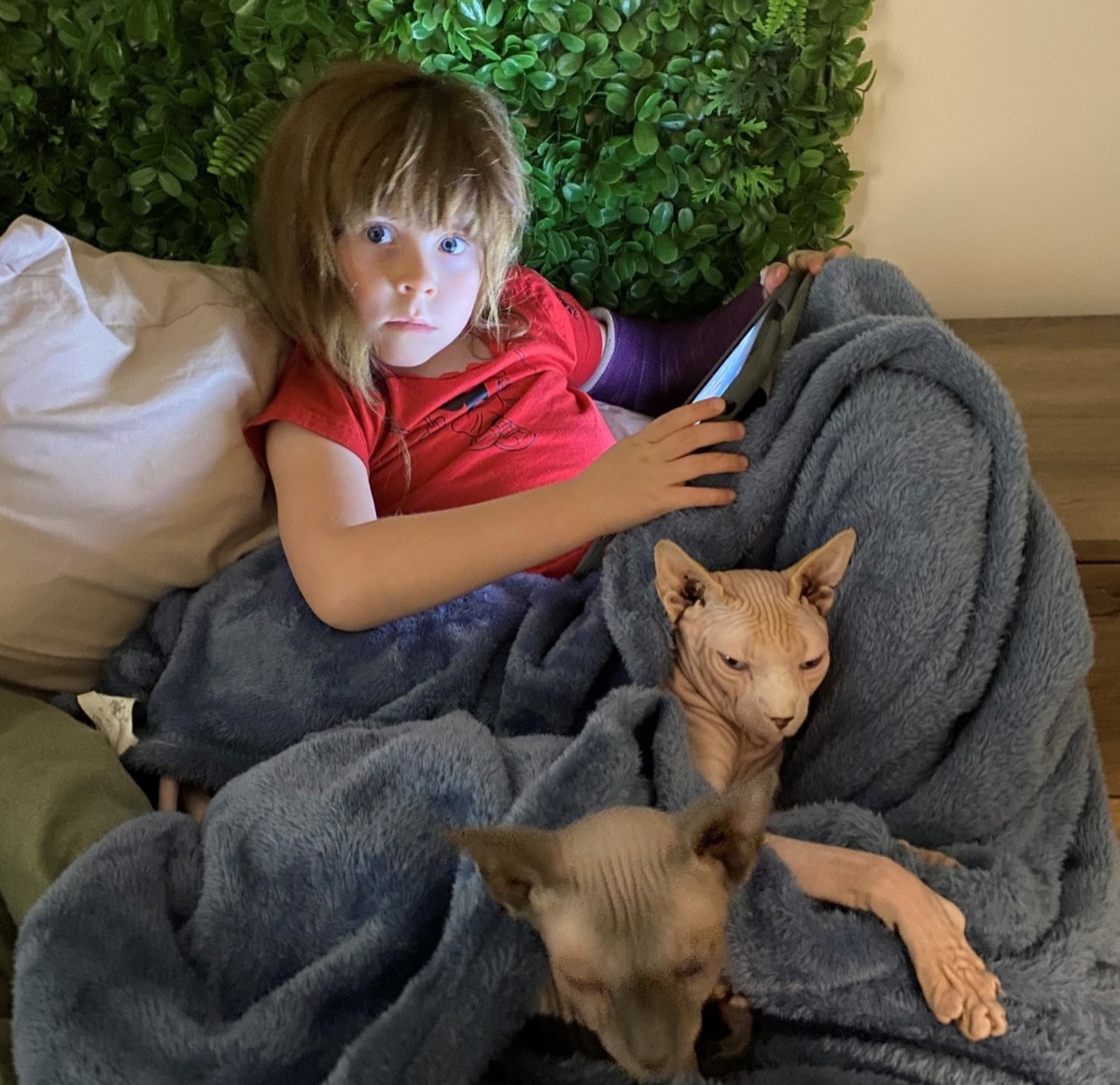 Timicke making coffee for her parents (lucky parents!), riding her bike in the glorious sun, and reading to her cats. They look like they are really enjoying that special time with you Timicke.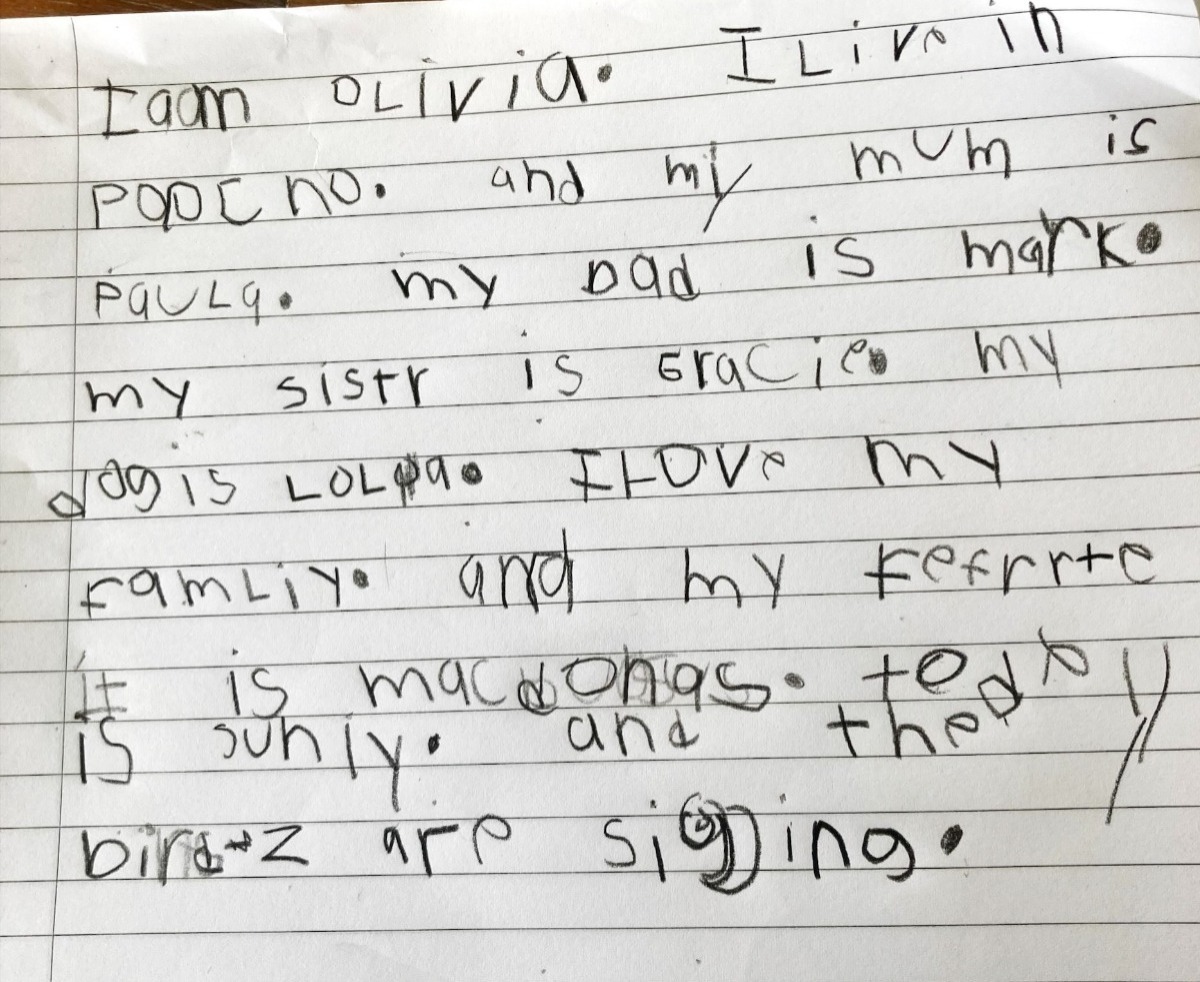 More superb writing from Olivia. Your sounds are fantastic, well done!
I sure am a lucky teacher to have all this wonderful writing to read. Thanks Ruma tahi!
If anyone would like to email me a sentence or two I would love to hear what you've been up to as well and I will write you back.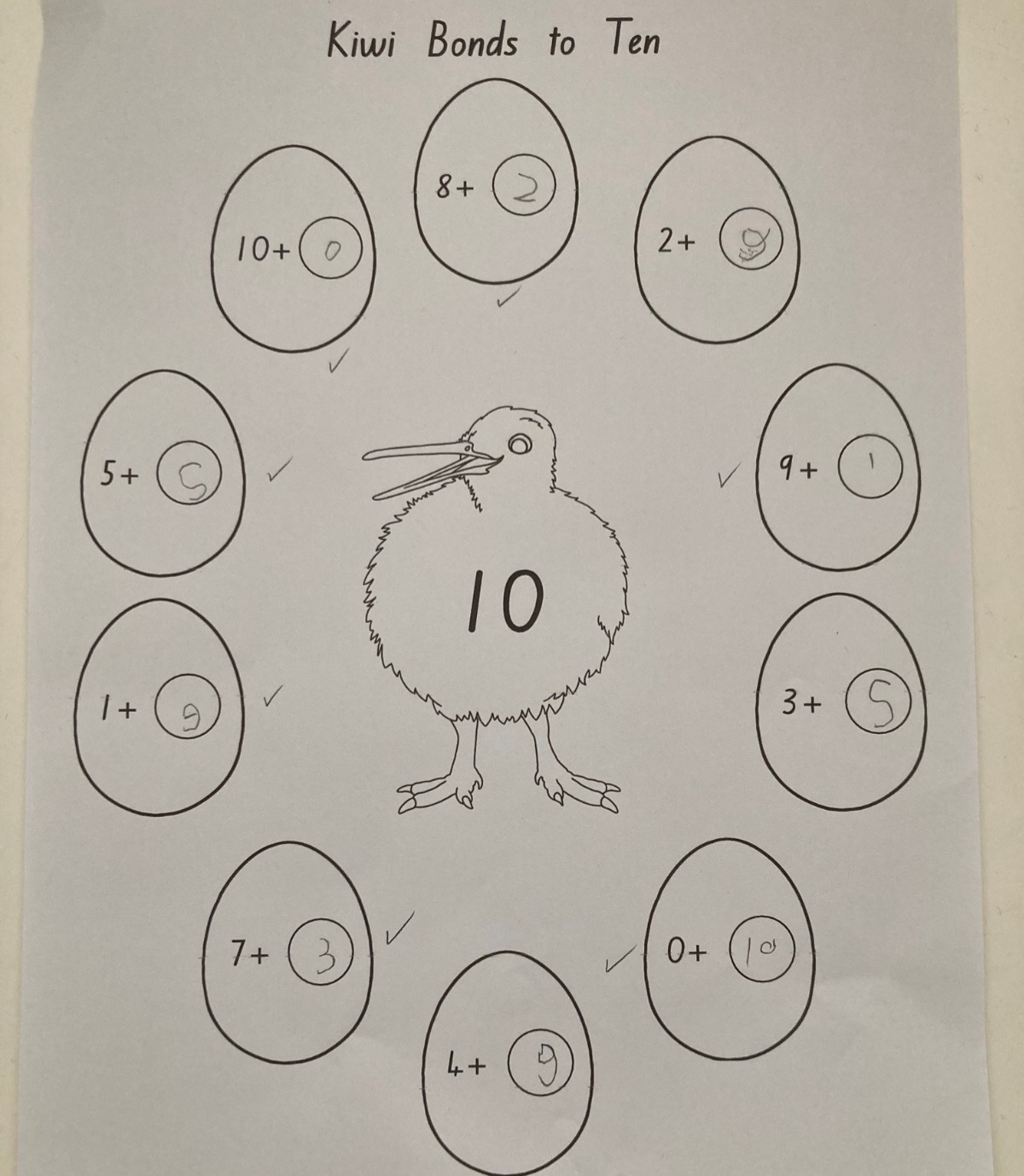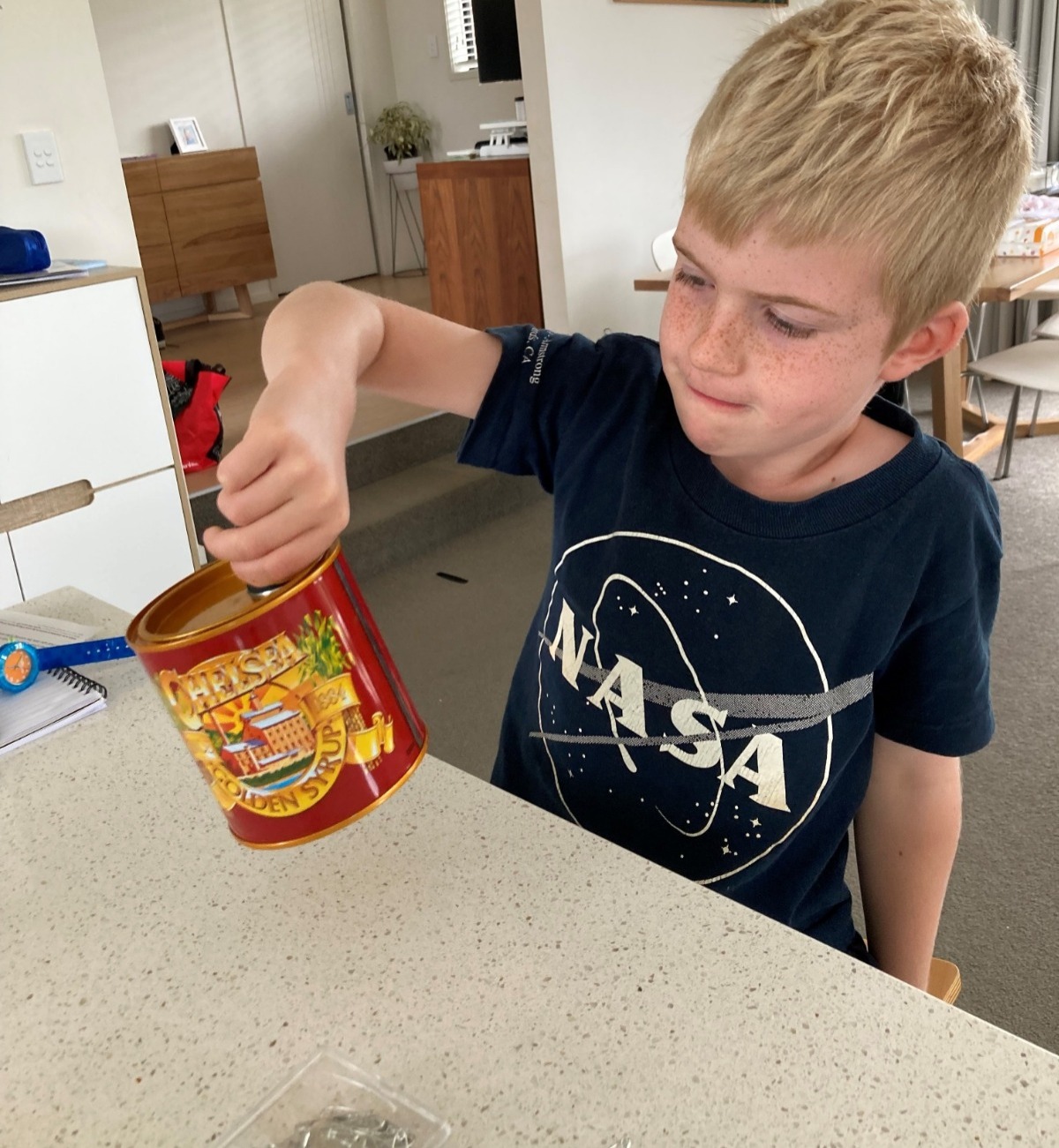 Charlie has been using worksheets to practice his Maths, super stuff, well done. His curiosity has led him to explore with a magnet and see what he could pick up with it. Do you know how heavy those golden syrup tins are? Awesome science inquiry Charlie!
Check out this adorable duck family Charlie has been lucky enough to hang out with.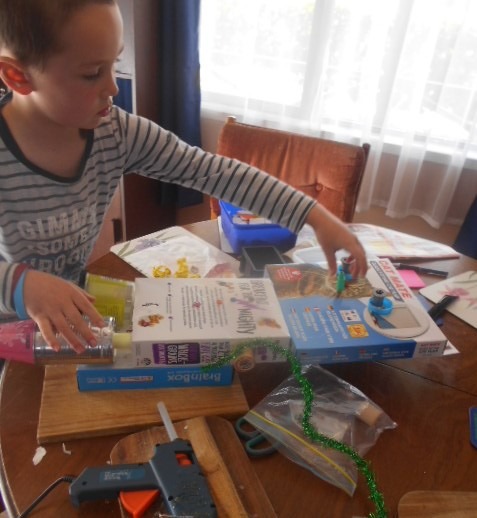 Neil made hokey pokey and observed the changes when he added baking soda. You might remember when we added baking soda to our volcanos?
He made a wonderful robot too. How many different shapes can you spot in the resources he has used for his robot?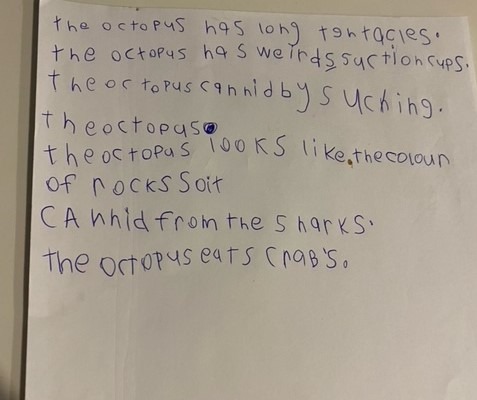 Bronson watched a documentary called 'My Octopus Teacher' and then wrote some things he learned. What an awesome inspiration for writing - ka pai Bronson! You have most certainly learned a lot from that documentary. I loved that beautiful documentary too.
Here is he with his brilliant origami fish and doing some cosmic yoga.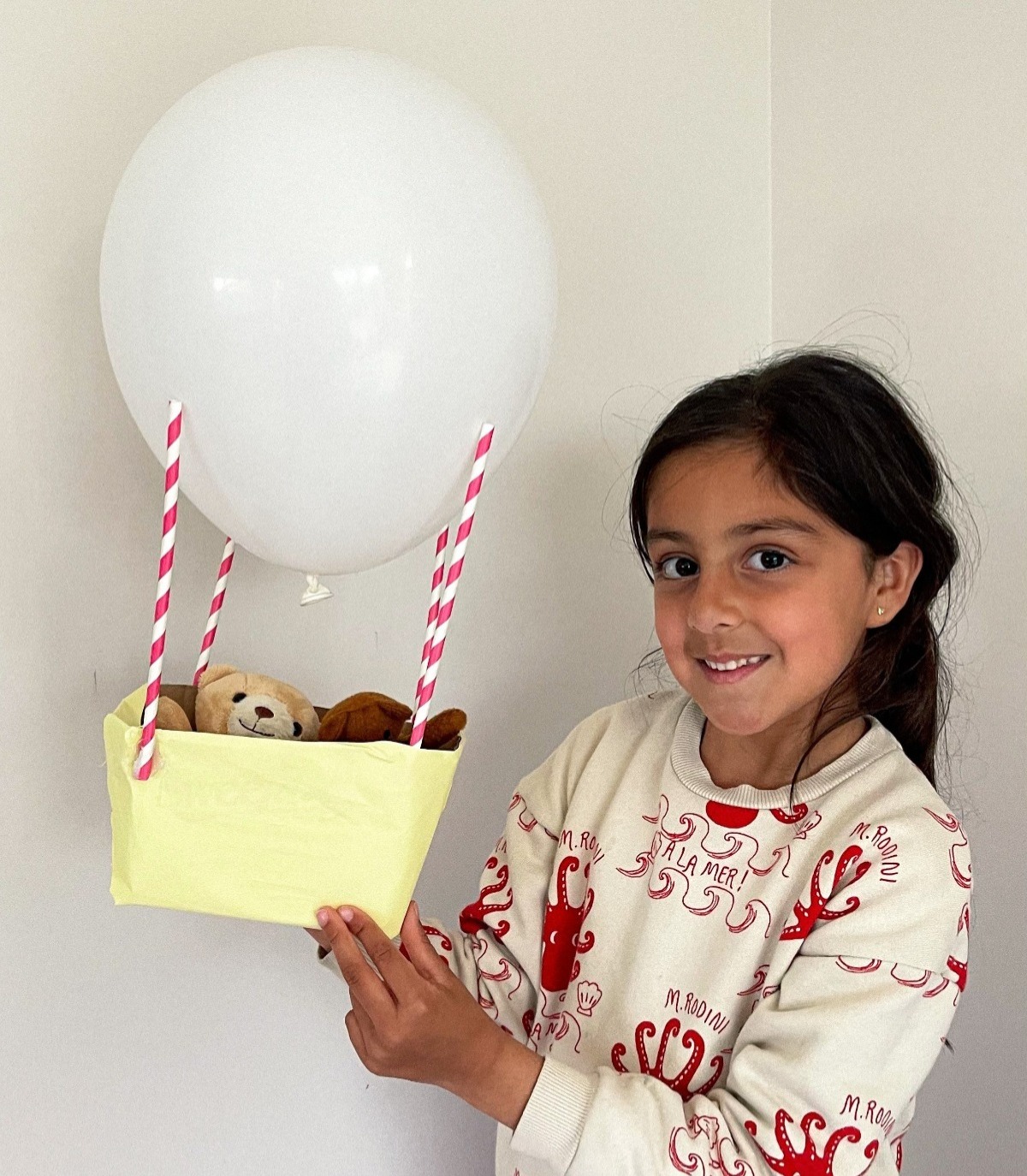 Jessie has been a creative superstar. Check out this hot air balloon and this fairy castle. I wonder if Jessie can create and write a story to go with her creations?
Jessie has written a neat recount of her Fathers Day experience.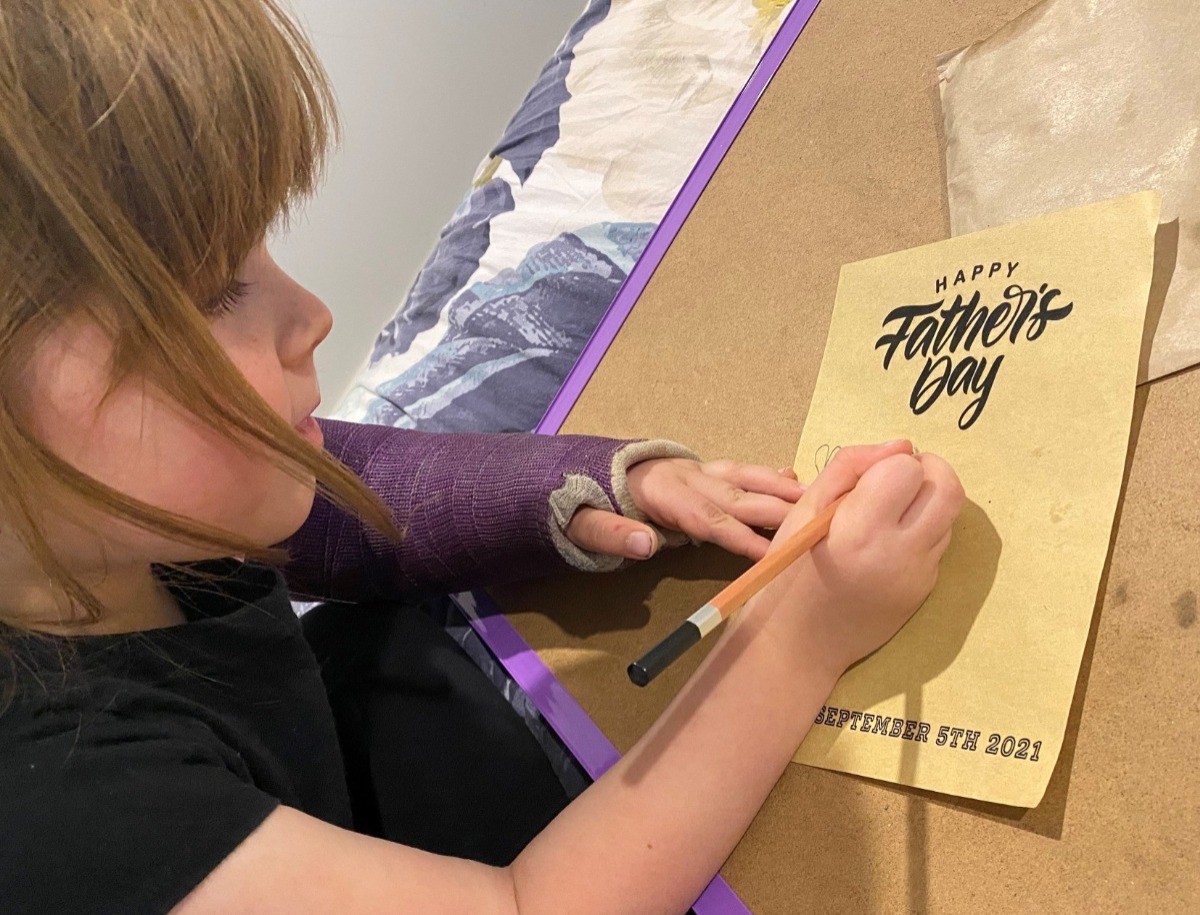 Timicke is making her Dad a Fathers Day card and special creation. Those lucky cats get to go for walks to the beach!
Timicke got a new friend!! I can't wait to hear more about this little bundle of fluff. Timicke!
I wonder if any other Room 5 tamariki might like to have a go writing a description about Timicke's new friend? I wonder what he feels like? I wonder what he loves to eat? I wonder where he sleeps? I wonder what it sounds like when he's moving around?
Emma has taken on the sock puppet challenge. She has named the puppet with red hair "Sophie" - isn't she adorable?! Well done Emma on your dedicated work here.
Well done hearing your sounds in your writing Japji. Practicing your high frequency (sight words) words will help you also. Keep up the awesome work!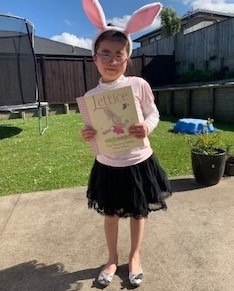 Emma and Kyla joined in on the book character challenge. Don't they look fantastic?! They look like enjoyable books to read. Thanks girls.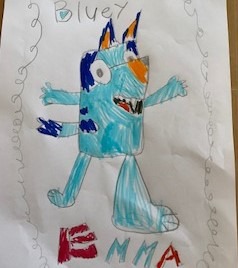 Emma has been a champion in the kitchen and helping cook dinner! Here is another fantastic bluey!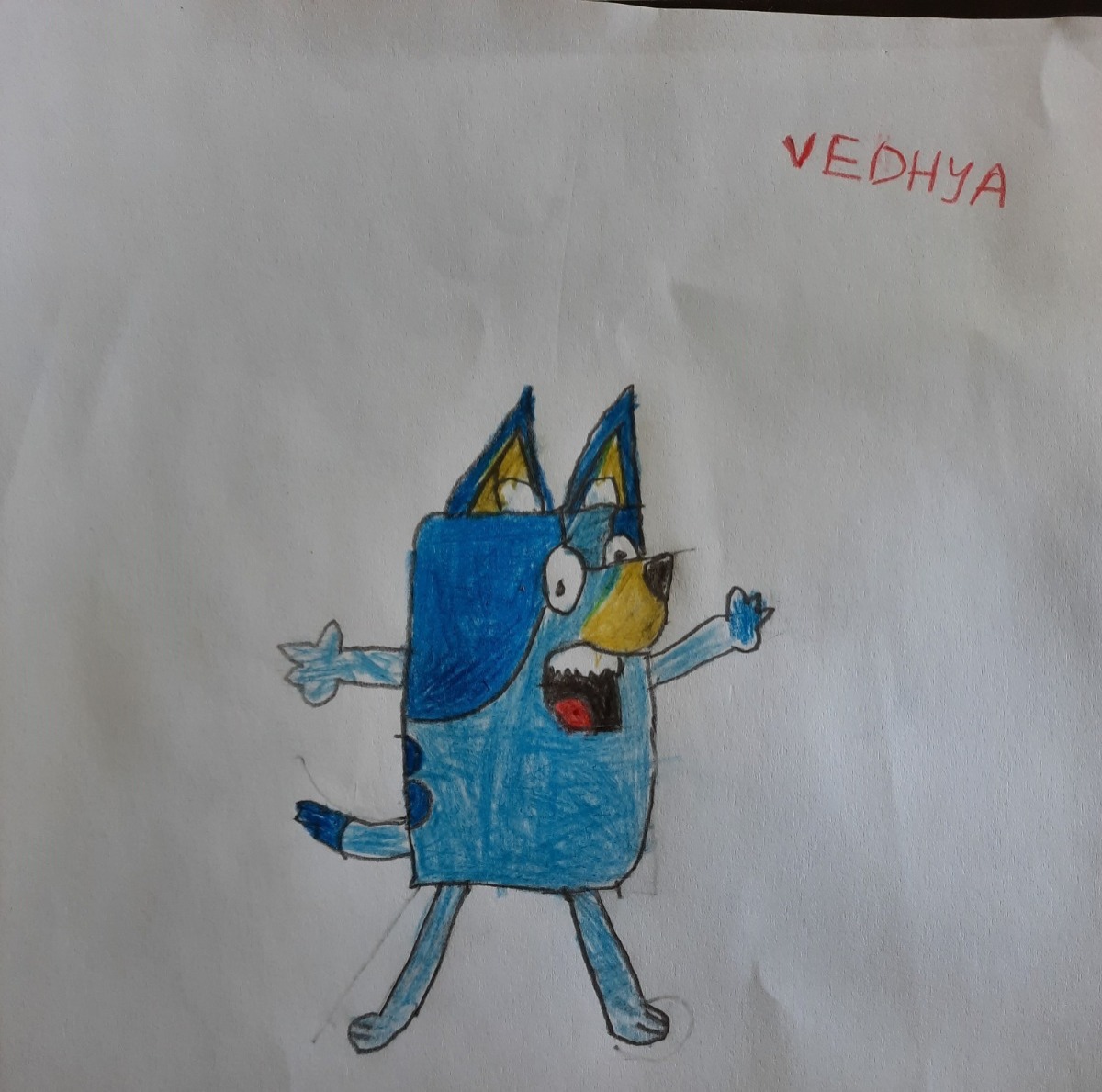 Vedhya has been busy working on activities from the learning from home slide. Check out the awesome picture of Bluey! Well done Vedhya.
Neil has written an awesome birthday story for his classmates who have had lockdown birthdays. Thank you Neil! :)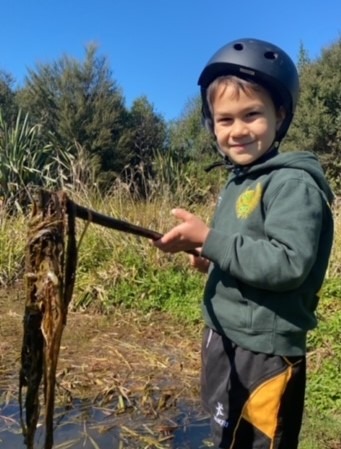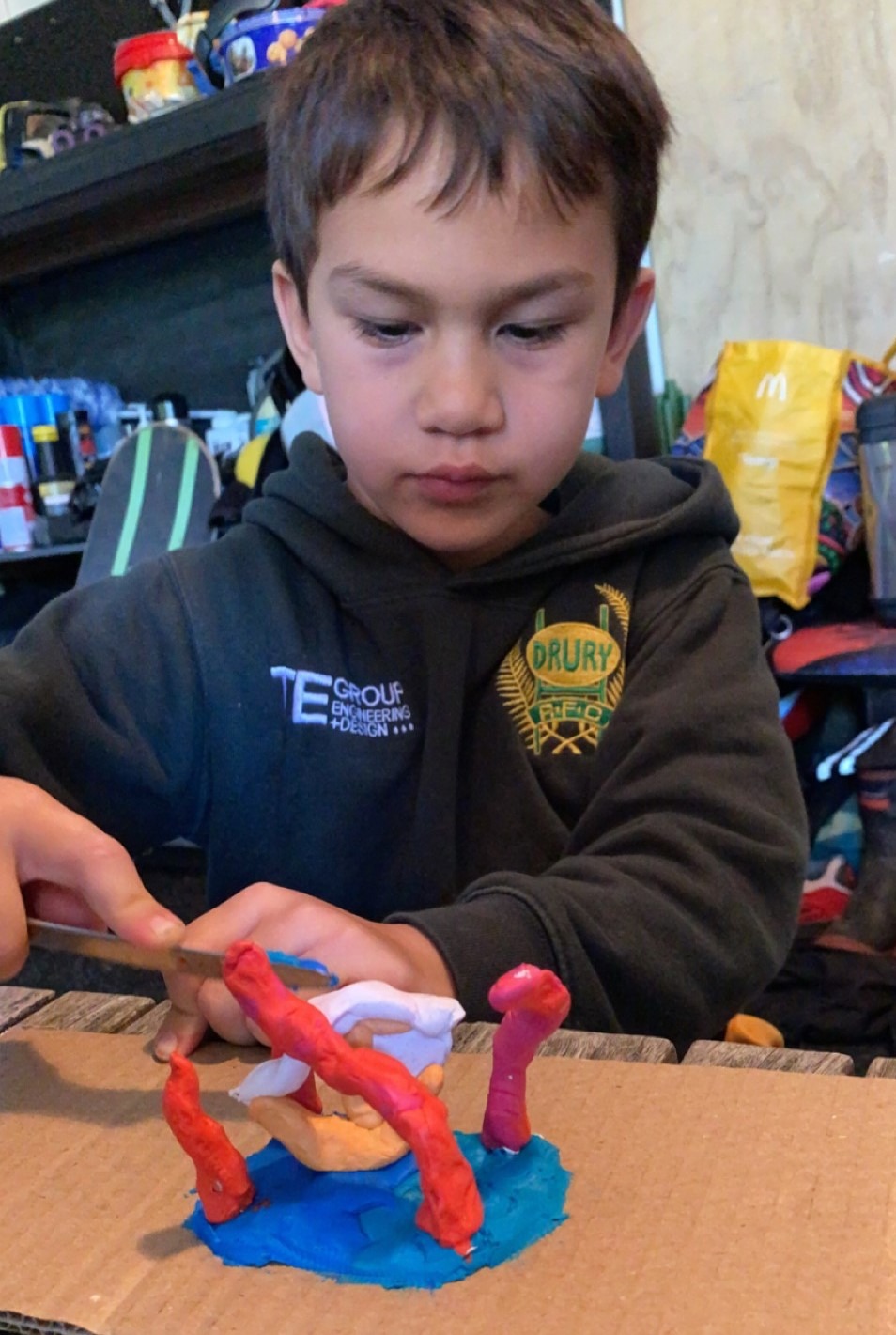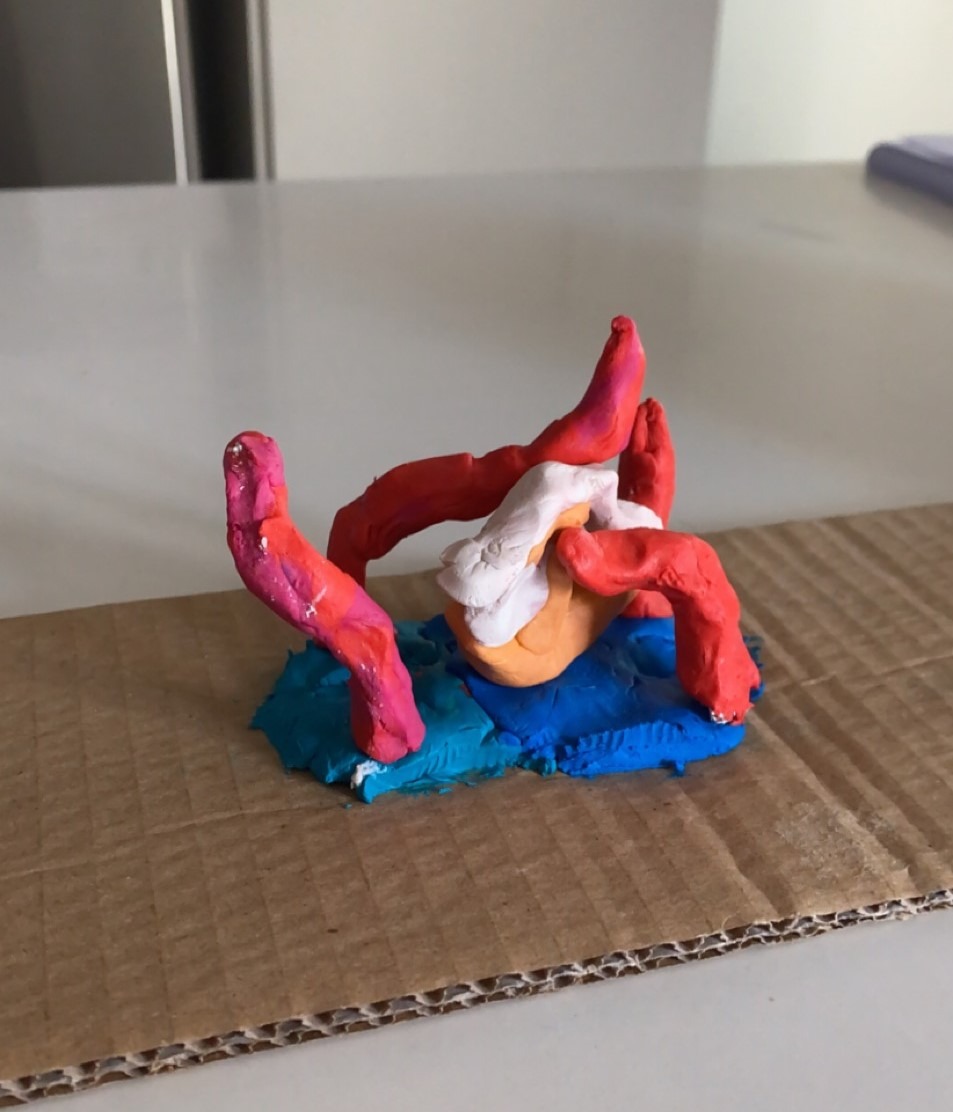 Bronson has made this awesome clay creation. It's a Kraken taking down a ship. If you don't know what a Kraken is, you could research it. I had to! :) He also went on a nature scavenger hunt, fed the eels, ducks and washed the horses. What a big day Bronson!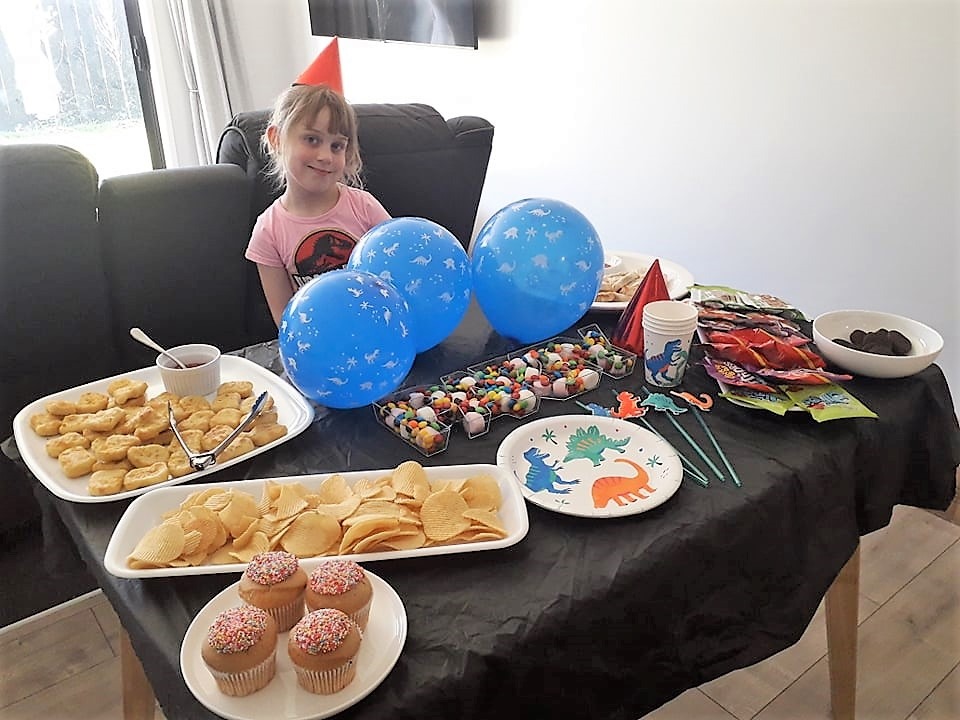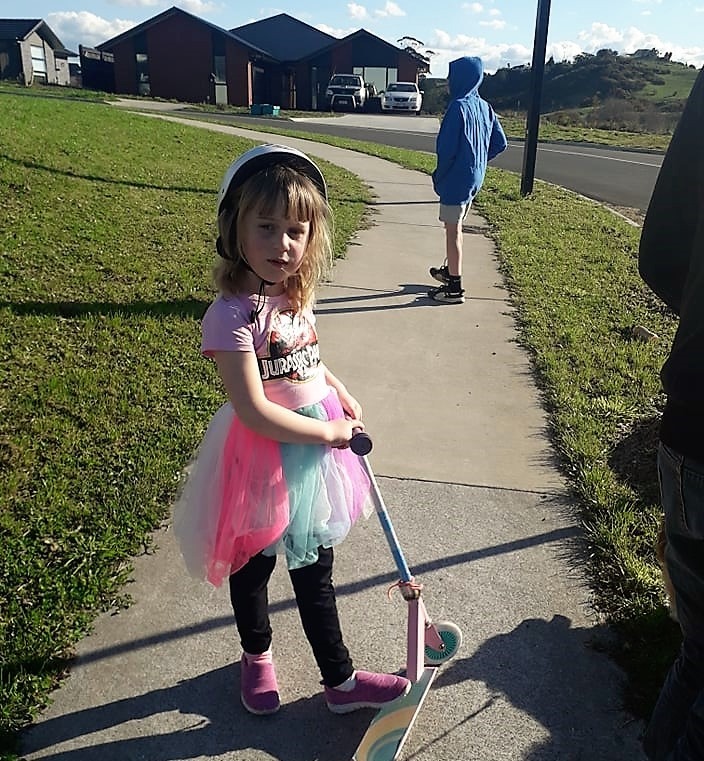 Emma-Joy celebrated her birthday yesterday as well. We have another 6 year old in Ruma tahi (Room 5). It was not quite the party she had planned but it sure looks like she had a lovely day with her family. We look forward to making you feel special when we are back in the classroom, Emma-Joy!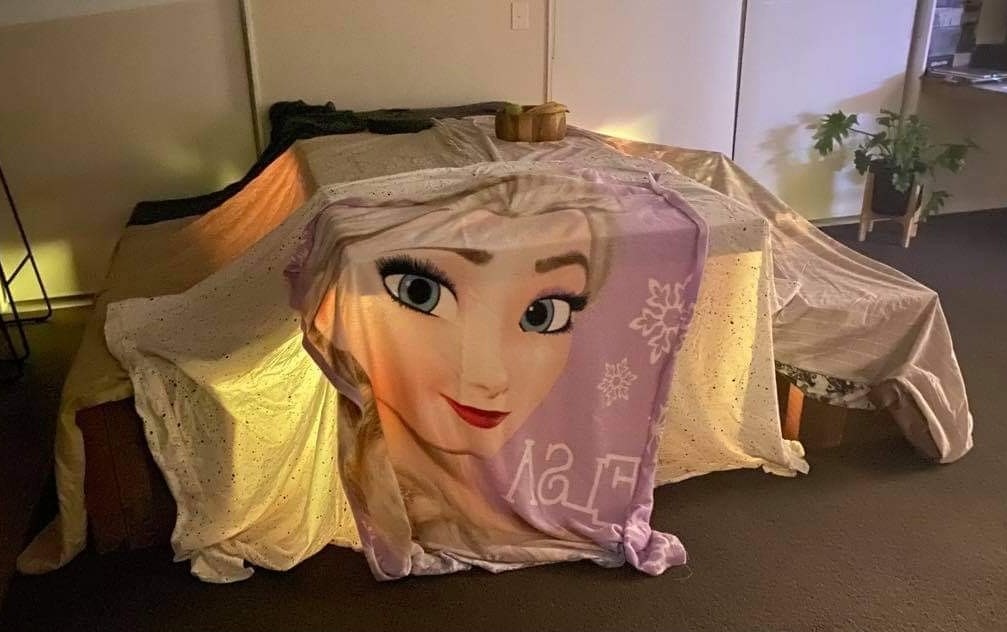 Livvy has made an awesome blanket fort with her sister Gracie! It looks like a super cozy place to hang out with a book, some drawing, some writing, a game.... or just to chill!
Japji has really been enjoying completing worksheets while at home. Well done Japji :)
Everyone is going to enjoy and cope with different things during lockdown and that's okay!! Remember to do what works for you and your family - wellbeing is our priority.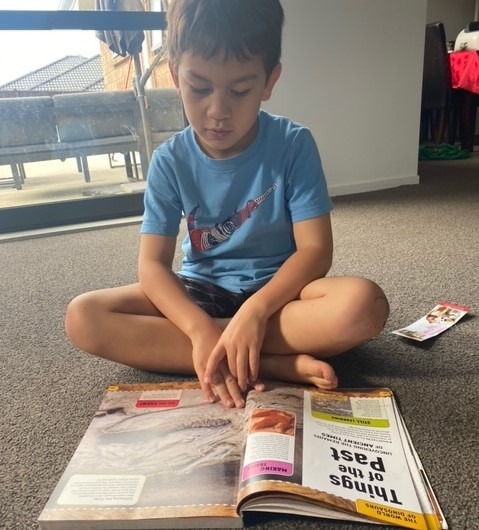 Bronson has been reading and doing awesome writing. Ka pai! It is so important to find things that inspire us.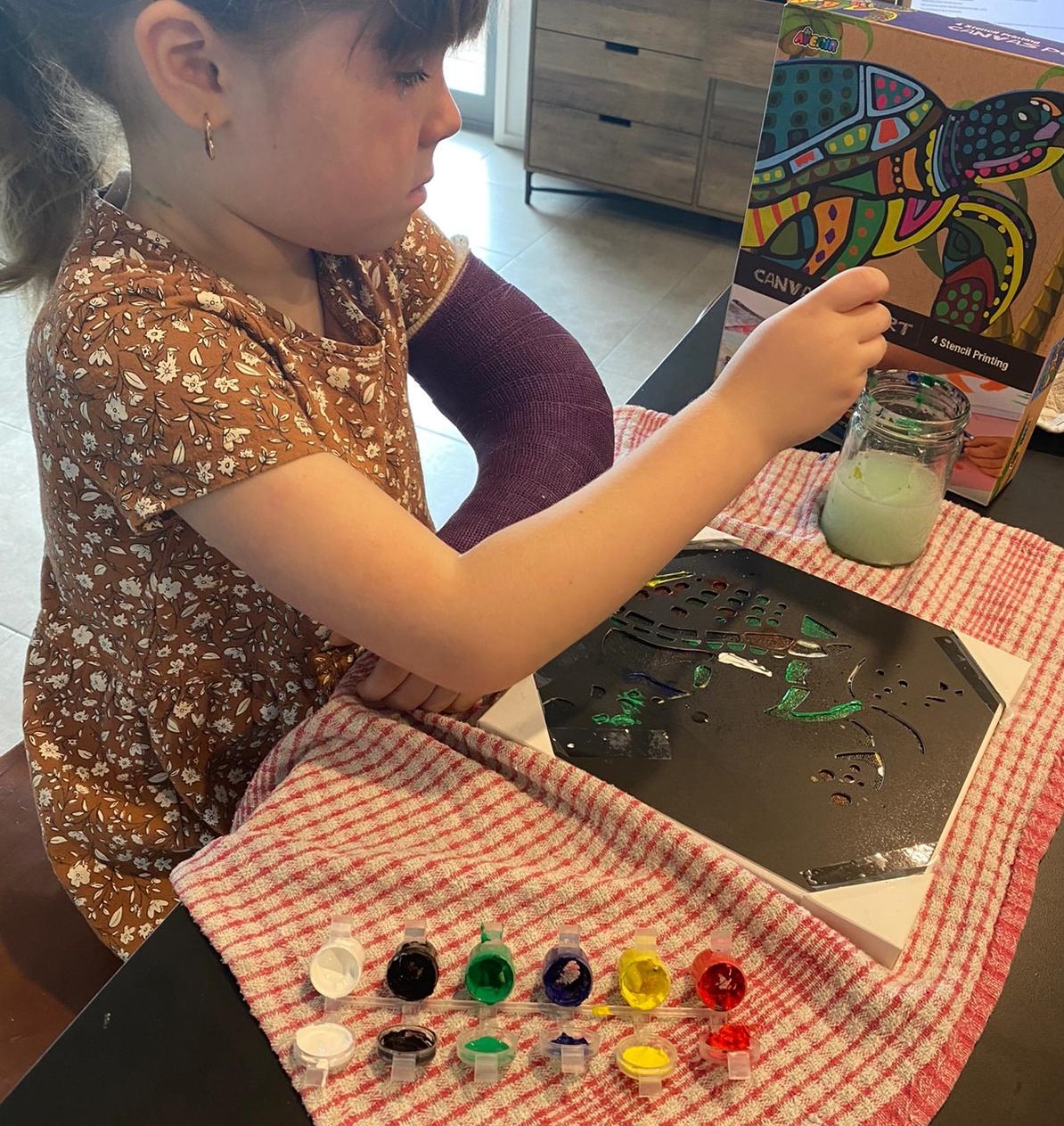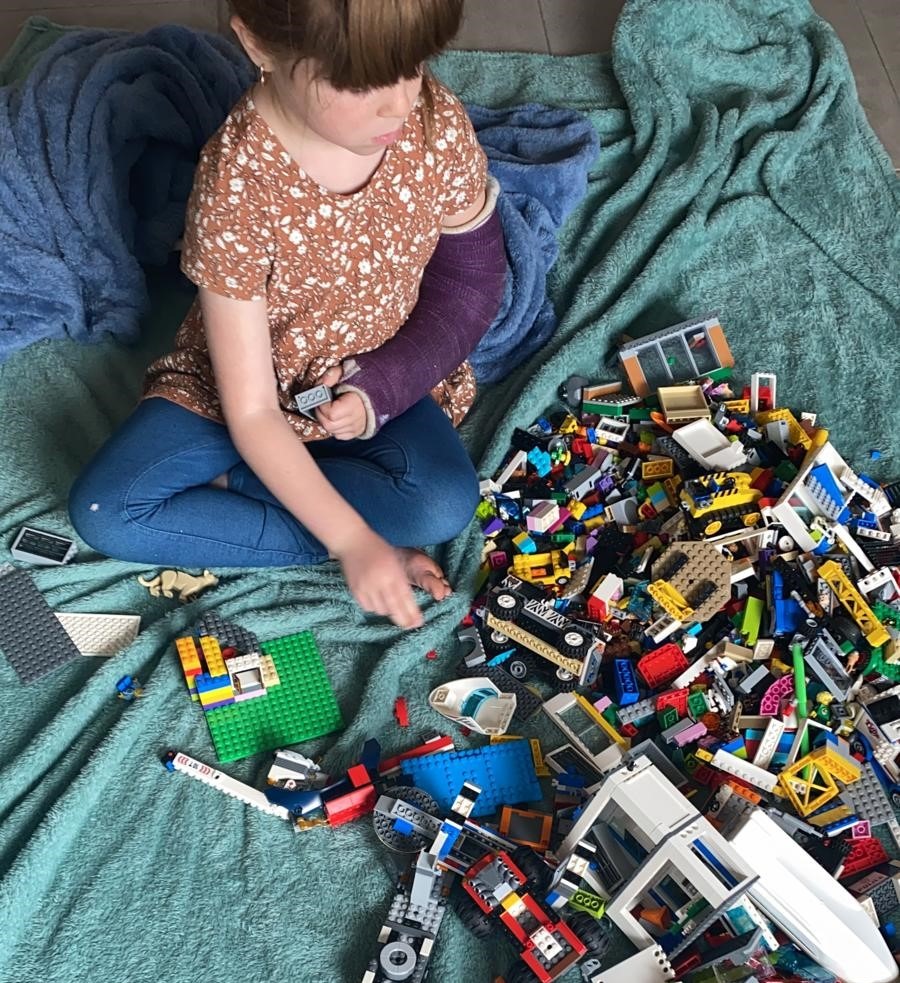 Timicke has been getting creative with paint and Lego. That looks like an interesting technique, Timicke. I look forward to hearing more about it when we are back at school!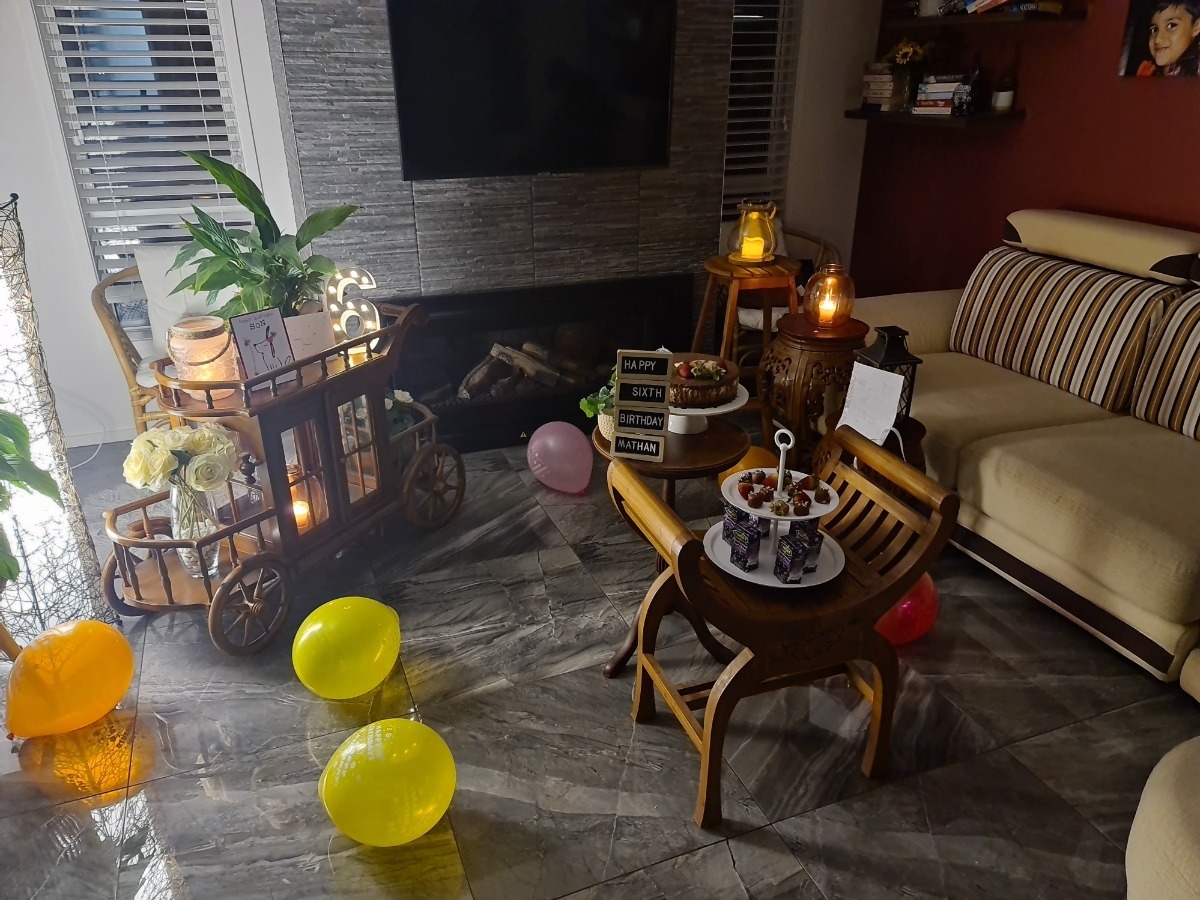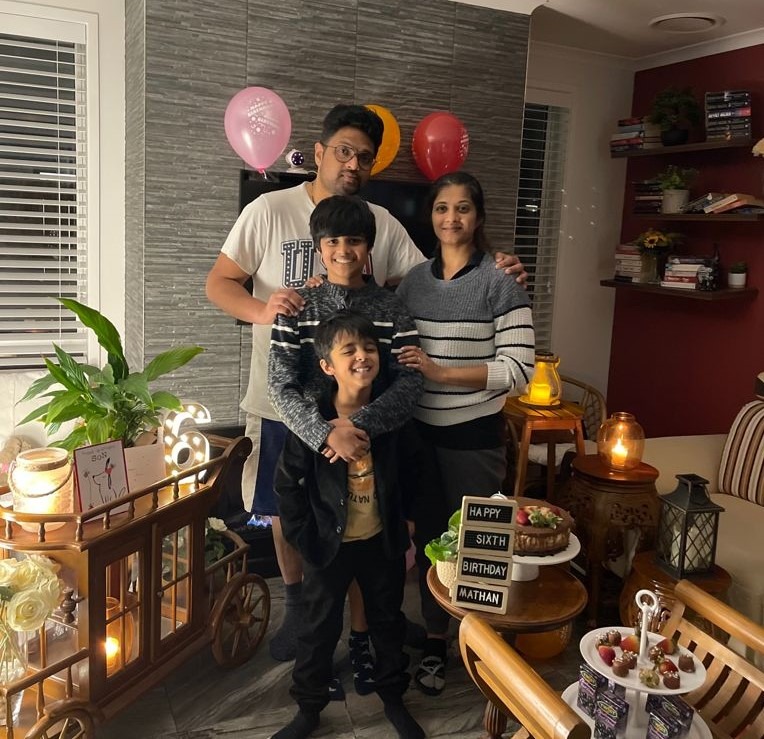 Nathanael also celebrated his birthday last month and here are some photos from his special day. It looks like you had a lovely day Nathanael and we look forward to making you feel special when we all see you again.
Timicke is cooking for her family. What a special time. I am wondering when you might enter Masterchef with so much cooking and baking going on Timicke? :)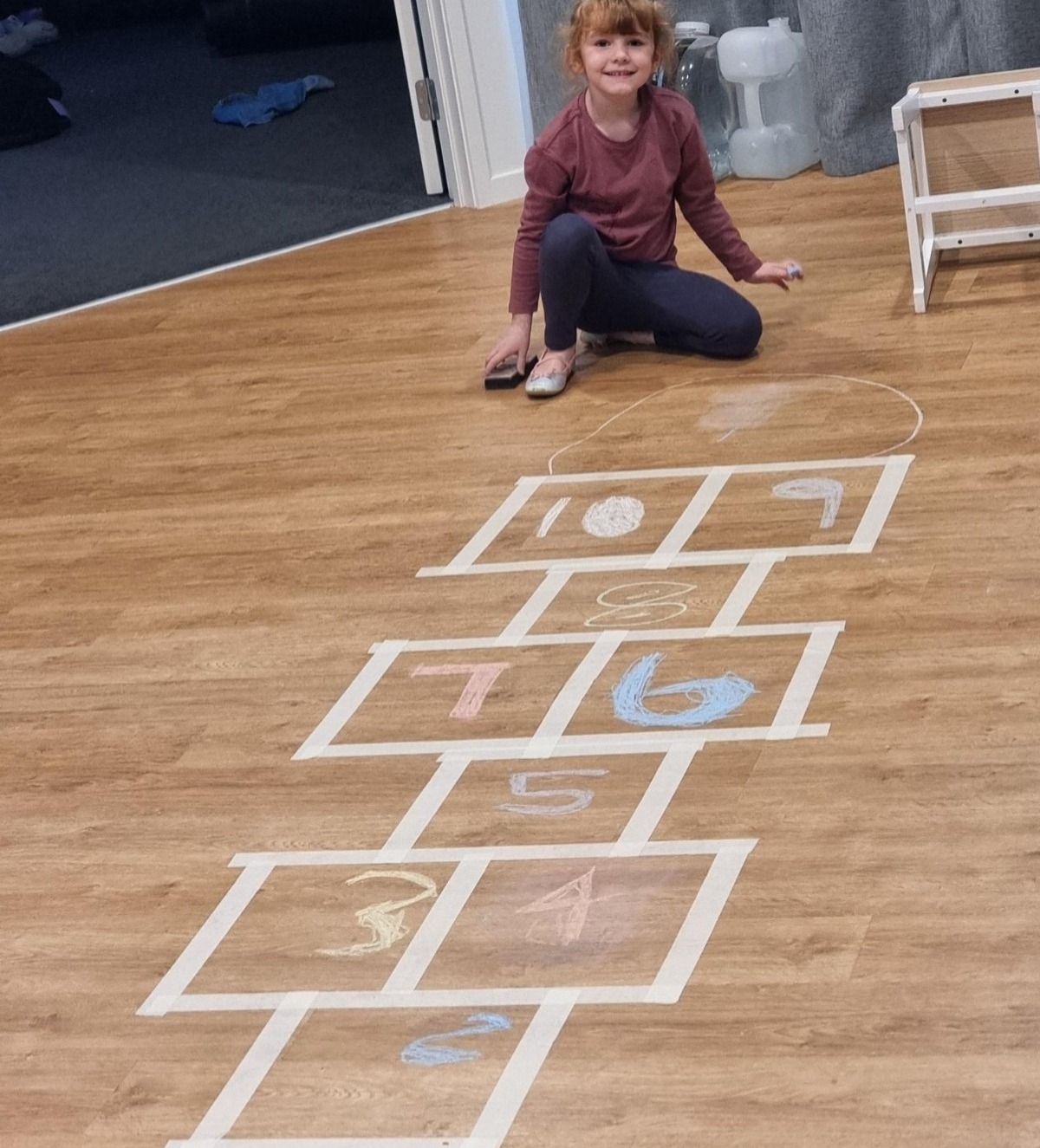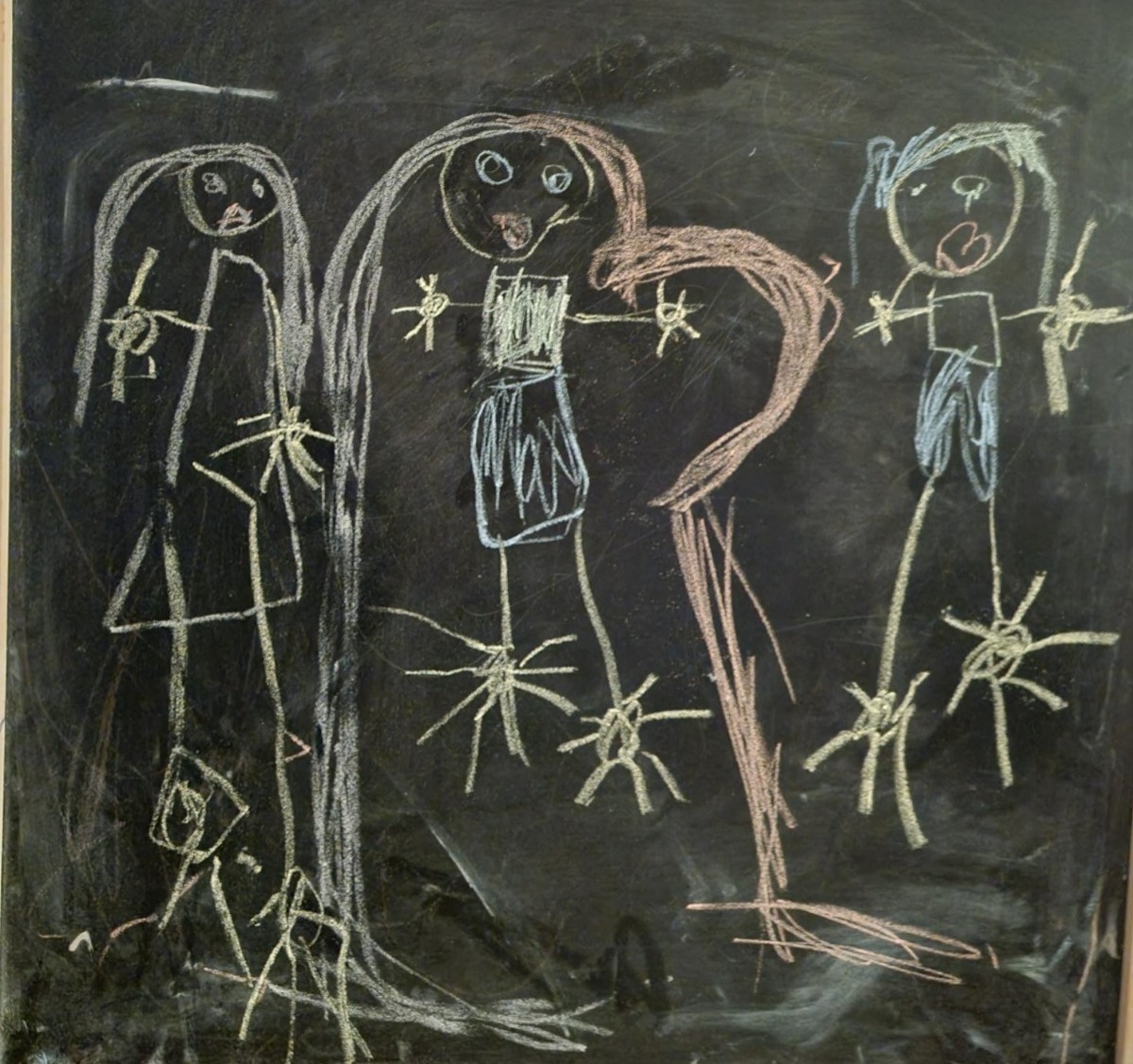 Lianie has enjoyed getting creative this lockdown with lots of colouring, painting and drawing. She has been helping her Mum cook too. Isn't that hopscotch in the kitchen cool! What a fun idea.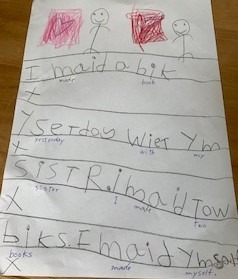 More awesome writing from Emma. Keep it up! I love reading about what you've been up to in lockdown.
A link to lined writing paper can be found on the home learning slide (writing) if you want it :)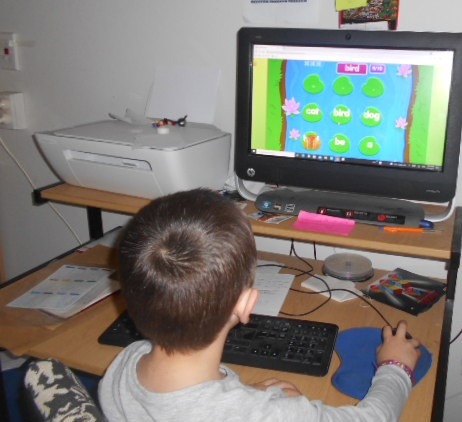 Neil has been on an alphabet scavenger hunt - what a cool idea! Here he is completing assignments on reading eggs and mathseeds.
Please remember to check out reading eggs and mathseeds for assigned work. It should be work that your child can do rather independently. I would love to hear your feedback on how it is working for you and your child.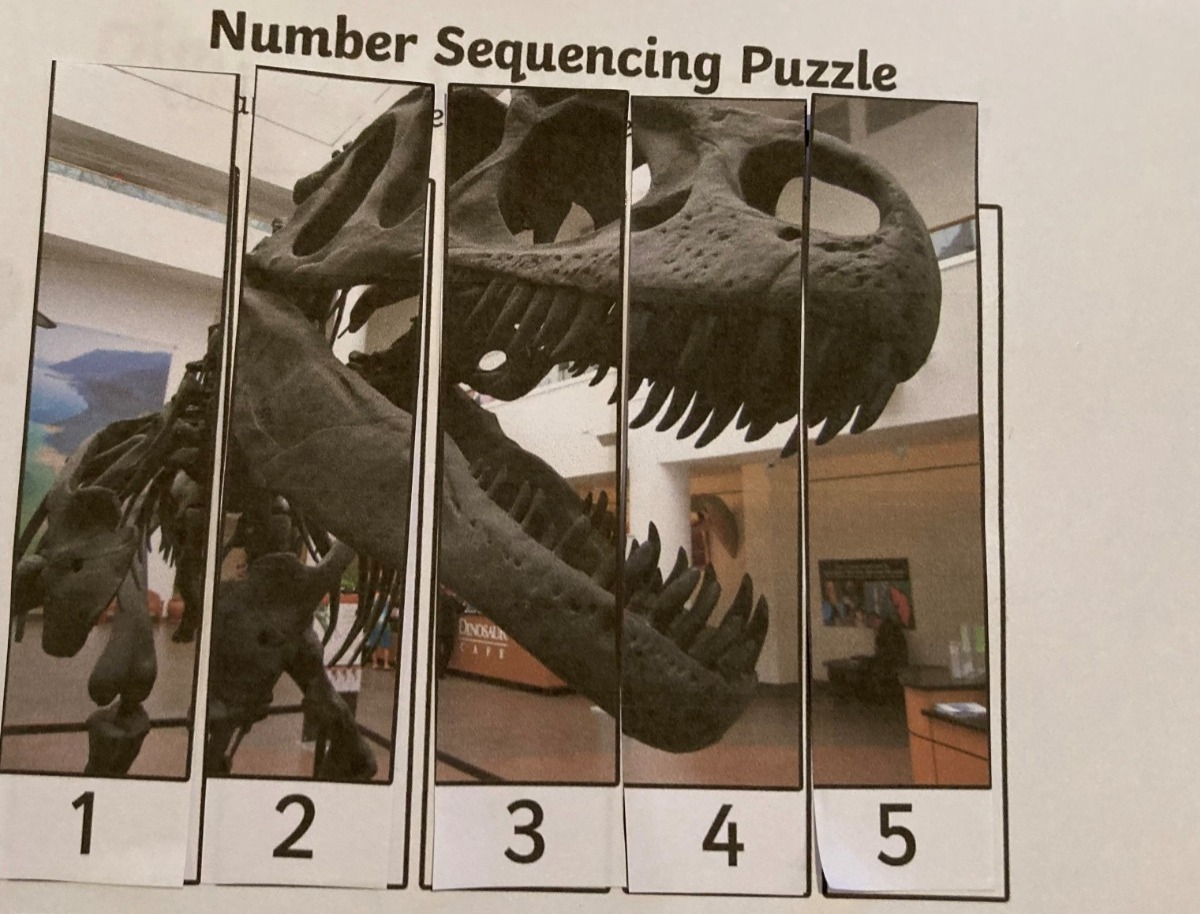 Charlie has been working on his maths with an addition worksheet and sequencing puzzle. Ka pai Charlie! And here he is cleaning the tramp with his sister Elle. An idea for the tramp is when you make lots of bubbles with the dishwashing liquid (using a sponge if you can) you can then write some letters or words, or even draw - give it a go! Lot's of sensory fun.
If you want to print off worksheets please remember to check this week's home learnings maths slide for rooms 2, 4, 5 and 11.
Xavier and his brother made this fort. Isn't it cool?! Xavier and his favourite Teddy are sharing a special moment reading together.
.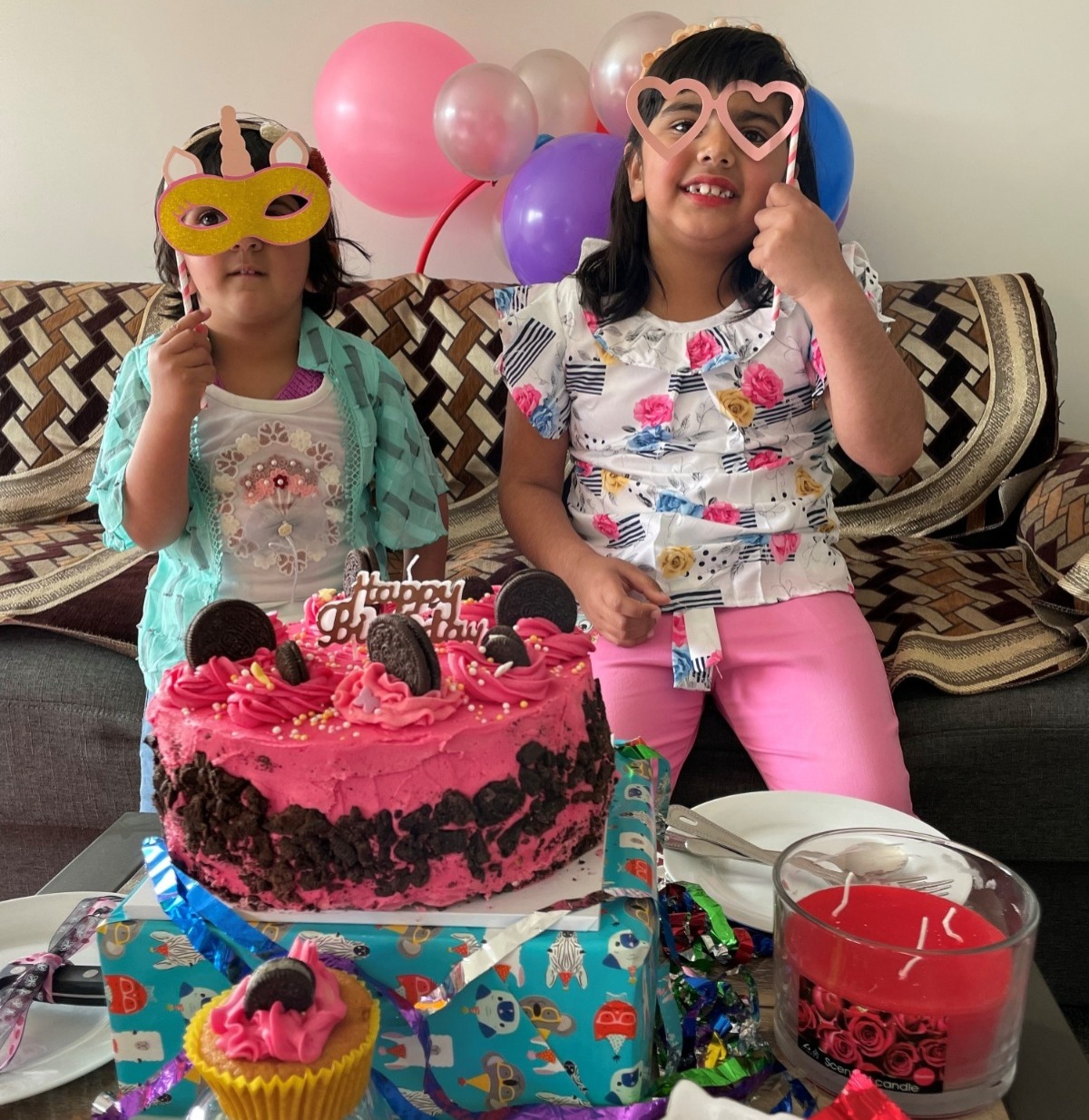 Japji had a lockdown birthday yesterday and is now a 6 year old! Look at that yummy cake! We hope you had a lovely day Japji, and we look forward to making you feel special when we are back in the classroom.
Friday 27 August is the Cancer Society's annual appeal. Look at this beautiful daffodil Livvy has coloured in.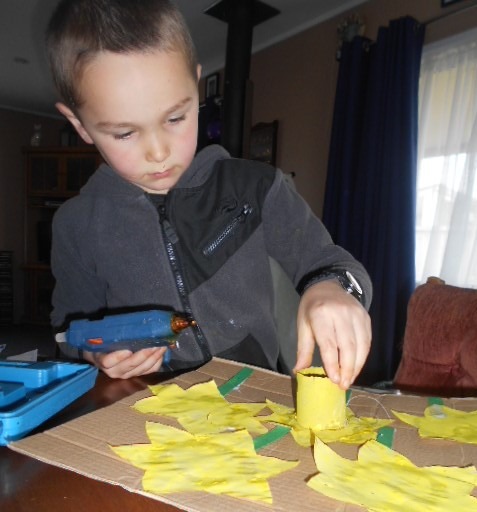 Neil and sister Renee have also created a beautiful daffodil poster.
Charlie has been on a scavenger hunt this morning. He found some colourful rocks, moss, ants, a piwakawaka, something prickly (a thistle), something blue (a flower) and all sorts of other goodies. I wonder if Charlie might like to write a sentence or two about this experience?
For those who might like to do their own indoor or outdoor hunt there are lot's of ideas on google :)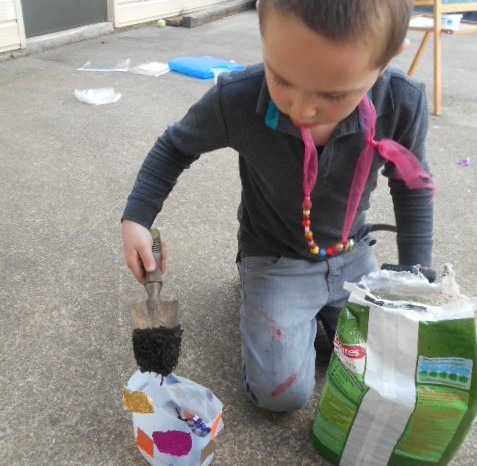 Neil embracing the recycled plant pot challenge - awesome!! He has planted Nasturtium. We can't wait to see the results as it grows Neil. I'm sure you will take very good care of it.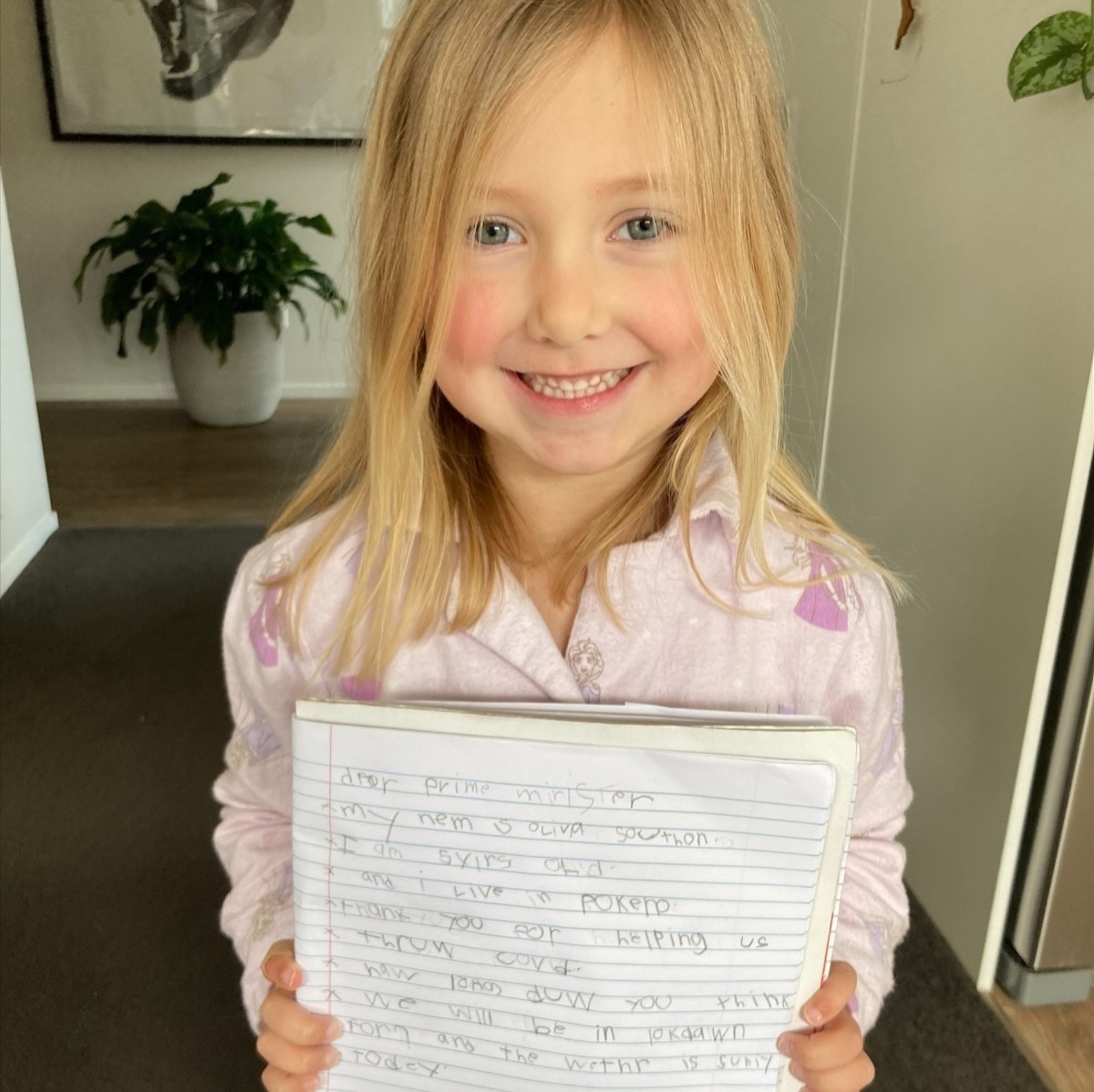 Livvy has written a wonderful letter to our PM Jacinda Adern. Well done for hearing all those sounds! She has asked "how long do you think we will be in lockdown for?" Thank you for asking that question Olivia.
We have been lucky to have some pretty beautiful weather - I hope it stays too.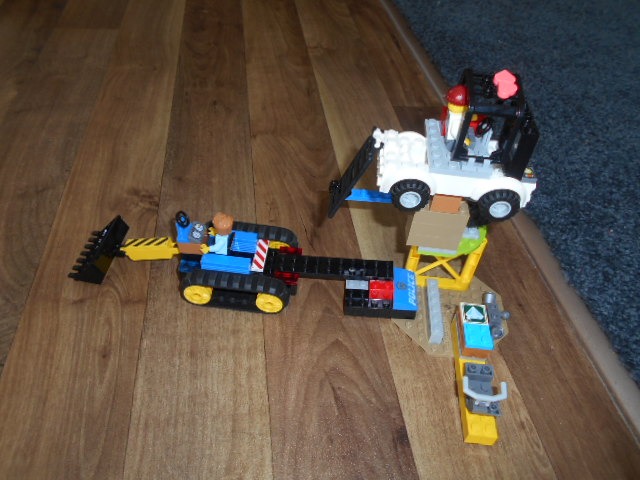 Neil has followed instructions to create this awesome lego creation. That would have taken perserverence Neil, well done!
Indie has created this awesome house out of lego - she said the full 100 was too many for her house. I wonder how many pieces you used Indie?
Is that a dinosaur?!
Emma has taken on the role of our PM Jacinda Adern in her latest writing!
I wonder if any other Room 5 children might like to write a letter. You might like to thank our essential services for taking good care of us during this time?
Or you might like to write a letter to our prime minister?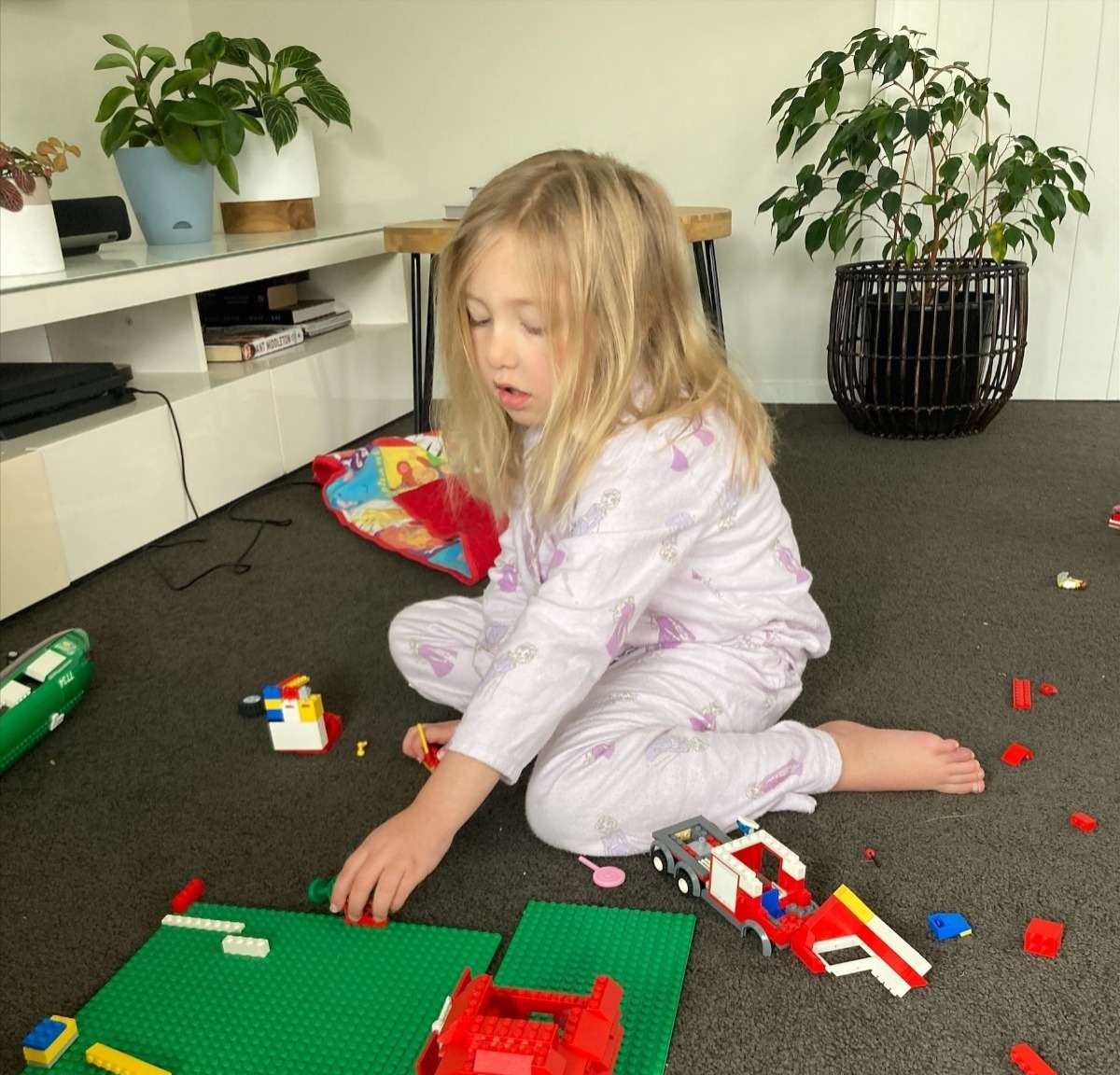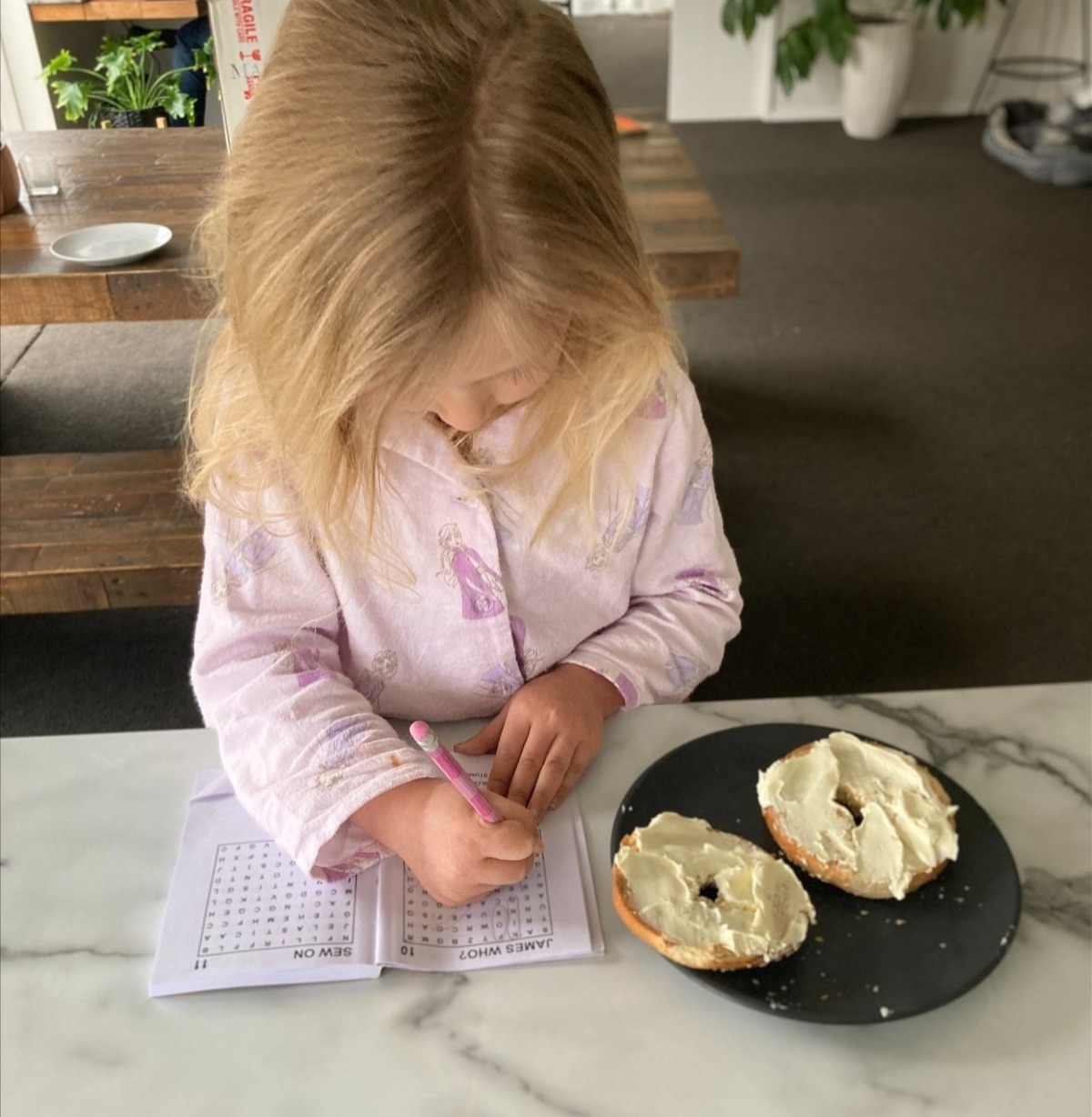 Lockdown day 9! Livvy has had a busy morning with word finds, lego and creating CVC (consonant, vowel, consonant) words - what a great way to practice those sounds.
Emma has been creating some amazing writing about her lockdown experiences. I wonder if Emma could make a little book with these that she can keep forever and look back on one day? :)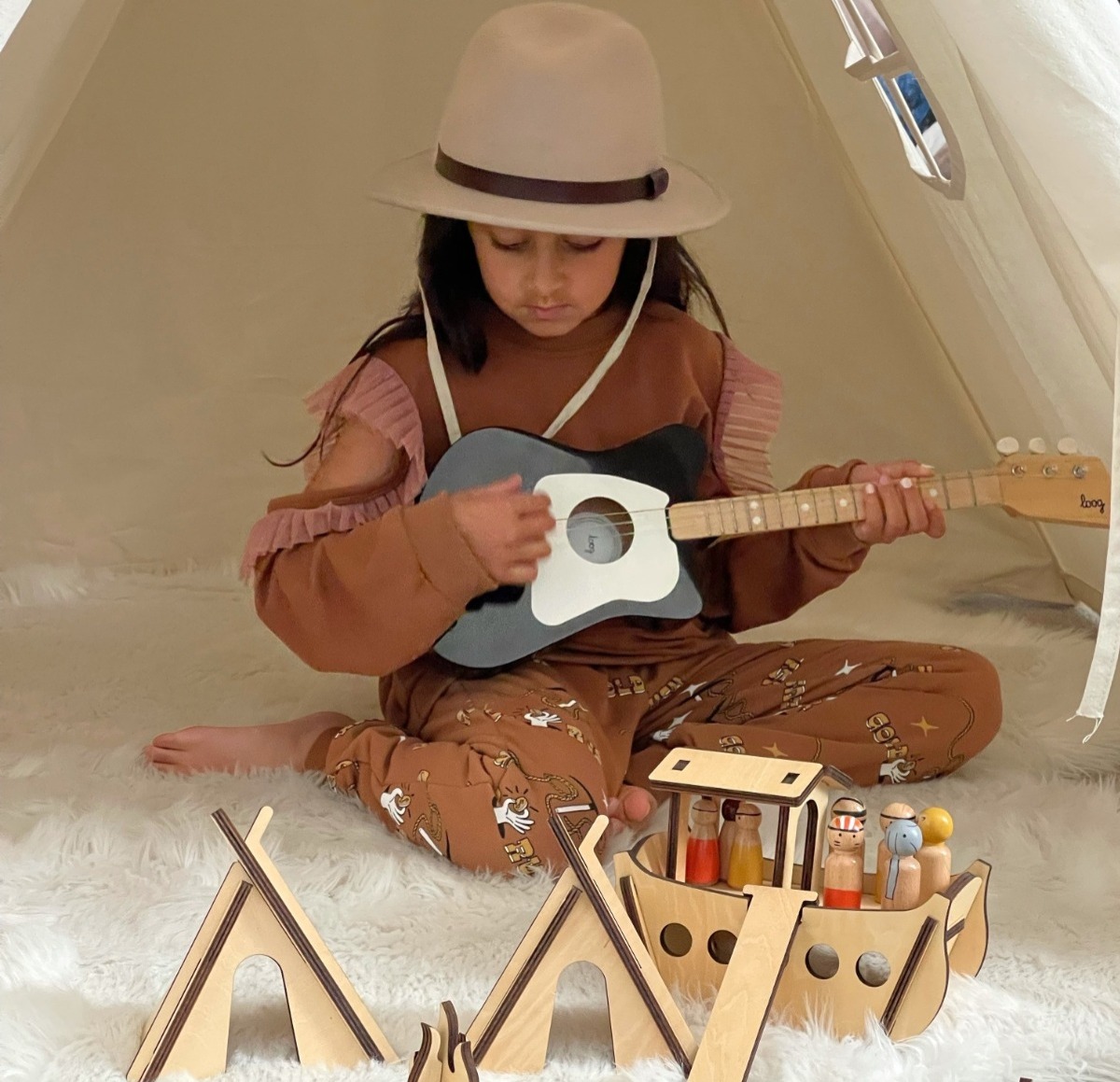 Jessie has written about her experience having a sleep over in her teepee. You have done an amazing job using your resources (such as your sight word cards) to find high frequency words, and using your sounds Jessie. Ka pai! I can't wait to see more.
Bronson helps out his Dad to clean his truck, and decides it's a great place to read a book! I agree! :)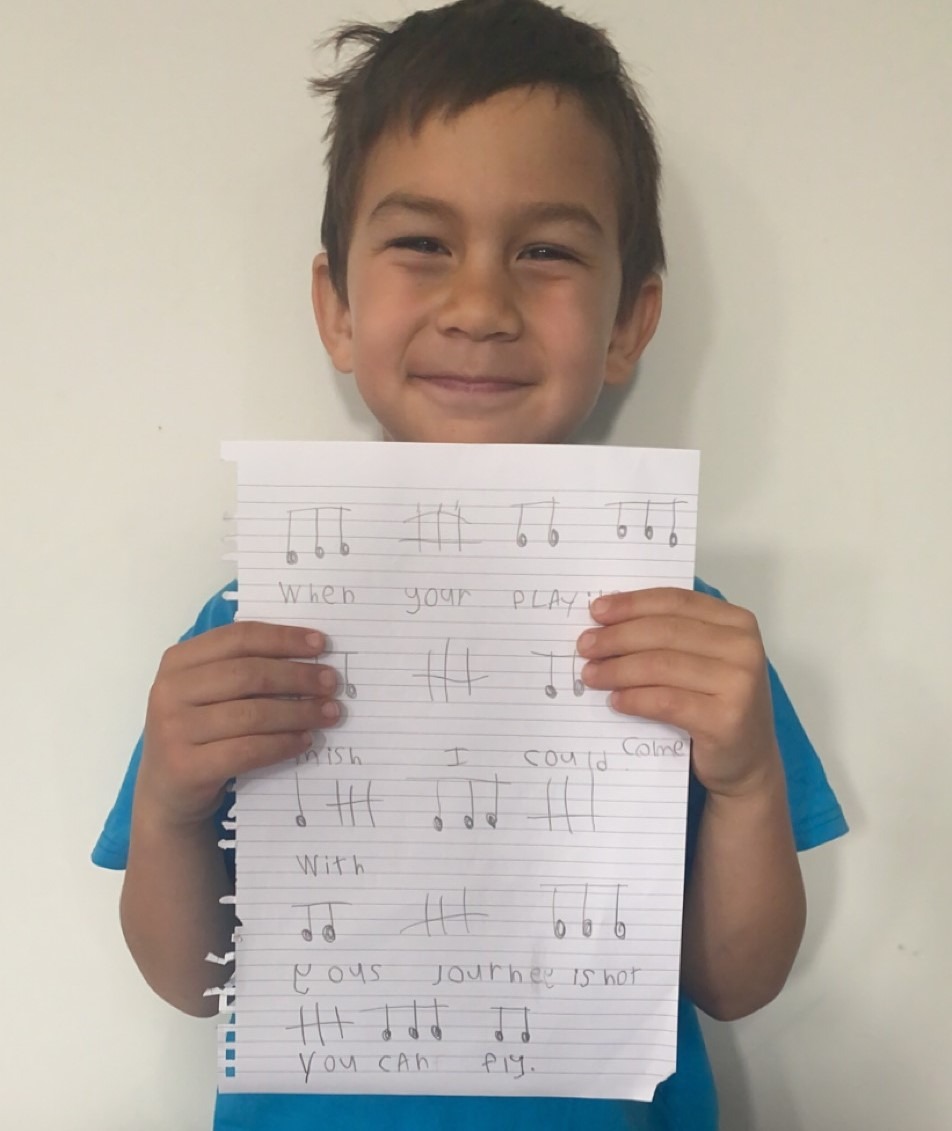 Bronson has written a song! What a wonderful way to express yourself in writing. Bronson sent me his already amazing original which I then helped him to edit so he could further develop his writing skills. Here is his published version.
I would LOVE to see some more superstar writing from Room 5!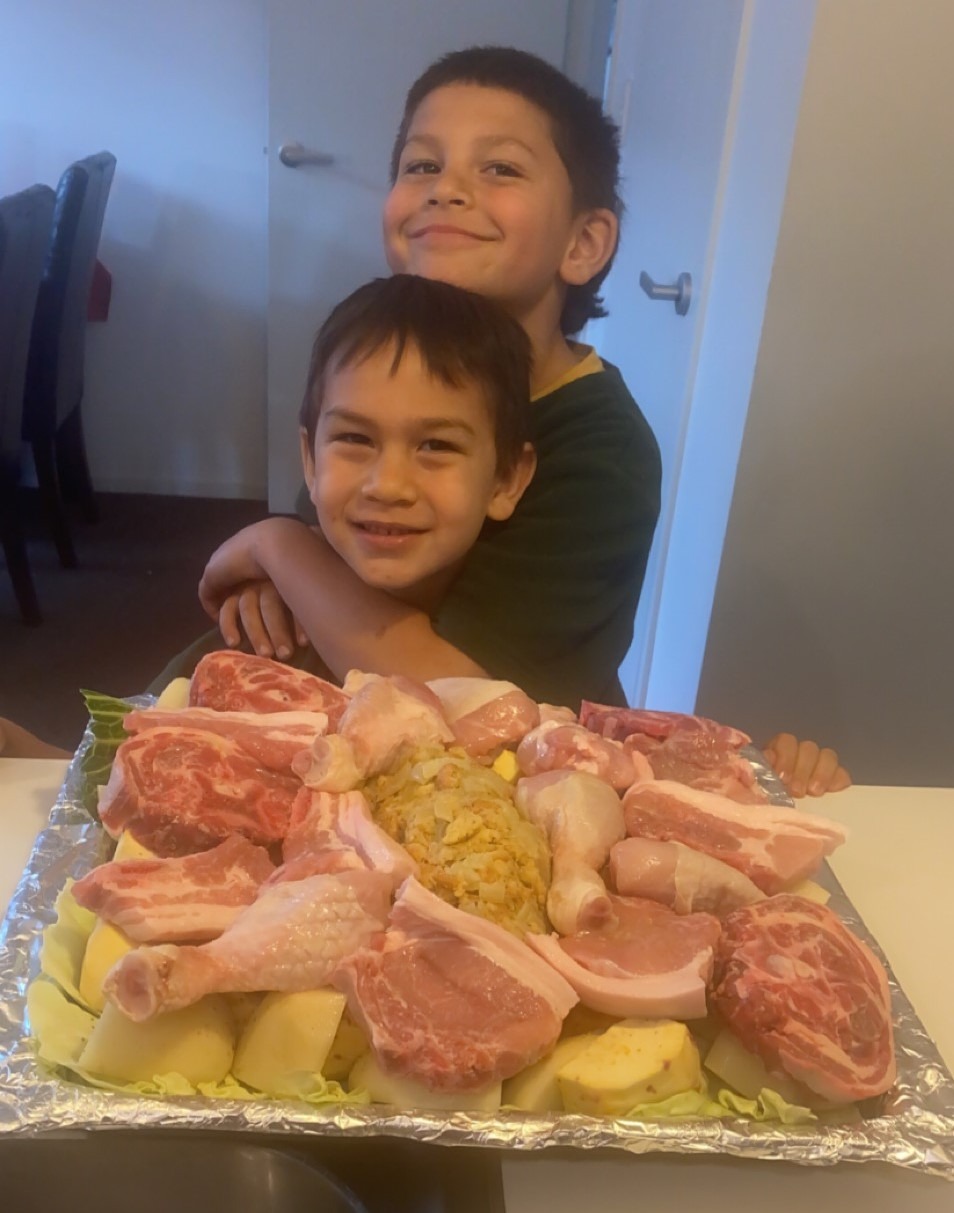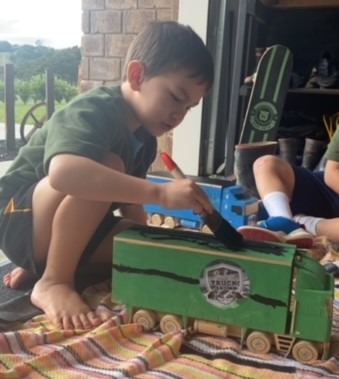 Bronson is painting his truck and check out that kai! Bronson and his whaanau made a hangi for dinner. Yum!
That baking looks delicious Timicke!! What a wonderful (and tasty) way to learn about measurement, and change - look at the difference between a half, quarter and a whole.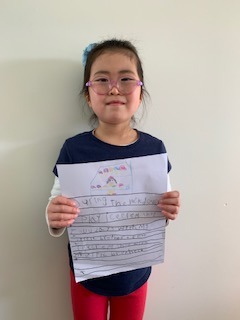 Emma has been busy in lockdown and says she is missing her friends and school. We miss you too Emma! That baking looks delicious and what a gorgeous flower!
Livvy and her whaanau embracing learning through play and making these adorable egg carton caterpillars.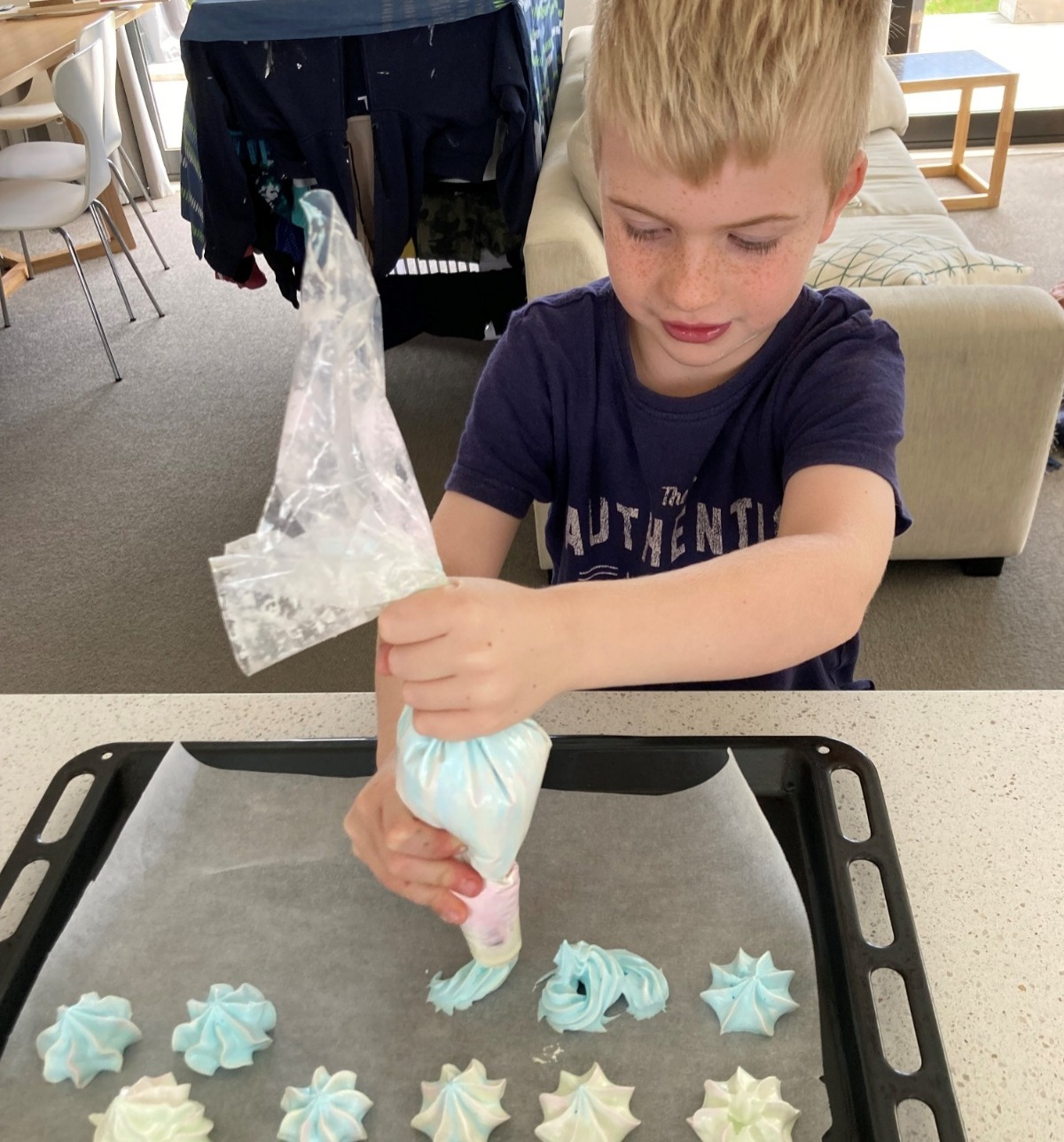 Charlie was challenged by his Mum's boss to draw a picture of a big fish. In return - a fishing trip in the summer! Way to go Charlie. Here he is baking meringues - yum!!
Neil is practicing crazy sentences using words from a magazine and hanging out with his fur baby. Awesome work Neil :)
Kyla, Ka pai practicing your full name and your numbers! With these beautiful sunny days we have been lucky to have getting outside with chalk is a wonderful idea. Anything sensory promotes calmness and learning.
Next time you are on your walk check out the numbers on letterboxes :)

Here are a couple of photos of Miss Foord's wee girl doing her home learning using chalk (and a dice) to rainbow write her words, and to practice CVC words (consonant, vowel, consonant like cat, mat, pig). She is saying each sound as she jumps on the circle. A great way to learn on such a beautiful morning.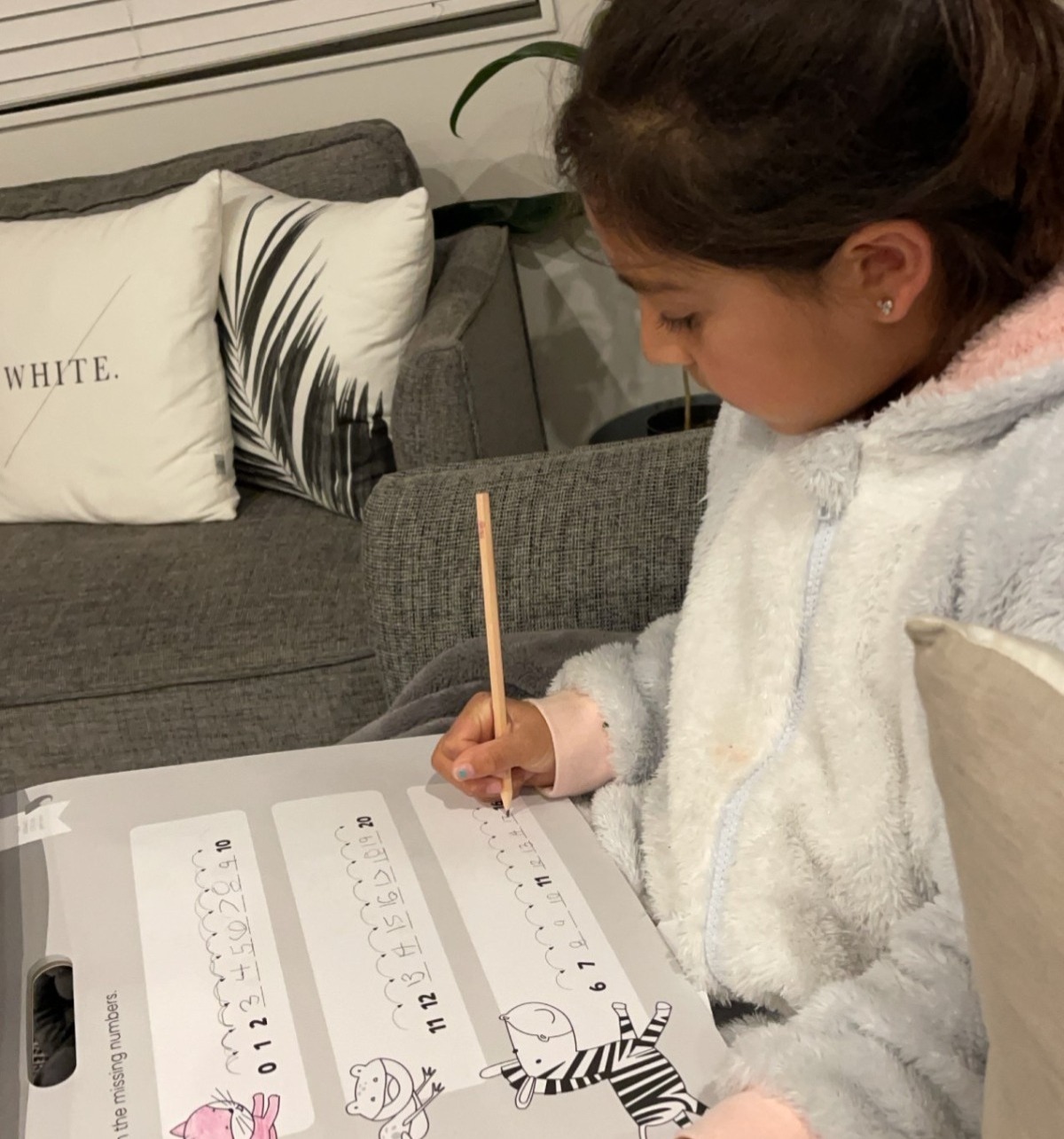 Jessie is embracing learning through play with this adorable teddy train! On the right she is strengthening number sense and fluency with number line work. Keep up the amazing learning Jessie.
Timicke is getting creative with some volcano science and a beautiful painting. Wonderful work Timicke! She has also been 'working out to 100'' (link below). I look forward to being able to do this workout with you again Timicke!
Japji is learning her addition facts, sight words and capital letters using her blackboard, ka pai! I wonder if you will add a story to go with you awesome drawing Japji?
Volcano language experience
On this beautiful day we trekked outside to make our own exploding volcano with water, dishwashing liquid, baking soda, vinegar and food colouring. First, we set up our environment with some animals and other props. Some of the tamariki made a moat and river in anticipation of the water flowing through it! How cool! Language experiences help the tamariki to explore, think and feel using oral language providing a base for their writing.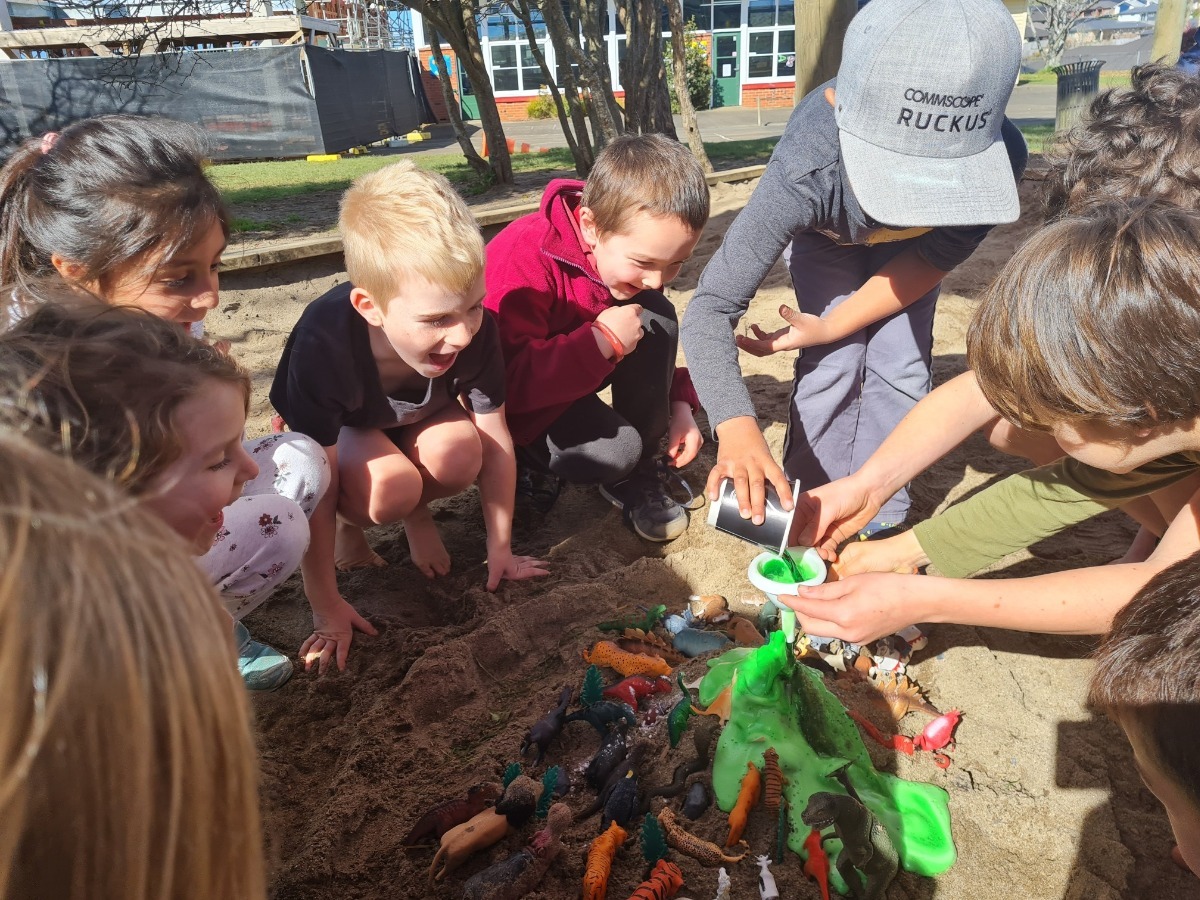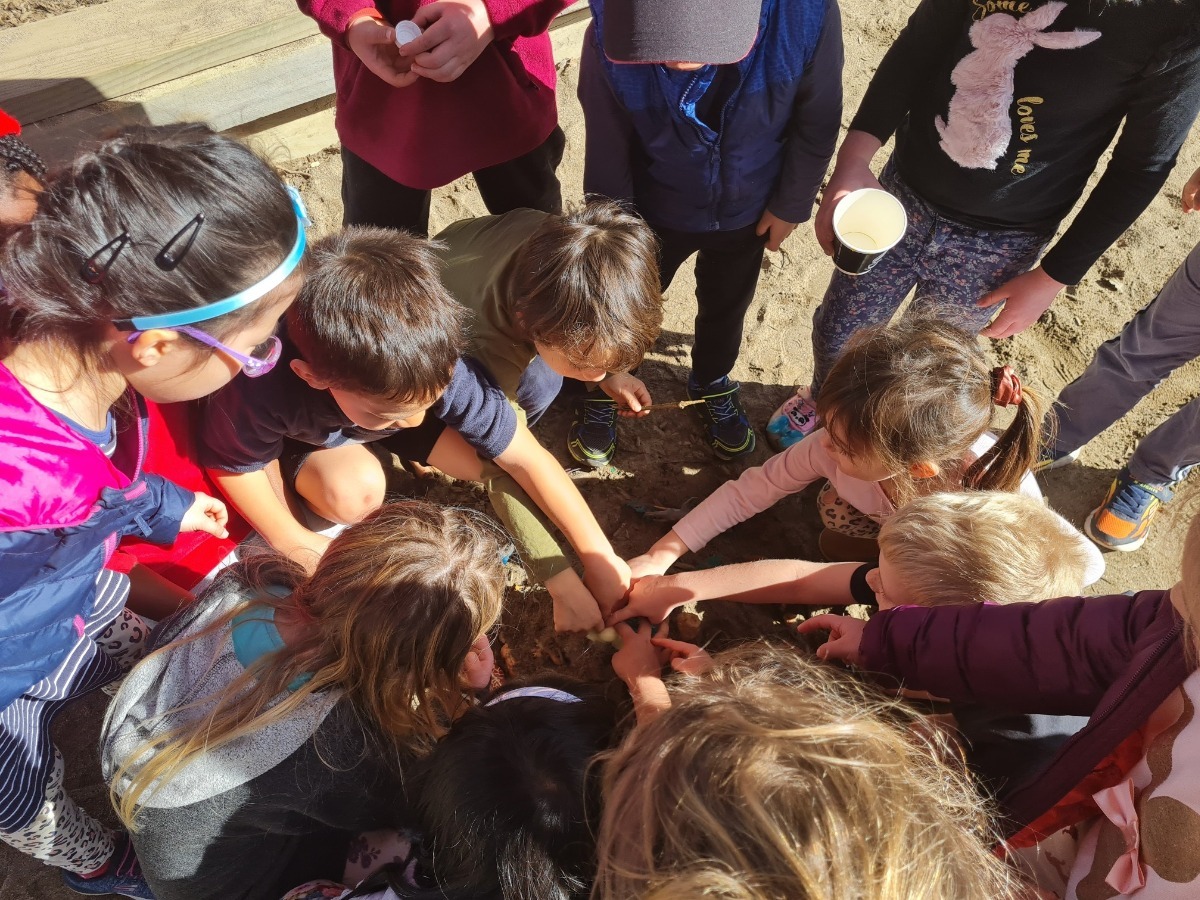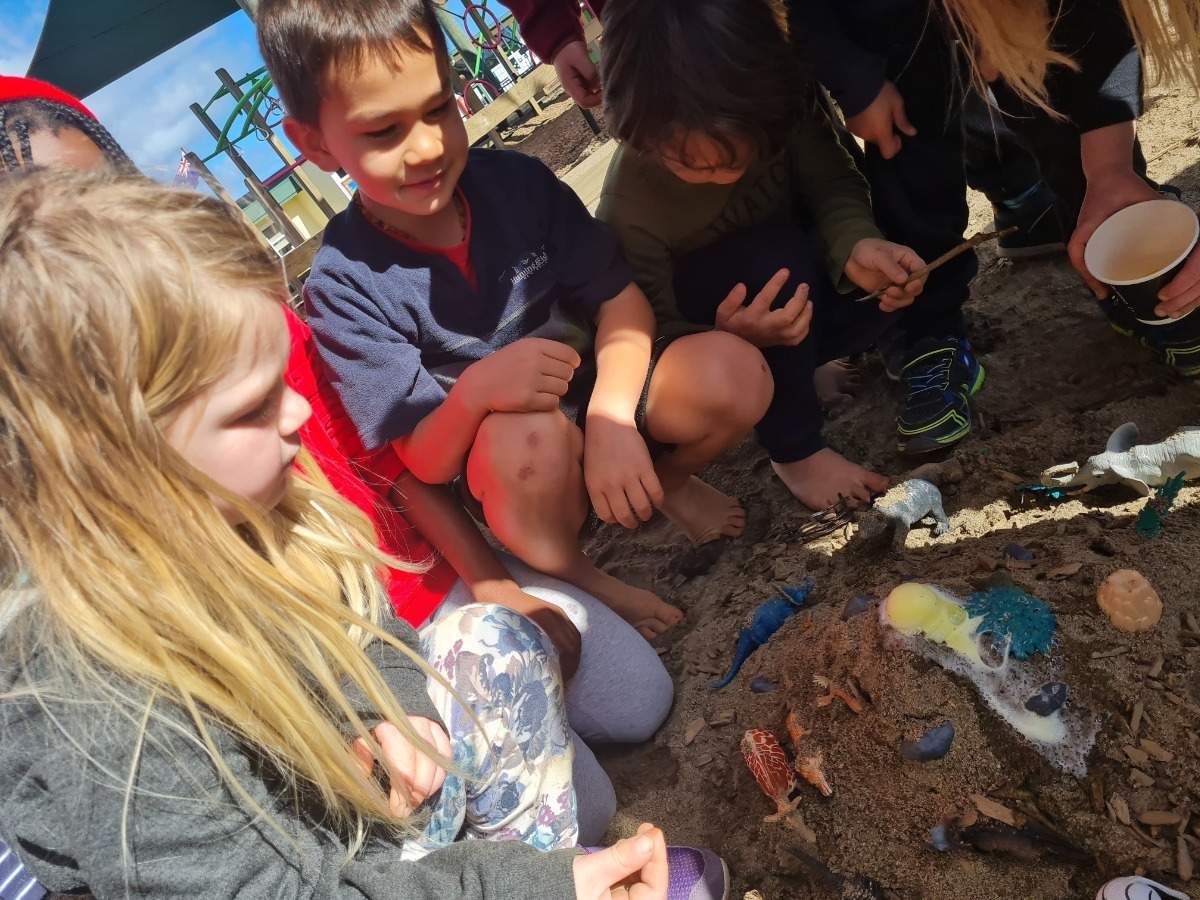 Mathematics
The tamariki learn from one another as they engage in independent learning activities of their choice while smaller groups use play dough and materials to learn about grouping and sharing (multiplication and division).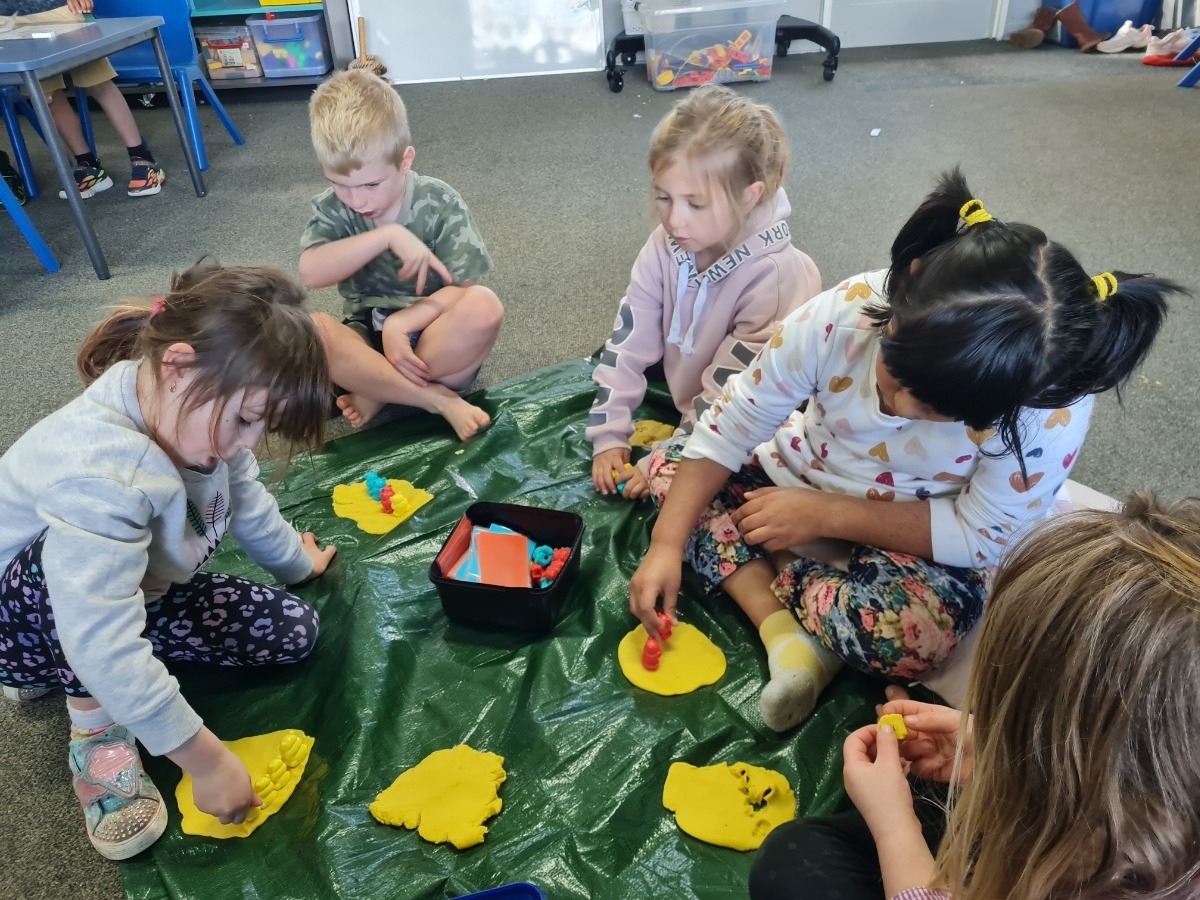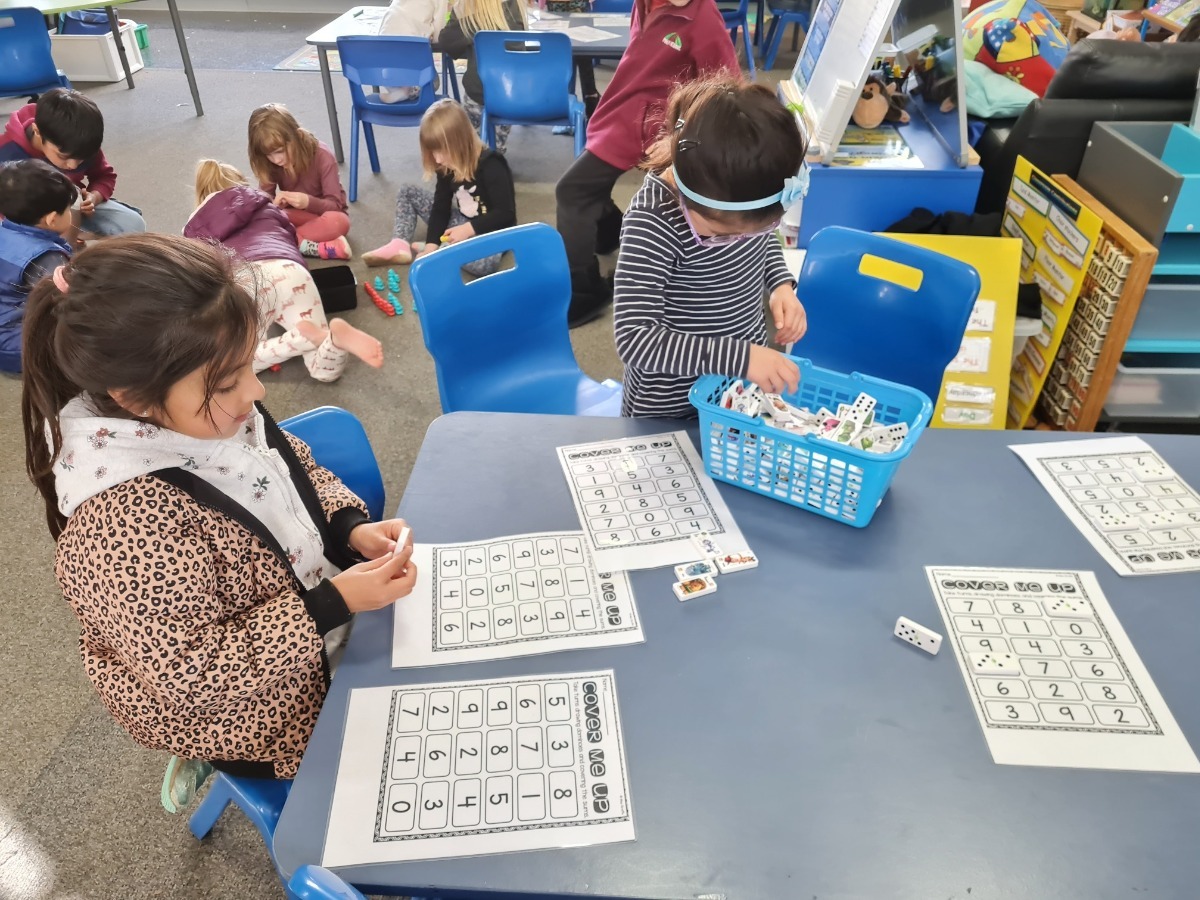 Red Nose Day
Thank you for donating towards the Cure Kids annual appeal. Your tamariki had a fun day with activities.
Reading time
Here Kyla and Emma-Joy practice sequencing a sentence from their book. They are learning that sentences are made up of words, start with capital letters, end with full stops, and have spaces between each word.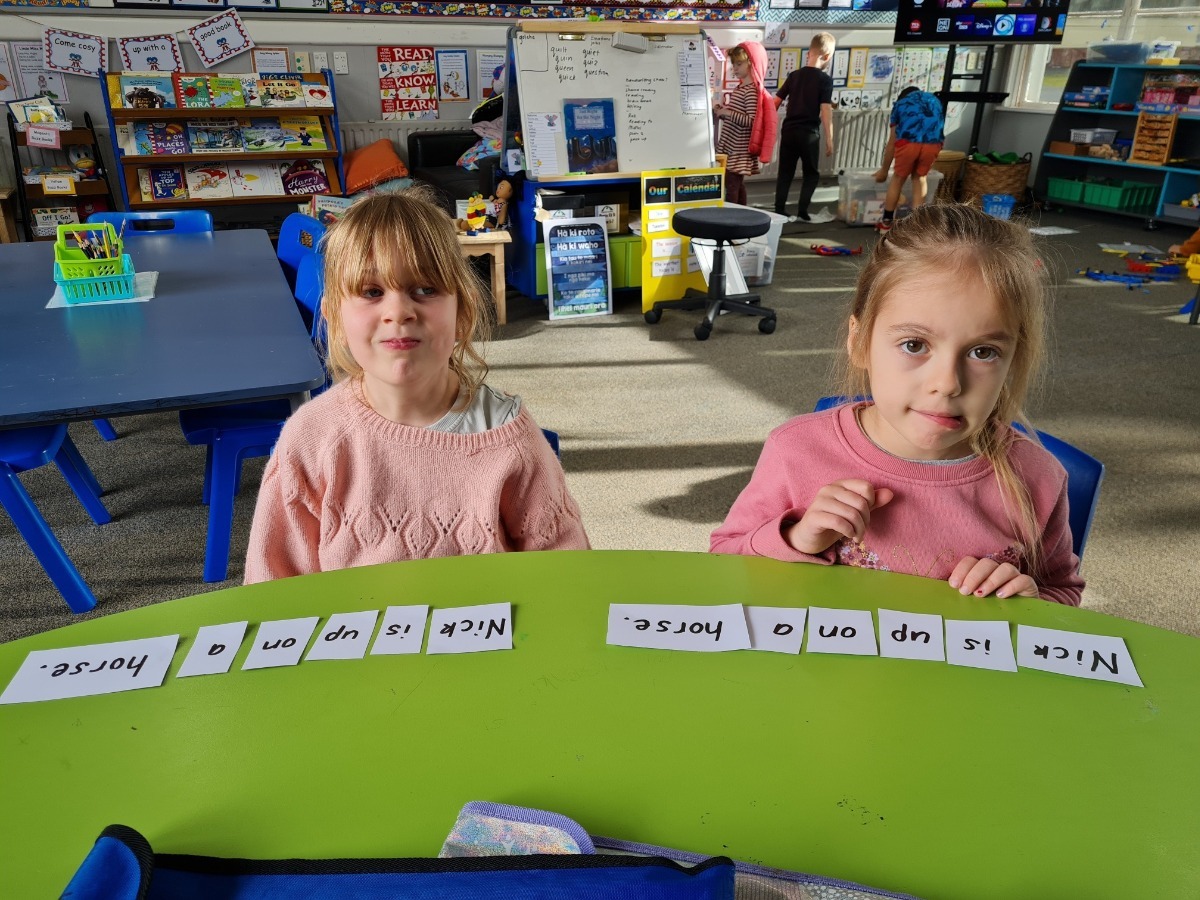 Library time
The tamariki enjoy the new library space in our resource room.
Pyjama, popcorn and movie day - our 'p' week
On last day of term we celebrated our amazing learning with popcorn, the movie 'Luca', our pyjamas and our favourite teddies.
Our pancake writing experience
We all took turns making pancakes - adding ingredients, mixing, measuring, cooking, preparing toppings and eating! We talked about our experience and then wrote about it the next day.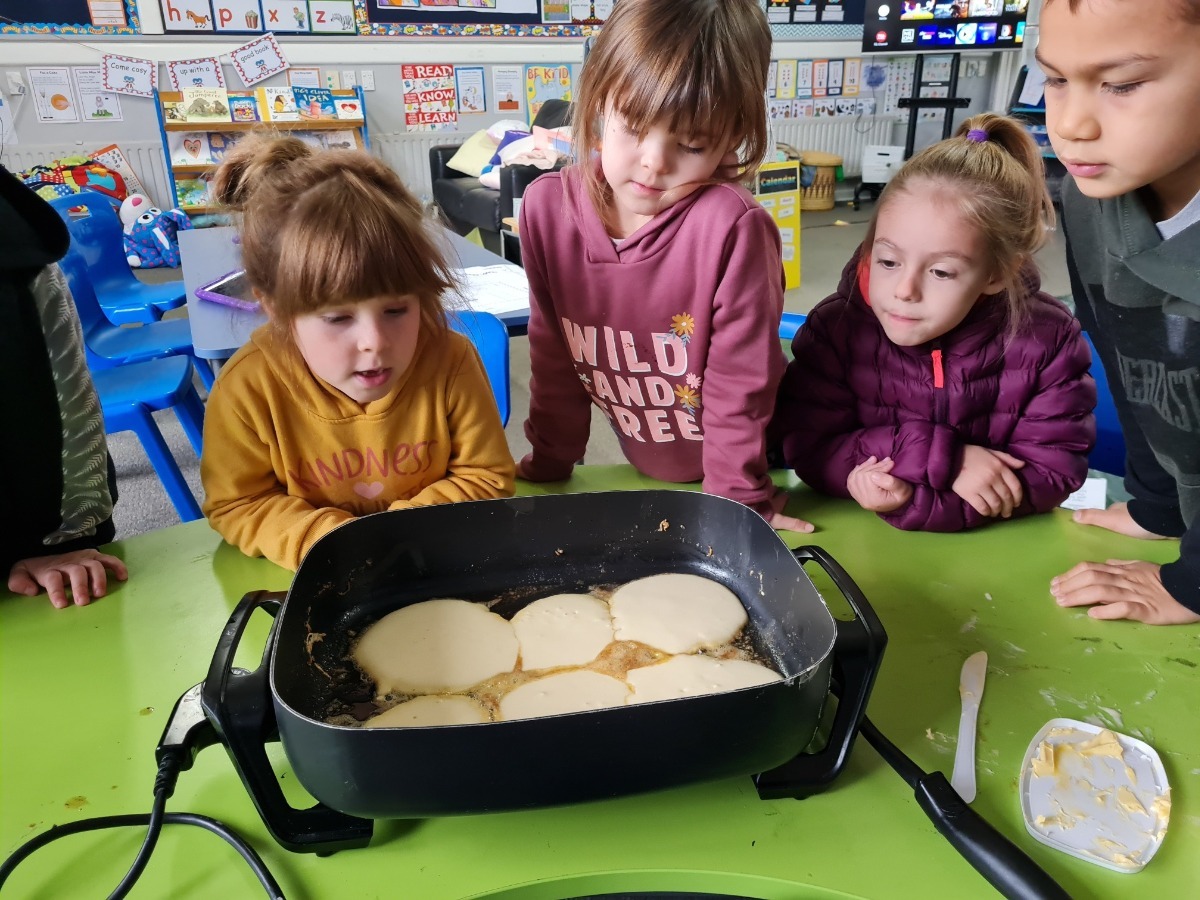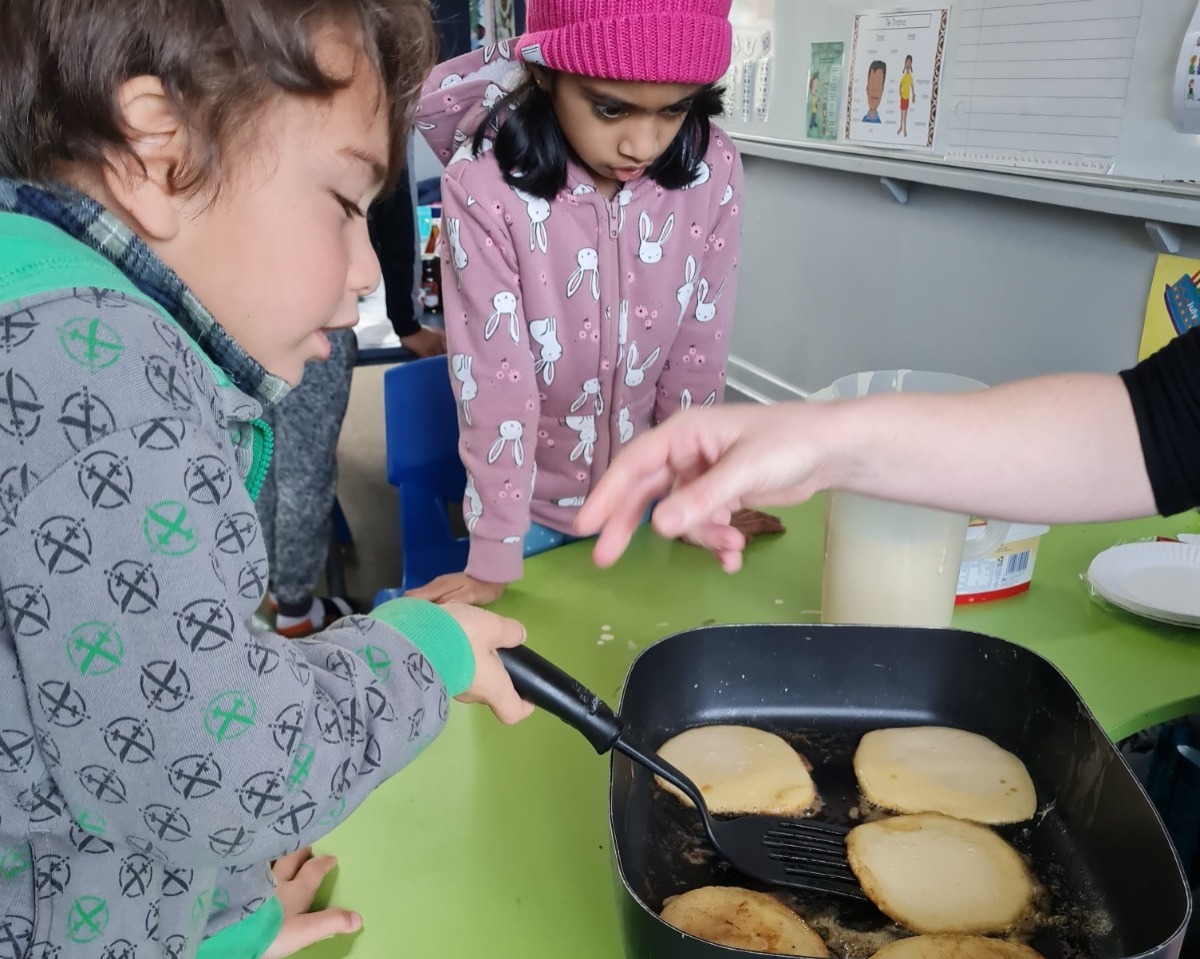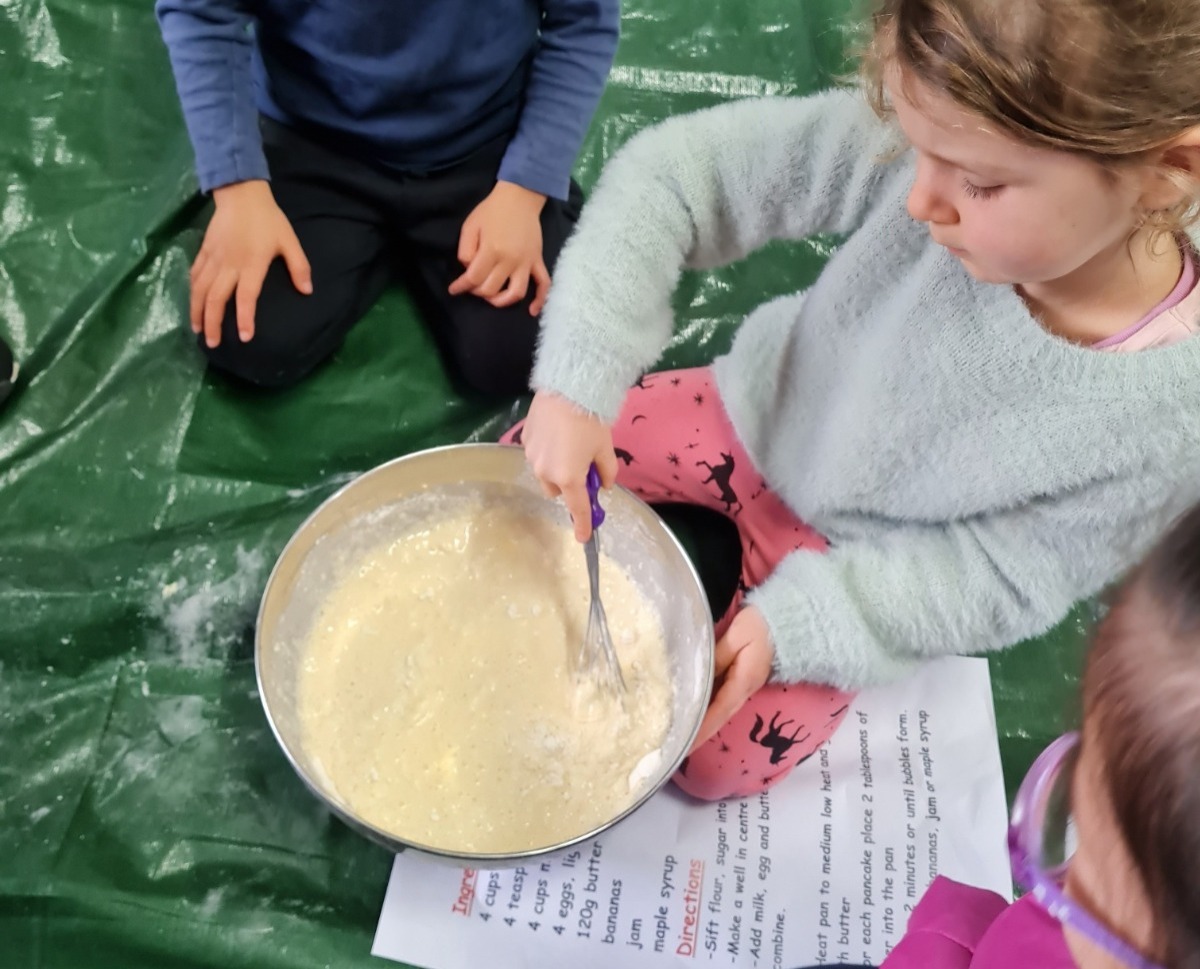 Matariki
Here our tamariki are making a hiwa-i-te-rangi matariki (wishing star of Matariki) out of harakeke with Mrs Mous. We blessed our harakeke with a karakia before we began working with it. The lovely students from room 13 came to support us in this challenging, yet special, task.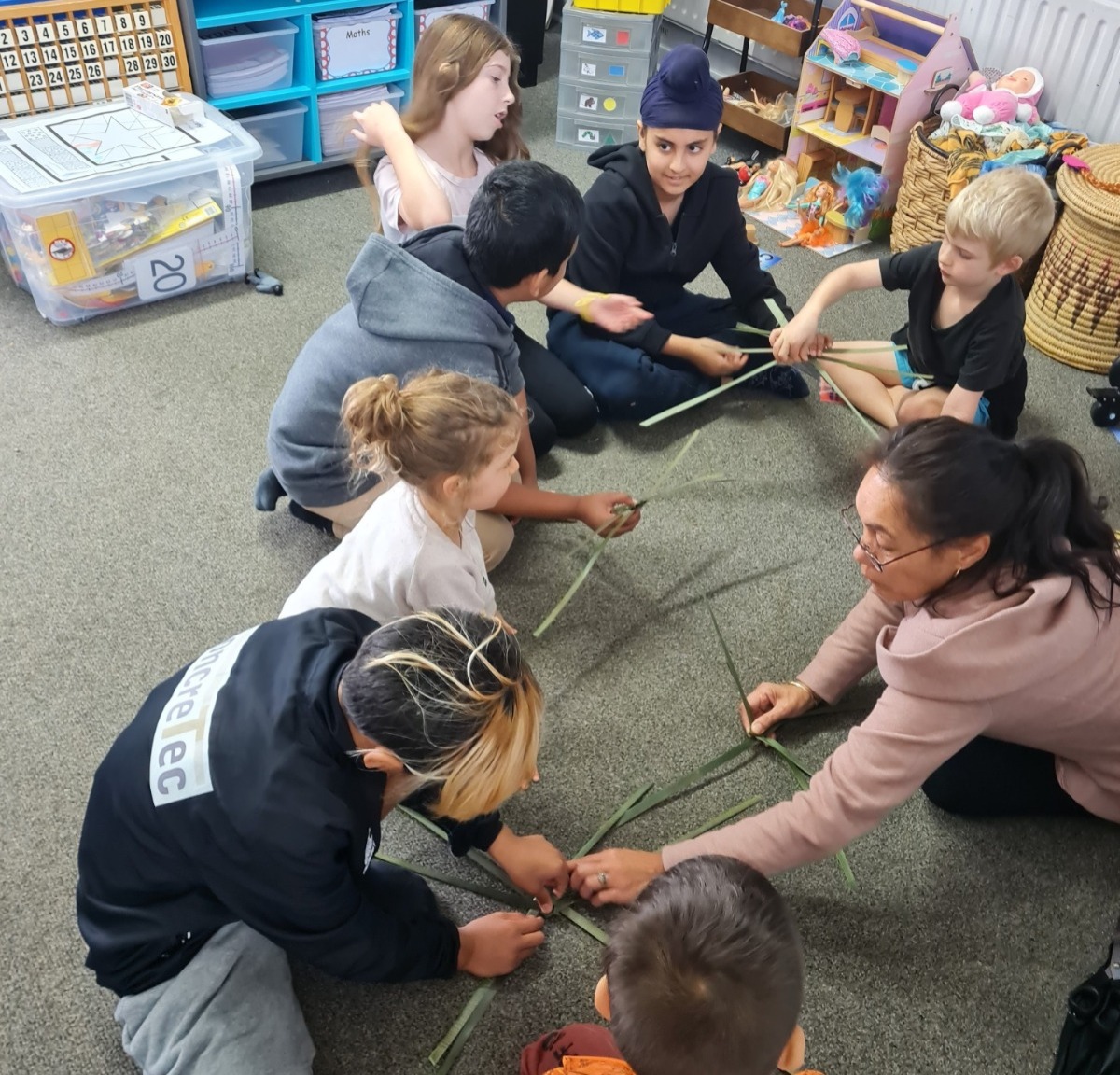 The world's largest skateboard comes to Pokeno!
Skateboarders Matthew and Bowman brought the world's largest skateboard to Pokeno school! The skateboard is 12m long and weights 800kg and has toured NZ to promote Skateboarding being added as an Olympic sport.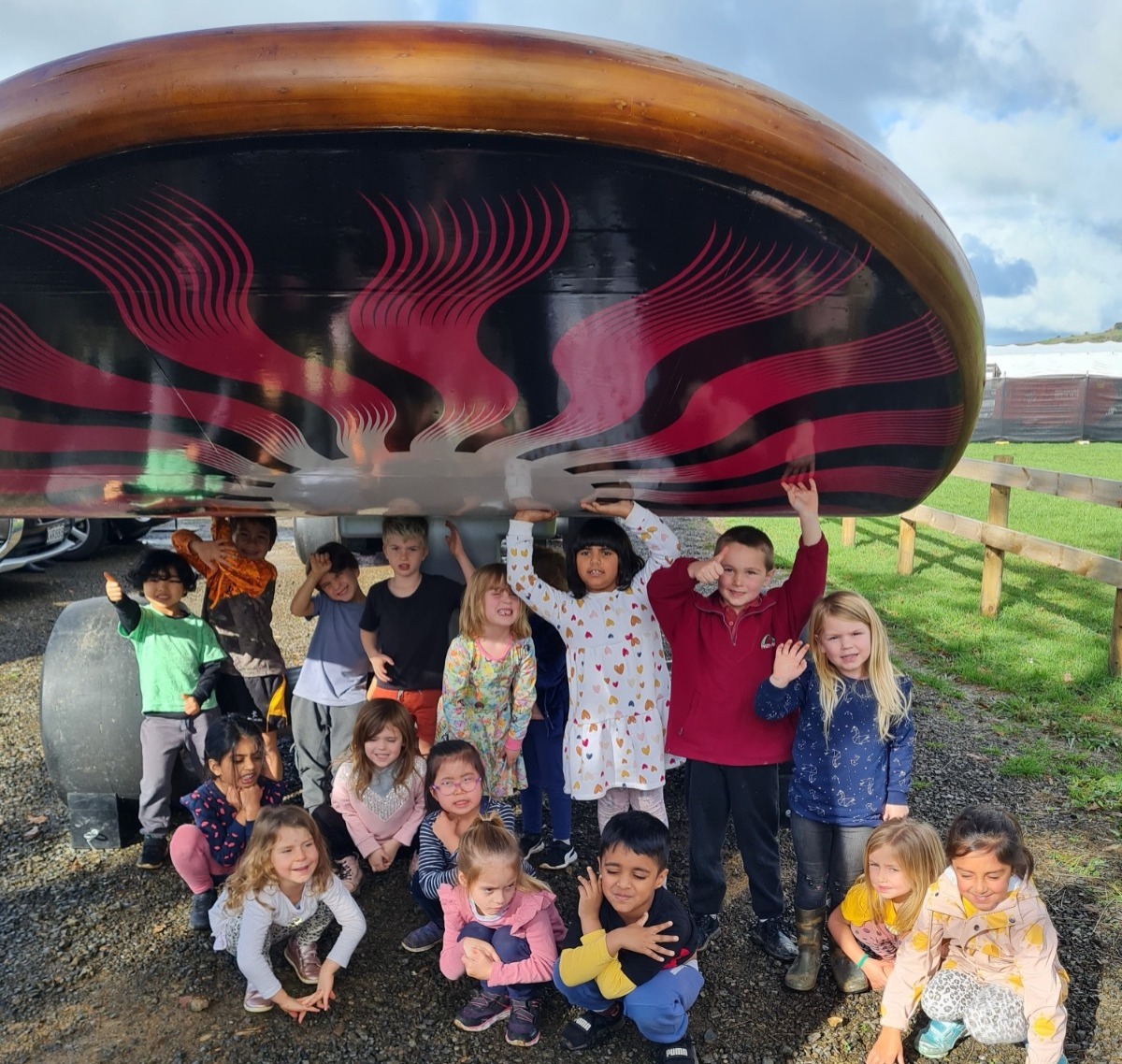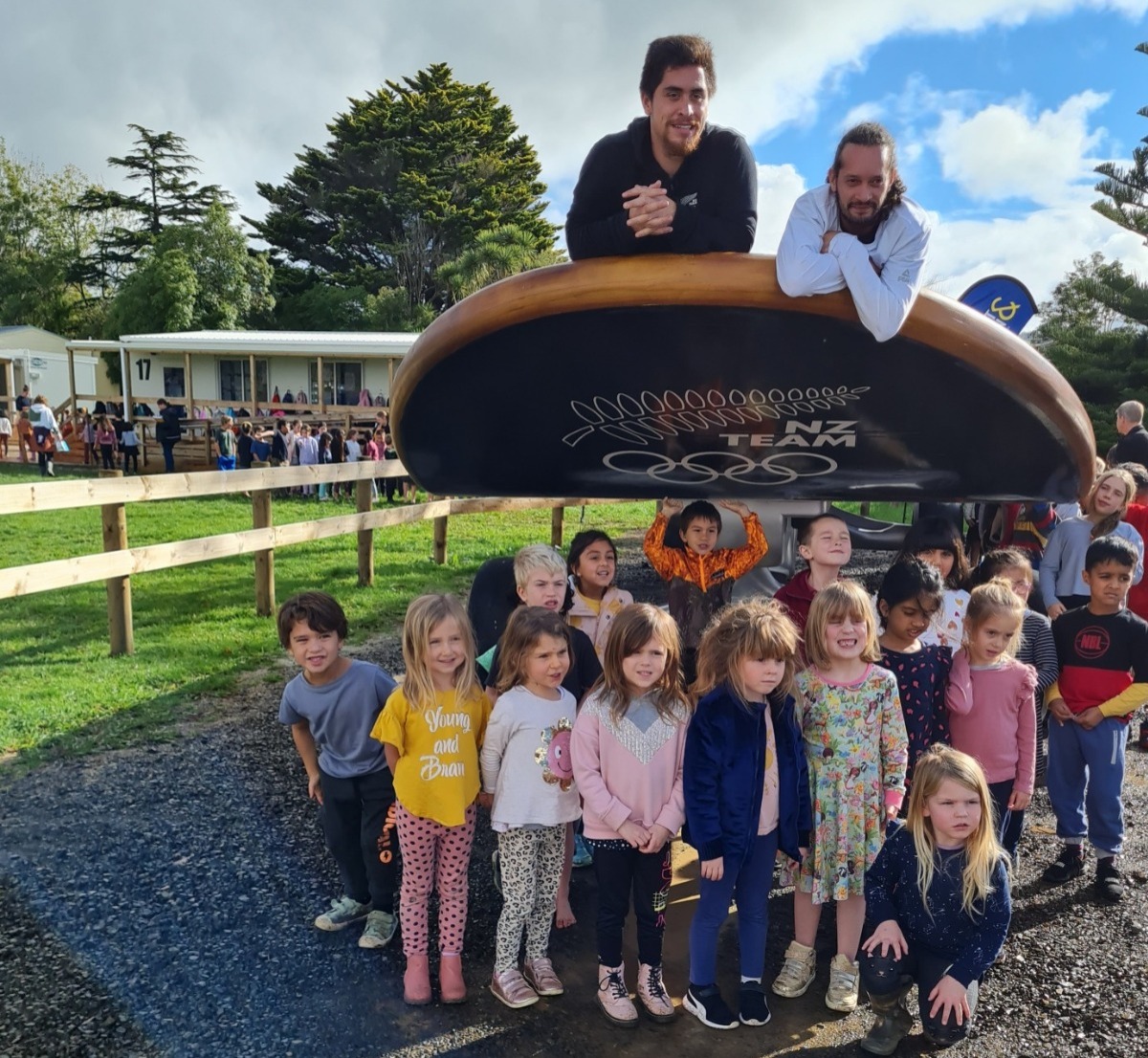 Independent learning
I am so proud of how your tamariki have settled into our must do/may do system - check out their learning and amazing independence.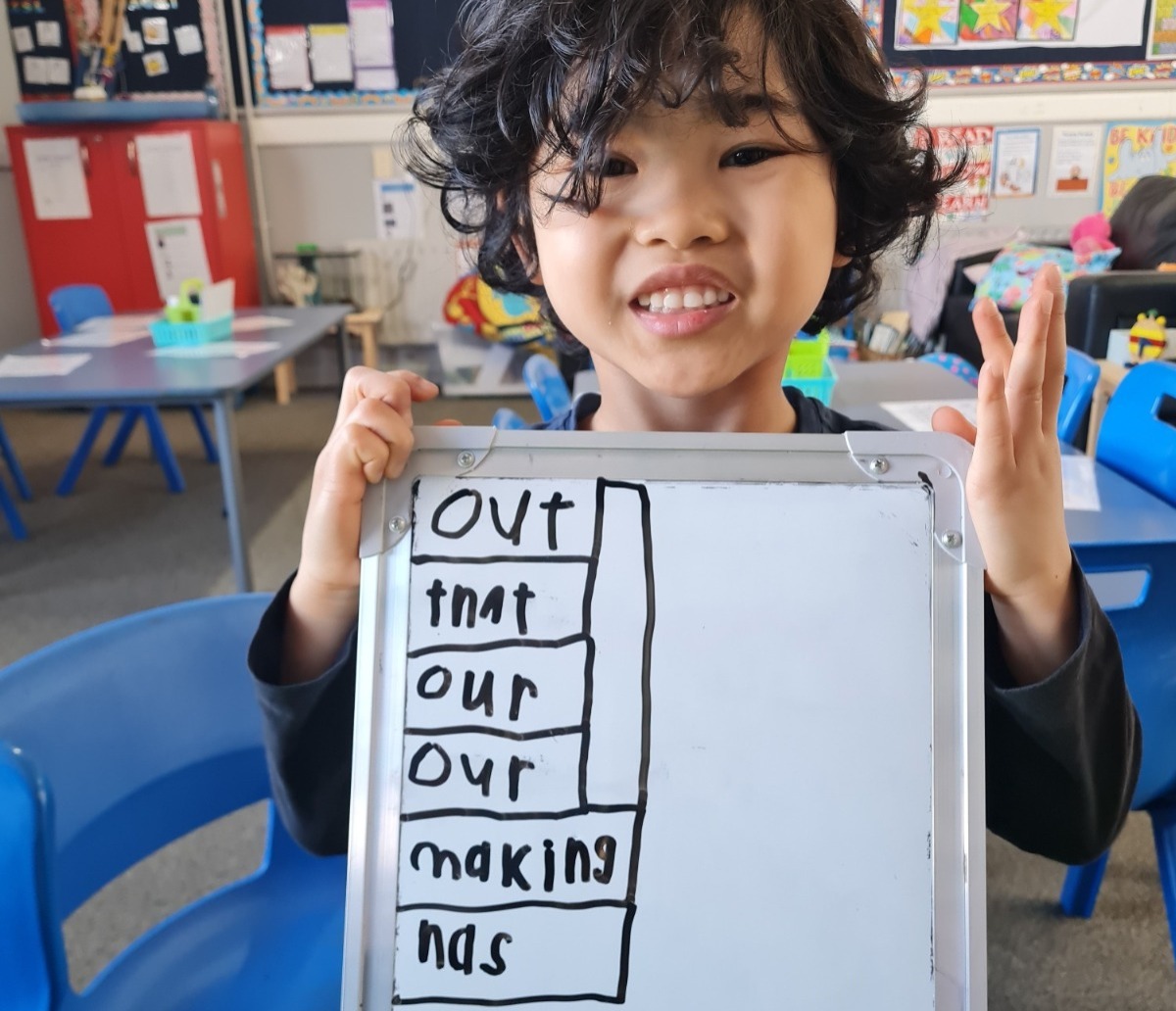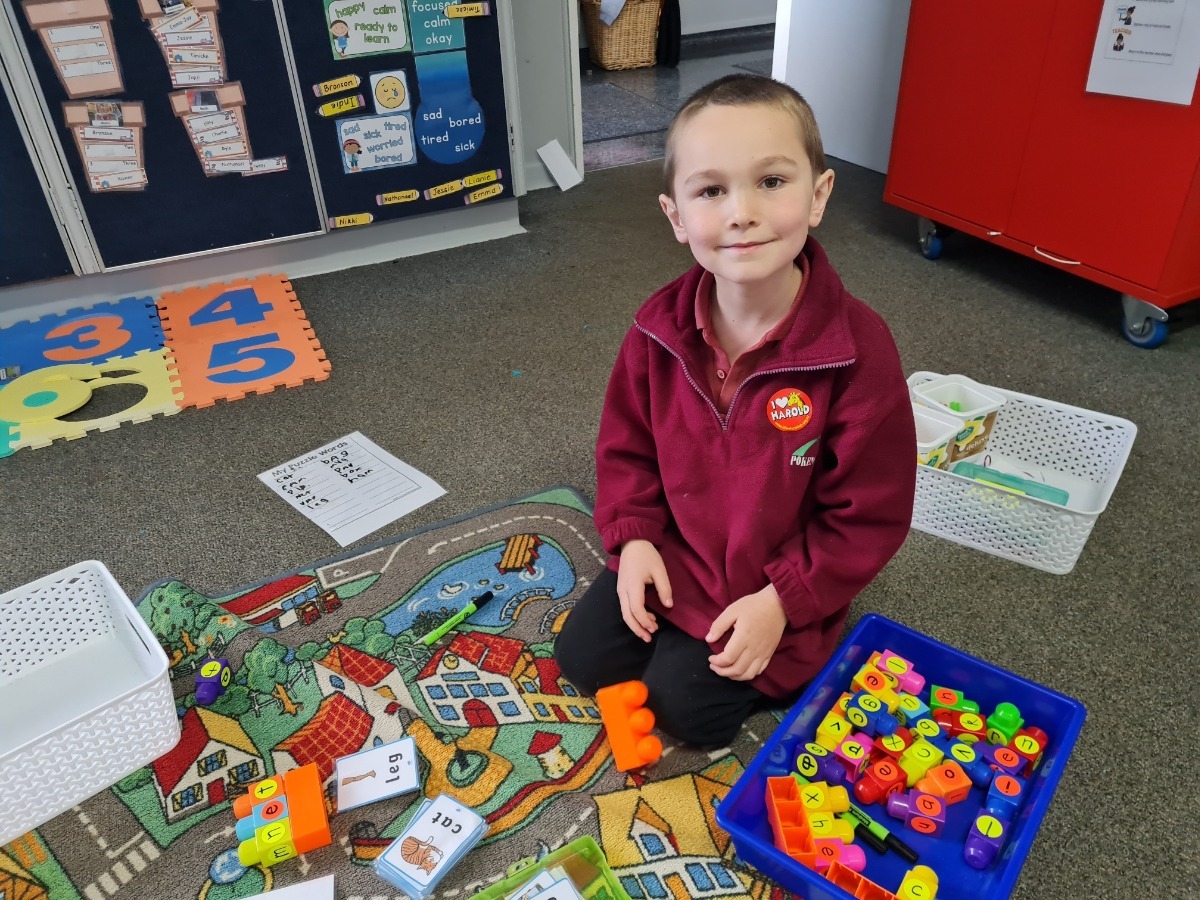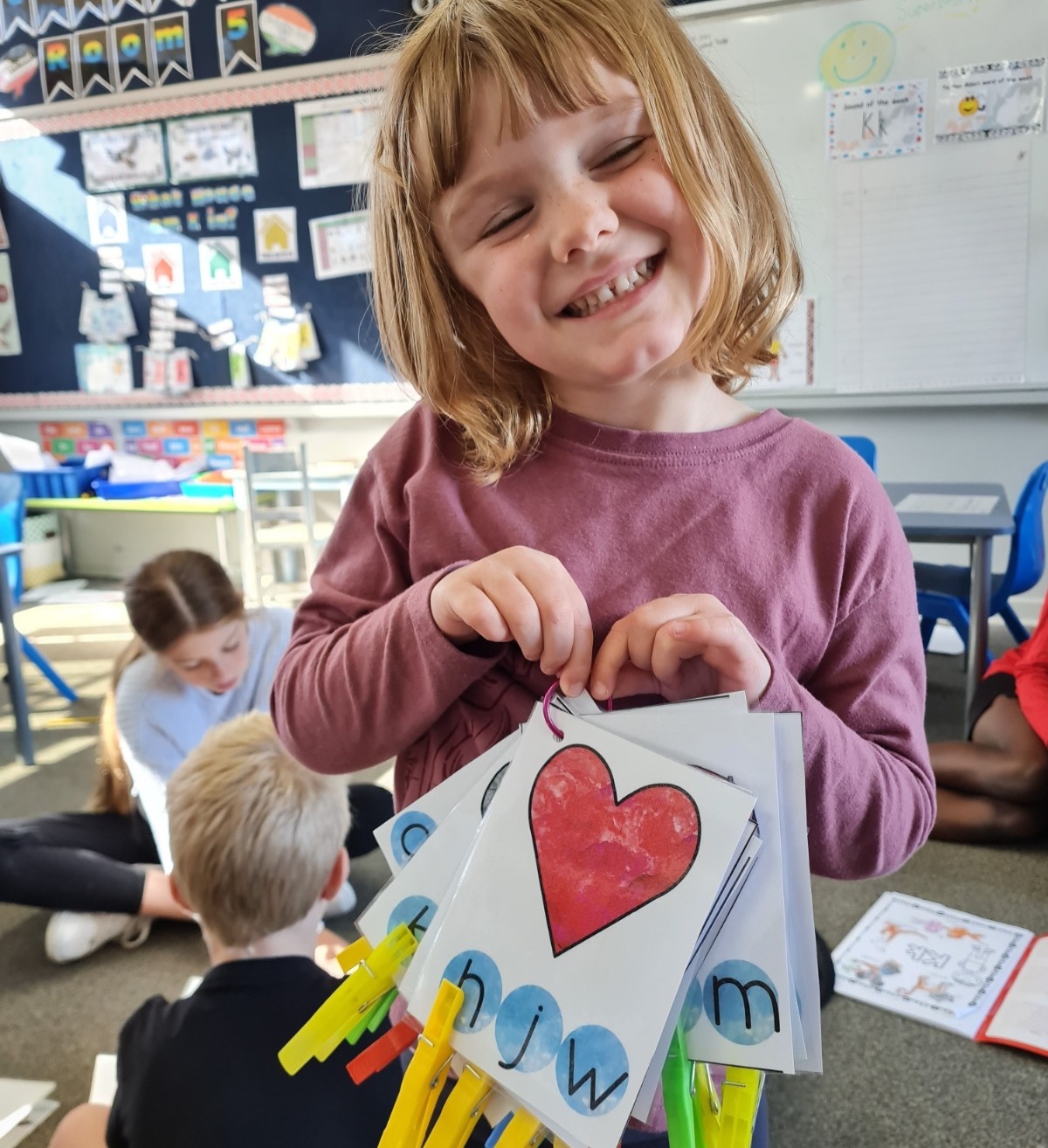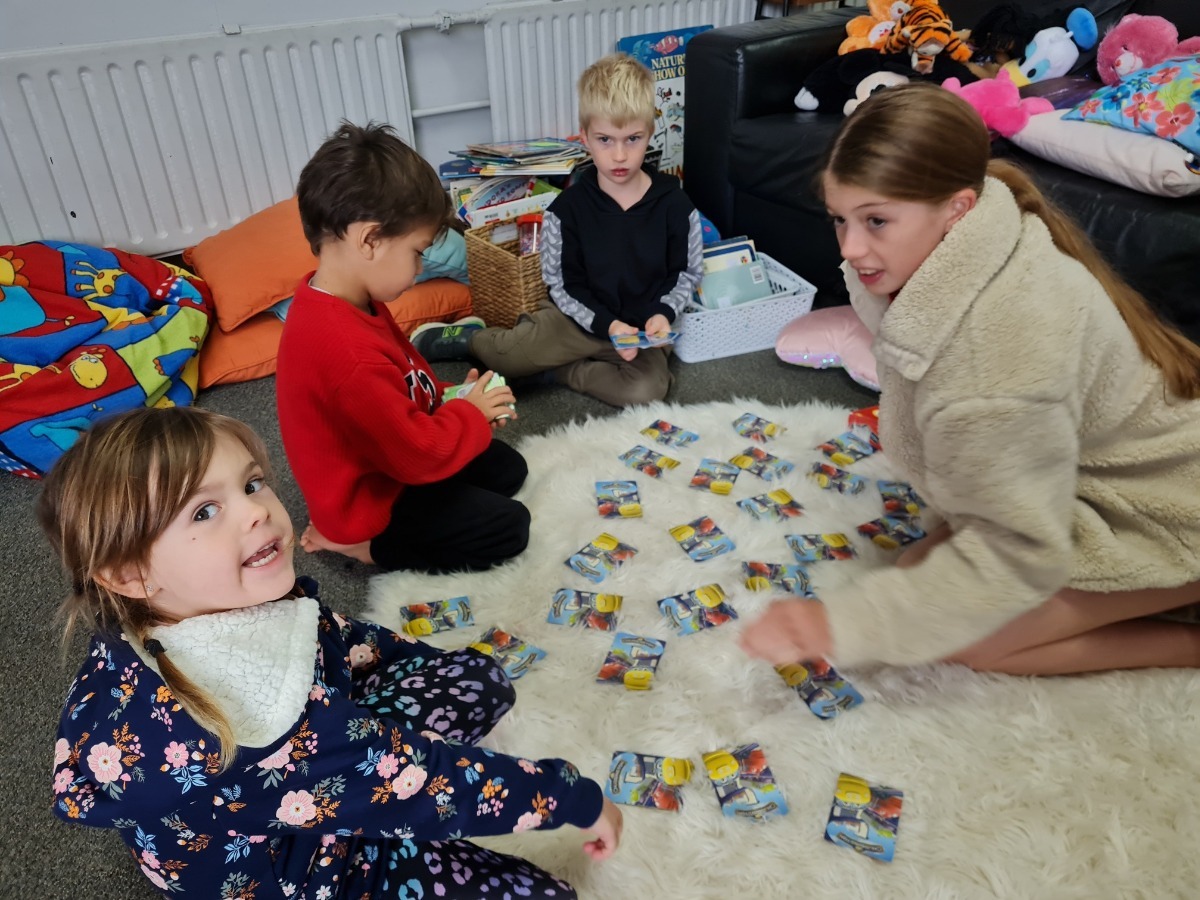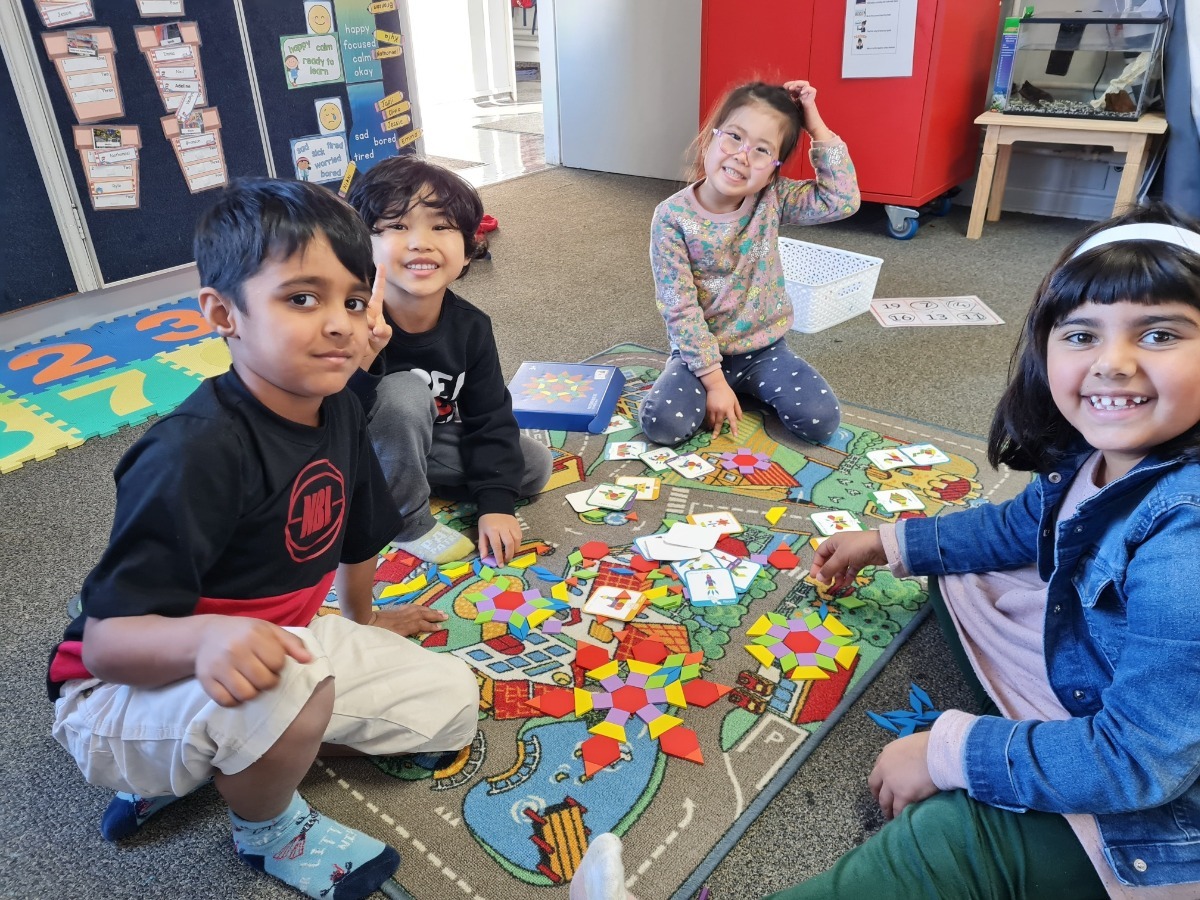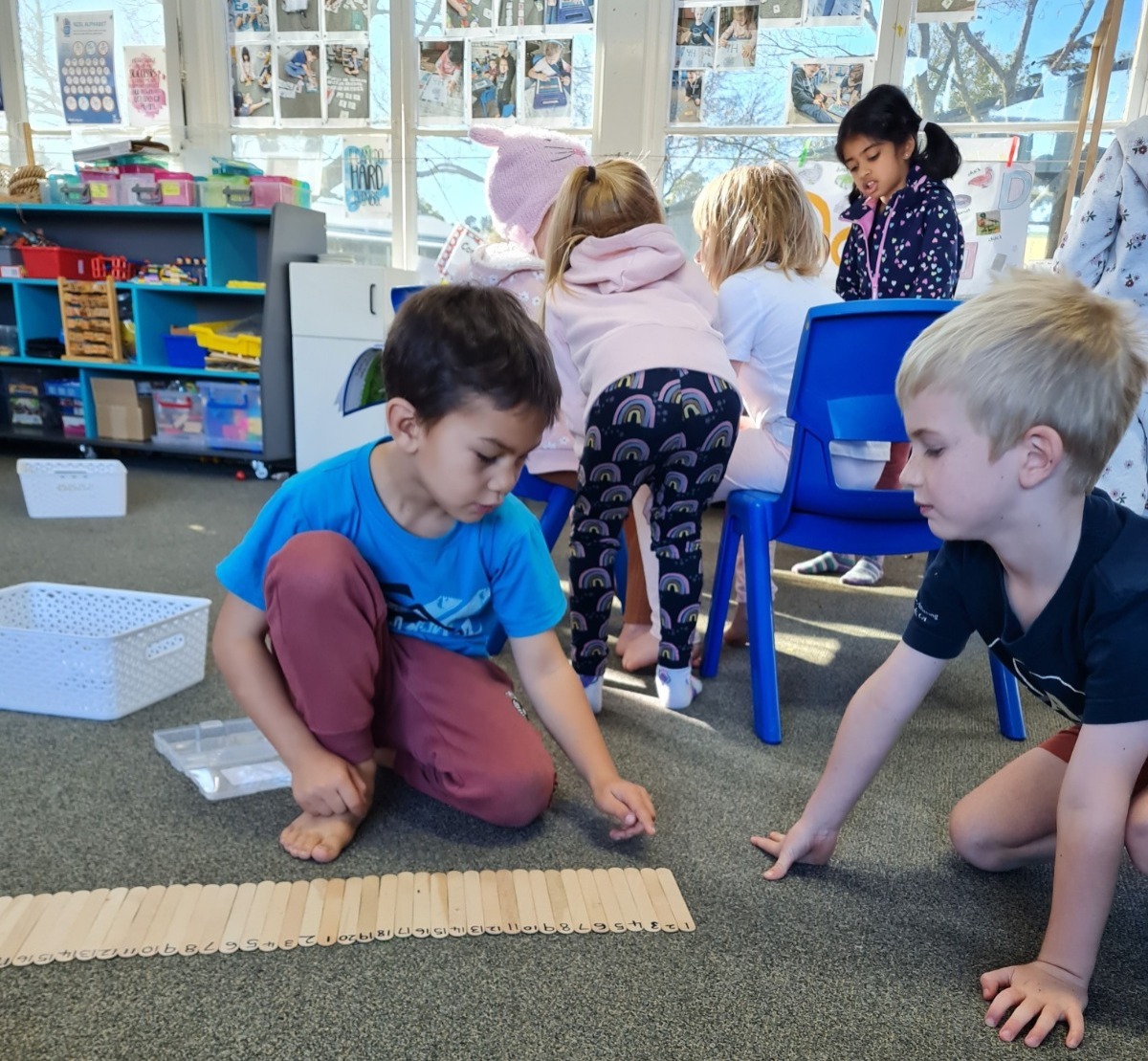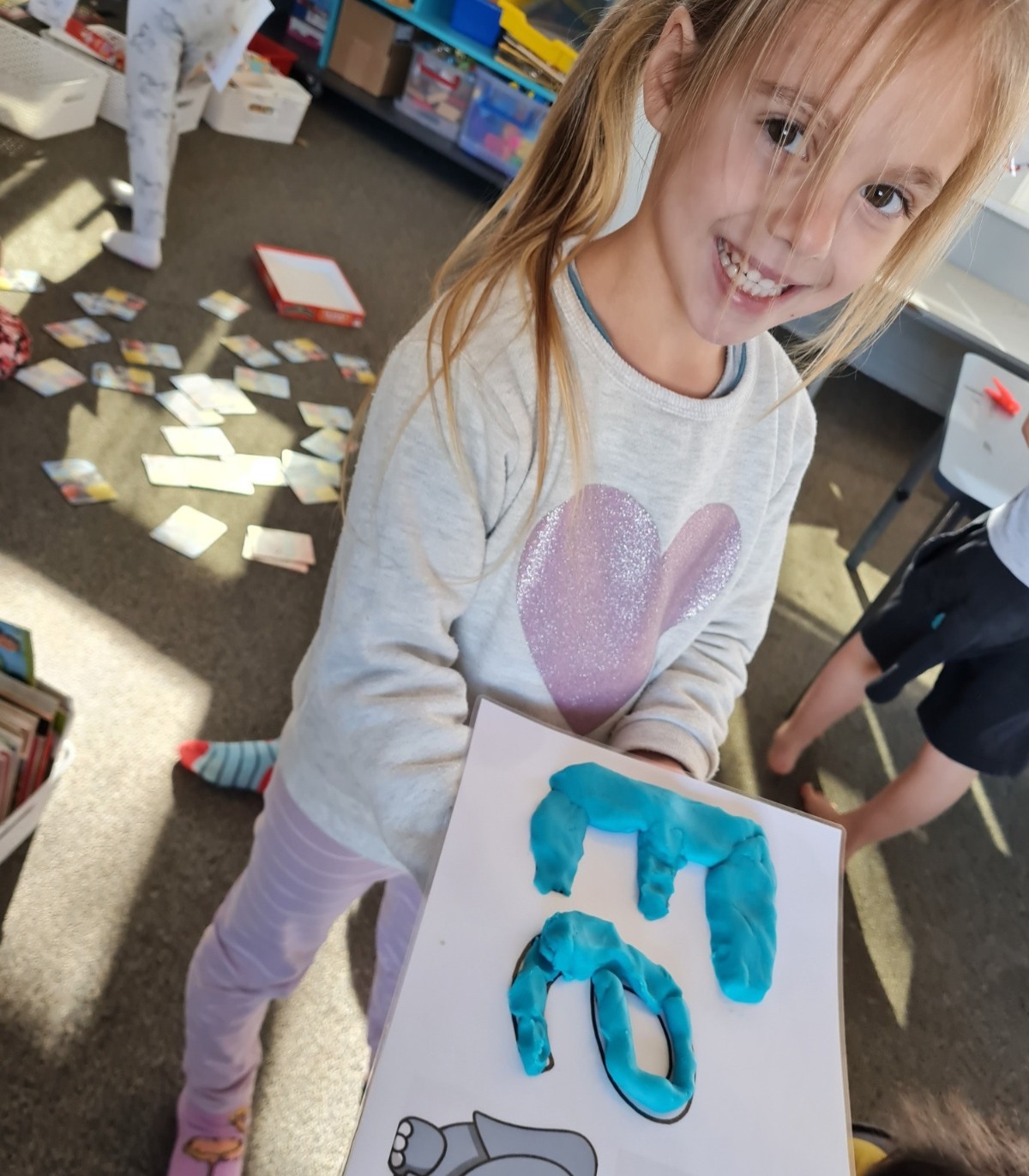 Ako
We are all teachers and we are all learners. Here Timicke and Nathanael model our learning for literacy, and Bronson shows Indie how to use to peg activity to develop her initial sound knowledge.
Manaakitanga
Manaakitanga is another of Pokeno School's values. Here is Charlie displaying kindness to Olivia ensuring she is taken care of on the playground equipment with her broken arm. We absolutely love seeing acts of kindness like this!
Writing
Writing is a process. Here we are talking to a buddy about what we are going to write about. This step helps to activate the connection between oral language and written language. Look how engaged they are!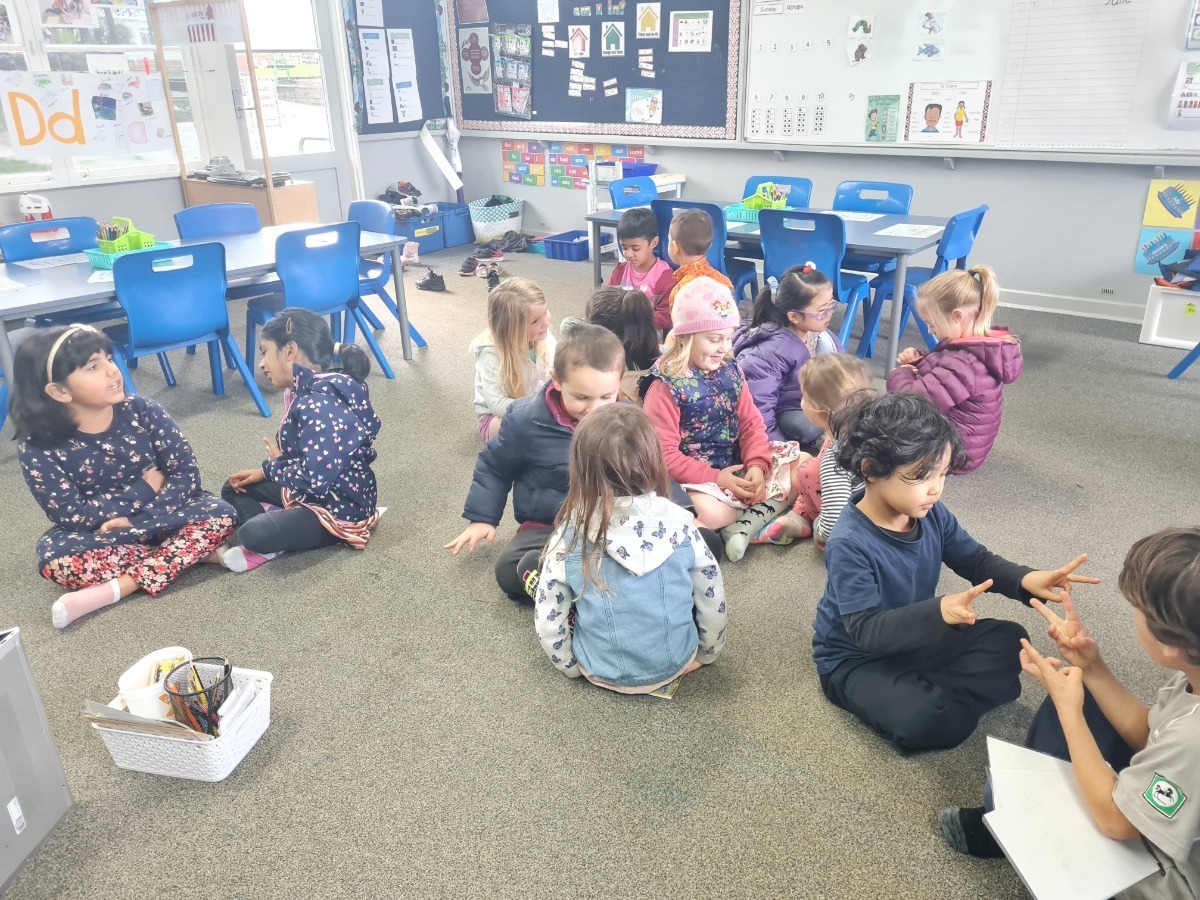 Life Education Trust - Harold visits Pokeno!
Room 5 learnt about 'warm fuzzies' and 'cold fuzzies' this week and how to be a good friend through the adventures of Harold and Bunny. Thanks for the visit Life Education Trust!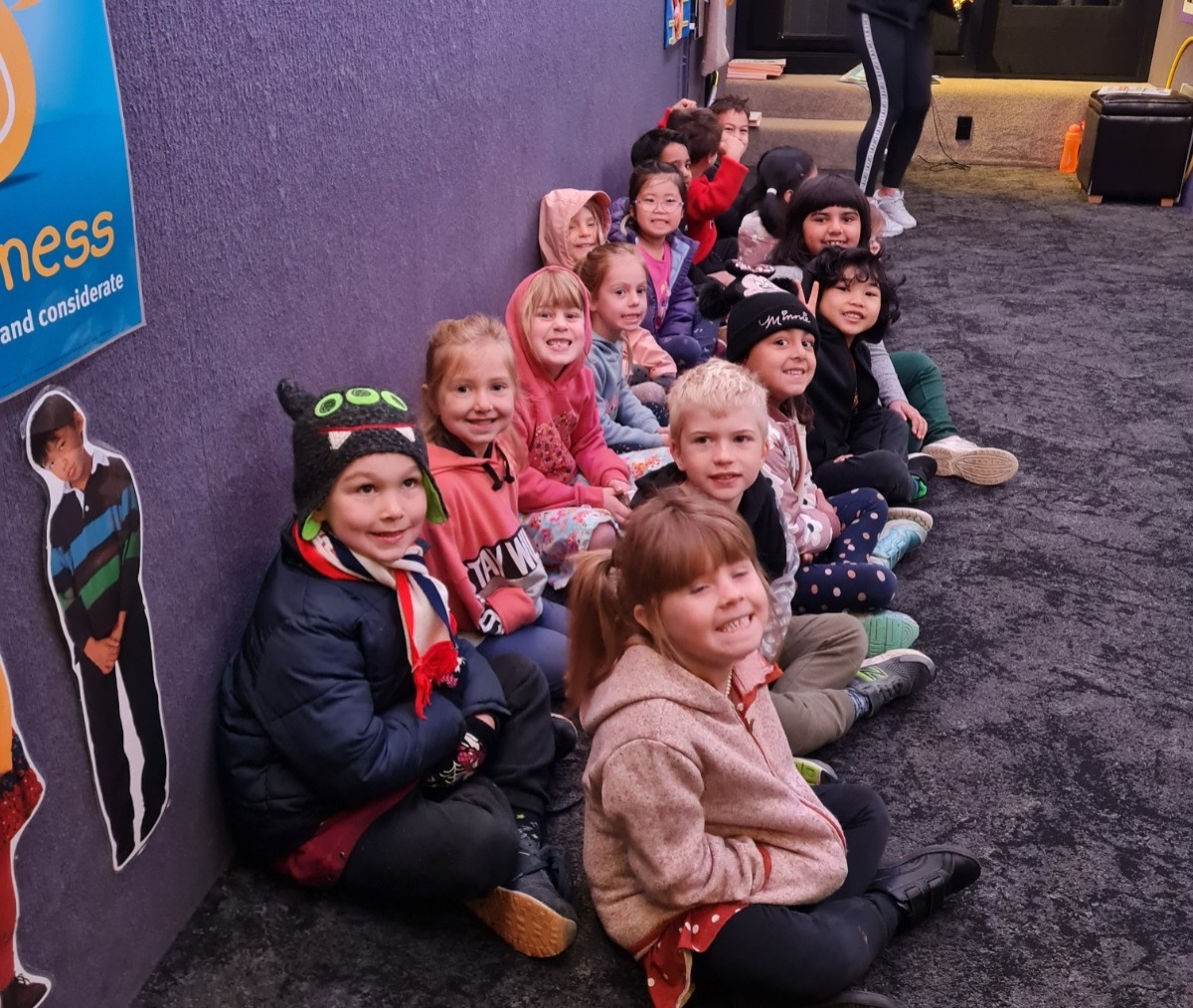 Fluffy and Oreo visit - our writing experience
Oreo and Fluffy - two loving and sociable pet rats visited the Ruru Whaanau to support our tamariki with a language experience. Language experiences encourage our tamariki to explore, think and feel. Such experiences enrich tamariki speaking and listening and lead on naturally to their reading and writing. What a wonderful time the children had. Did anyone come home asking for a new pet rat? :)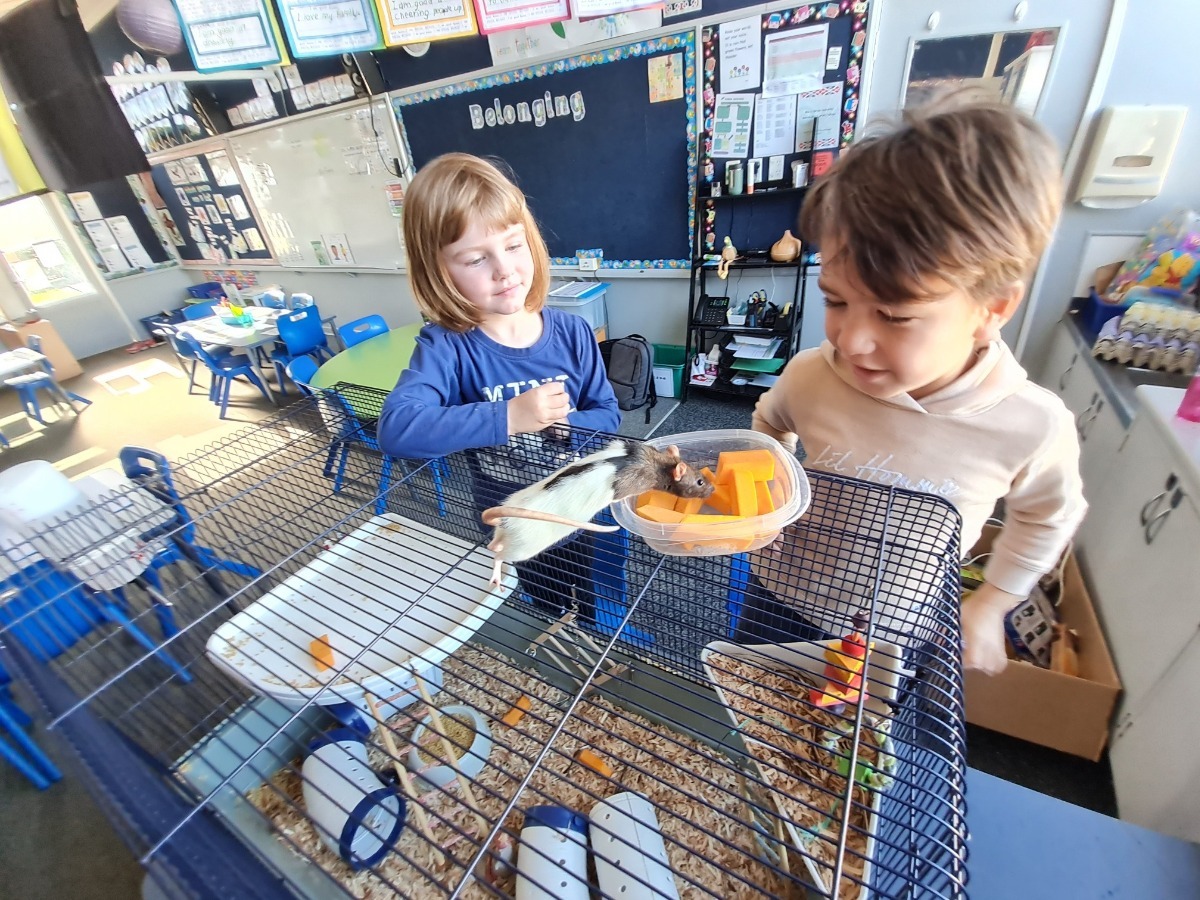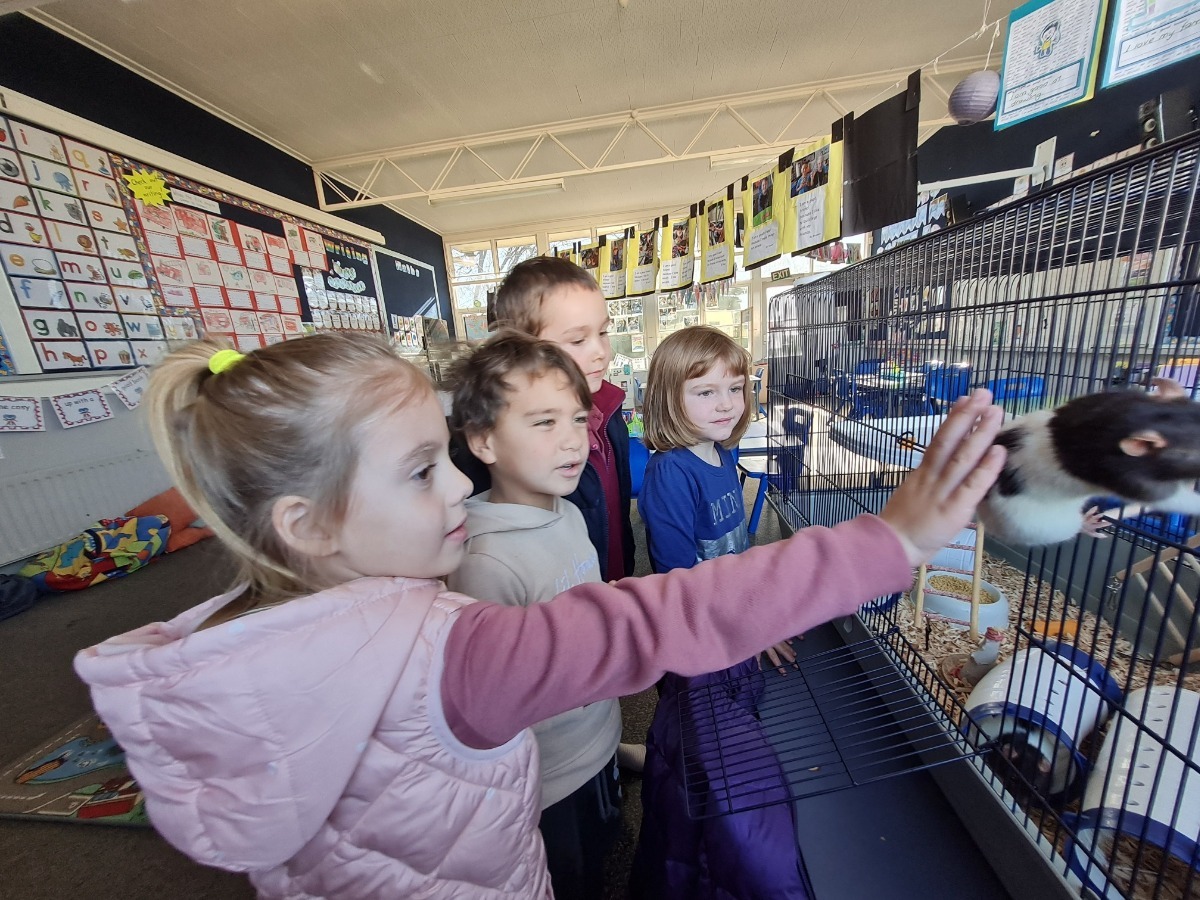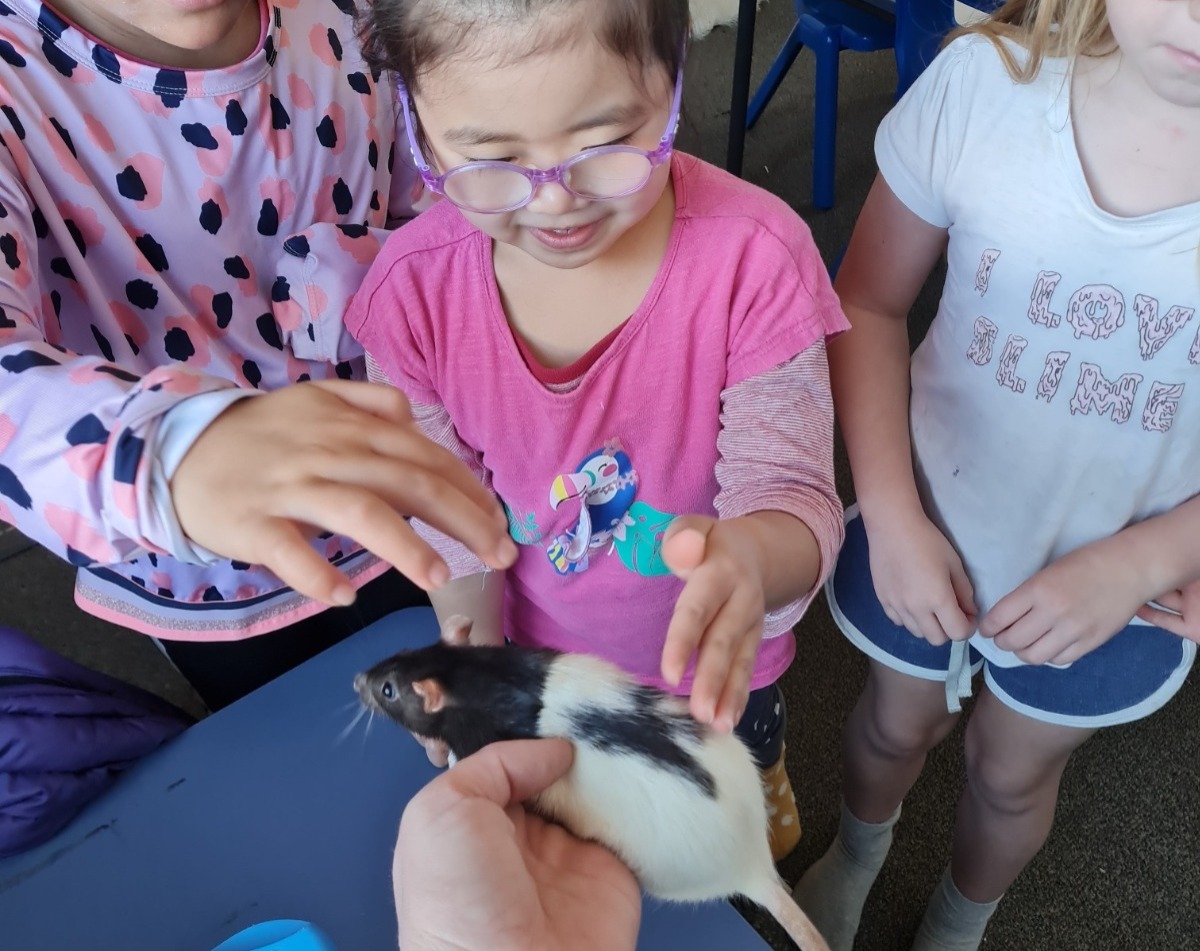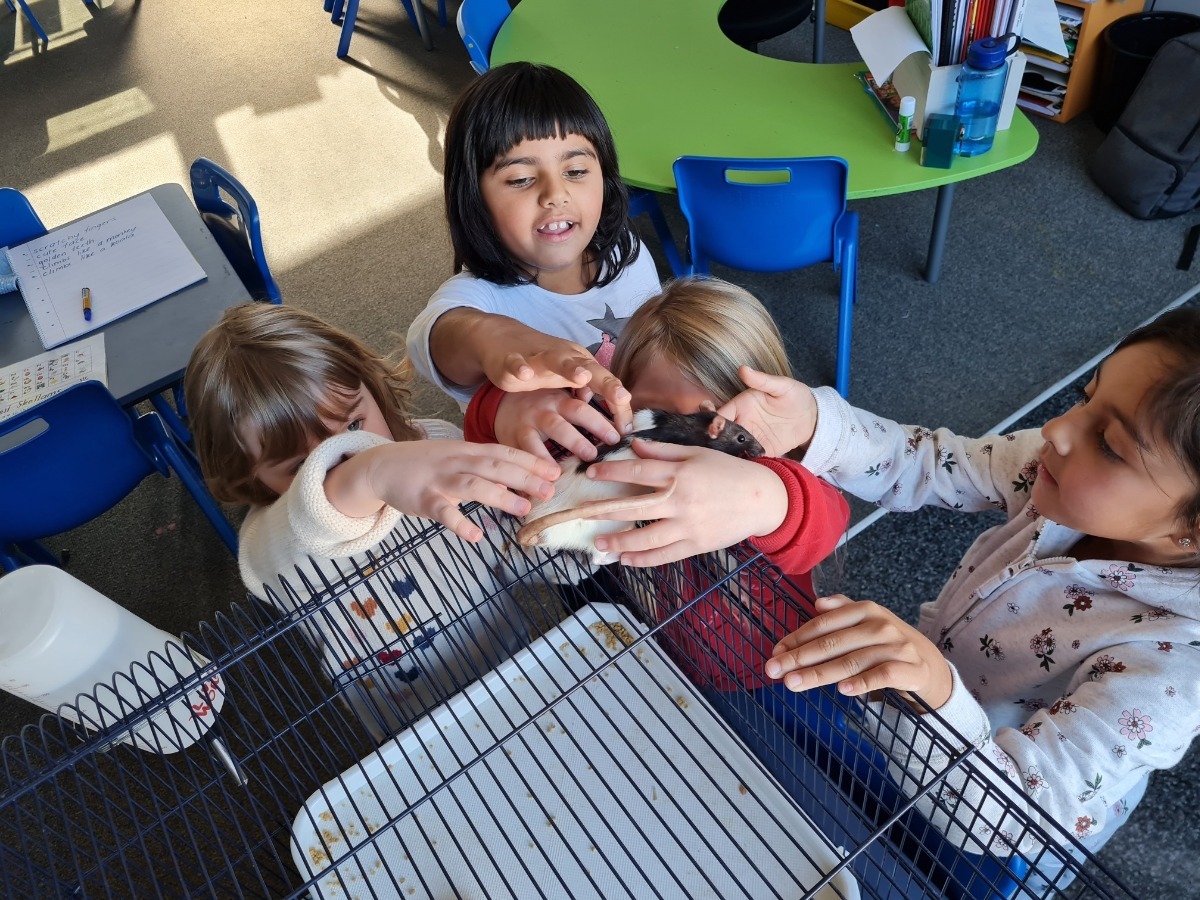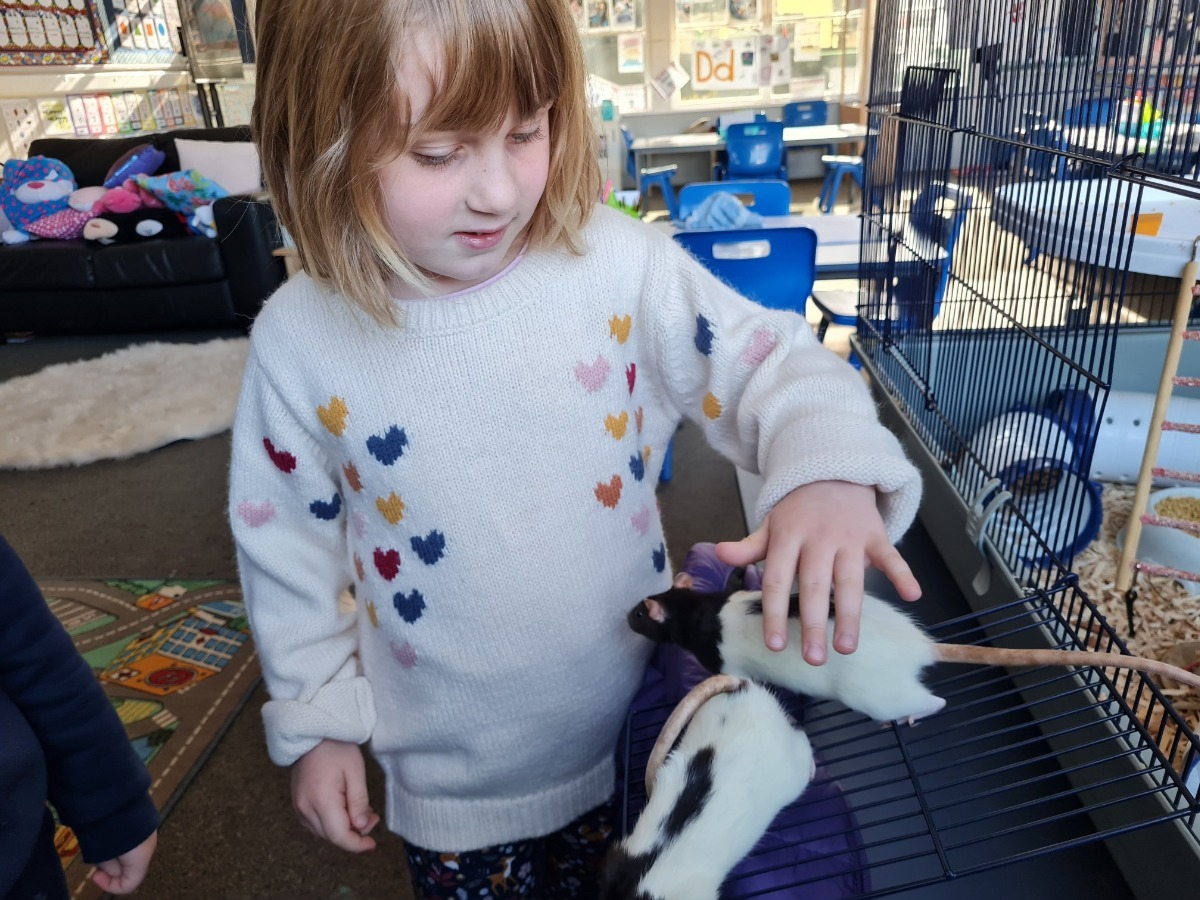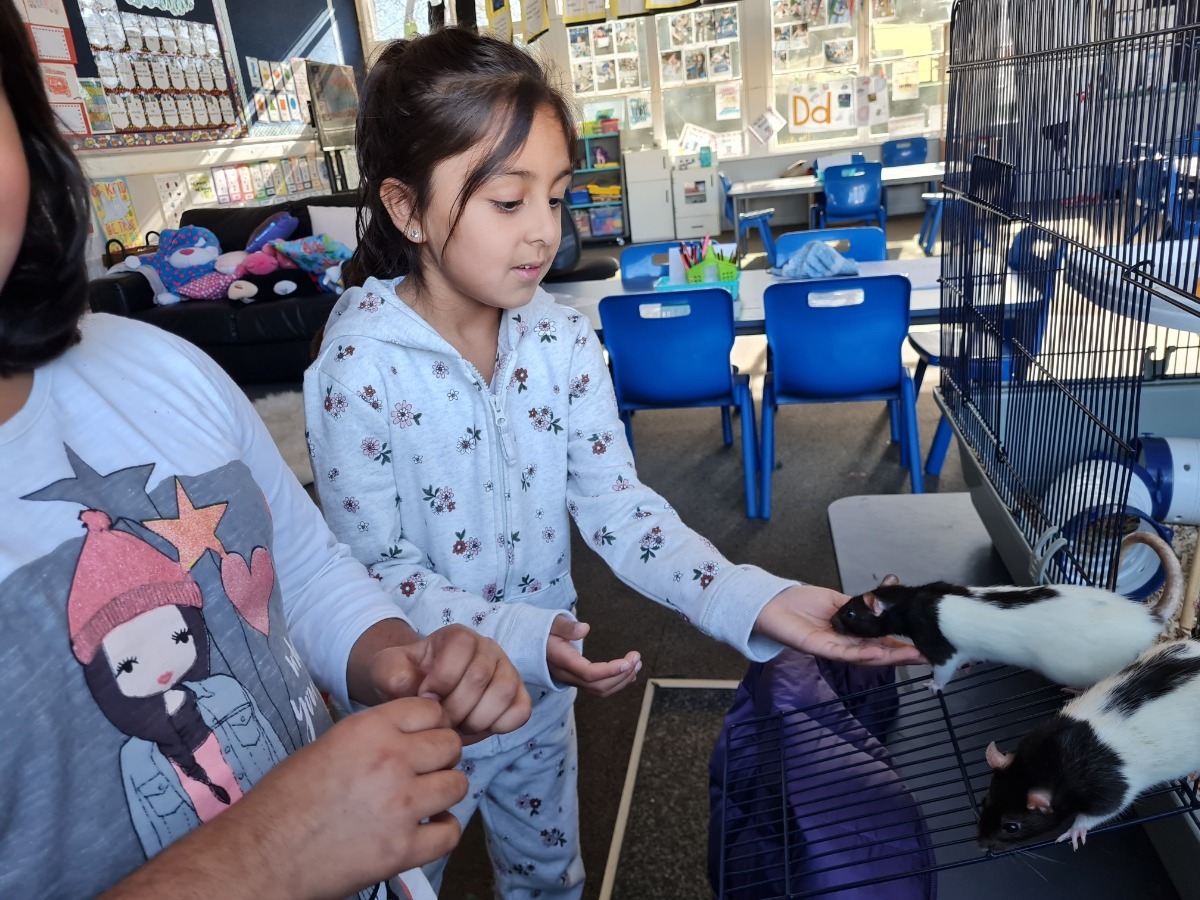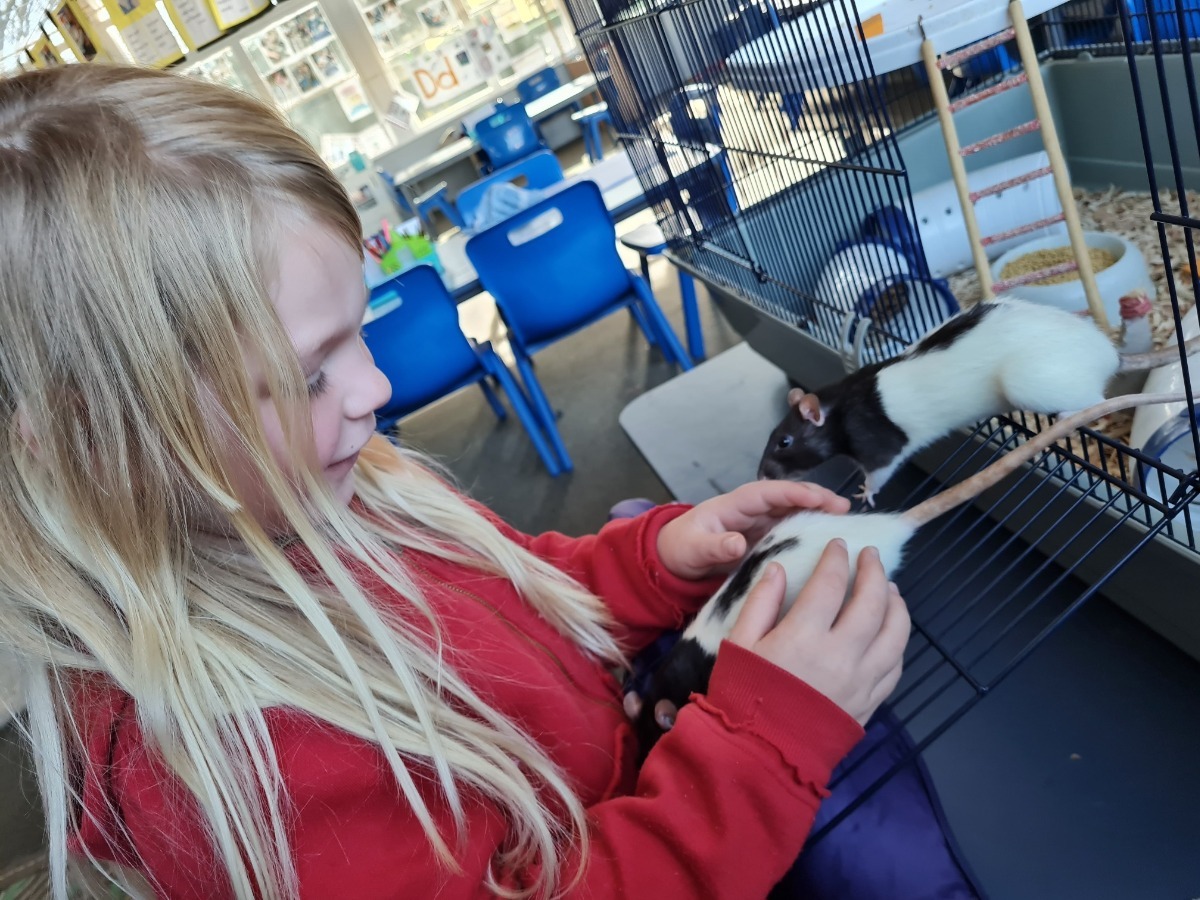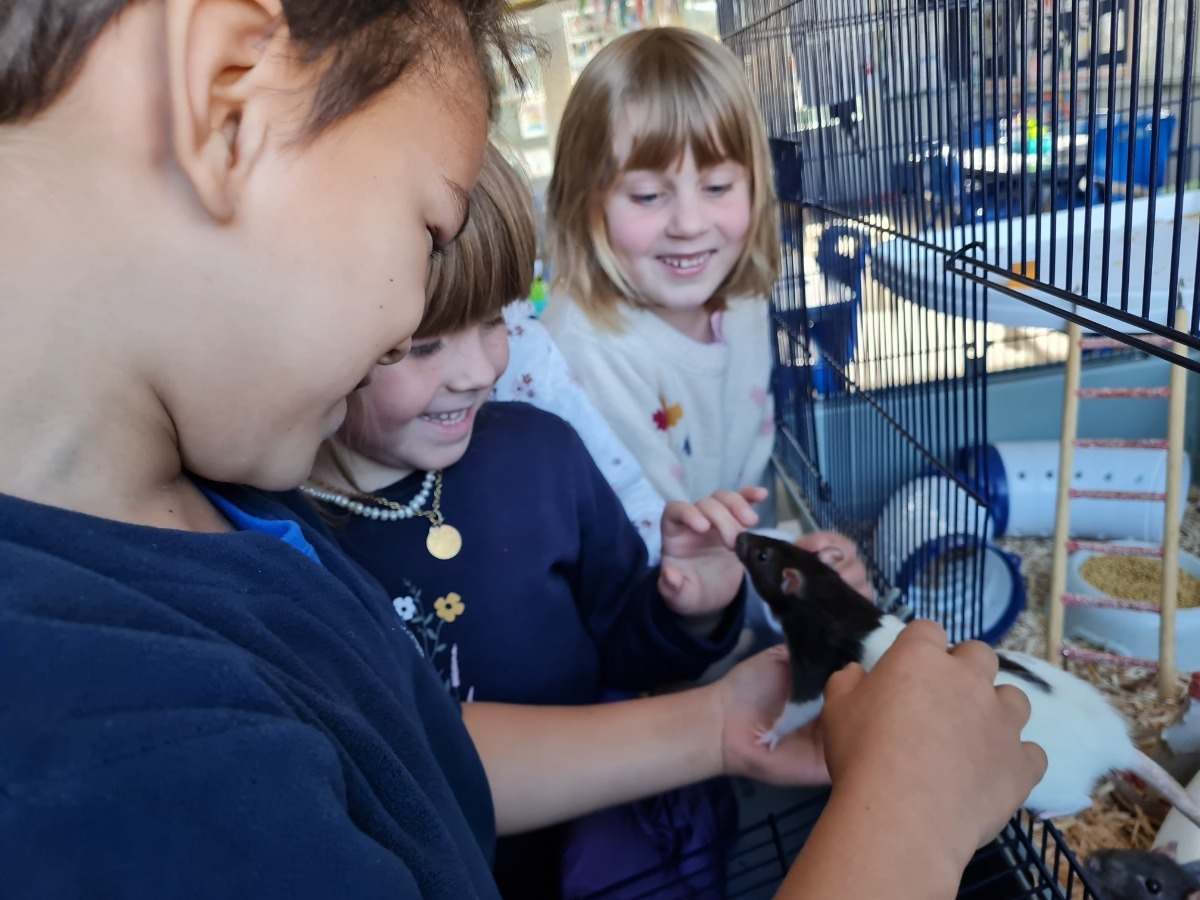 Welcome to Term 2!
This week the tamariki have been settling back into routines. We started our 'must do may do' system during reading time. The tamariki must do 2 activities and then they choose from 5 different literacy based activities to work on at their own pace, increasing autonomy over their own learning. Here are some of your superstars completing their chosen tasks.
Our theme in Room 5 is "Don't give up!" and we have been talking a lot about what it is that great learners do. Great learners make mistakes, try and try again and learn about their brains. Here is where we started....isn't it beautiful?!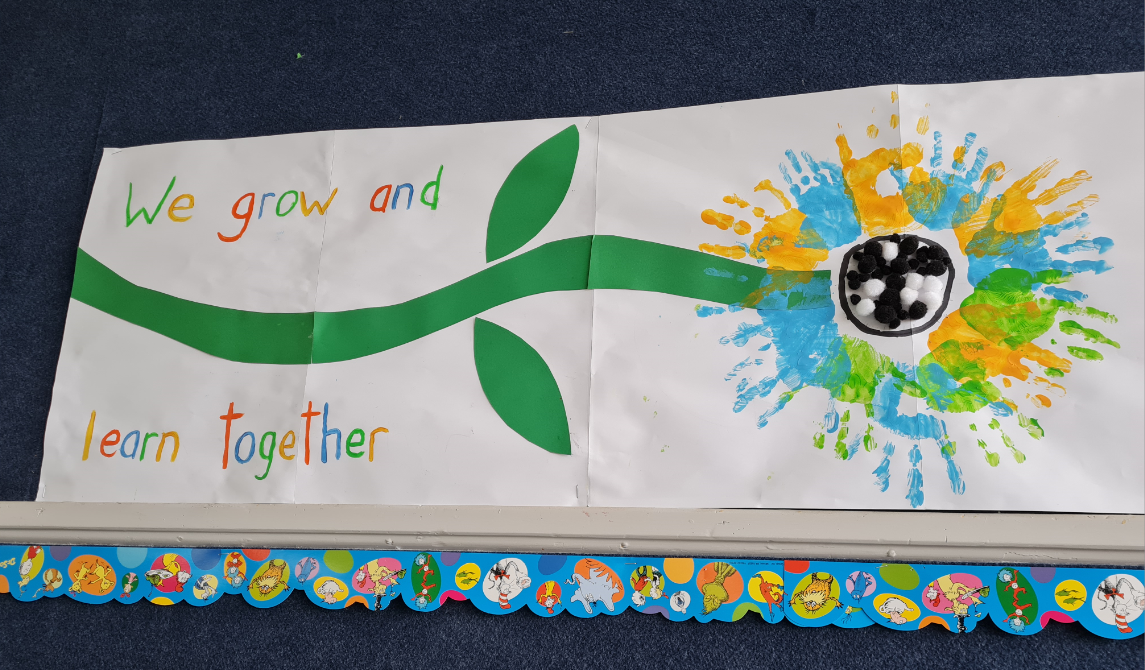 We grow and learn together
Growth Mindset
Learning about our brains and how we can grow them through challenges is an important part of our learning to learn unit and our "don't give up" theme. Here are a couple of videos we have watched in class if your child would like to watch again at home.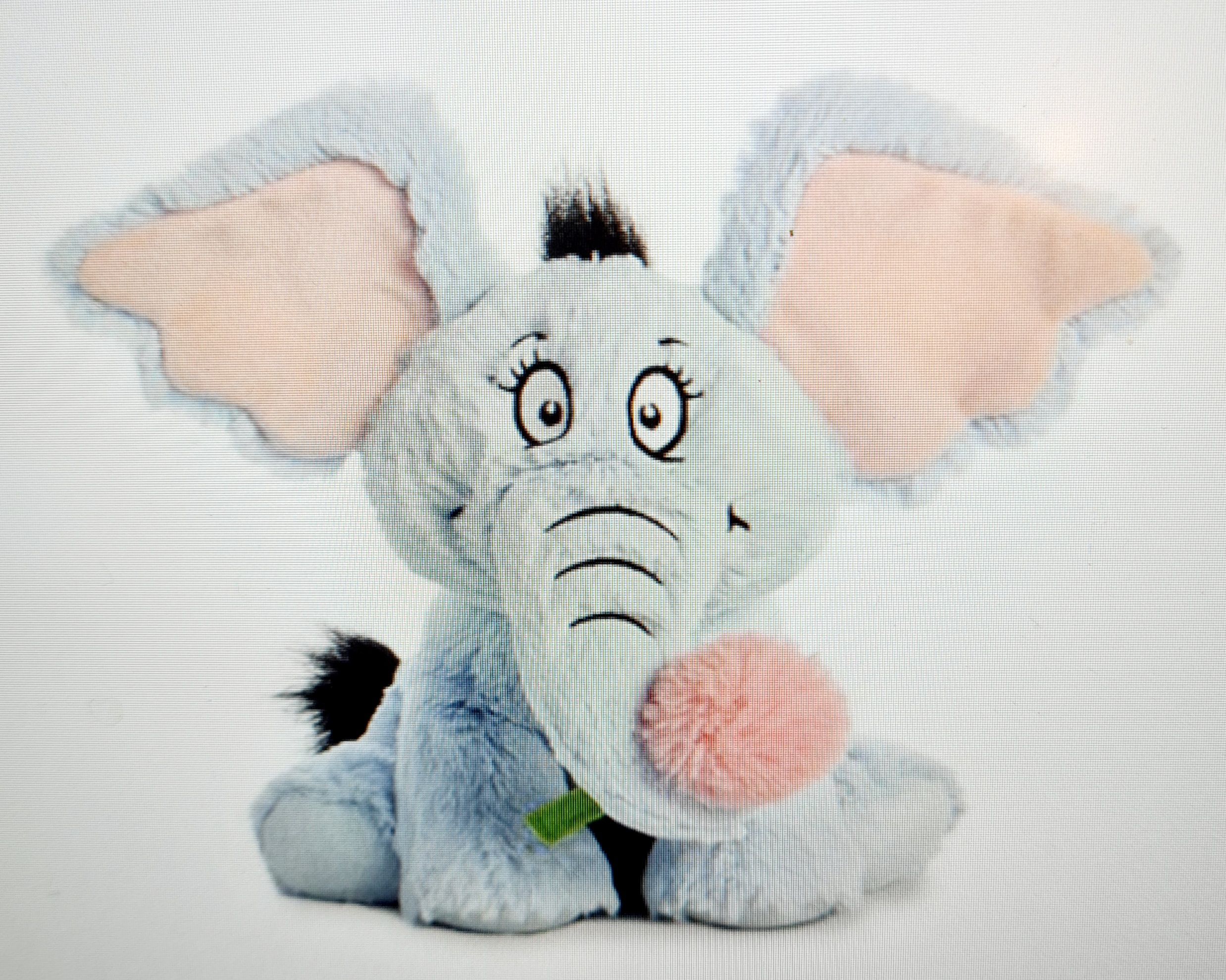 The children are excited about our class mascot Horton who is on his way from sunny Fiji (he sent us a postcard)! Horton will join us in our learning journey and will be going home with one family each week for a little adventure - fun!!
"Don't give up! I believe in you all! A person's a person, no matter how small!"
- Dr Seuss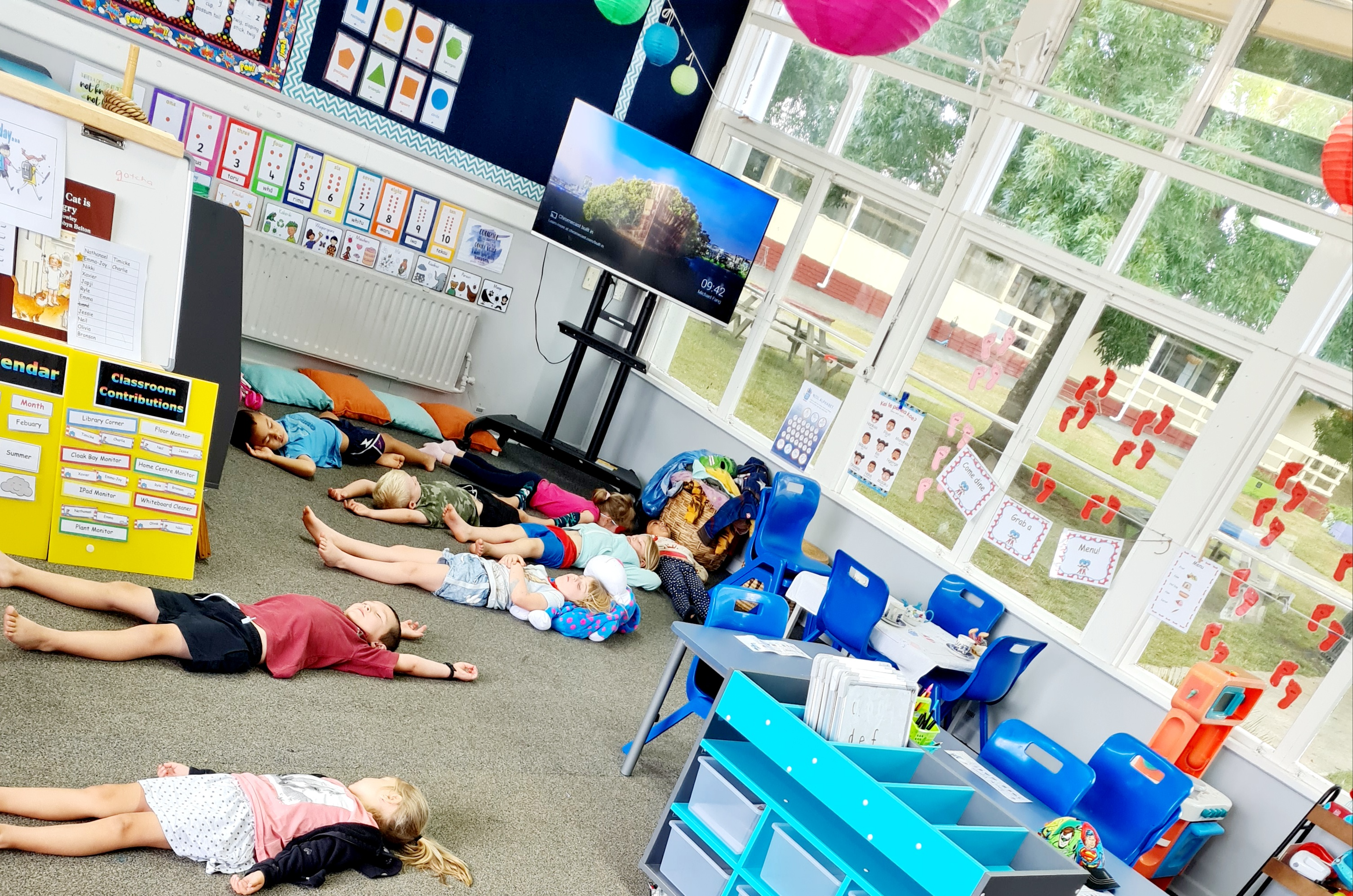 Room 5 practice mindfulness! Learning how to relax, breathe and take breaks is part of being a great learner.
What else have we been up to?
The children have been settling back into school life following the holidays, getting to know each other and exploring the their new classroom and different activities. The class shop and dress ups have been a huge hit! Role play promotes the development of social skills, interpersonal skills and oral language, and the children have unknowingly been engaging in mathematics through shop exchanges with their play money.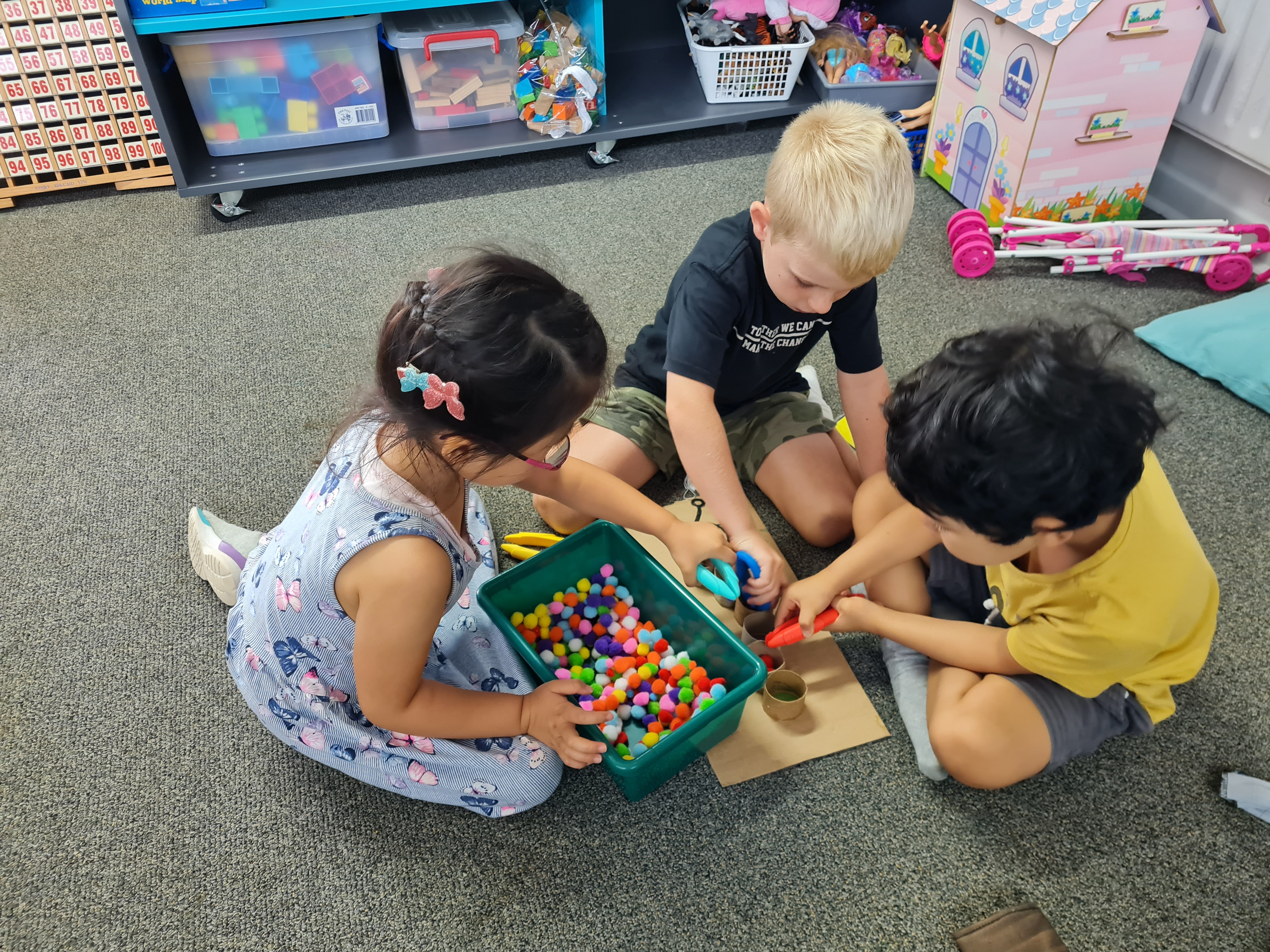 Ryle, Charlie and Emma practicing team work and fine motor skills with a pom pom sorting activity.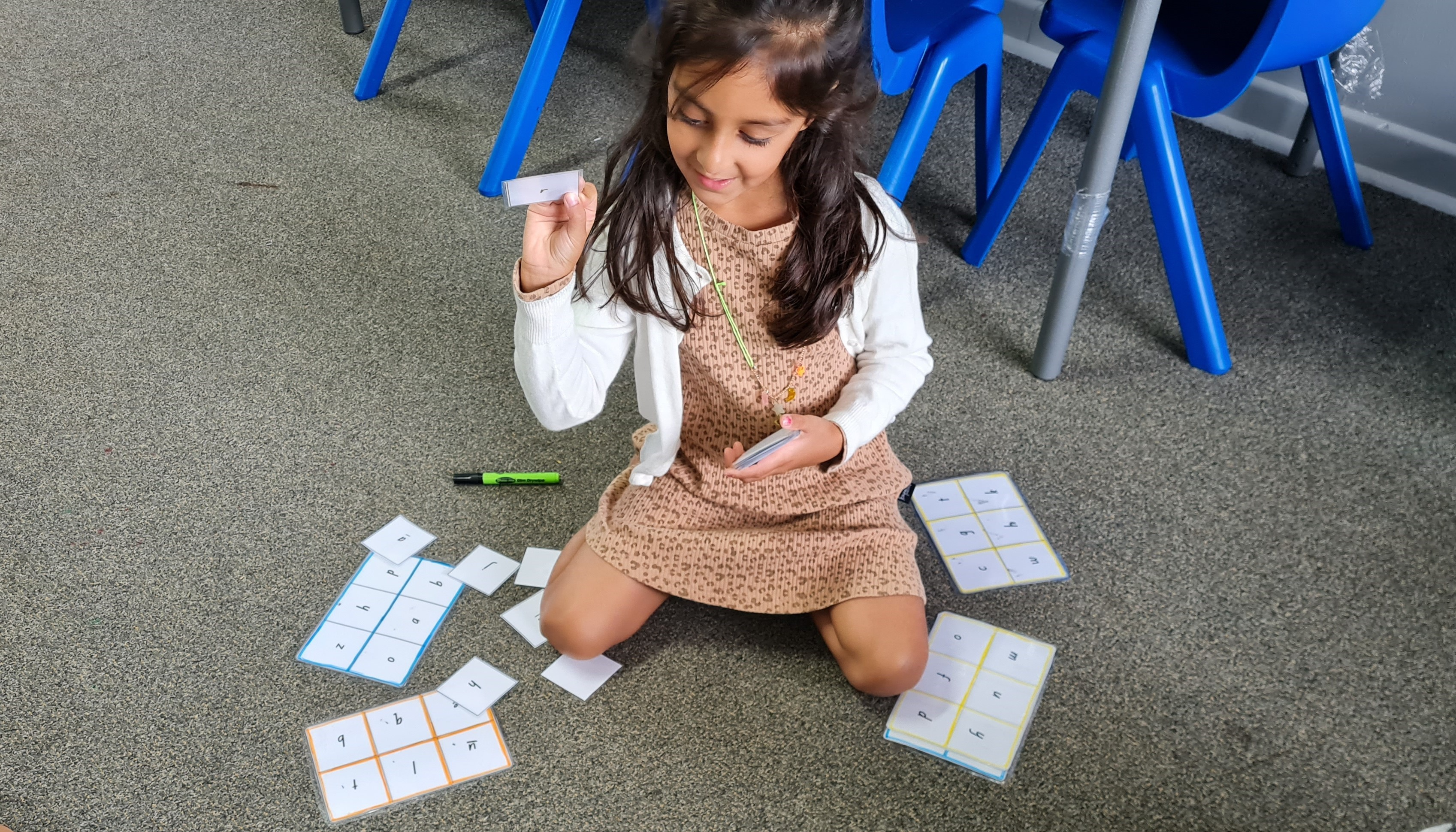 Jessie and friends demonstrating the school value of Ako - learning and teaching together with a game of alphabet bingo.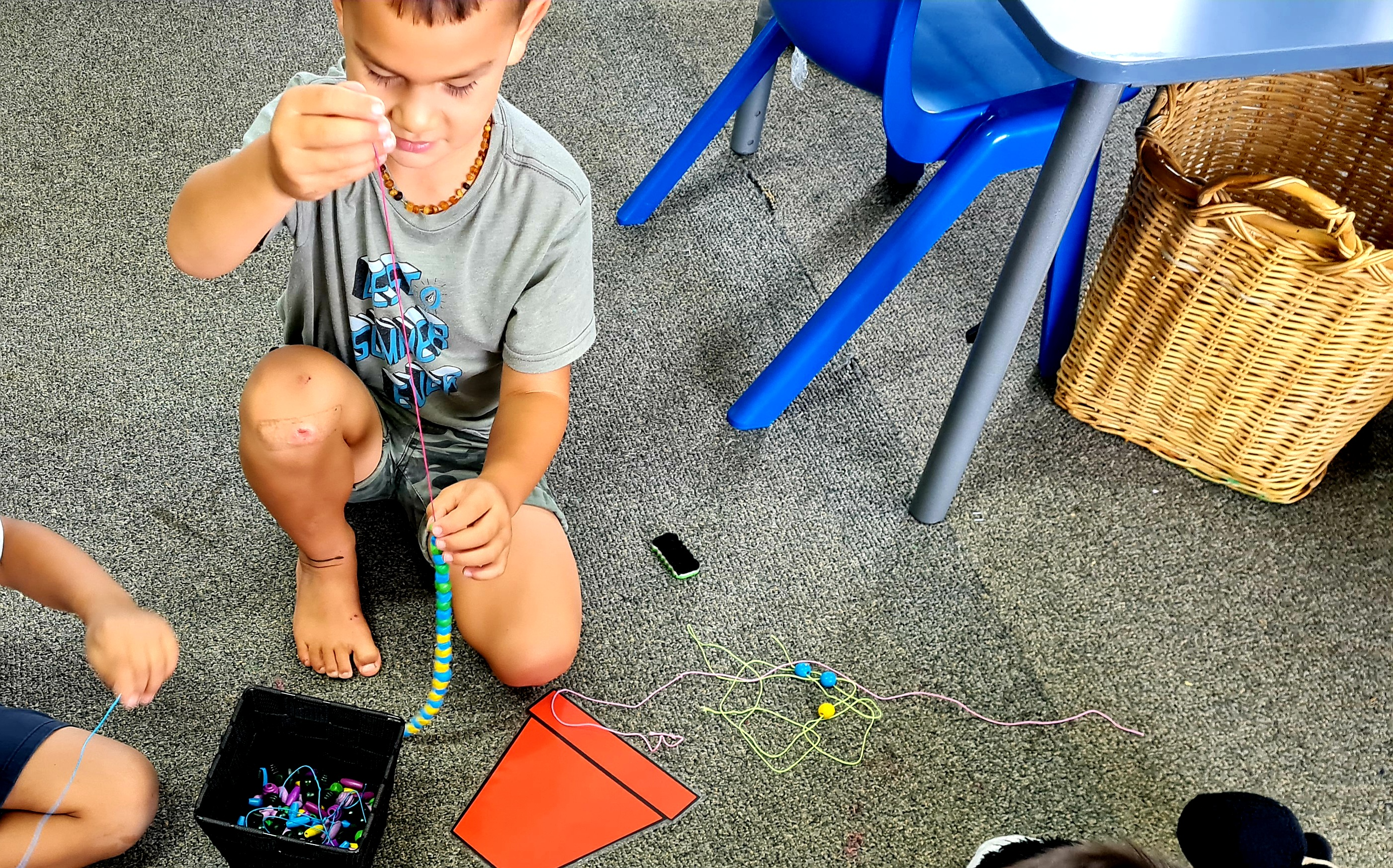 Bronson focused on a threading task to strengthen fine motor skills and explore patterns - Ka Pai!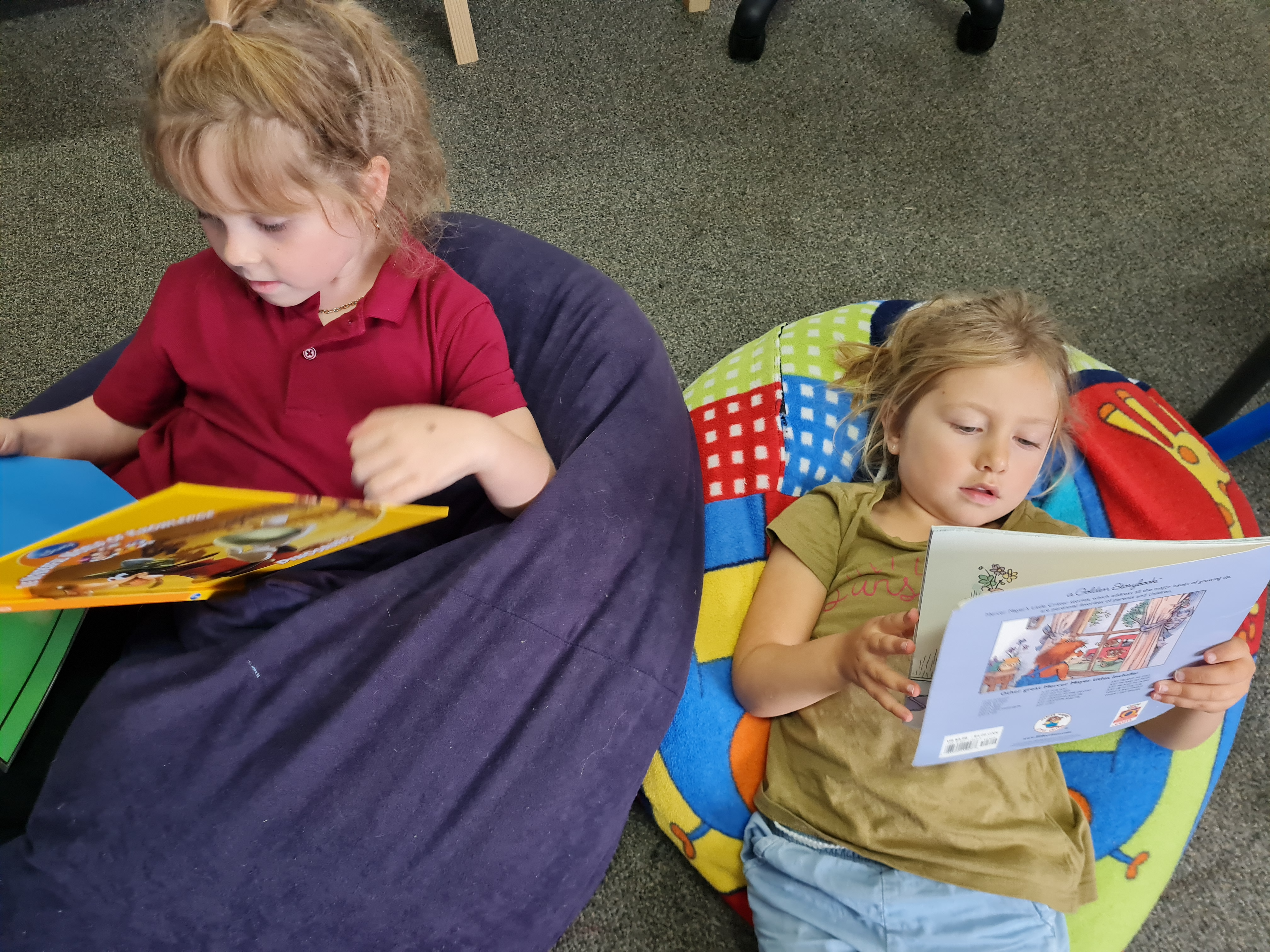 Olivia and Timicke choose their own book which helps promote an enjoyment of reading.
Miss Foord prepares a sensory activity to help learn high frequency words. Sensory play supports learning by strengthening neural pathways and the children just love the multisensory approach!
Term 1 week 3.
The children have continued to practice their learning tasks and moving around the room independently as we begin reading and writing rotations this week.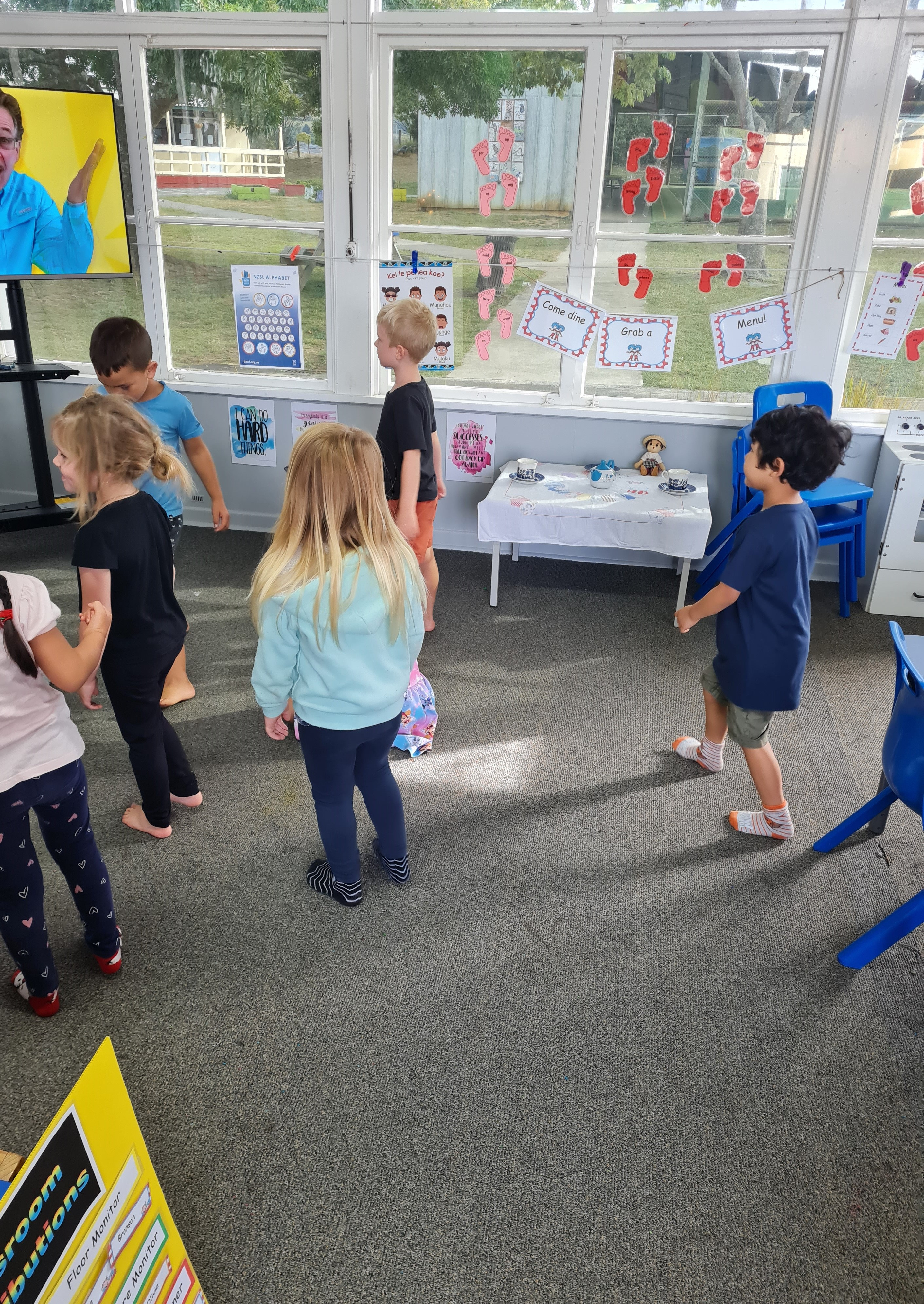 We are learning about whole body listening - using our eyes, ears, brain, hands and heart to listen to our friends.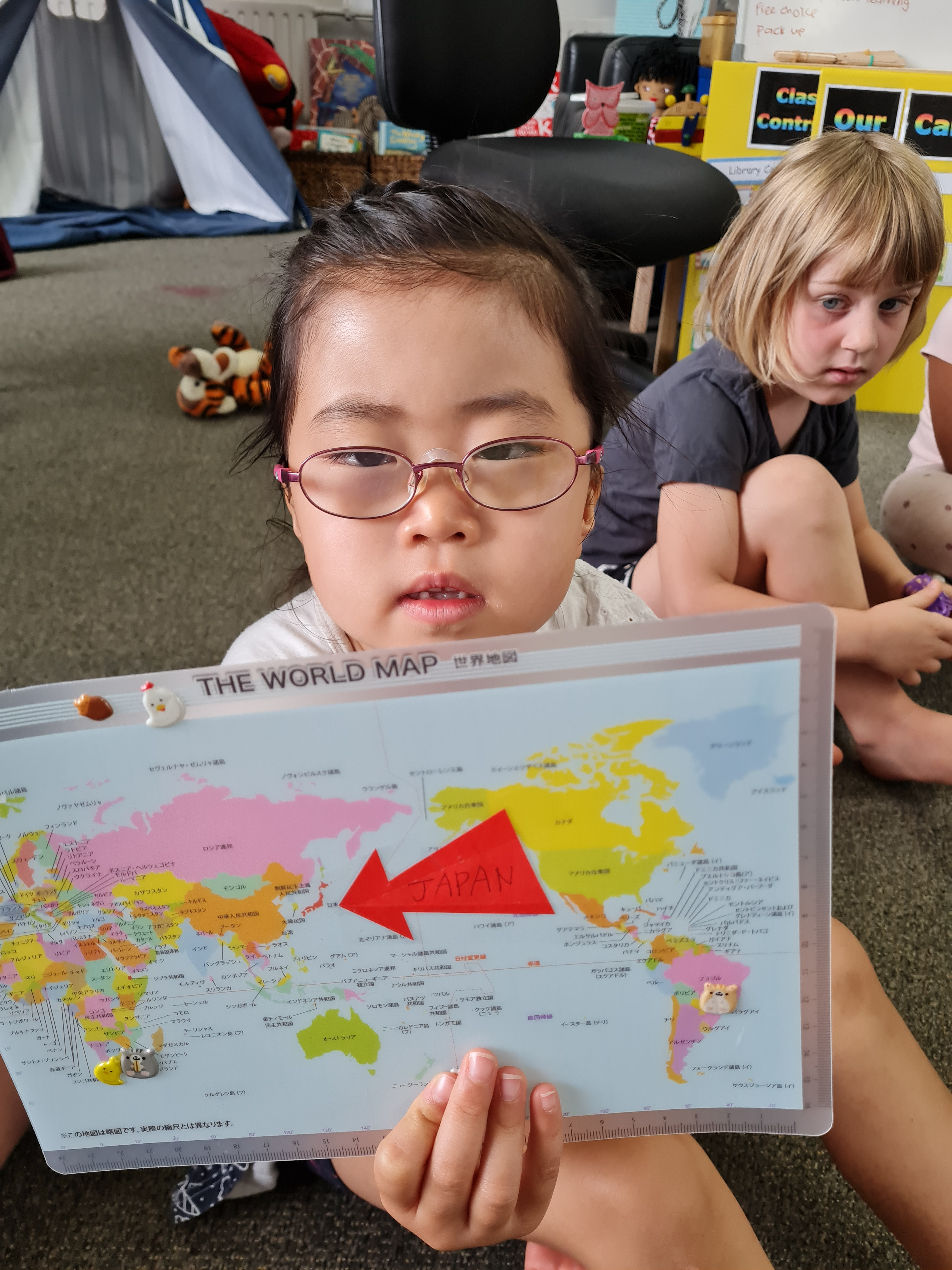 Following on from our whole body listening exercise Emma-Joy and Emma share items that are special to them. This builds confidence while their peers demonstrate manaakitanga (care and respect) and kotahitanga (celebrating each other).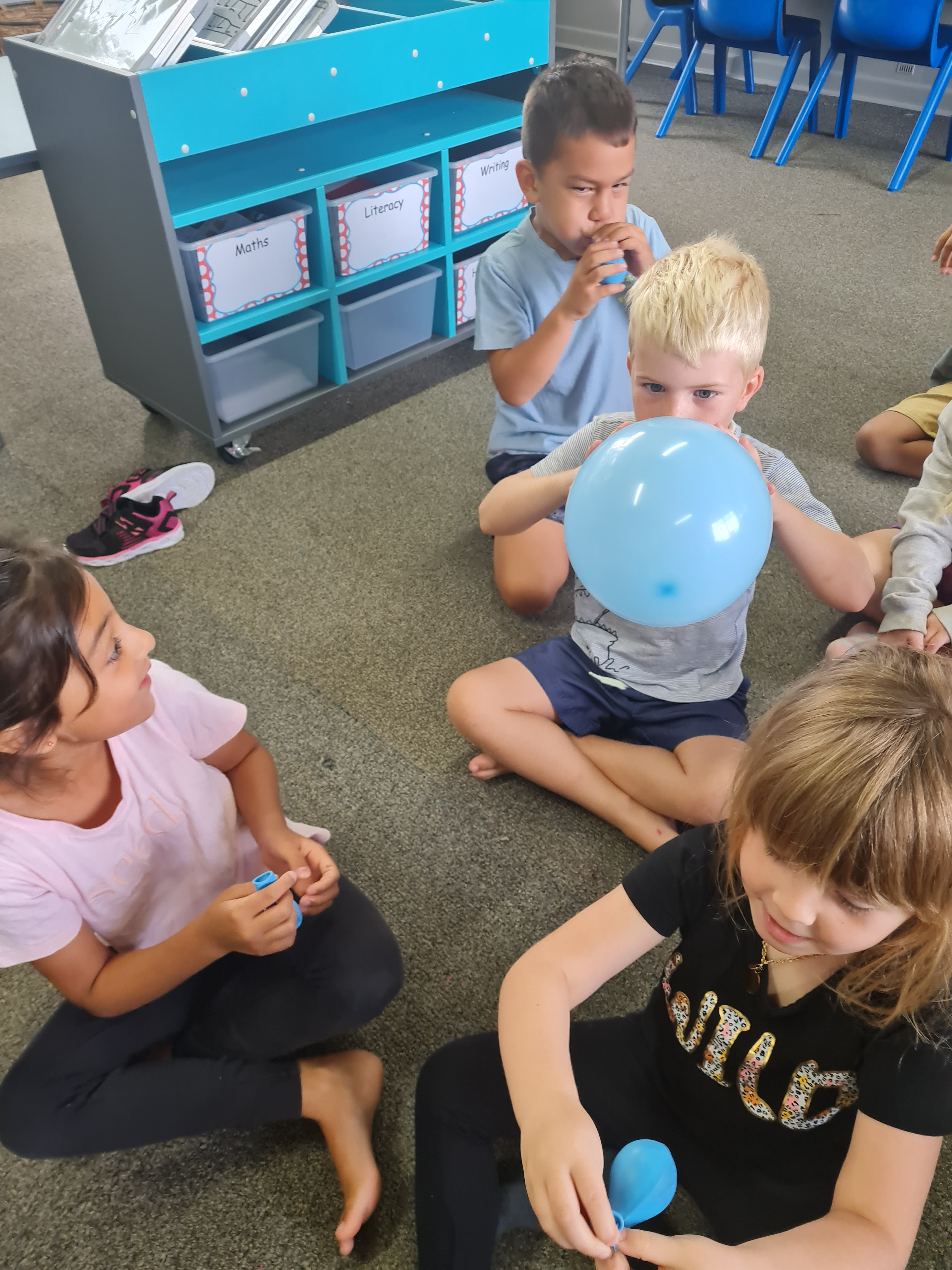 Balloon mania! The children had fun with balloons and then we brainstormed some language to use in our writing.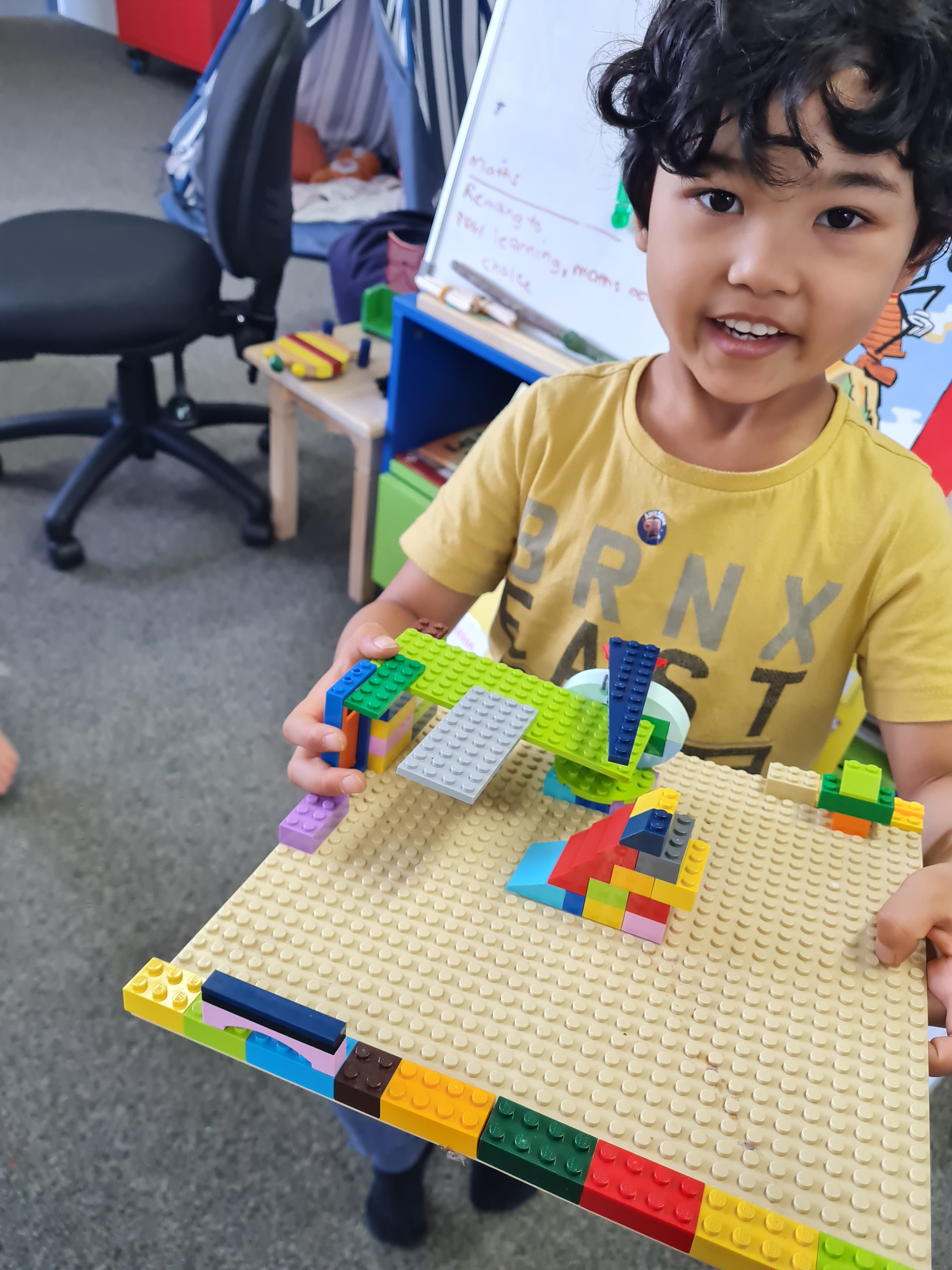 Ryle worked hard on this awesome lego creation. Lego has so many benefits - fine motor skills, spatial awareness, perseverance and creativity to name a few.
Bronson and Ryle so engaged in this sight word fishing activity - making learning fun!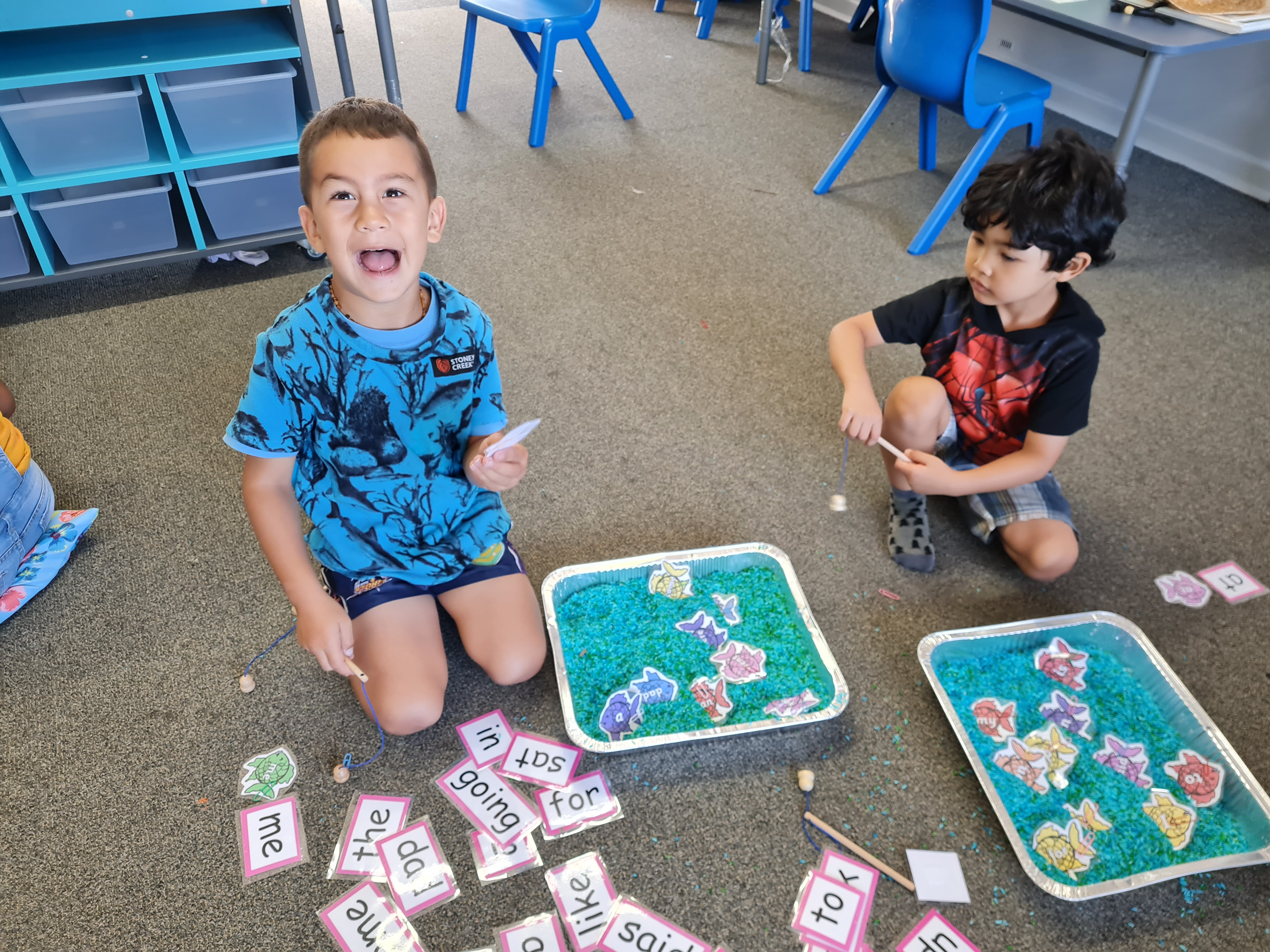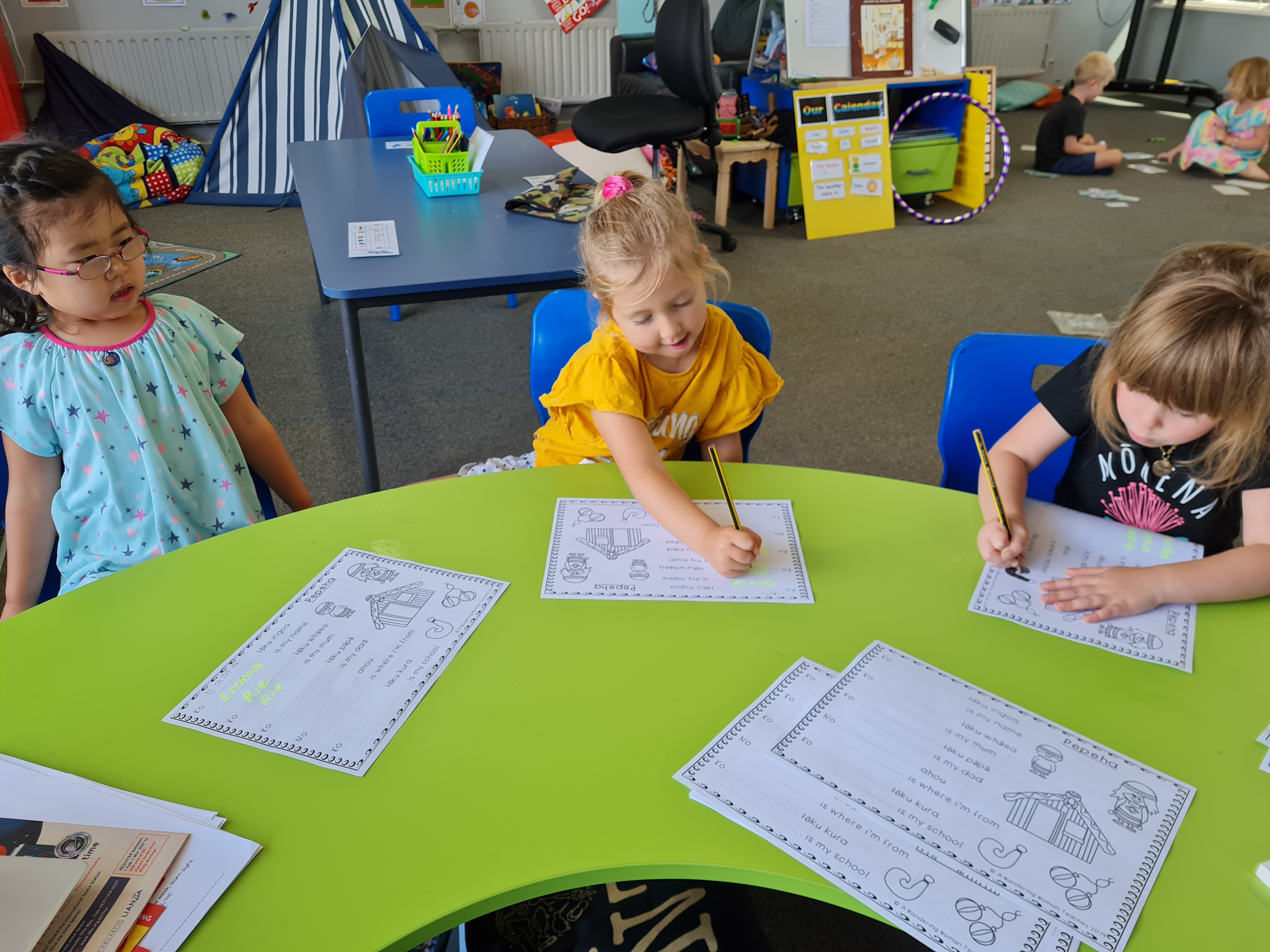 The children have been working on writing and saying their pepeha - introducing ourselves in Te Reo Maaori.
Algebra is a mathematics focus for this term. The children copy patterns and then predict what will come next. Pebble patterns also develops fine motor skills.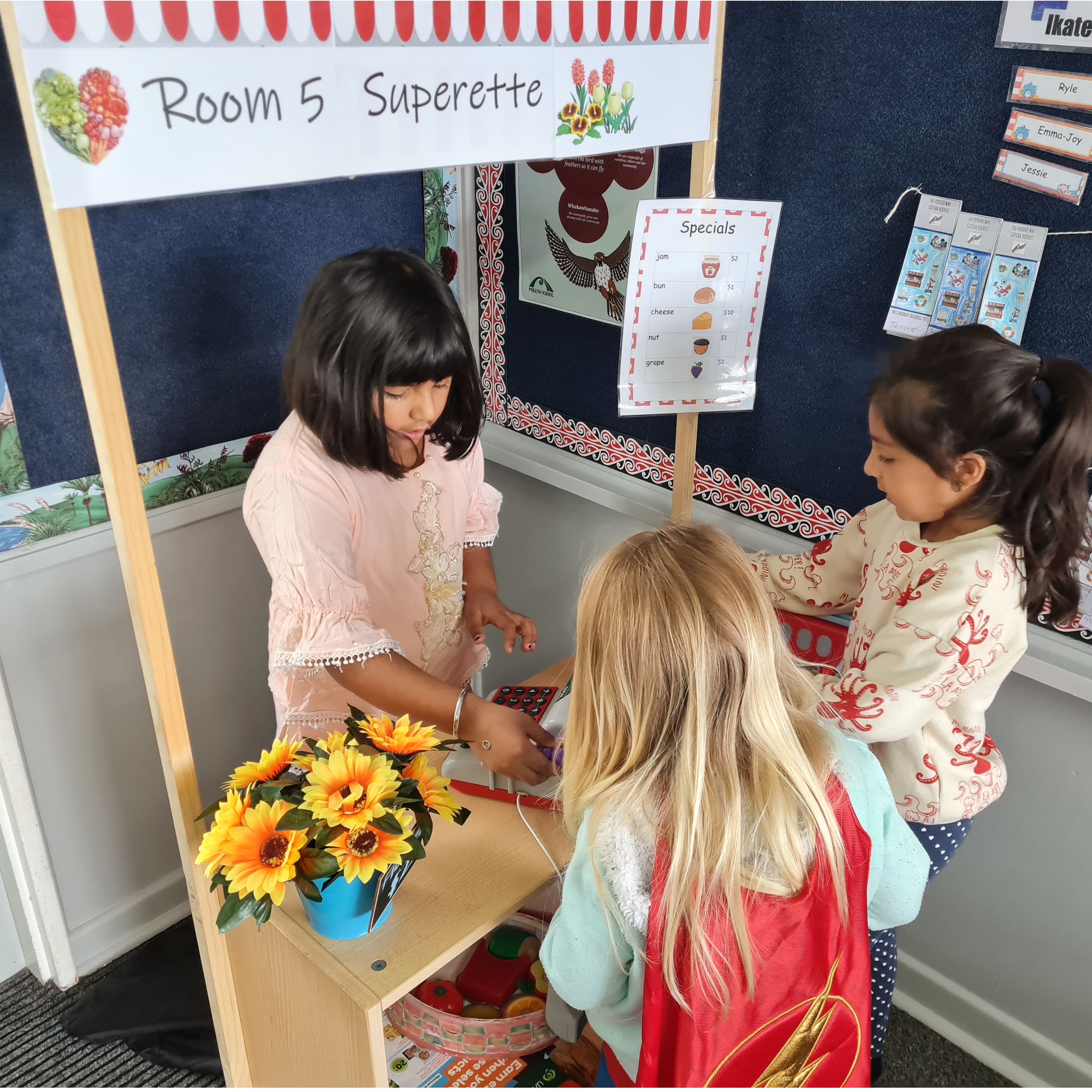 Japji, Nikki and Jessie explore the class shop developing oral language, interpersonal skills, creativity and number sense.
Lockdown and home learning 2021
Take a look at what our lovely room 5 have been up to during 2021 lockdowns.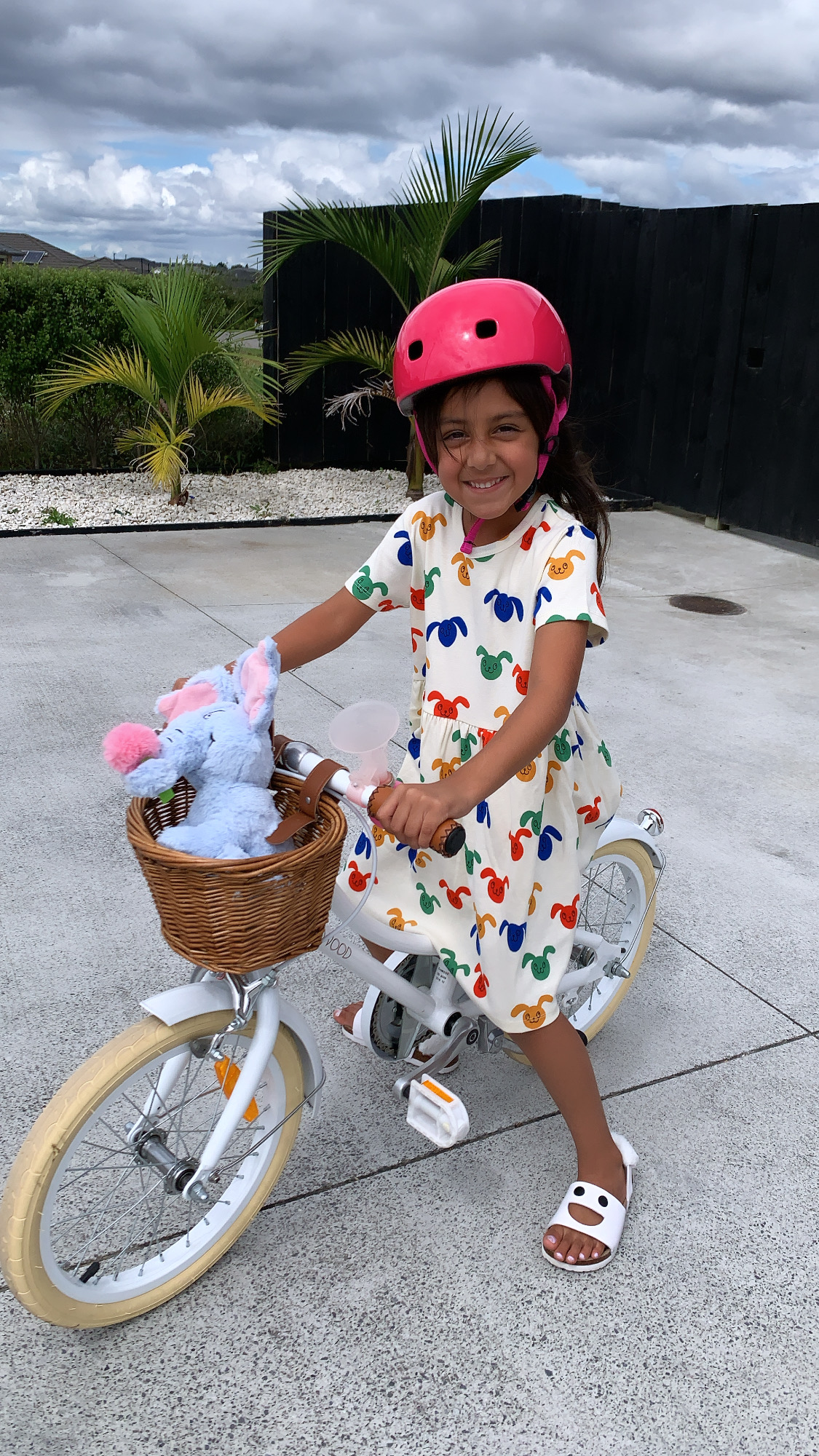 Helpful Horton is helping Jessie with her baking! He looks like he's enjoying the bike ride too!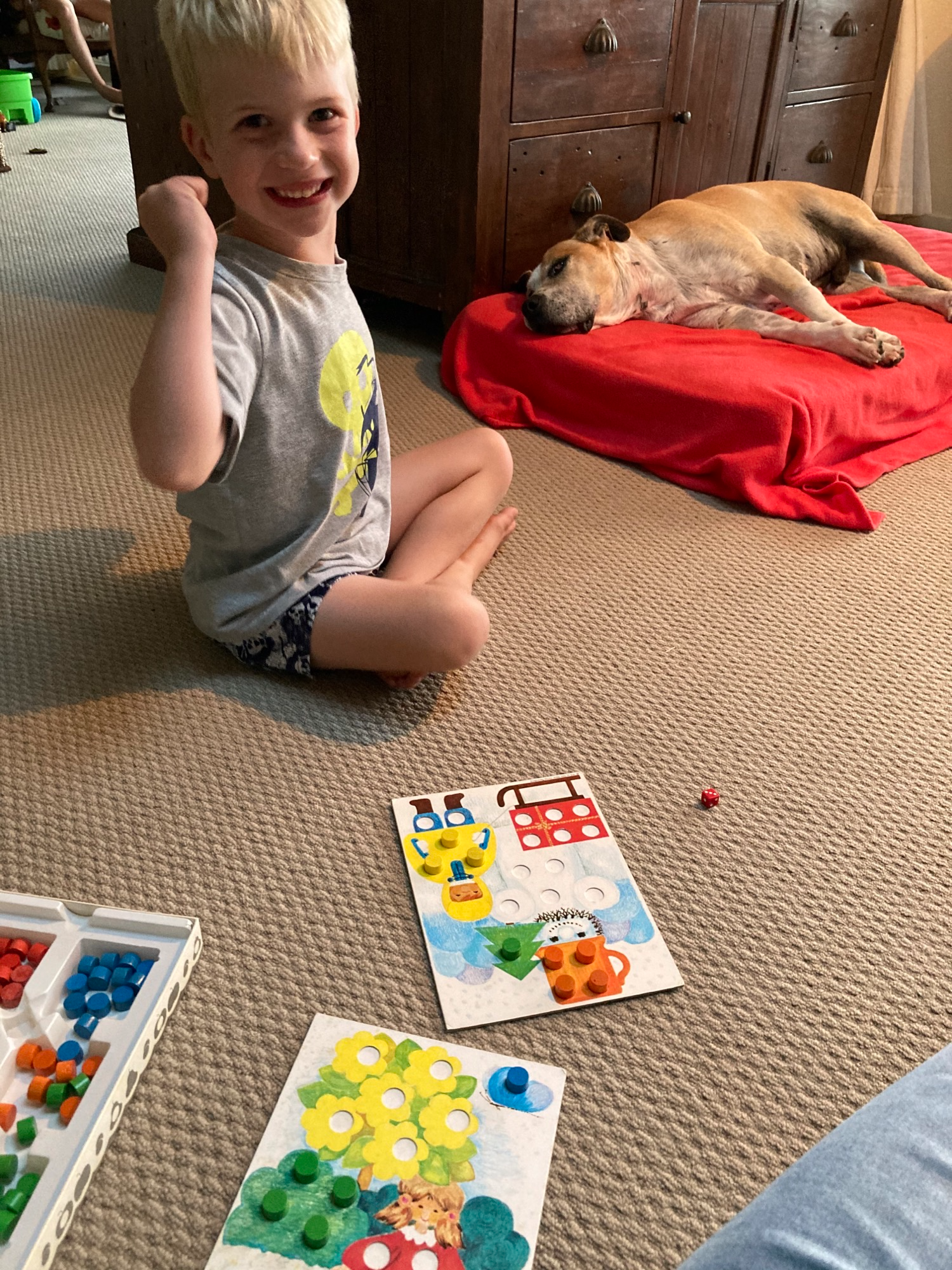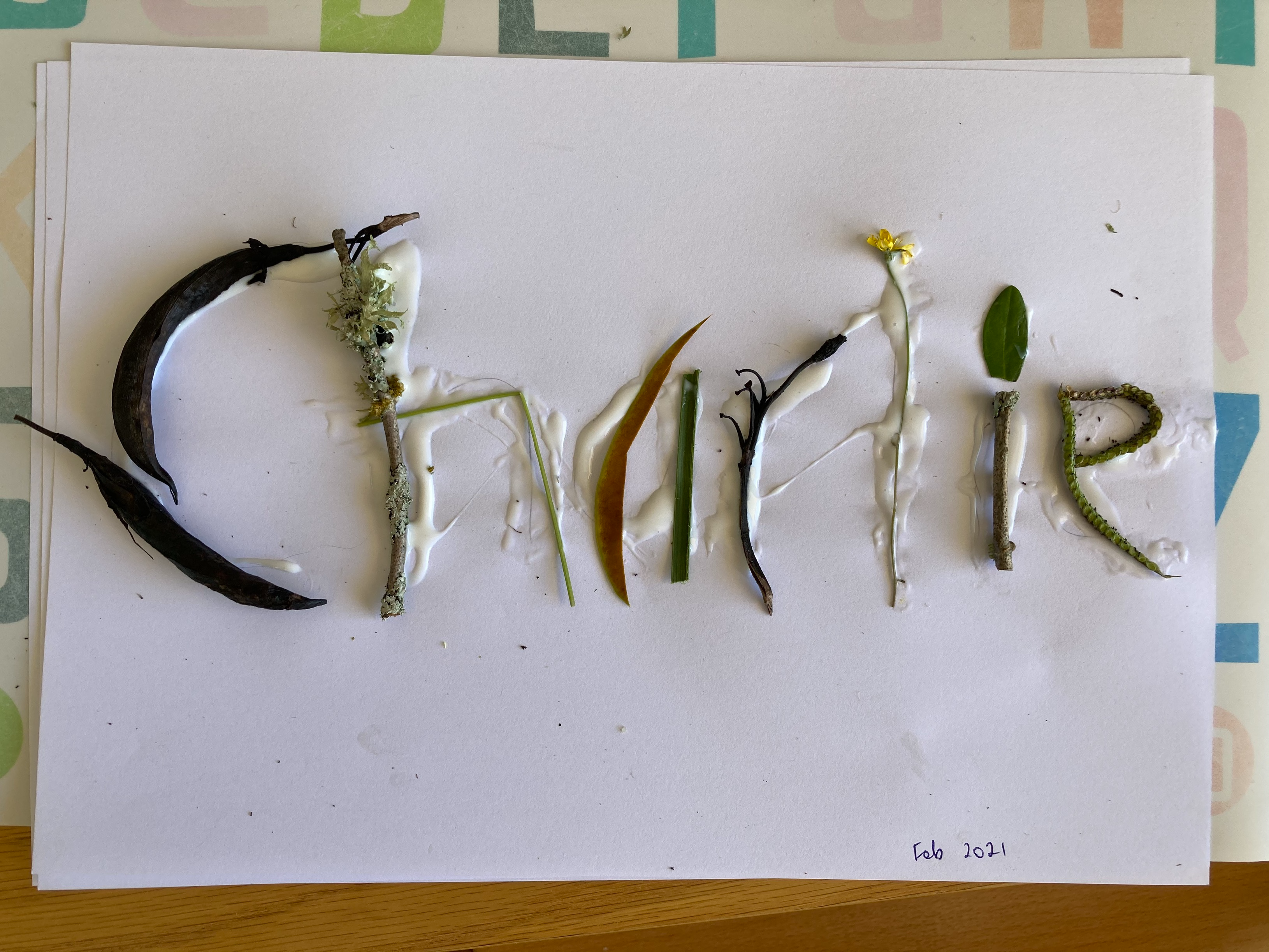 Charlie has written his name using items from nature. How cool! And here he is beating his Mum at quips.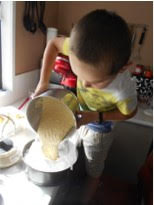 Neil doing some yummy baking and puff painting!
Japji learning her sight words, Ka Pai!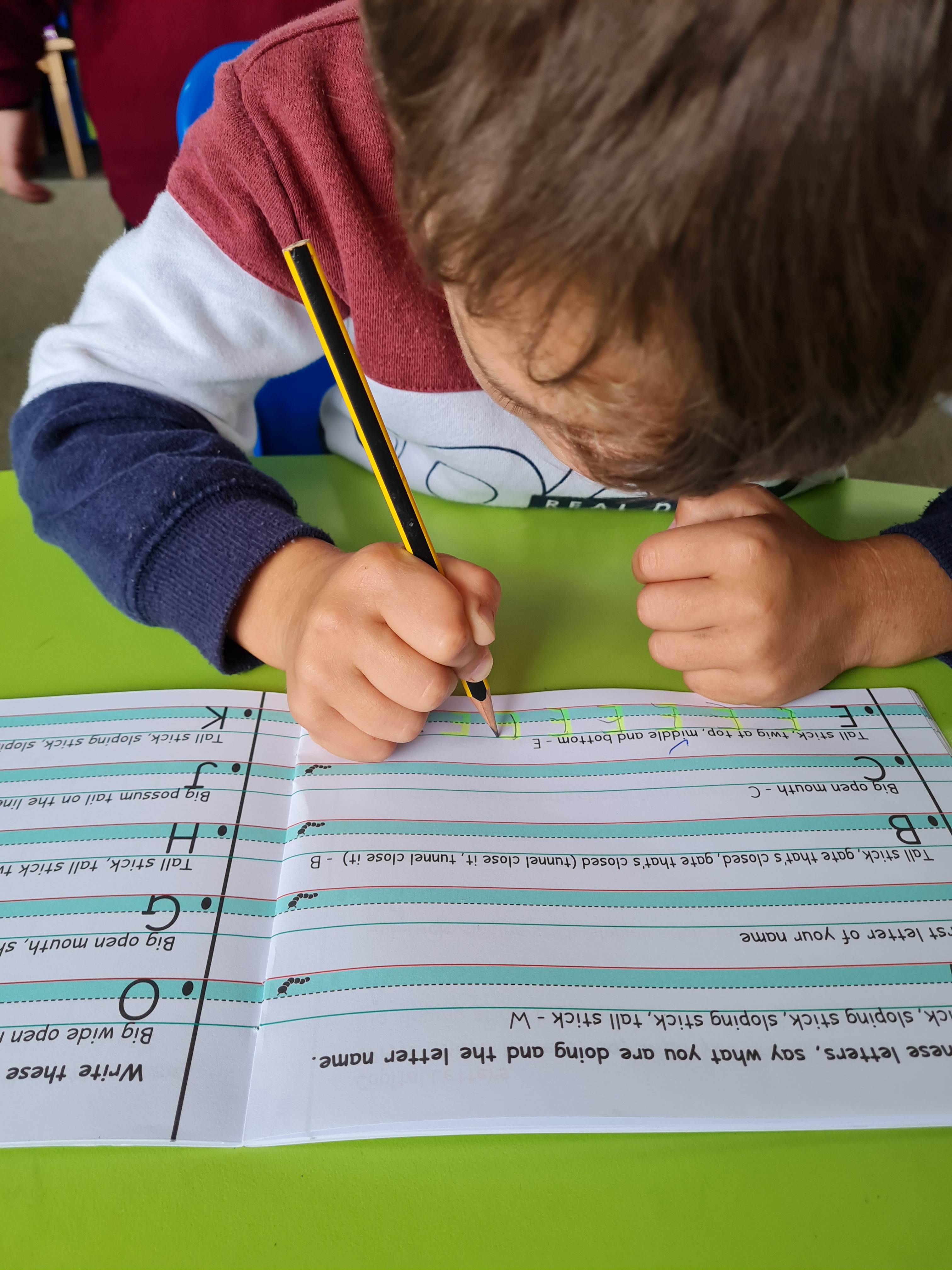 We practice handwriting every day with activities for both letter formation and the development of hand muscles for pencil grip and control - whiteboards, chalk, stencils, colouring, lego, tweezers, threading beads and workbooks.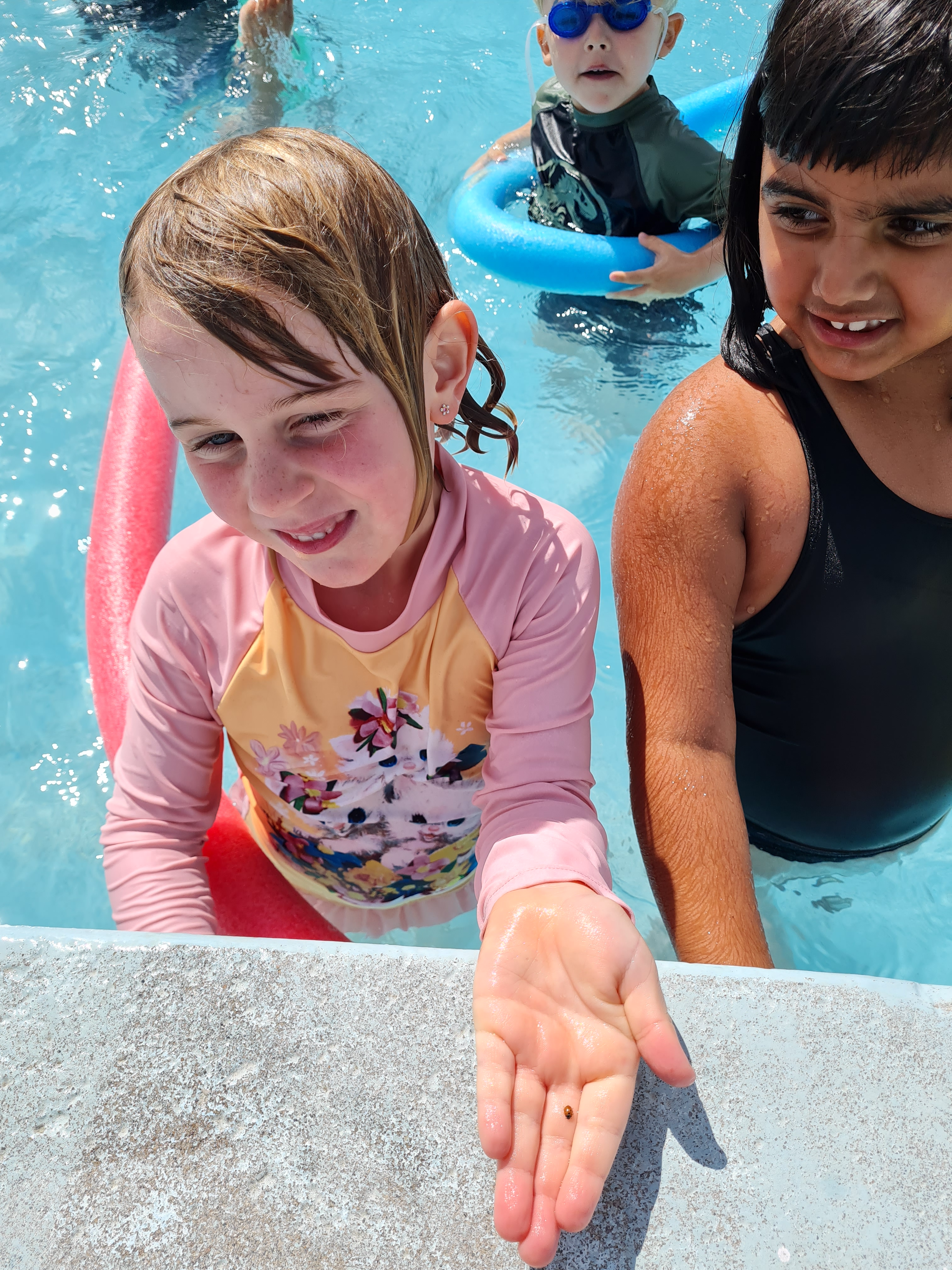 We have been learning about friendship, kindness and manaakitanga. We show acts of kindness and respect every day in room 5. Here is Nikki helping Nathanael to feel better and Emma-Joy and Japji showing kindness to all things big and small saving a ladybug from the pool.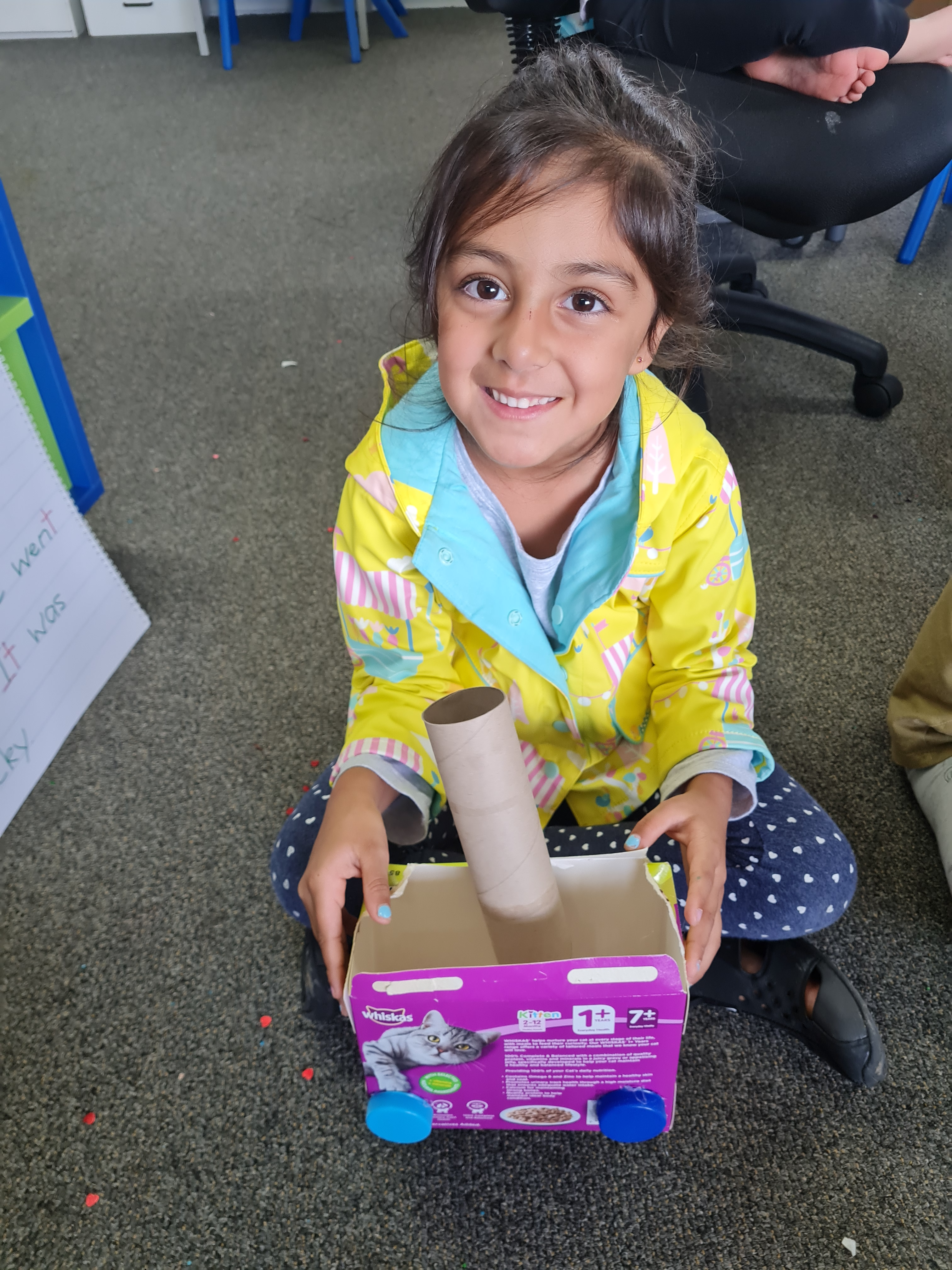 Check out Charlie's jet plane and Jessie's train. Loose parts play has so many benefits including creativity, curiosity, self expression, and problem solving.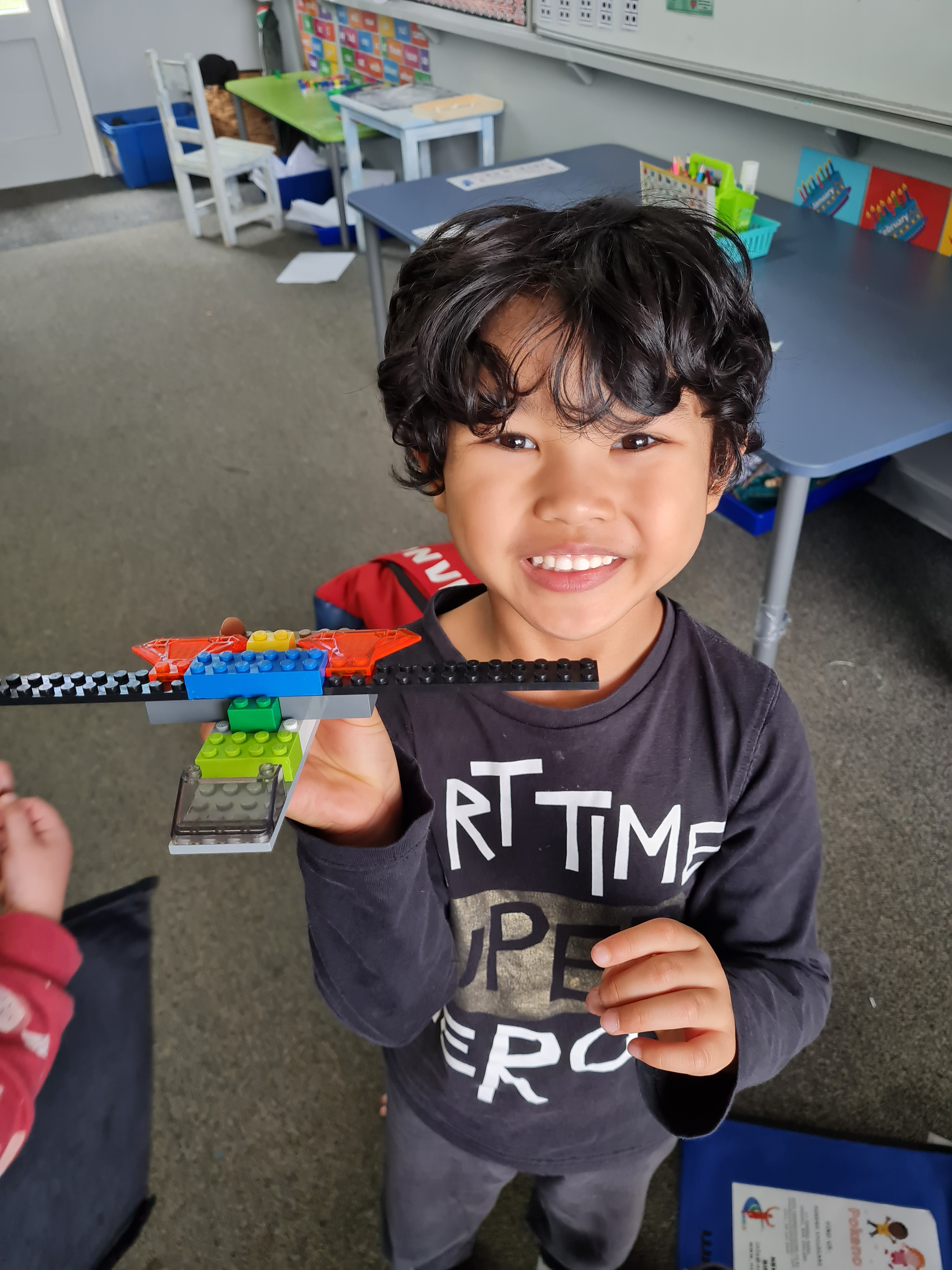 More wonderful creations by Xavier, Ryle, Neil and Bronson. Mobilo is a new addition to our classroom and it's very popular!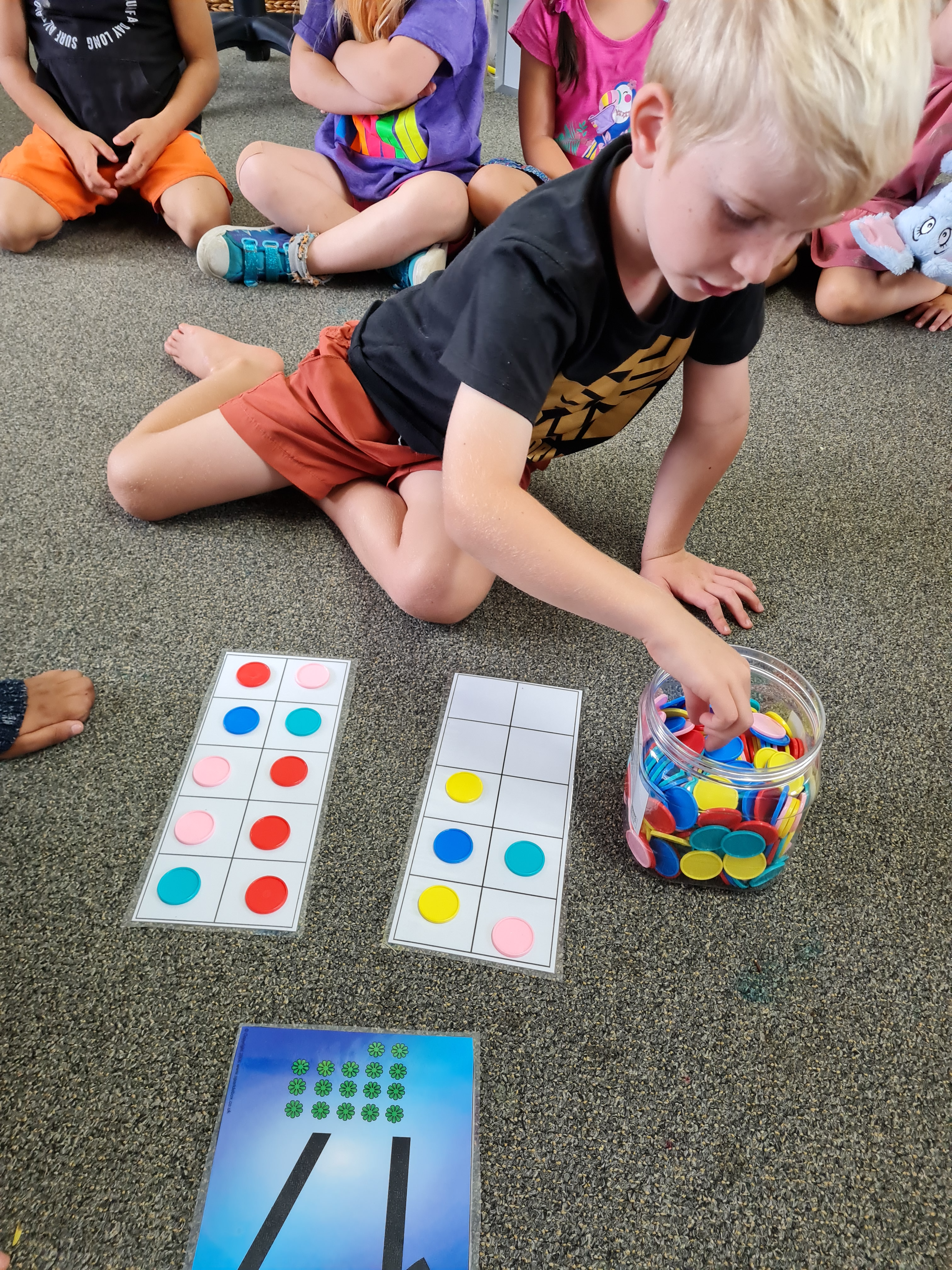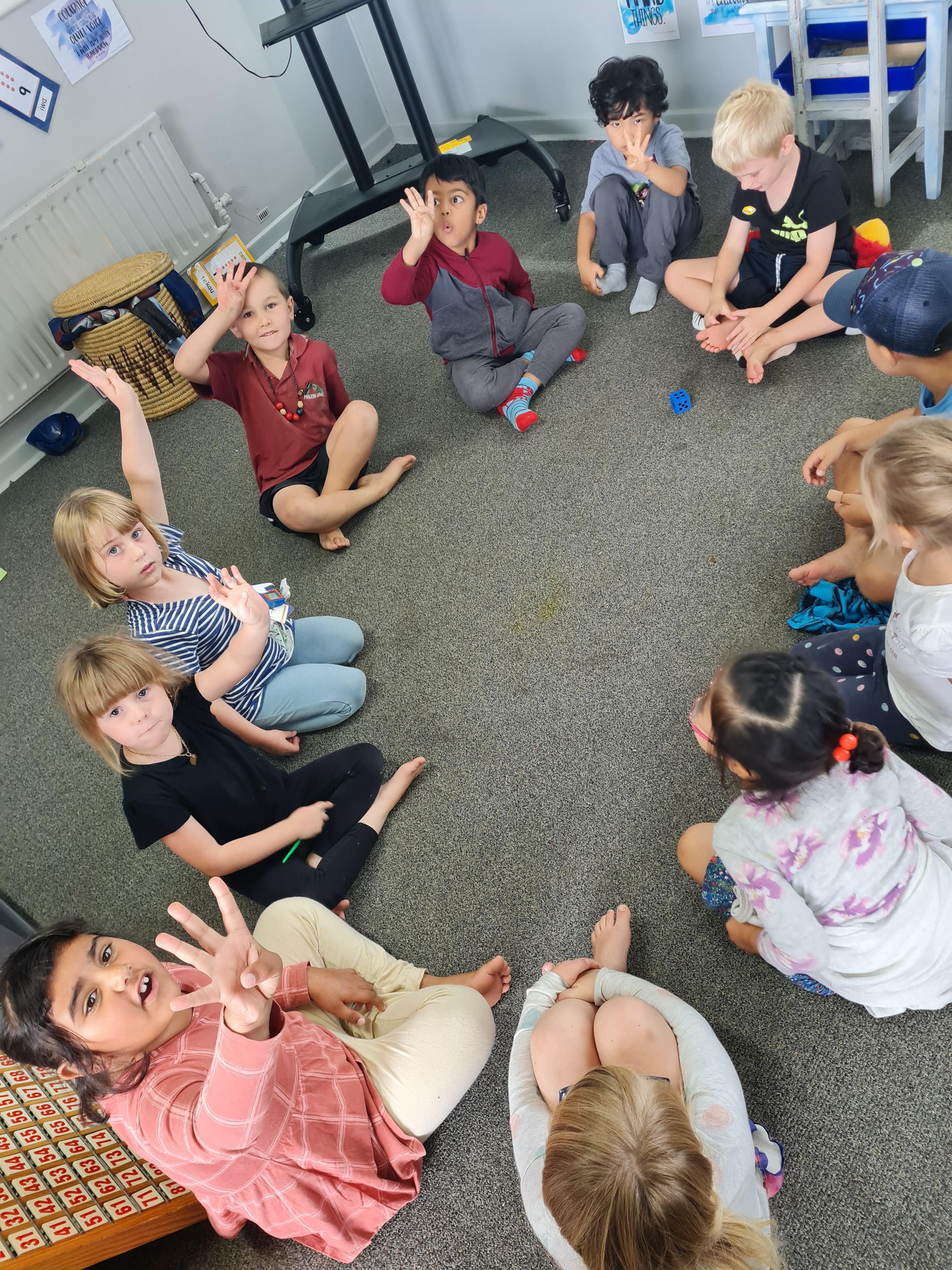 Hands on maths activities to support number sense and the ability to identify number patterns quickly.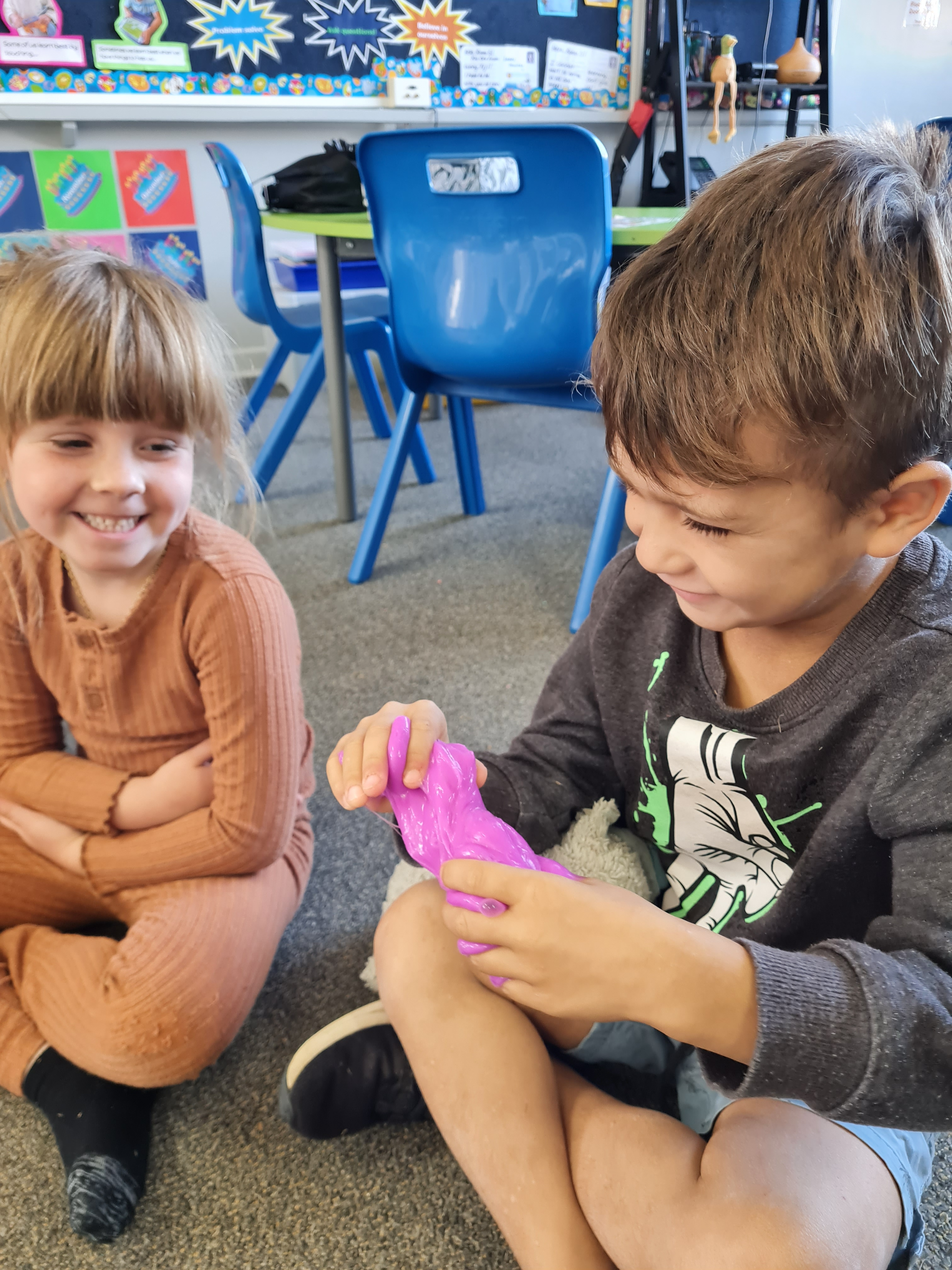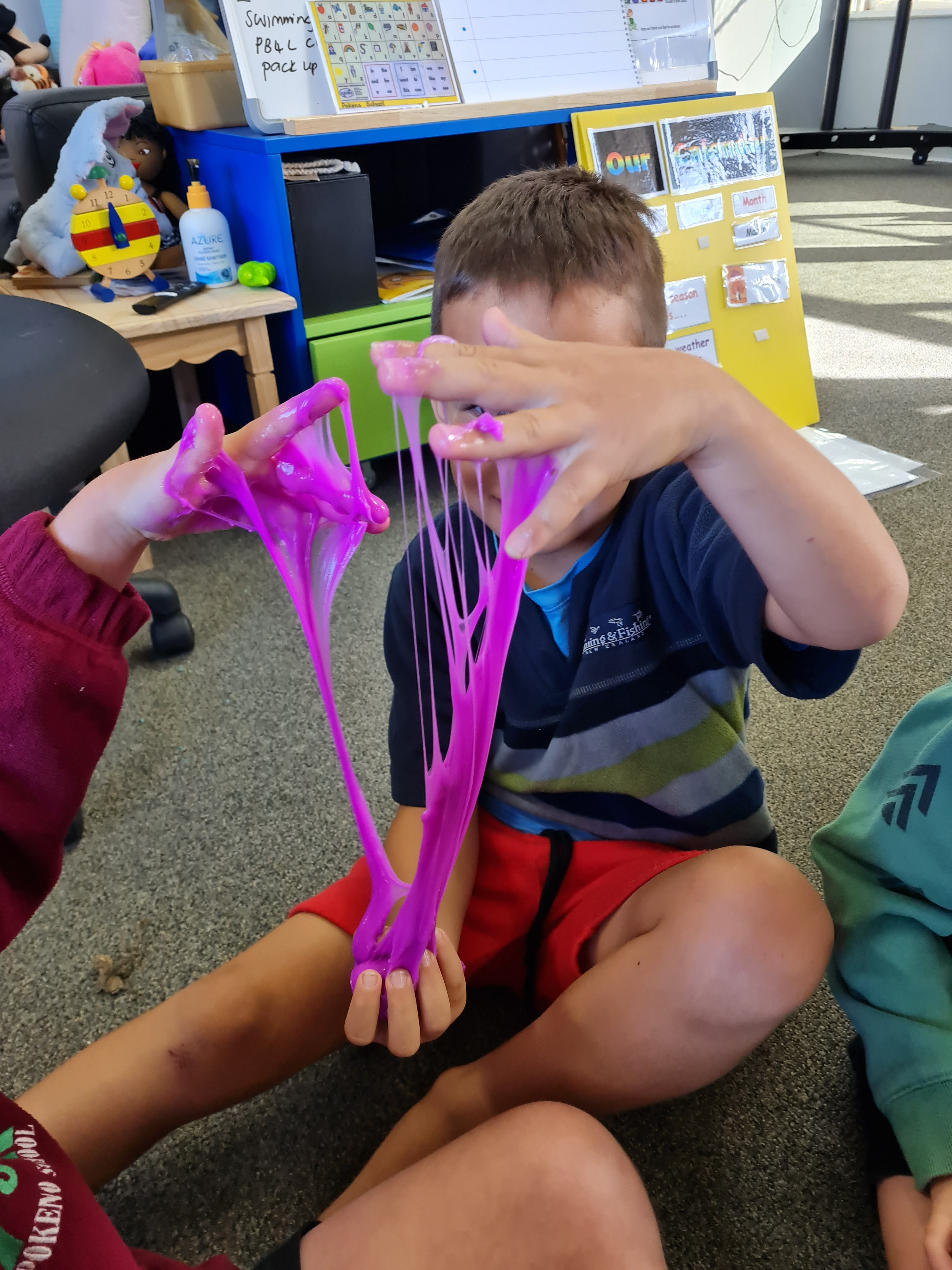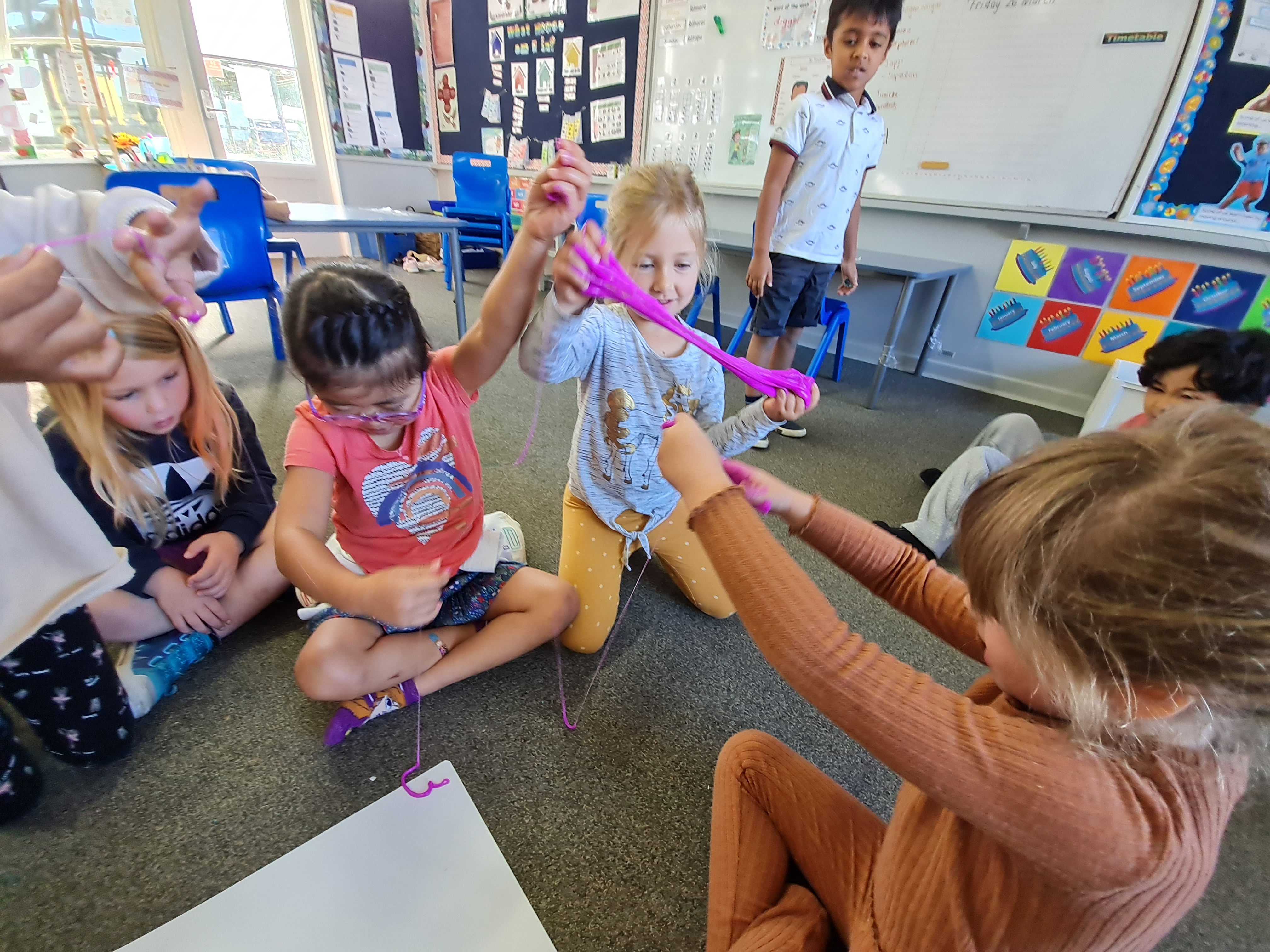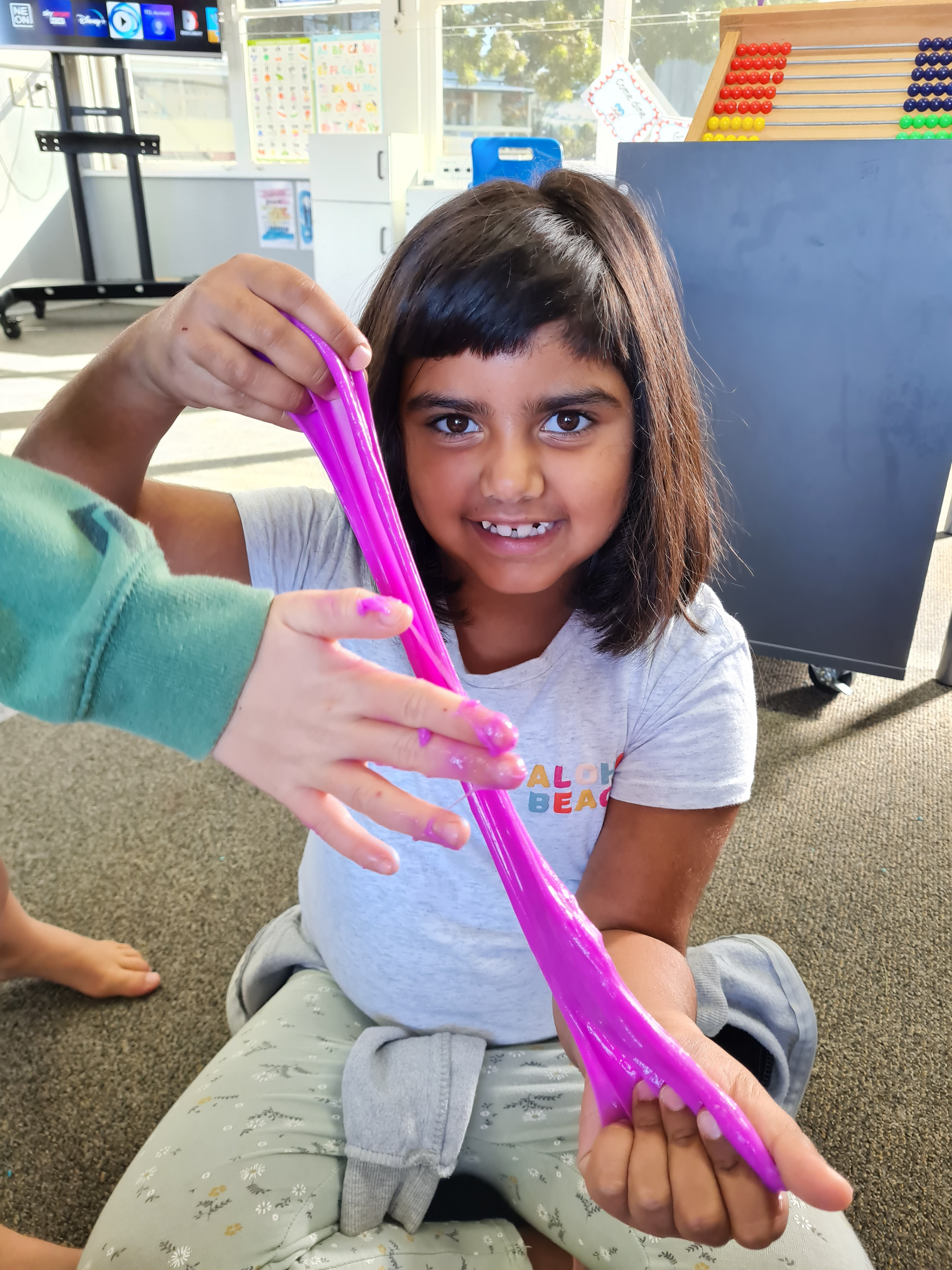 Language experiences help to generate oral language before we write. Here the children play with slime and describe how it looks, feels, smells and sounds.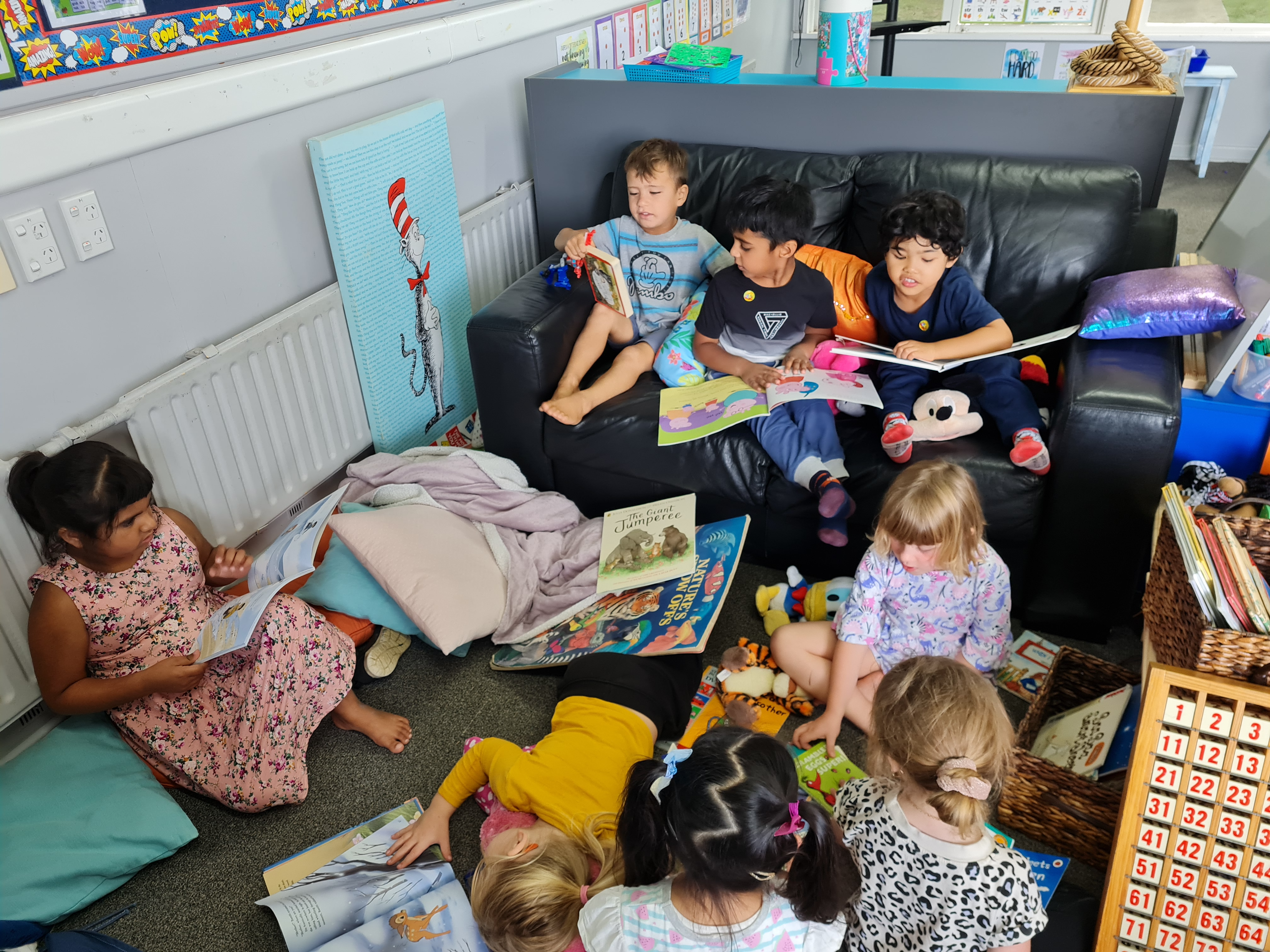 Silent reading helps to promote a love of reading, especially when we talk about where we have been "around the world" while engaged in our books!
Our learning to learn display.
All ready for our Easter Egg Hunt :) Have a happy and safe Easter Room 5 Whaanau!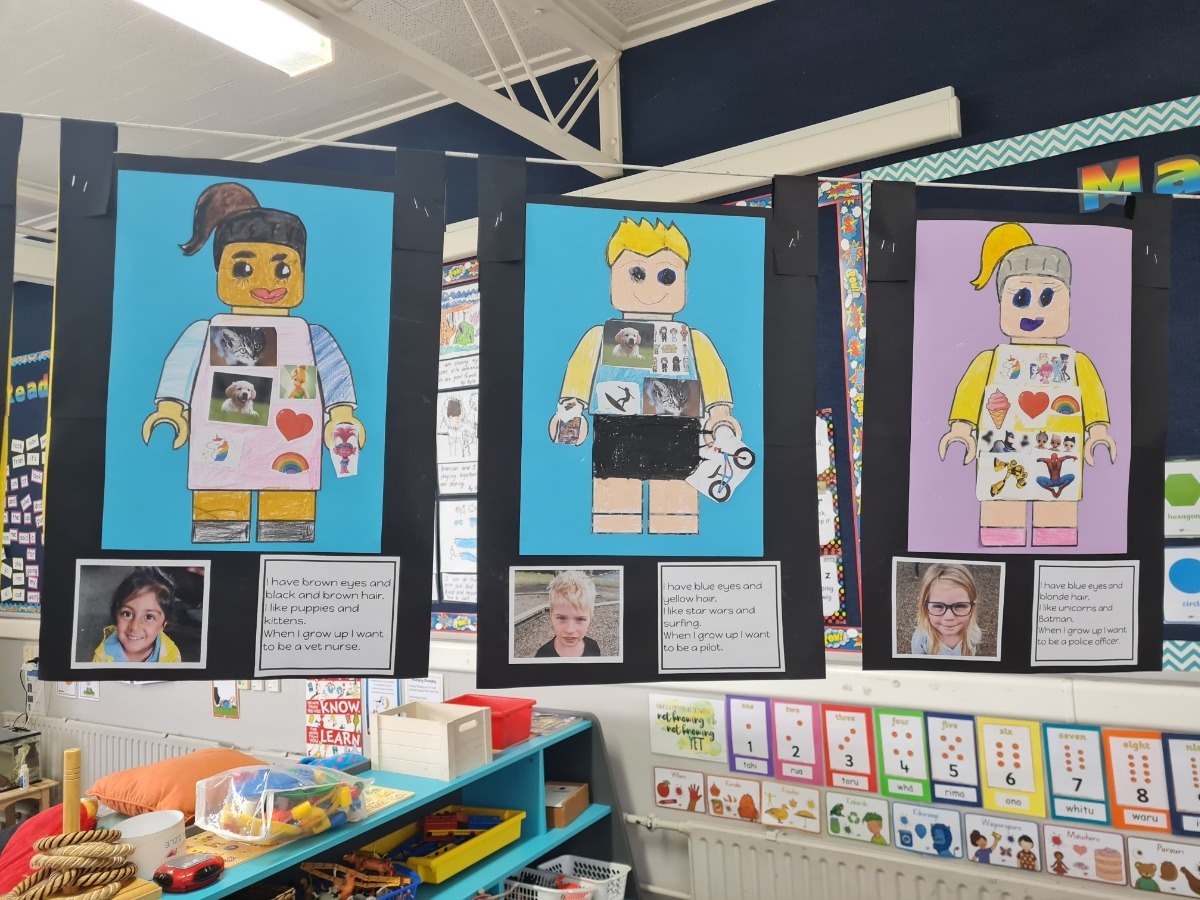 Our self-portrait Lego art. We learned about lines and proportions to create our faces using different mediums. We celebrated our diversity!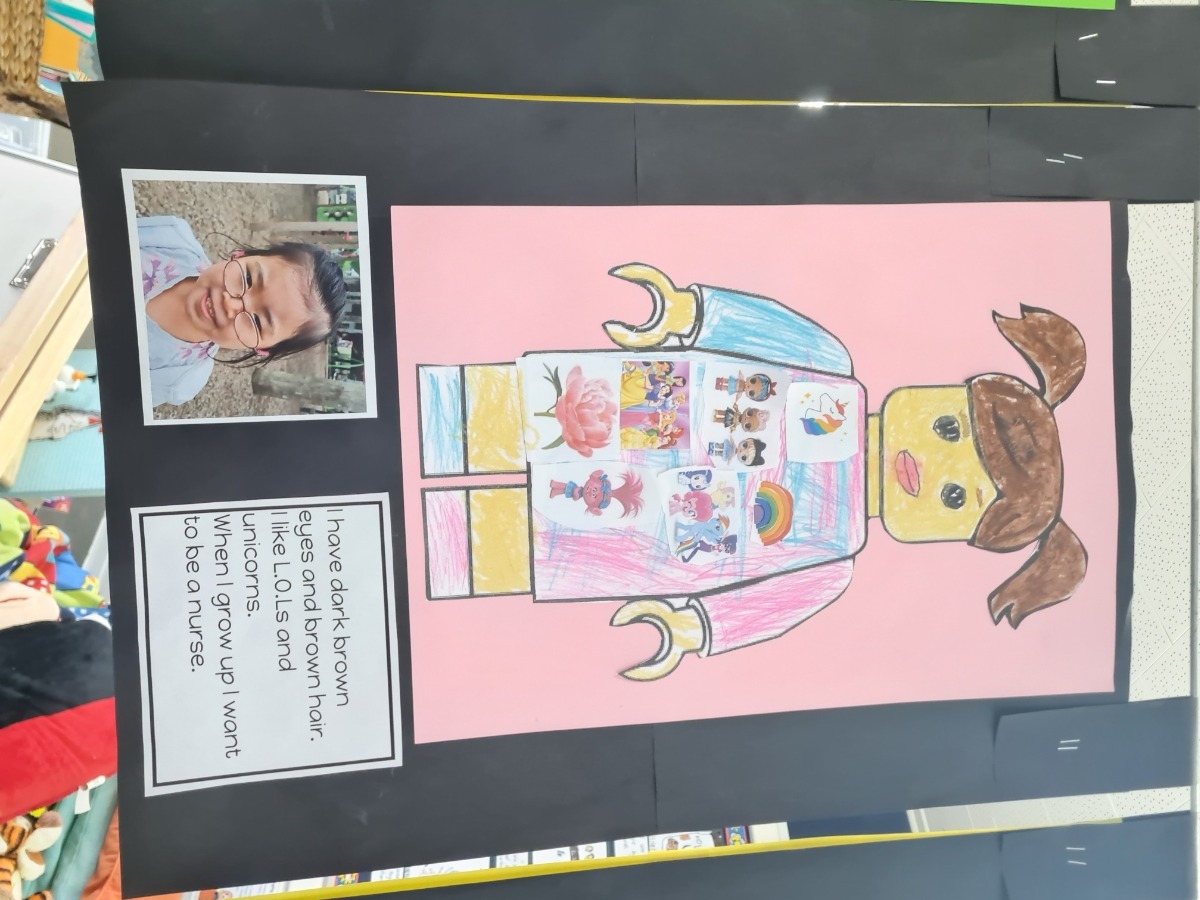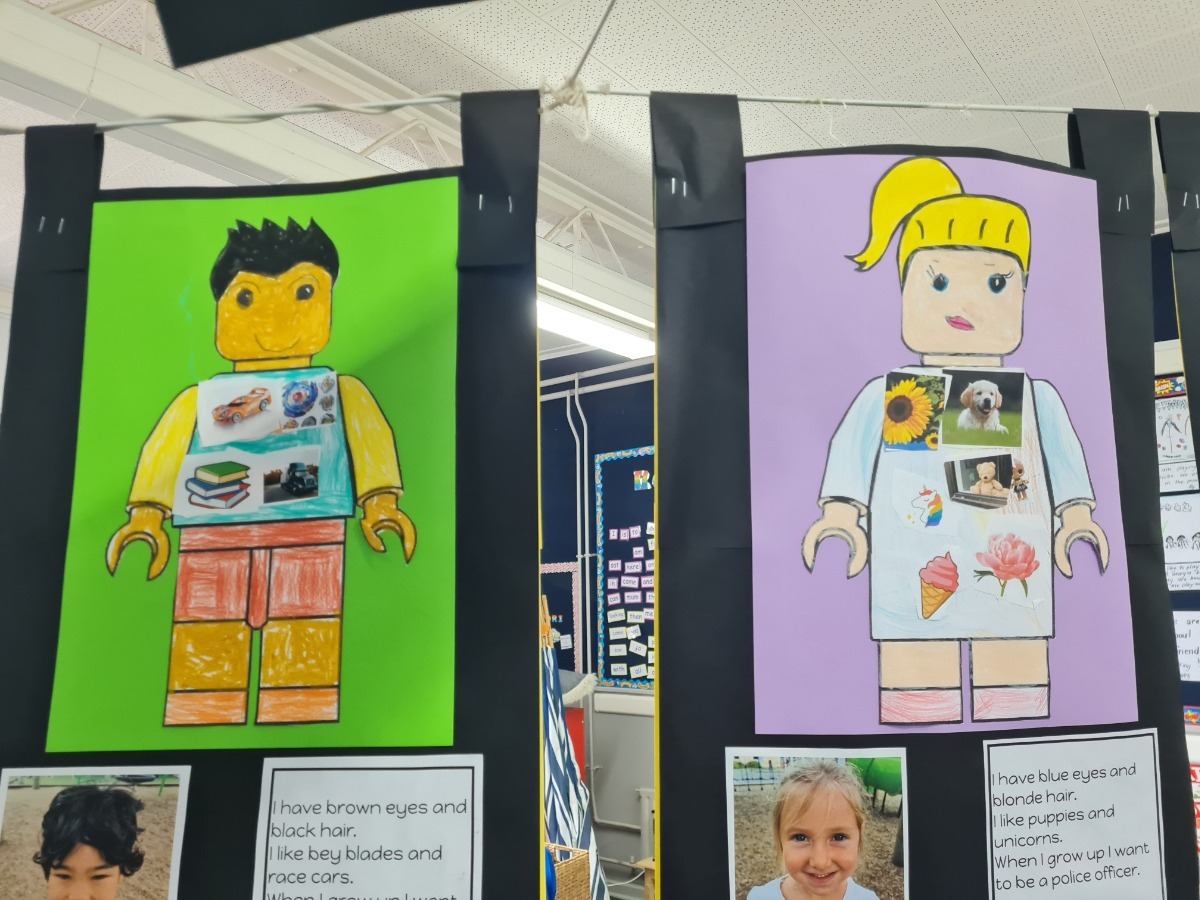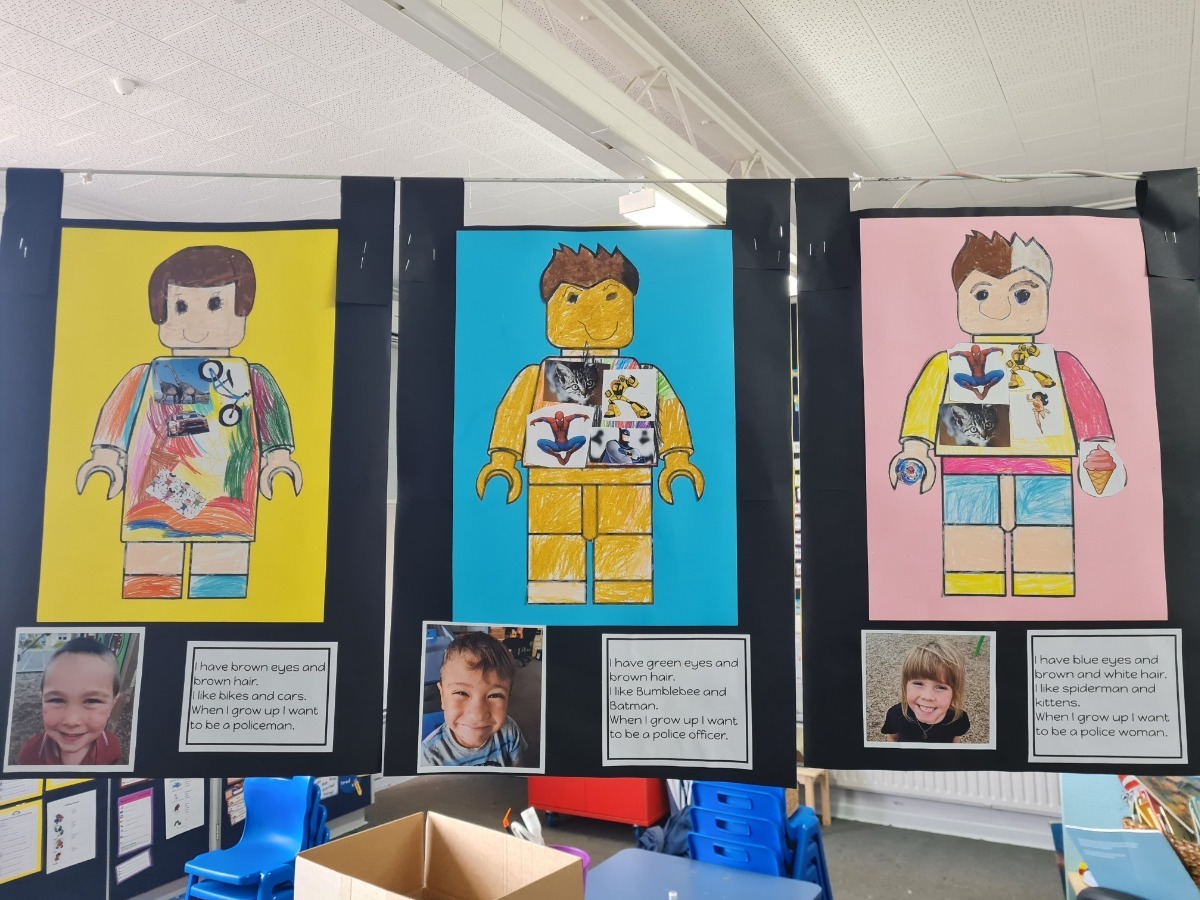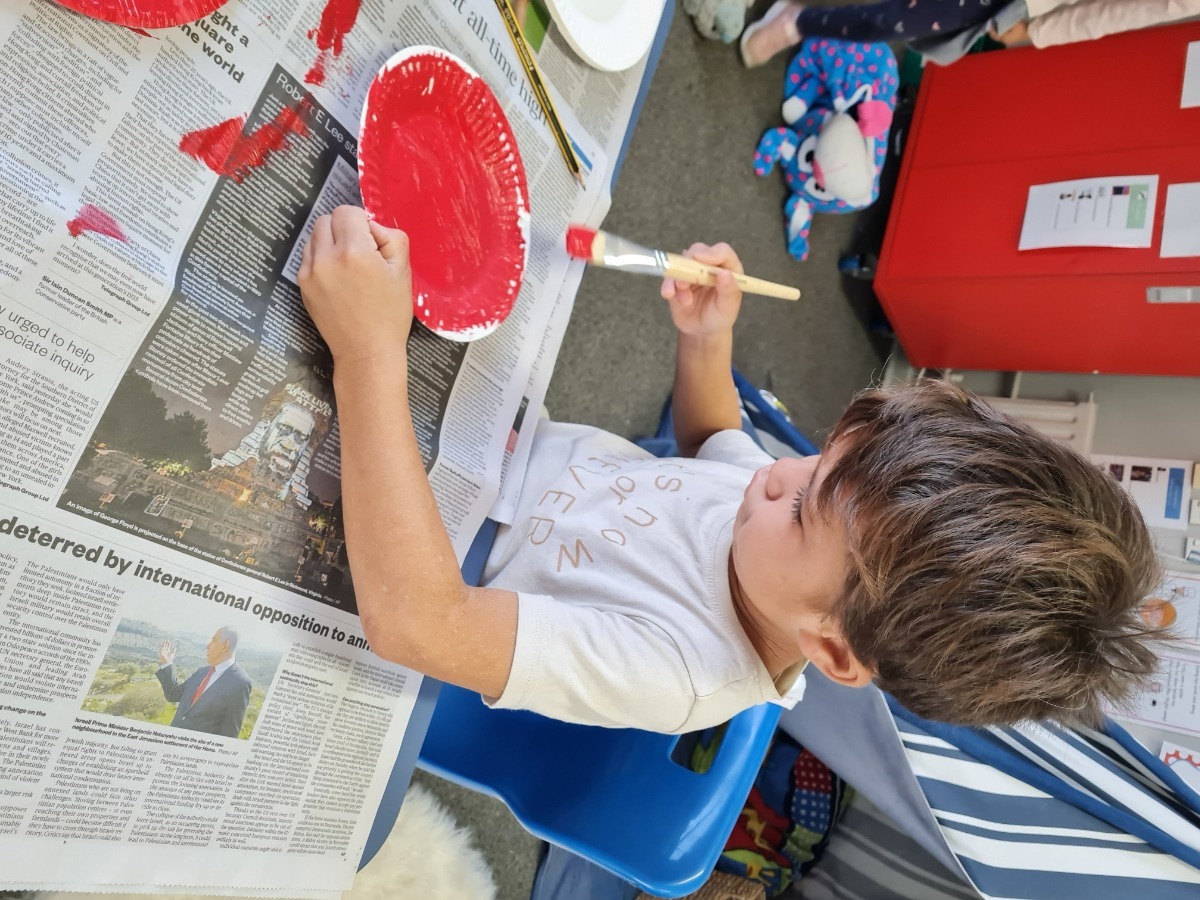 We read a beautiful story called ANZAC Ted by Belinda Landsberry and talked about those before us who have kept us safe. Then we did some poppy art.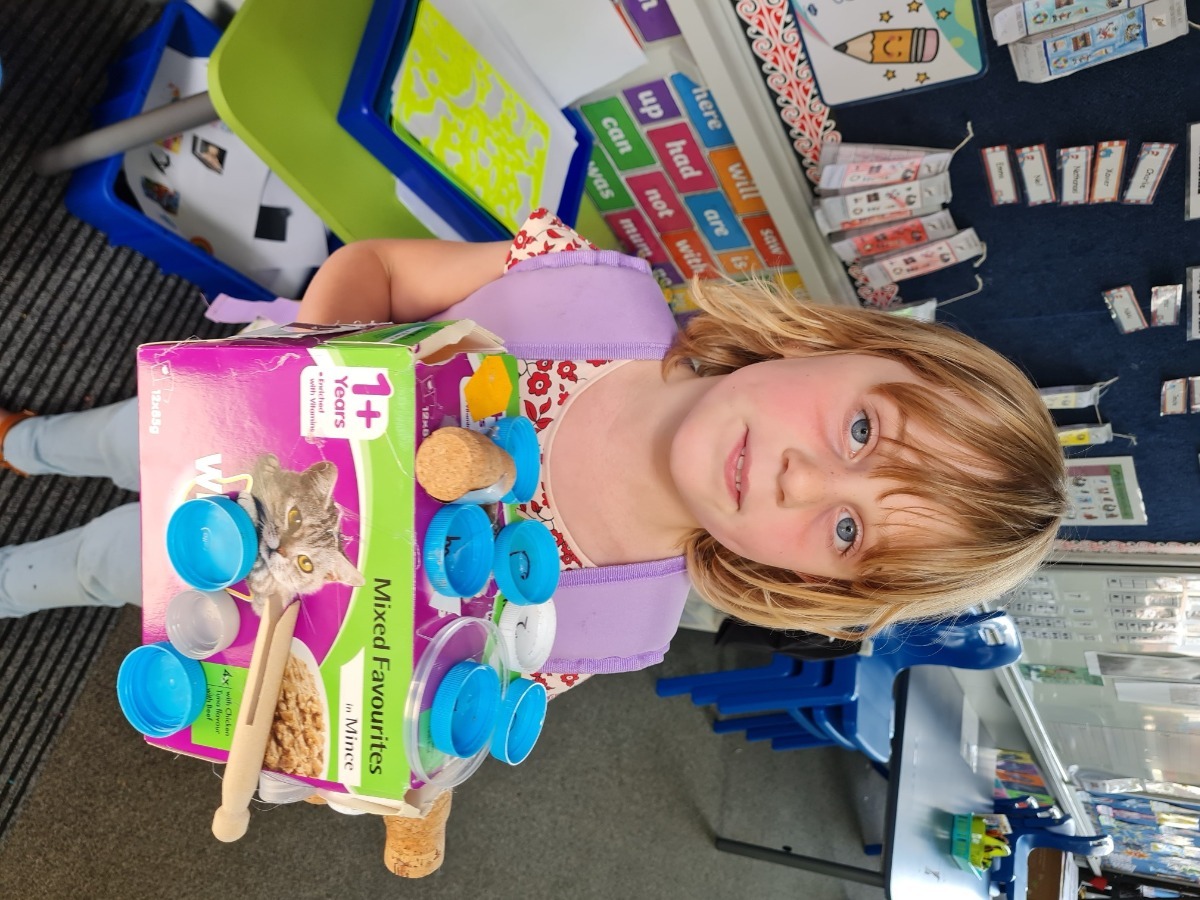 Loose parts play continues to be a highly popular choice in our classroom. Check out Emma-Joy's candy train!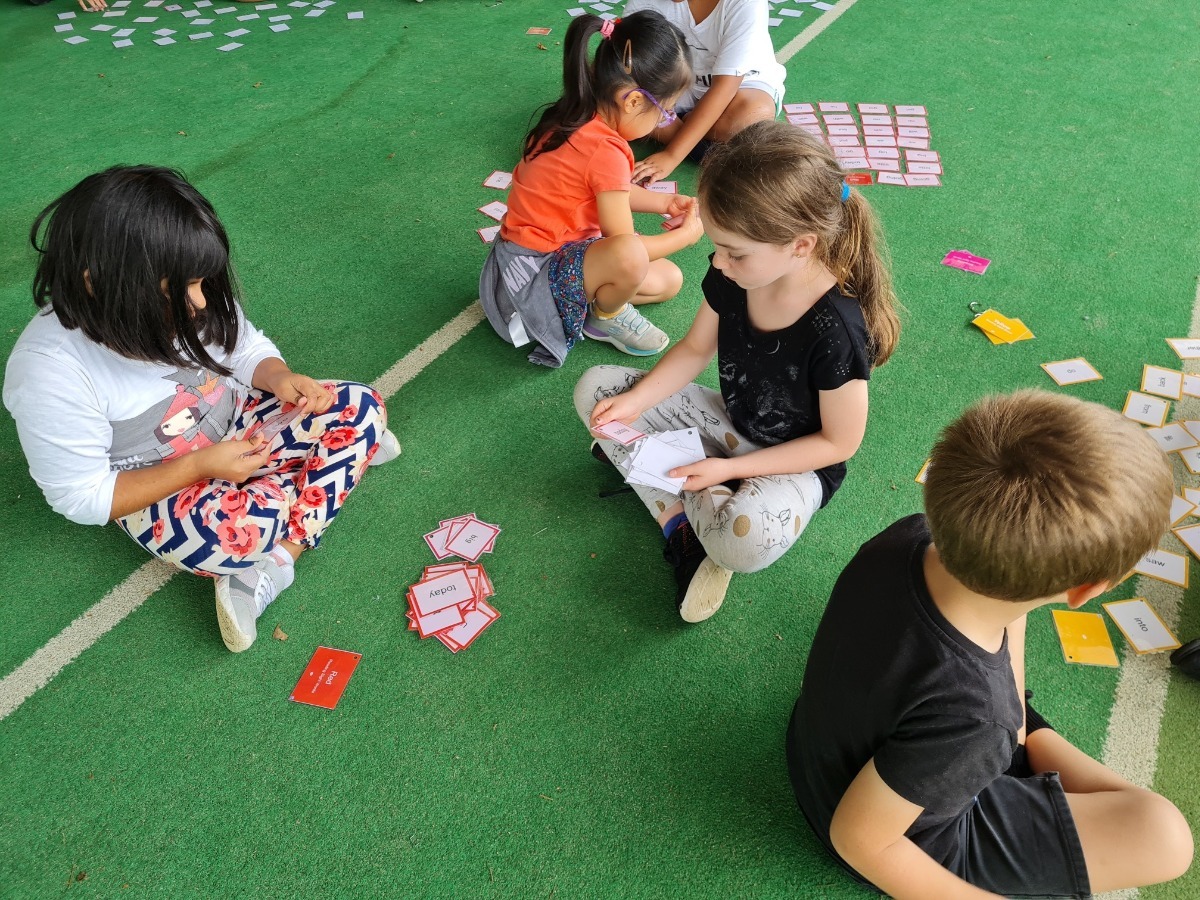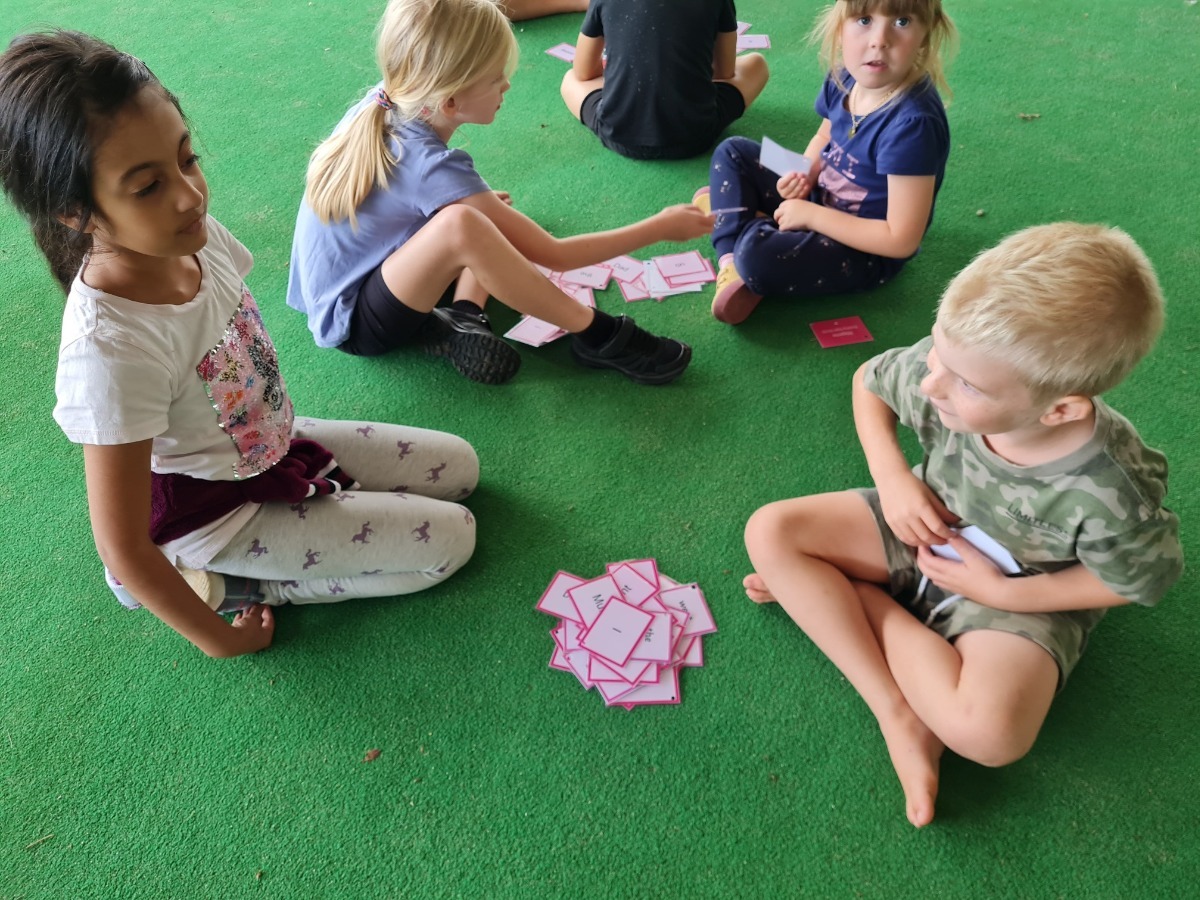 Here the Tamariki are with their buddy's during buddy reading, where they practiced their sight words with fun games. This is a highly valuable time for Room 5!
Week 5 Life Education Trust
Room 5 learnt about 'warm fuzzies' and 'cold fuzzies' this week and how to be a good friend through the adventures of Harold and Bunny. Thanks for the visit Life Education Trust!