Hi Room 1,
Here we go again, in lockdown. This is not an ideal situation but if we all stick together and work through this, we will be fine. I am happy that I can continue to teach the children of Room 1 remotely and can support them in any way that is possible. Please feel free to email me if you need any support or if you would like to share your child's learning with me.
Stay calm and keep safe
Laura Turton
l.turton@pokeno.school.nz
Learning from home
I will be updating this space regularly with all the work that Room 1 is doing while learning from home. Thank you to all the parents who are sharing photos of their children's learning.
Let's learn about the alphabet
Each slide has everything that you need to know about it. For example, formation of the letter and poems that go with that letter. Enjoy. I would like to say thank you to Sarah Fraser for creating this slideshow for us to share.
Quade has been very busy lately!
Look at his beautiful Spring Art. I love how you used cupcake cases for the flowers!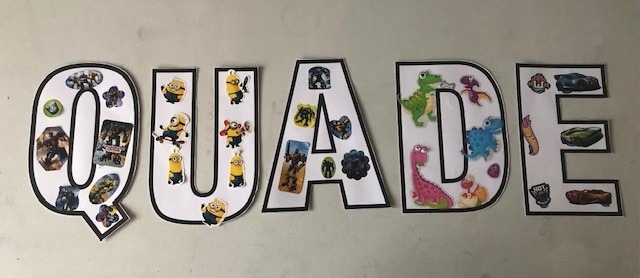 You have created some excellent letter art. Your name looks fabulous with all the stickers that you have added to it!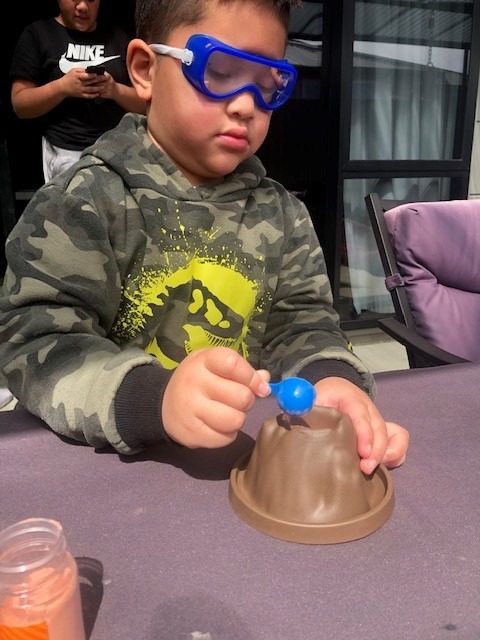 Quade, you look just like a Scientist. Are you going to create a chemical reaction?
Wow, you did. Look at that lava bubbling down the side of your volcano!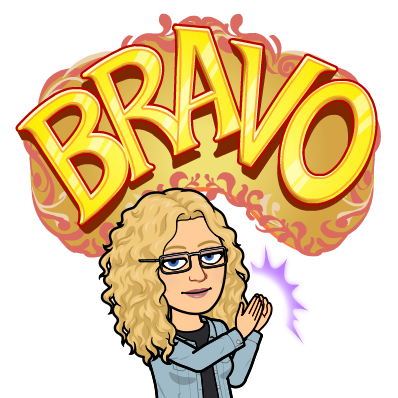 Let's check in with Georgia!
Georgia created a vase and added leaves and feathers for her spring art.
Look at the beautiful playdough flower that Georgia created.
MMMMMM, what are you making Georgia?
Oh my goodness, it is homemade ice creams. You are so clever!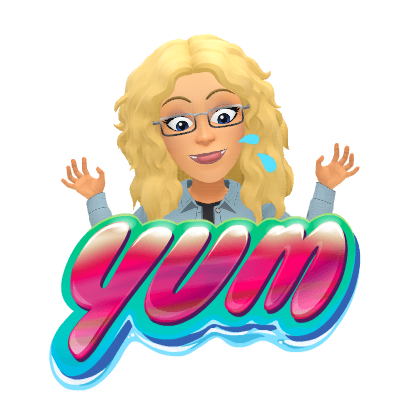 wHAT HAS iSLA BEEN UP TO?
Someone has been baking!!!! They look delicious Isla!
Wow, I can see that you wrote all your numbers up to 100! Super clever!
I bet you can't wait to use your poi in Kapa Haka when we get back to school!
What has lukas been doing?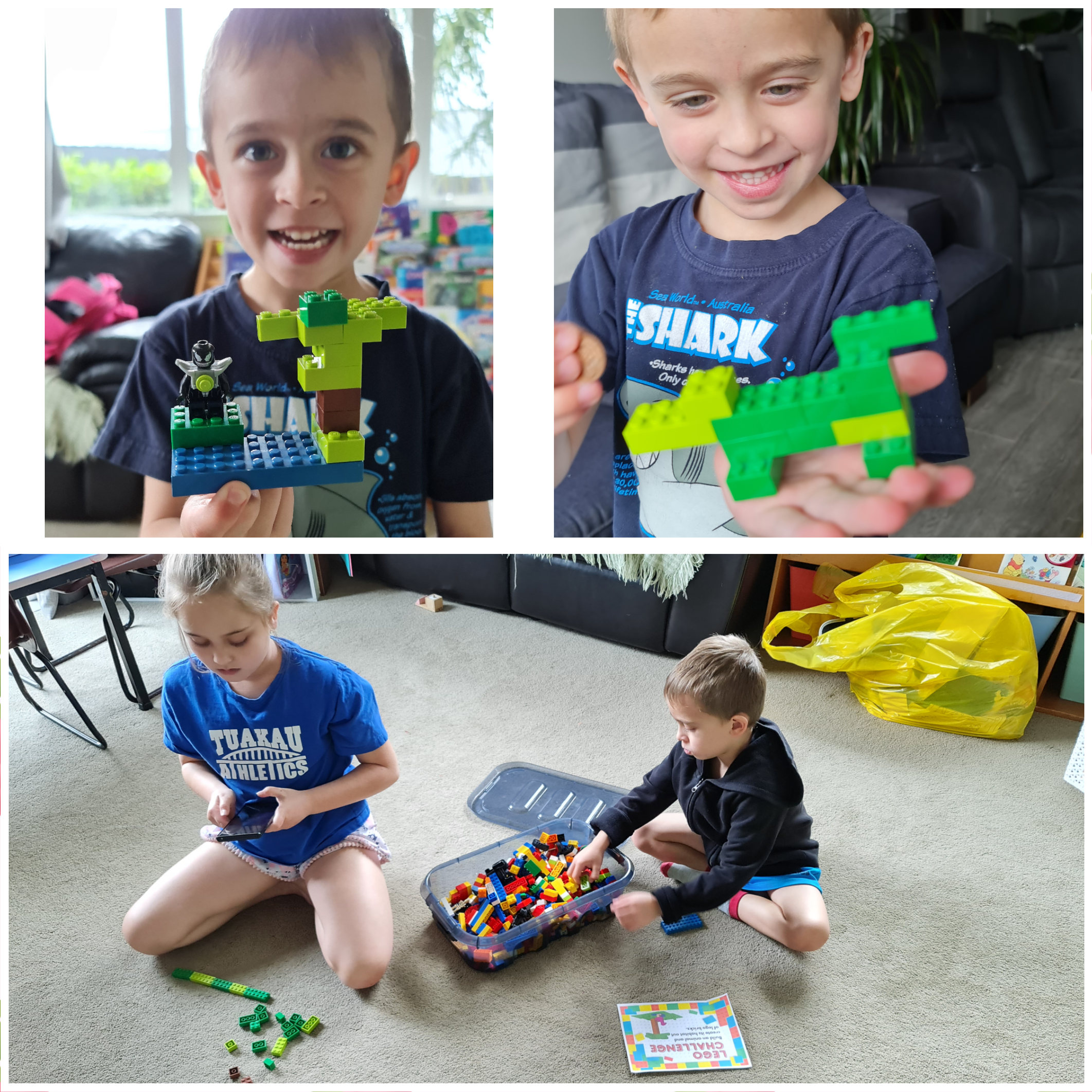 Lego creations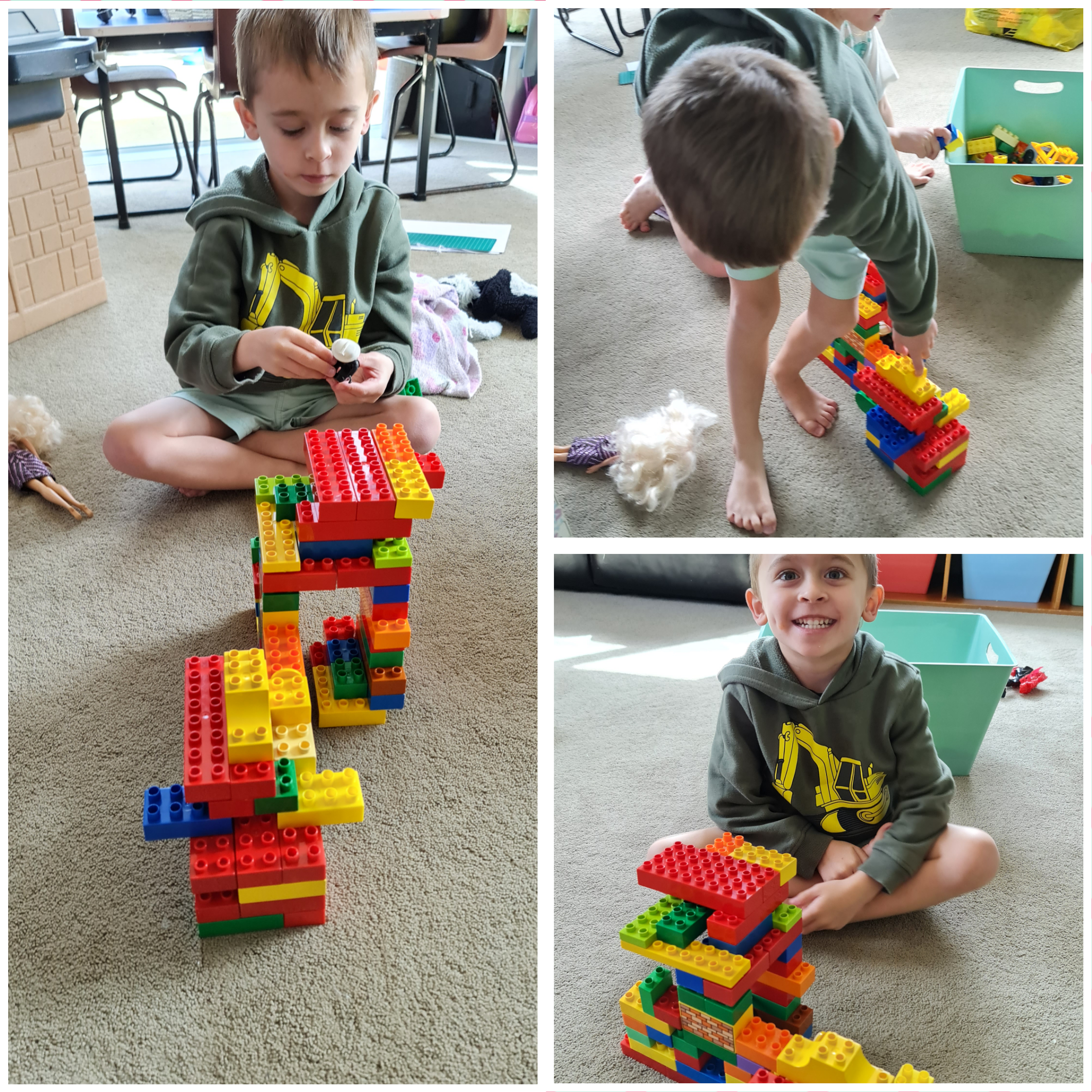 More Lego creations!
Obstacle course in the lounge.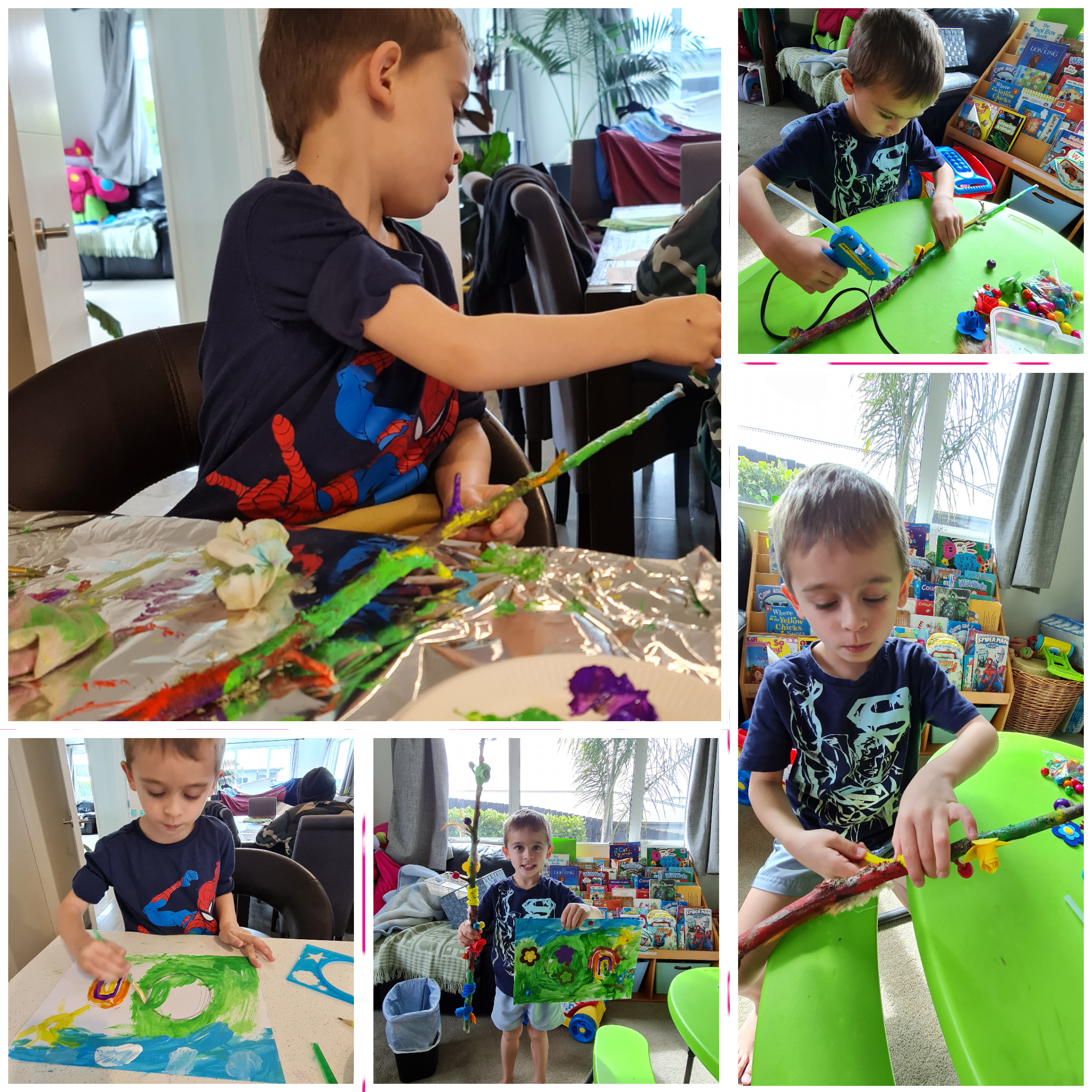 Art and craft time!
Well done with your sounding out activity . You did a fabulous job!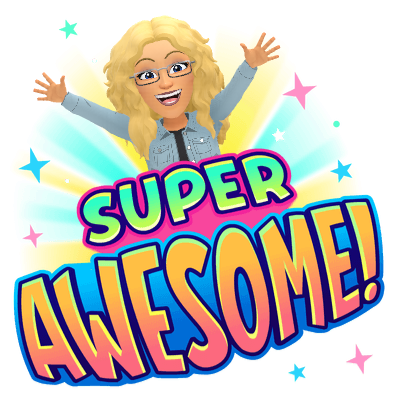 LEARNING!
Aroha has been very busy ...
Reading time
Aroha is very clever. She is reading a book in Te Reo!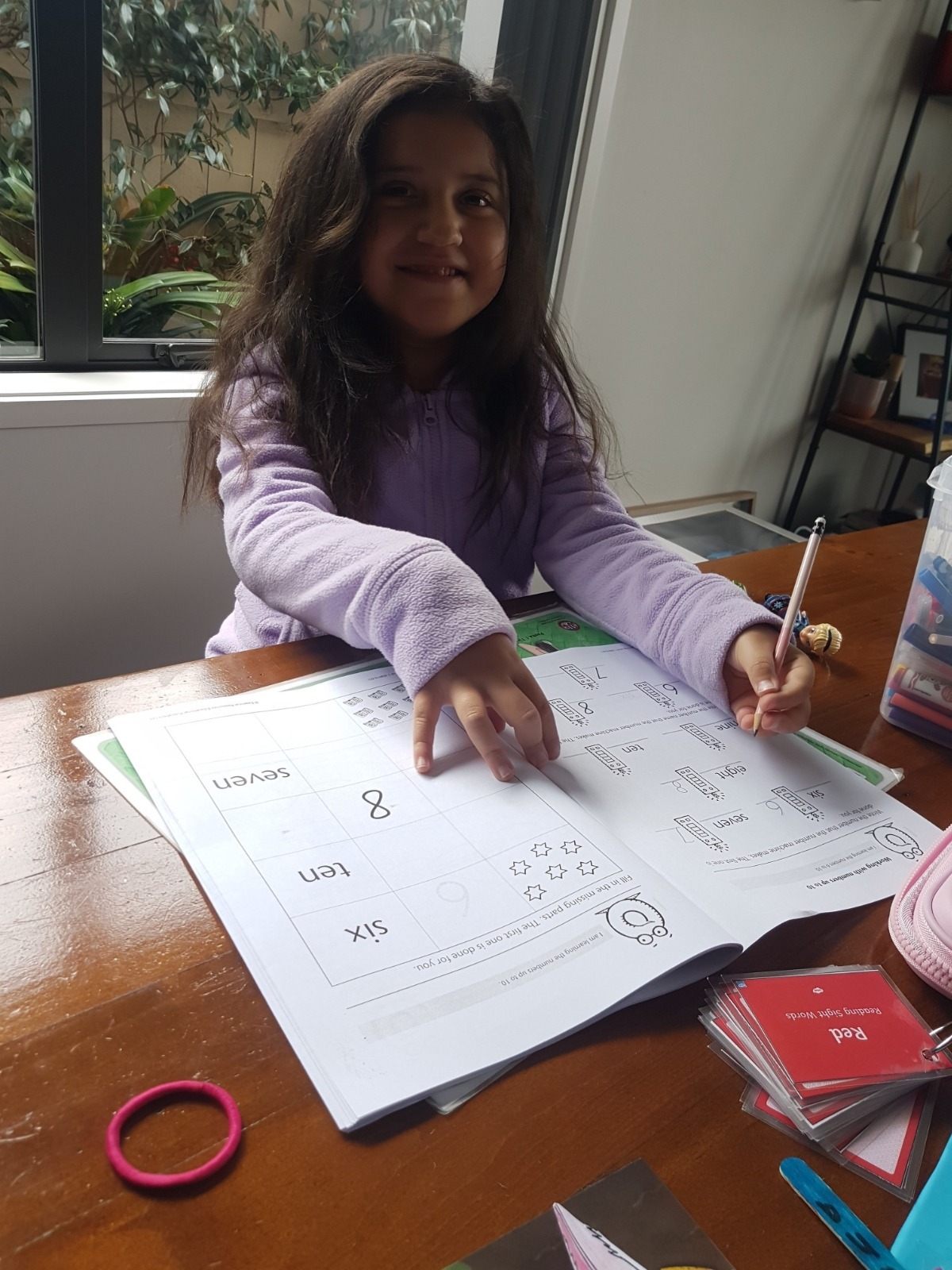 Math's time
Aroha is working hard in her math's booklet. Ka pai Aroha!
Spelling time
I love your spelling activity Aroha. It is good to see you learning how to spell words.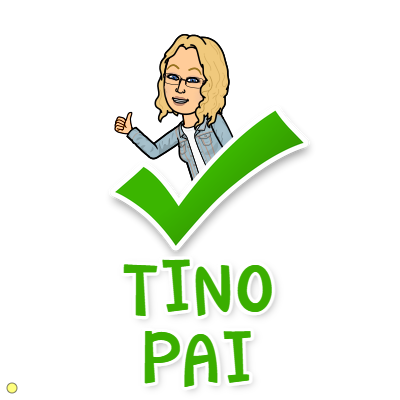 What has Aaliyah been up to?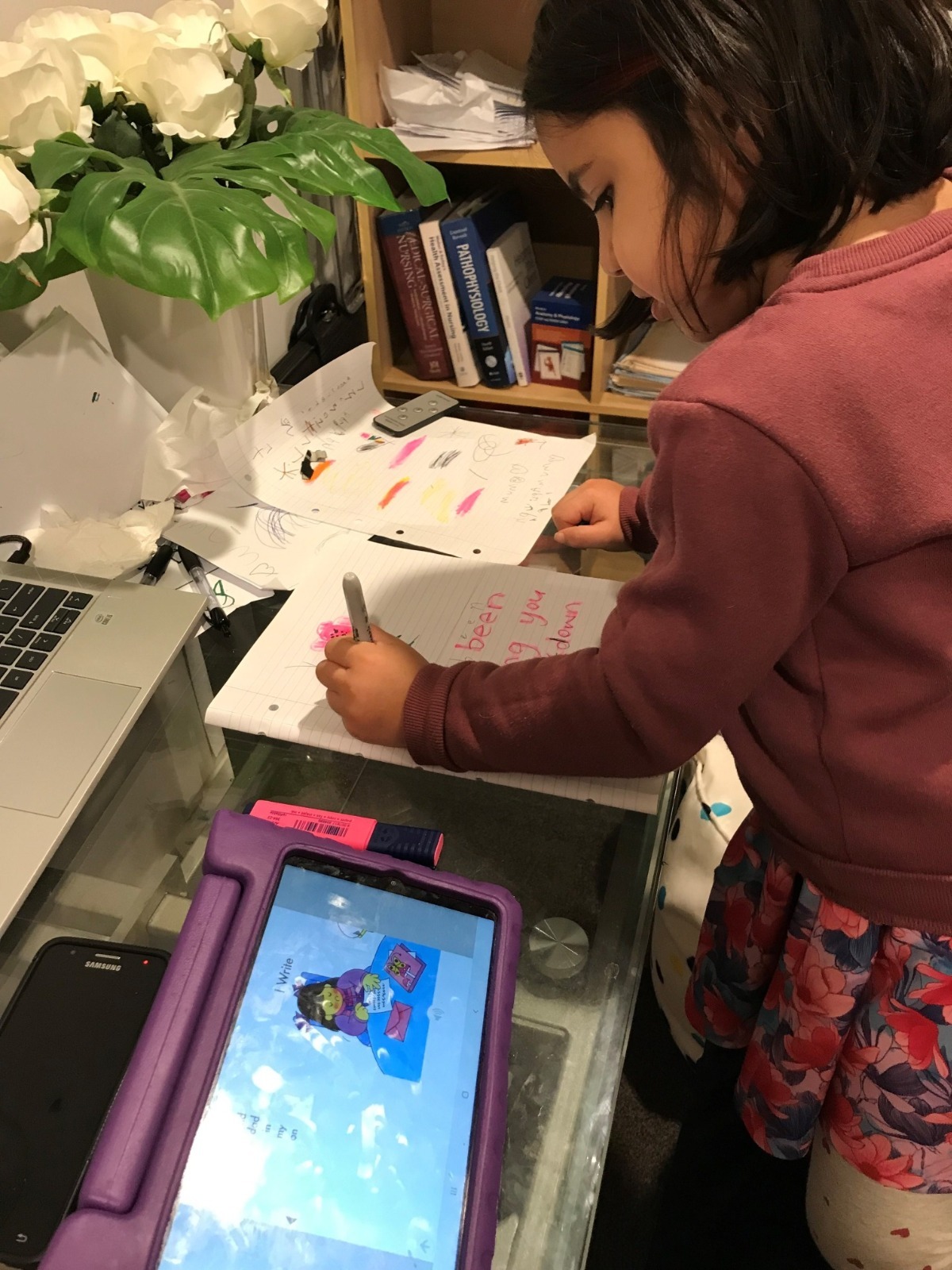 Writing Time
Aaliyah is working hard on her lockdown writing. I can see that you are concentrating hard.
The finished product!
Well done Aaliyah, I can see that you tried so hard with your story writing.
Baby Photo Time!
Baby photo competition time. The Challenge was to recreate one of your baby photos as you are presently. Look at the absolutely gorgeous entries below:
Here is Bella's baby photo recreation. Look how tall Bella is now. I can see all the effort made into making this photo recreation. Well done Bella!
Lucy's baby photo was taken when she was 4 weeks old. Now at 291 weeks old she is definitely a lot taller. I love your photo Lucy. You are such a cutey!
Reeve's baby photo was taken when he was five months old. Here he is at 5 recreating his folder. I love how he is pulling the same face in his current photo as he is in his baby photo. Very cute Reeve!
This is Quade and his cousin Lyric when they were babies and both only would go to sleep on their tummies. They are only 3 weeks apart. Gorgeous picture Quade!
Isla likes to play in boxes. It looks like time hasn't changed this. The only thing that has changed is that you are much taller now. You are still as cute as a button.
Reading Eggs Certificates
Some children have been working so hard on their Reading Eggs tasks that they have achieved some certificates. Let's have a look!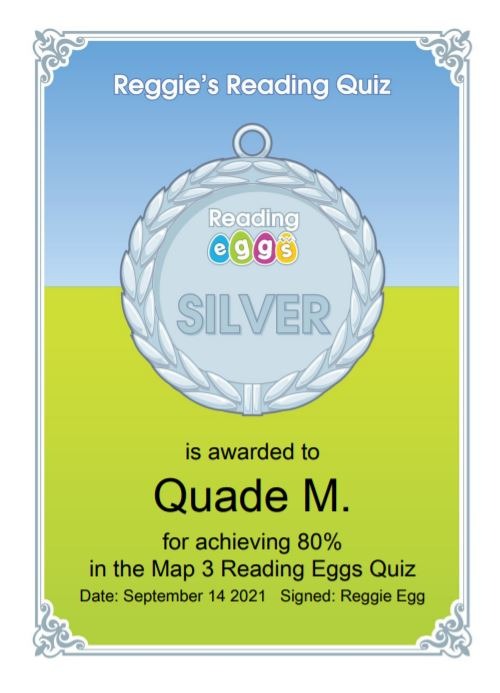 Well done Quade! I am so proud of you!
Excellent effort Isla. Keep up the great work!
Well done Ari for coming second place in your Reading Eggs Quiz. Ka pai!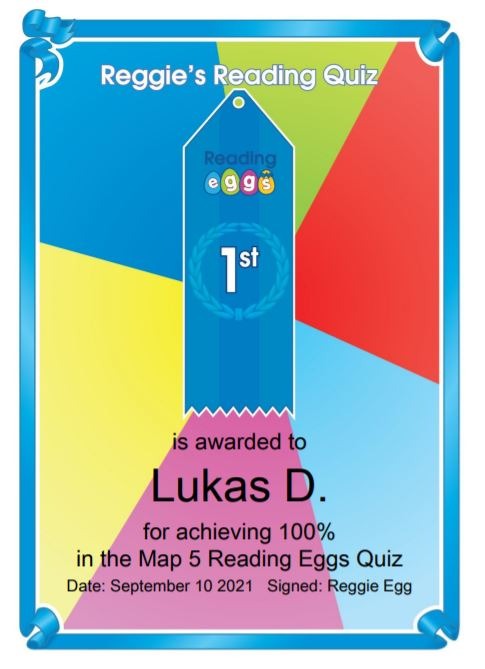 Well done Lukas! You came 1st in your Reading Eggs Quiz. Ka pai!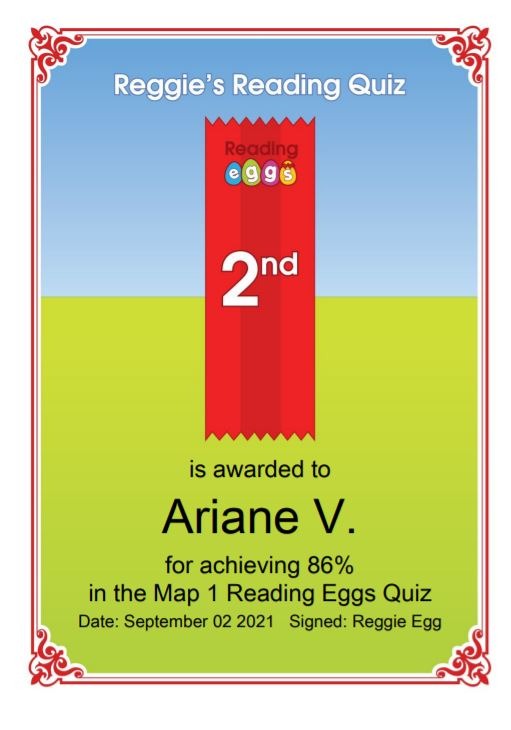 Congratulations Ariane!
Congratulations Isla!
Congratulations Moni!


I am so proud of you with all the effort that you are putting into your online reading. Keep up the great work!
Lucy loves Lego!
Lucy has been very busy this week creating many things with her Lego. Let's have a look at her creations: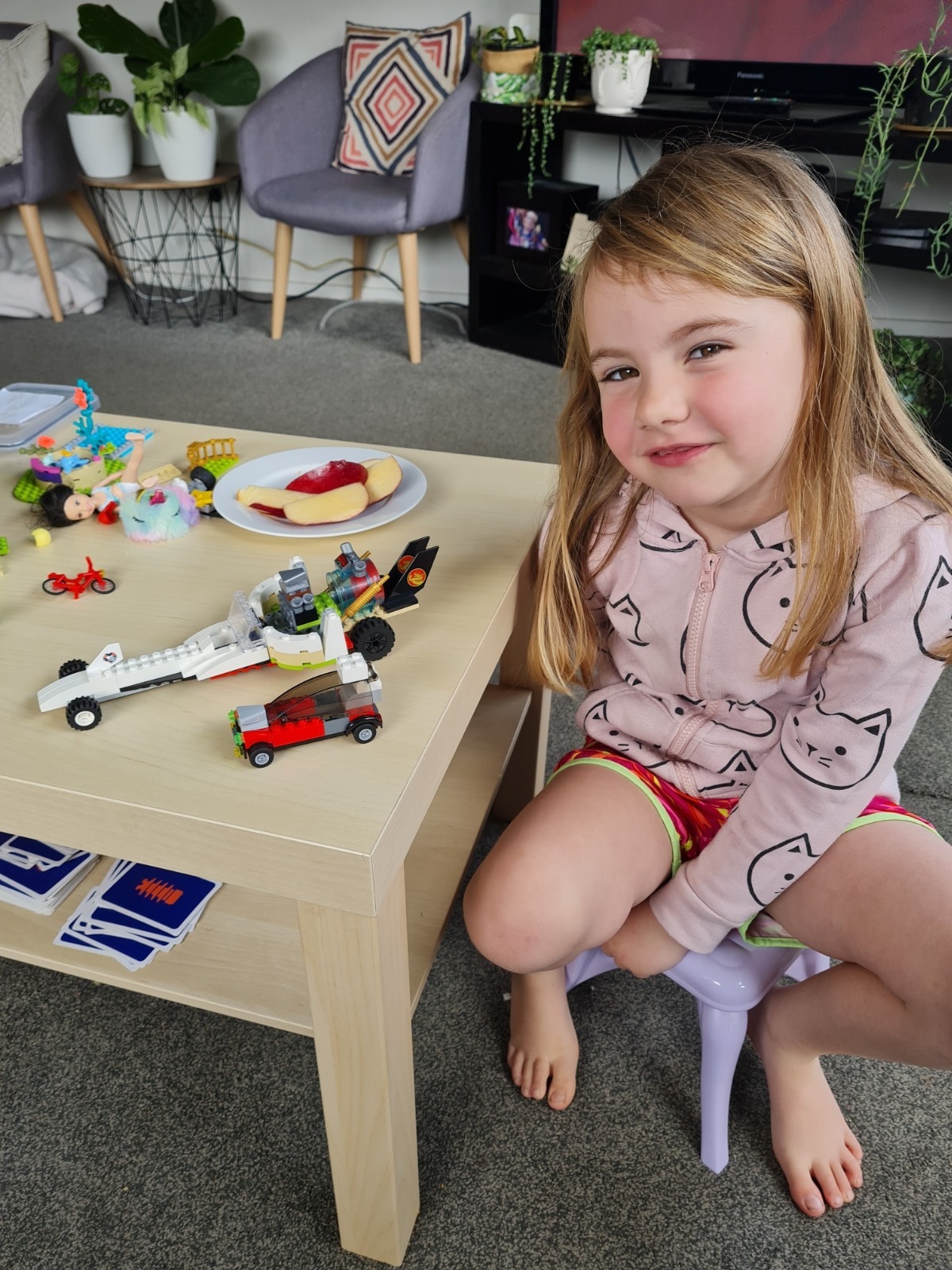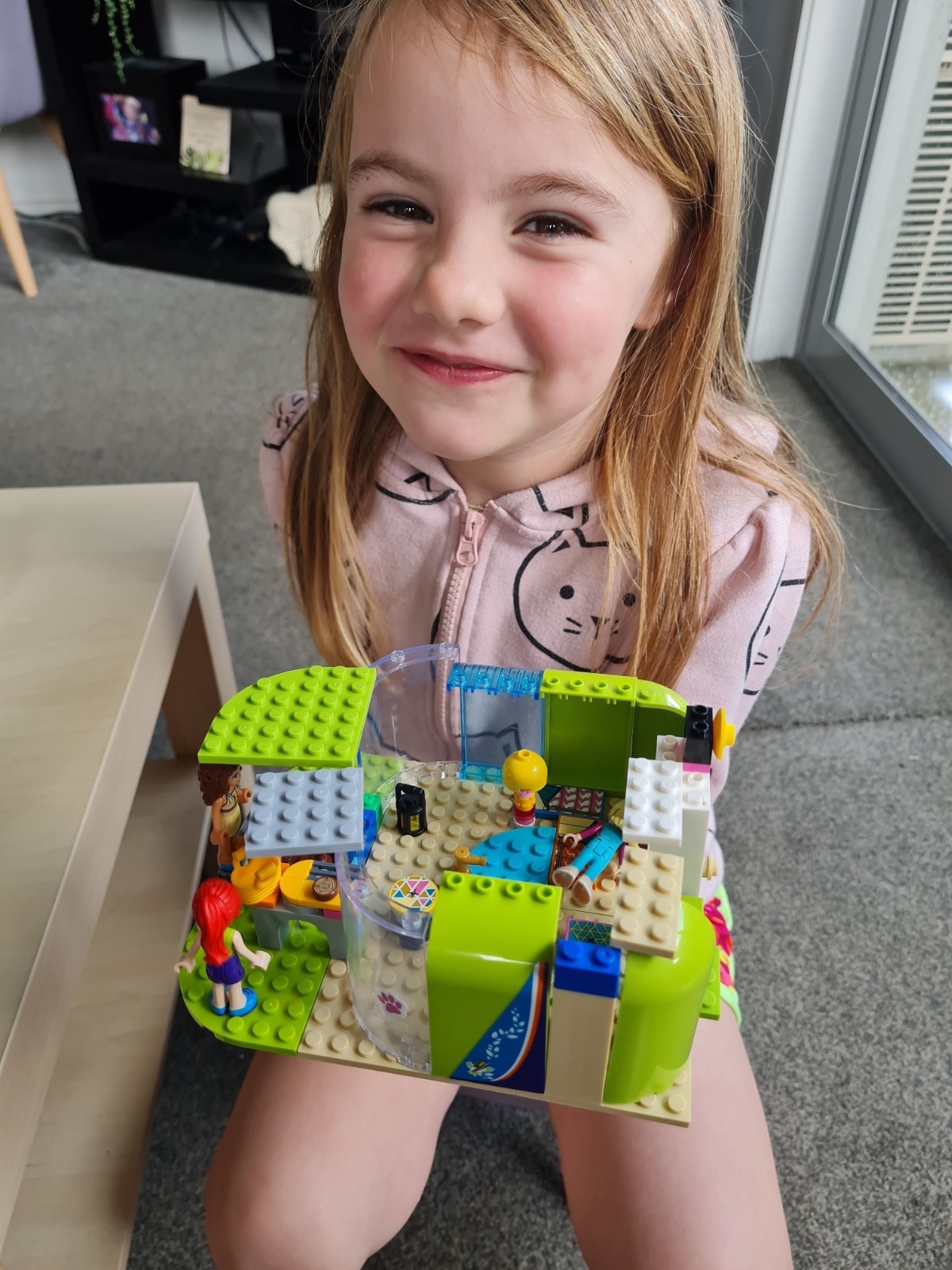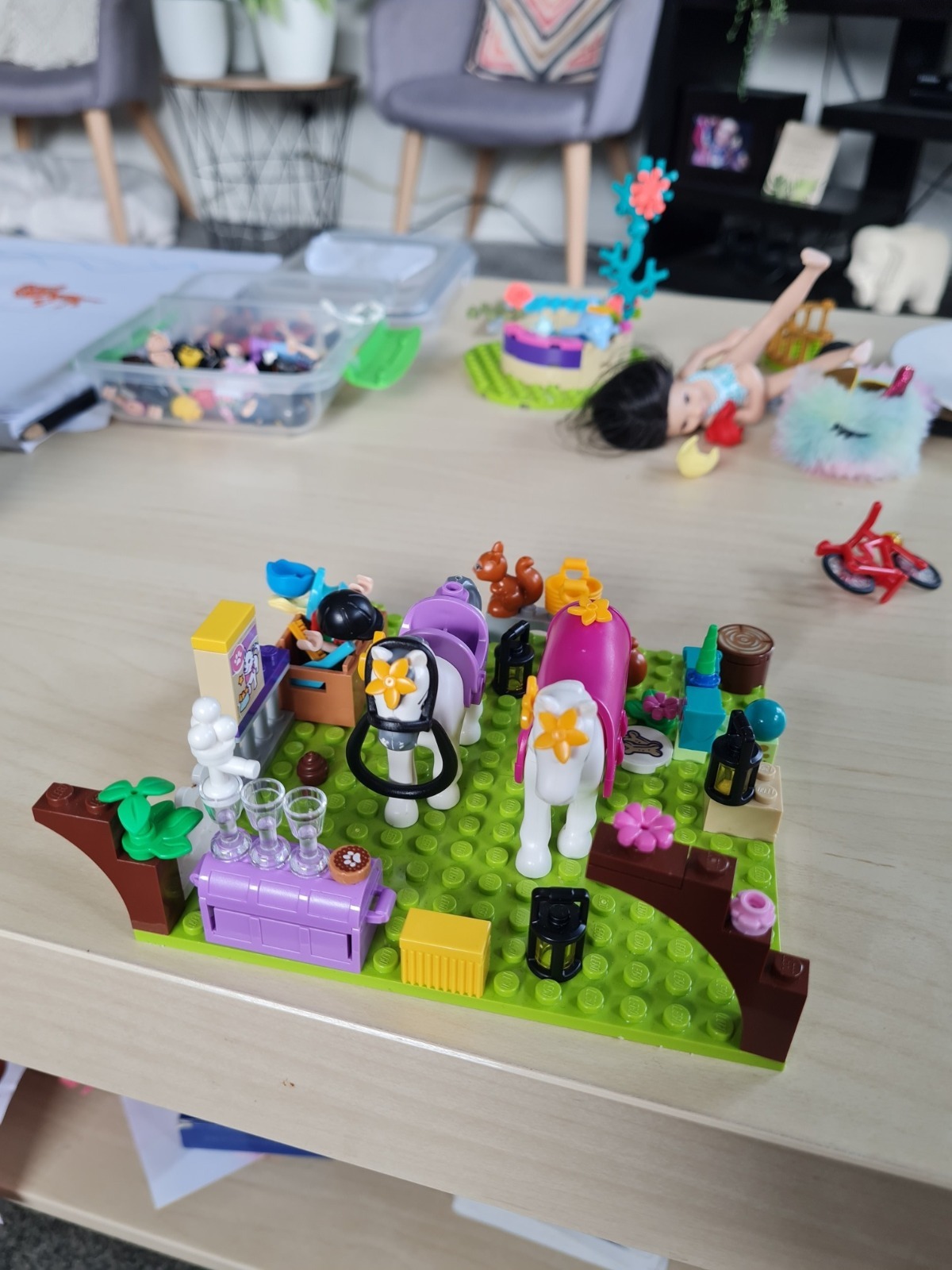 You are so creative Lucy! I am amazed by all your creations and I particularly think that the dragster is especially well made!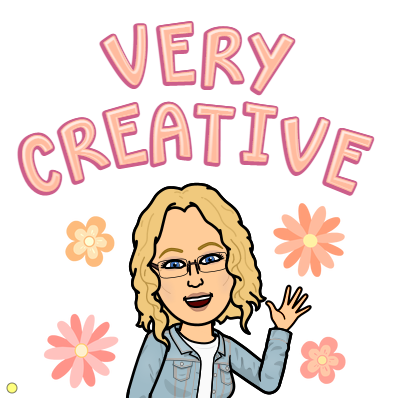 What has lukas been up to?
Lukas has been having a lot of fun at home spending time with his family. He has been busy keeping up with his work though and has been making progress with his words and also working on his hand writing skills. Lukas has mastered his Magenta words and is working on his Red words and doing well so far. Lukas has also been working on his number skills with his dad which he's very proud of. Other than that, he has been busy getting outside playing and doing way to much baking with his Mum.

Reading Eggs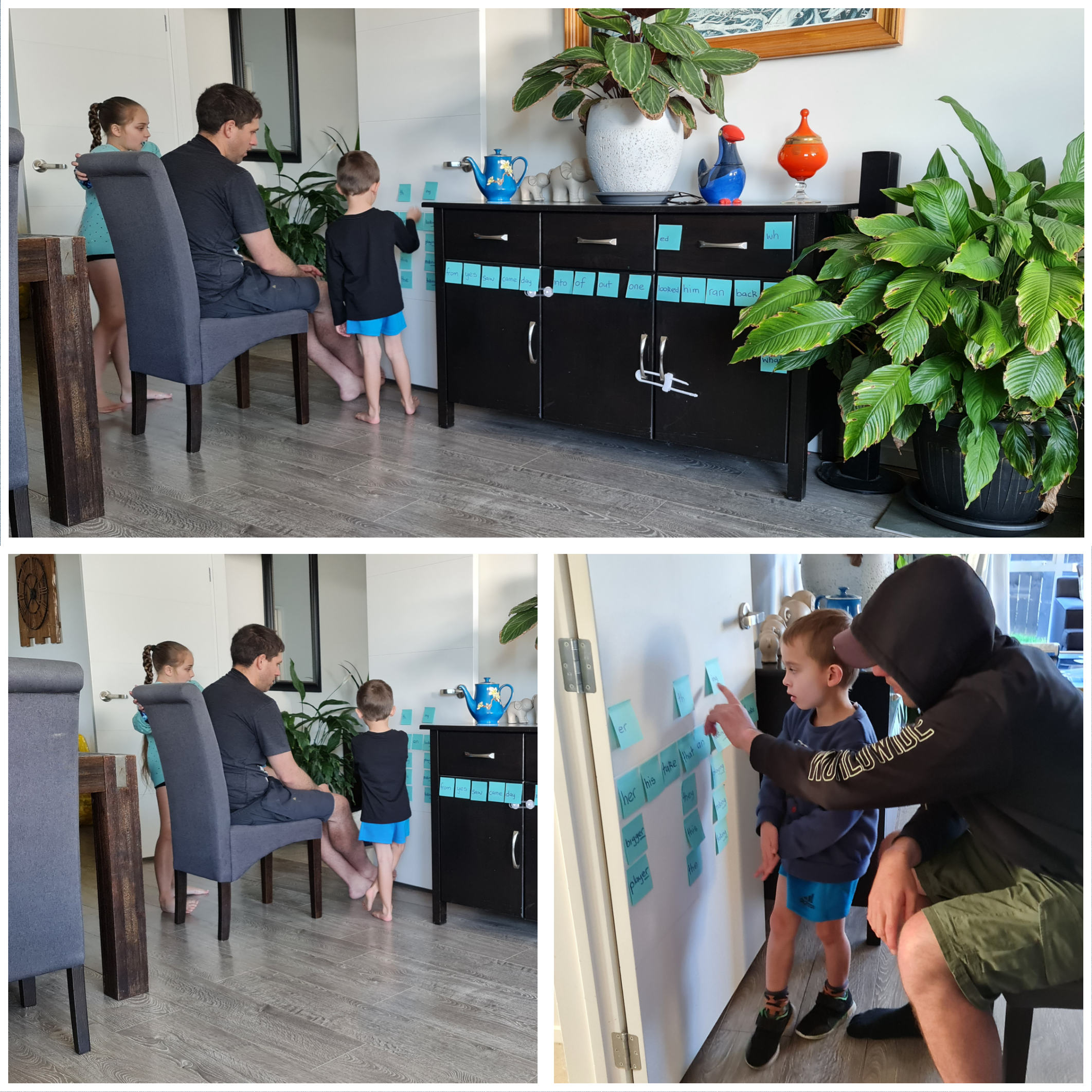 Sight word champion!
Writing
Capital or lowercase w?
Lukas's amazing learning!
Shark Puppets!
Building with Dad!
Mrs Turton thinks...
that you are doing an amazing job with your learning and I am very proud of you!
Georgia is having a tea party. Does anyone want to come? You can have cake. I would have loved to have come and had tea and cake with you. Thank you so much for the invitation.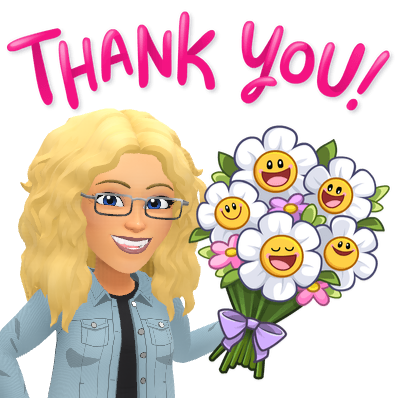 Georgia's favourite book character is Belle from the book called "Beauty and the Beast". You definitely look like a princess Georgia.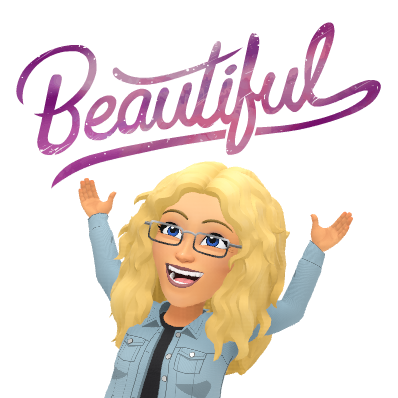 Meet "Mr Cowboy"!
One of our Learning through Play Challenges was to create our own sock puppets. Look at Quade's wonderful creation. I absolutely love the curly moustache and the hat with a feather!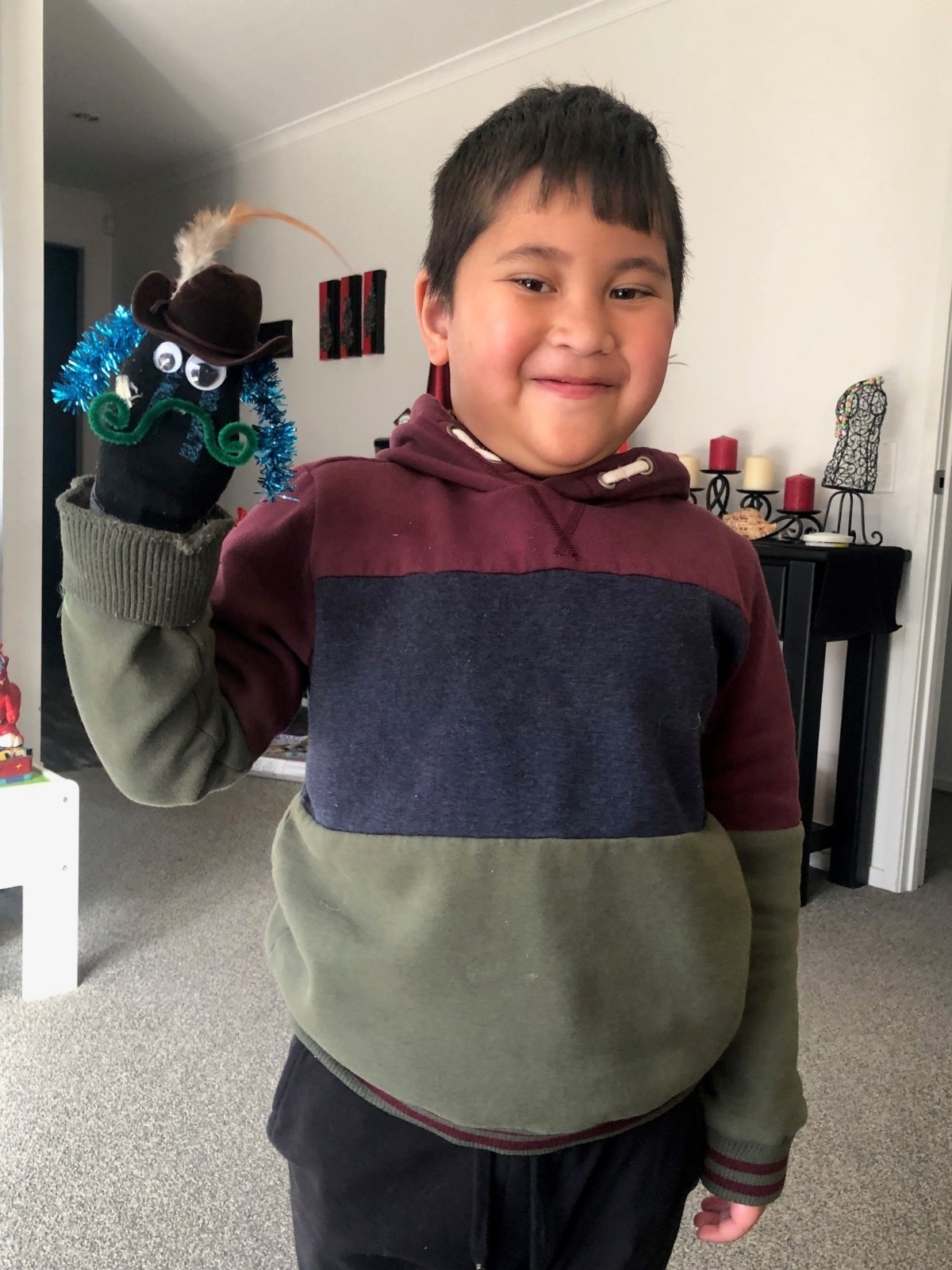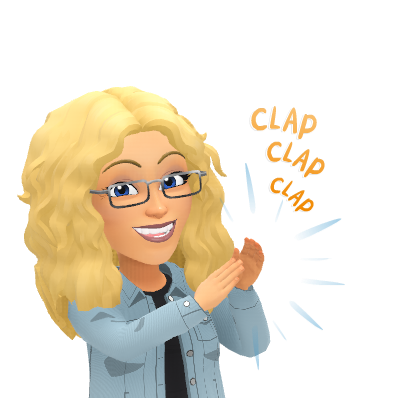 I am very impressed with your sock puppet " Mr Cowboy"! I can see that you have worked very hard on creating it. Super effort!
Isla's Learning this week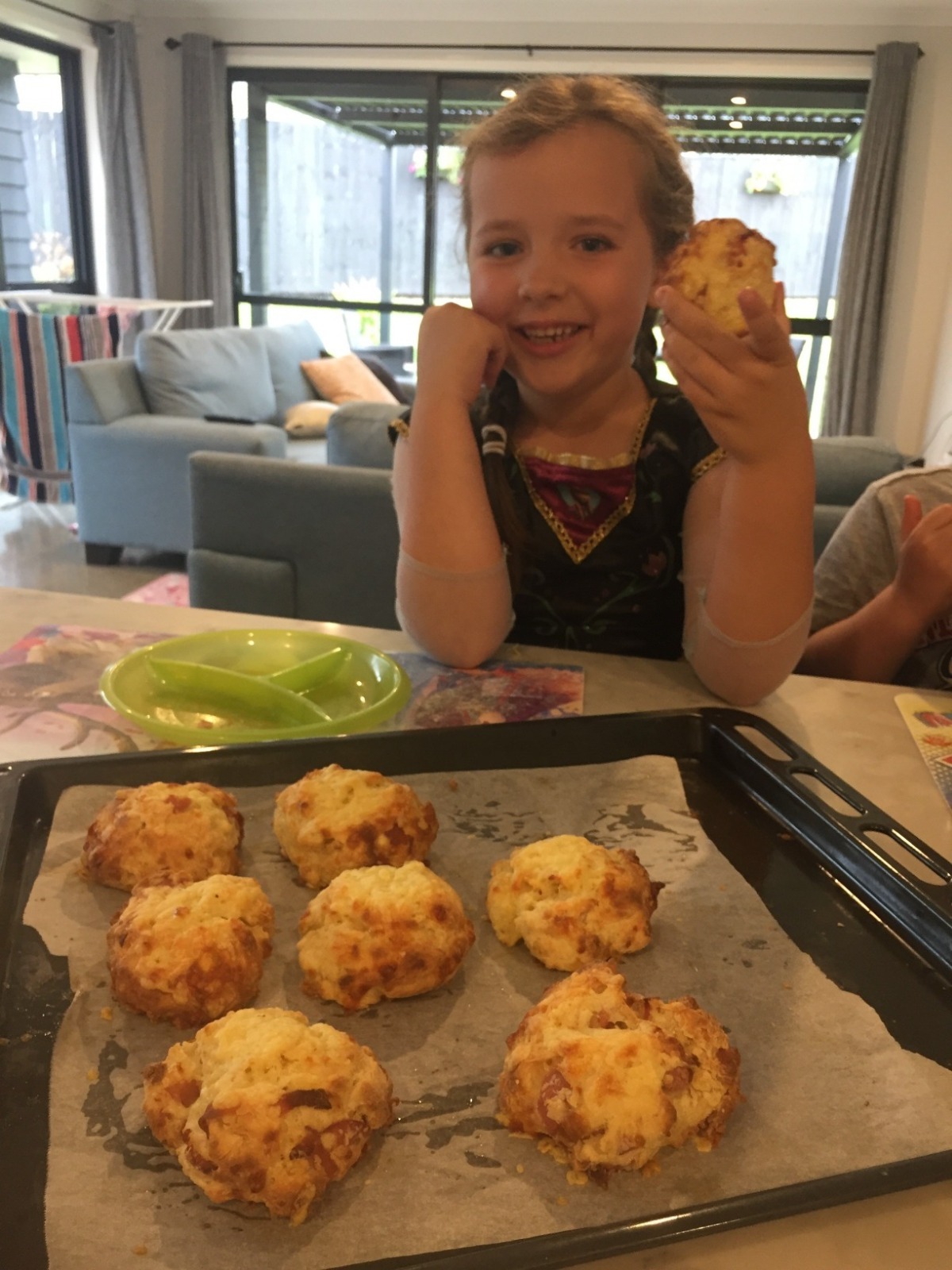 Isla's been baking!
Are those ham and cheese scones? They look delicious.... I wish I could have one. I am so pleased that you chose to use Georgia's special recipe. I am also proud of you for baking with your Mum... Keep up the wonderful effort!
One more or one less? That is the question!
Well done Isla for getting on with your Math's learning. Working what comes before or after a number can be quite tricky but I know that you a "Clever Cookie"!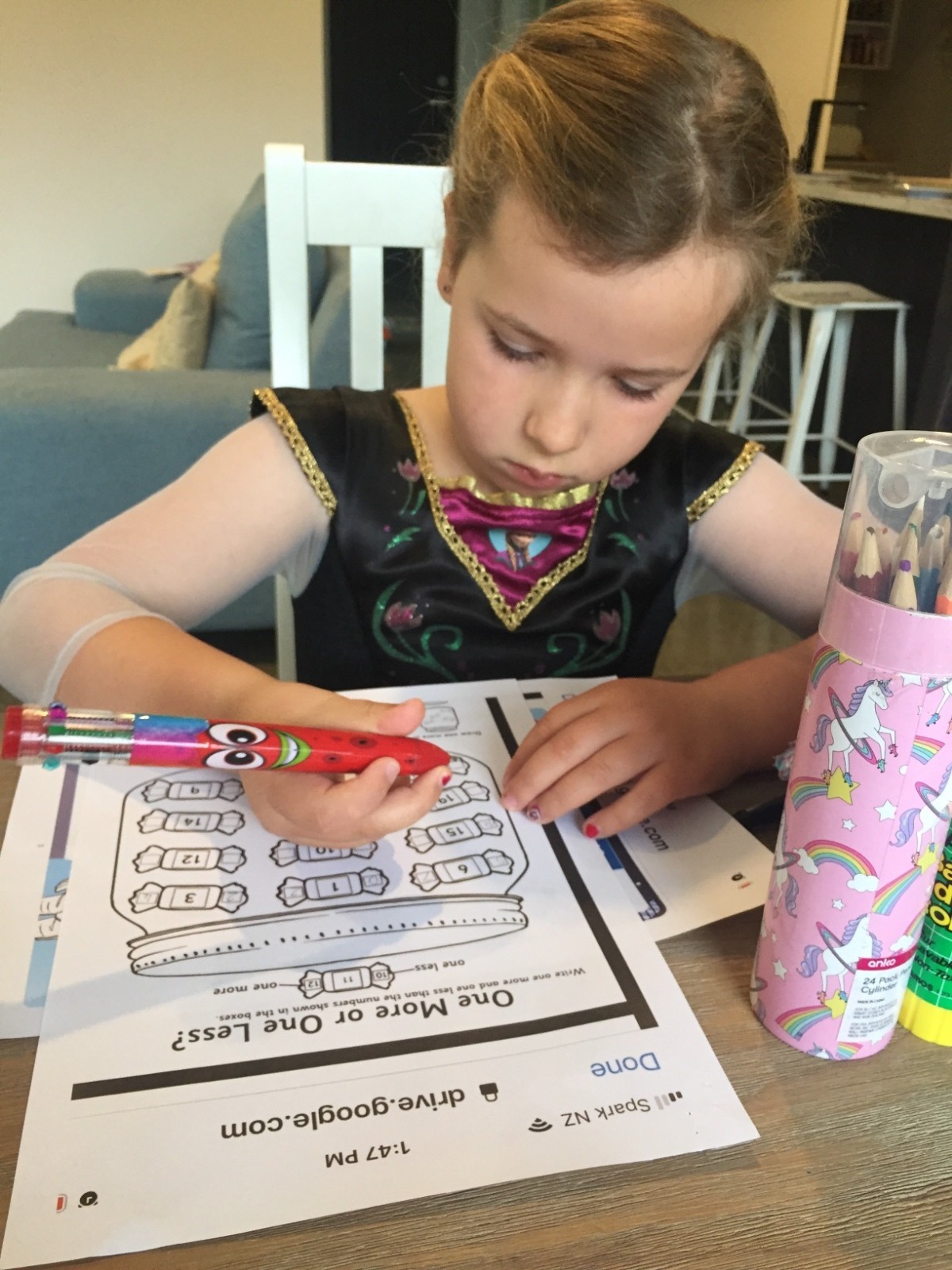 What has Bella been doing?
What is Bella's routine for the week? She loves doing her kids Yoga each morning to get her bones stretched. Then she does her colouring book work and letters. Following that, Bella does another colouring picture. Then she has a break and snack. After that, she does a bit of Reading Eggs. Bella is also reading Sunshine Classics which she has been enjoying. She has also been enjoying doing some baking with her Mum - chocolate cakes, cupcakes and a banana cake! Then Bella and her Mum go for an hours walk. After that, Bella just relaxes and watches a kiddies movie.

I am so impressed with the learning that you are doing at home Bella! Keep up the great work!
Let's look at photos of what you have been up to!
What start's with W?
Delicious Cake!
Super Handwriting!
Let's look at what Reeve has been up to...
Reeve did a theme for his 100 Lego Challenge. Each digit had a different theme: one was Spiderman, one was dinosaurs and the last one was space. Reeve also had fun leaf painting and making playdough.
How exciting!!!! Reeve and his Dad built a go kart together. They made the go-kart out of random bits and pieces laying around the place-how awesome is that! I wonder how fast Reeve was going when he zoomed down his driveway.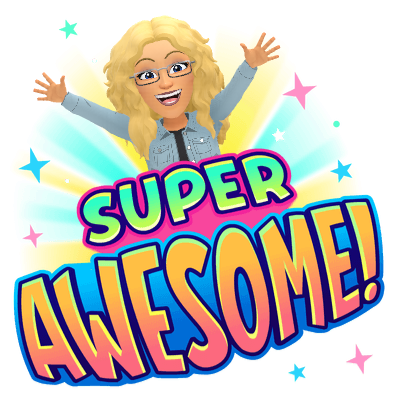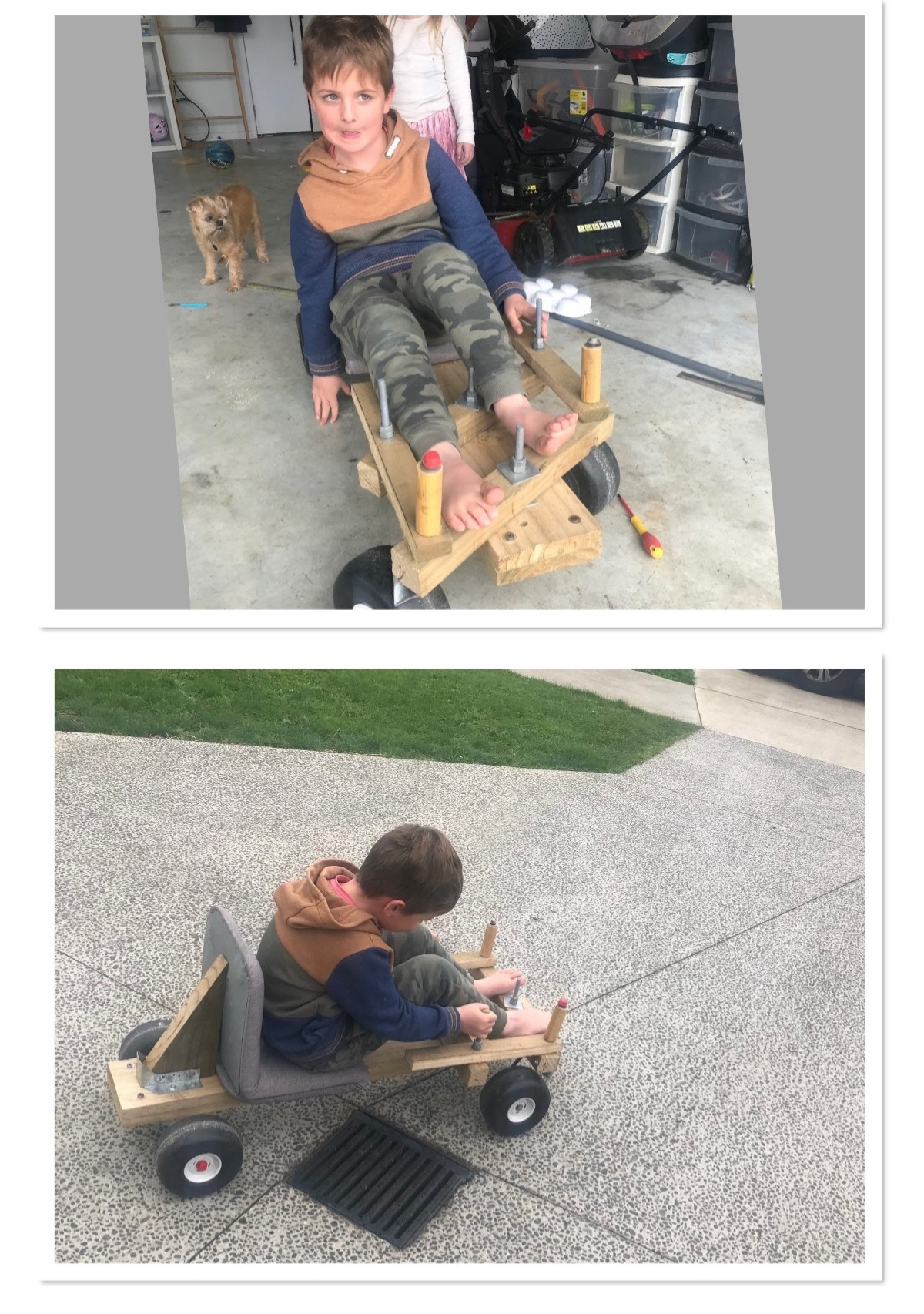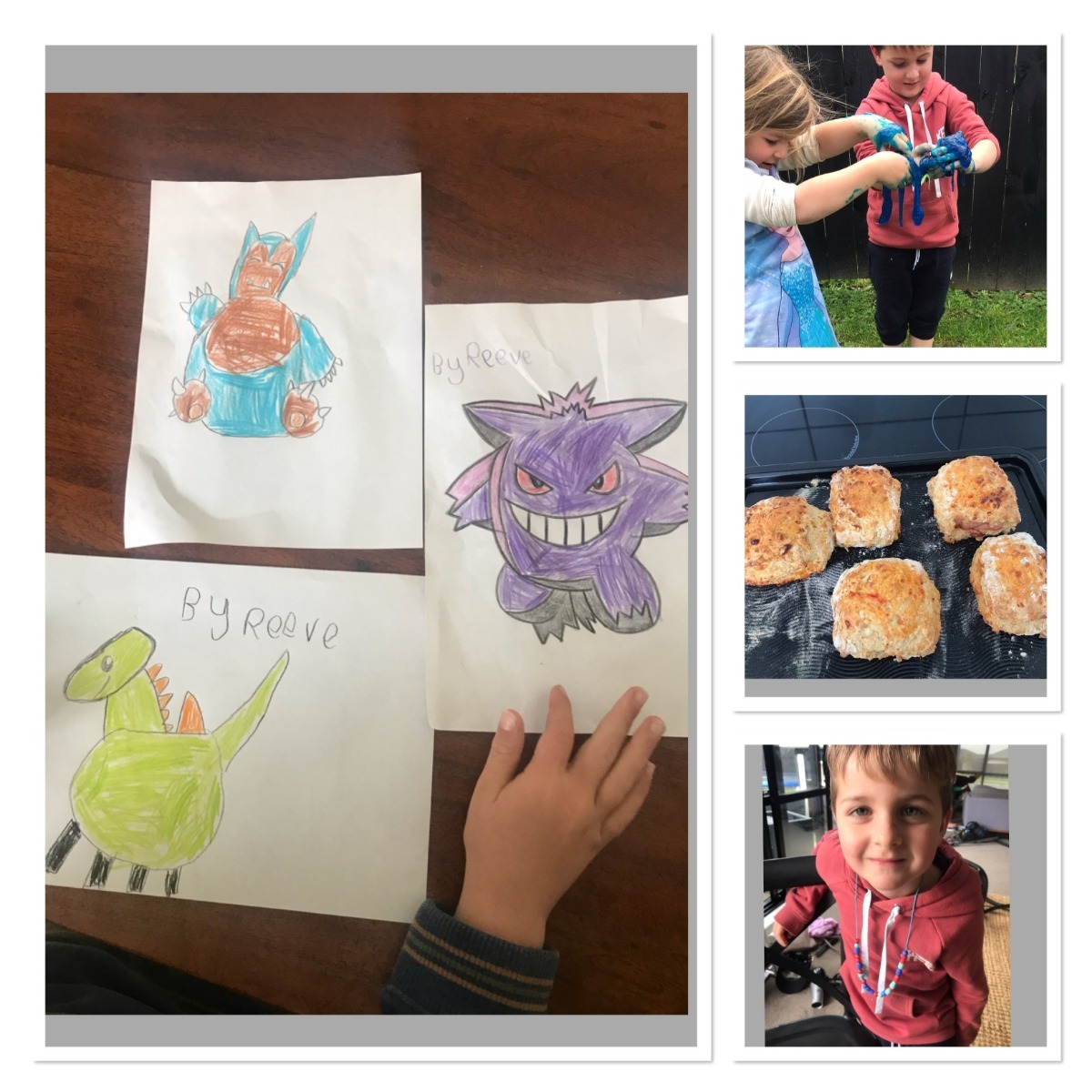 Reeve has been very busy by looking at these pictures. Firstly, he has been practicing his drawing. Your drawings are so detailed and well coloured.... keep up the wonderful effort!
Yummy, are those scones? It looks like you have been baking up a storm.
I love the necklace you made Reeve. I can see that you put a lot of effort into that.
Are you playing with slime? It looks really gooey!
Reading Challenges
The children in Room 11 were asked to participate in a variety of reading challenges. Let's have a look at what they did...
Look how beautiful Anna, no sorry, Isla is in her Frozen dress. Frozen 2 is her book of choice.
Ariane is dressed up as her favourite book character Claris. I love the handmade ears. Her book of choice is Claris - Fashion Show Fiasco
This is a funny way to read Quade! I think that you are upside down.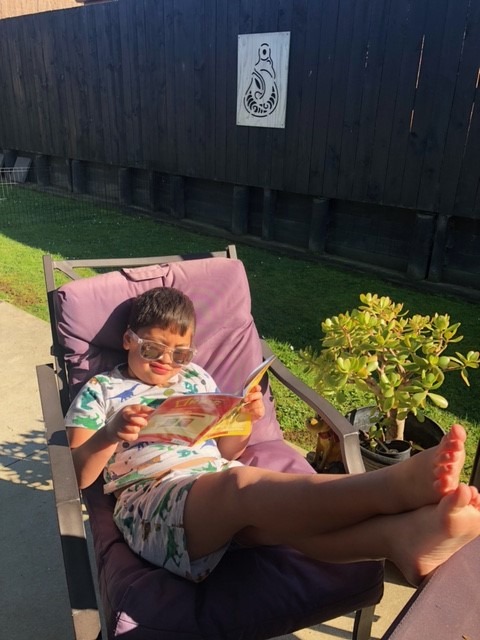 What a lovely place to read Quade! It is so sunny that you even had to wear your sunglasses.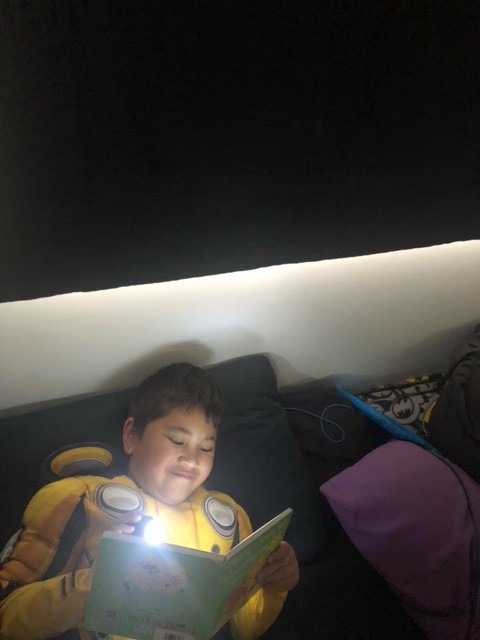 How exciting Quade, you are reading in the dark. Luckily you have your torch with you.
I love the book " The Hungry Caterpillar". It looks like you are enjoying your reading snuggled up on the couch!
Yum, Yum! Who wants a cheese and ham scone?
The Recipe
Georgia has shared her ham and cheese scone recipe. She used this to create her scrumptious scones....YUMMY!
Cheese, glorious cheese!
Georgia is carefully grating the delicious cheese in preparation for making her scones!
Look at the presentation!
Georgia's perfectly made scones. Put your hand up if you want one!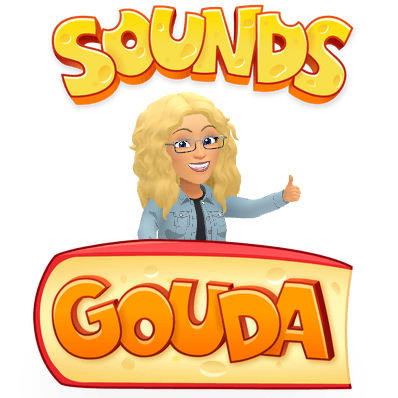 Look at Ariane's Lego Creation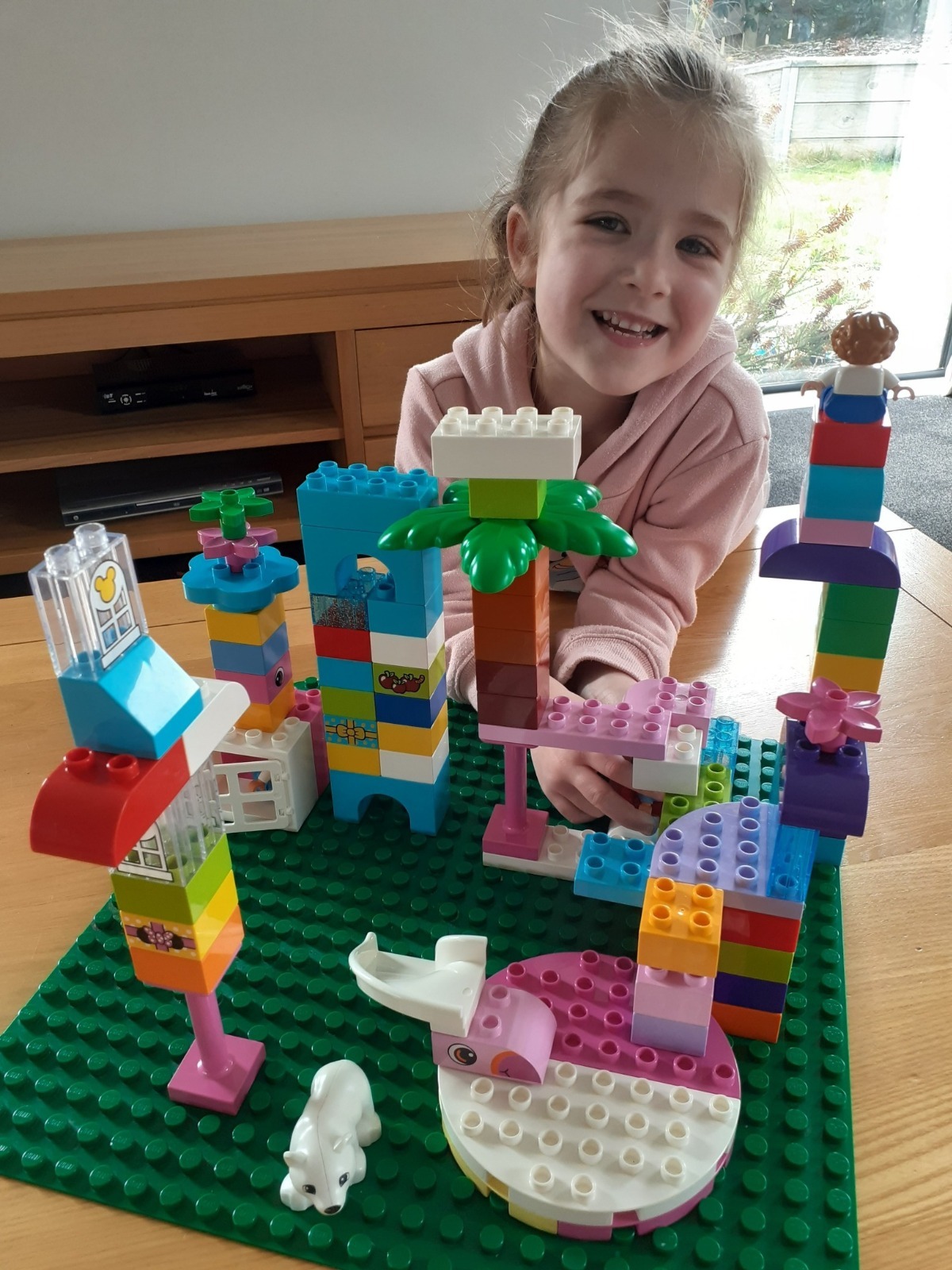 I can see that you have been working hard Ari. Your Lego build looks like it took you a long time to create and loads of fun to play with. I wish I could come and have a look at it!
Lucy is making a magic potion!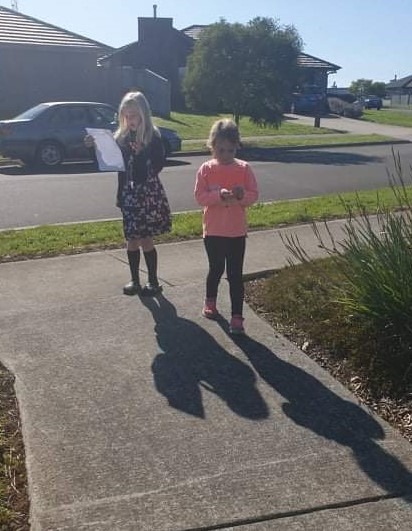 First she needed to find all the magic ingredients.
Then she had to mix it in her green cauldron! Great job Lucy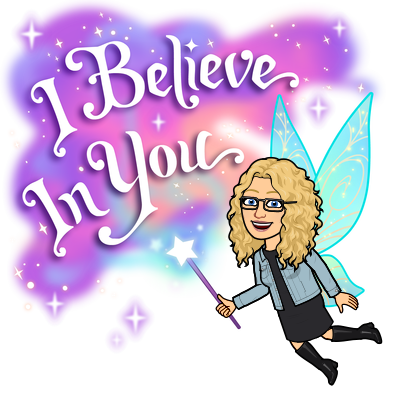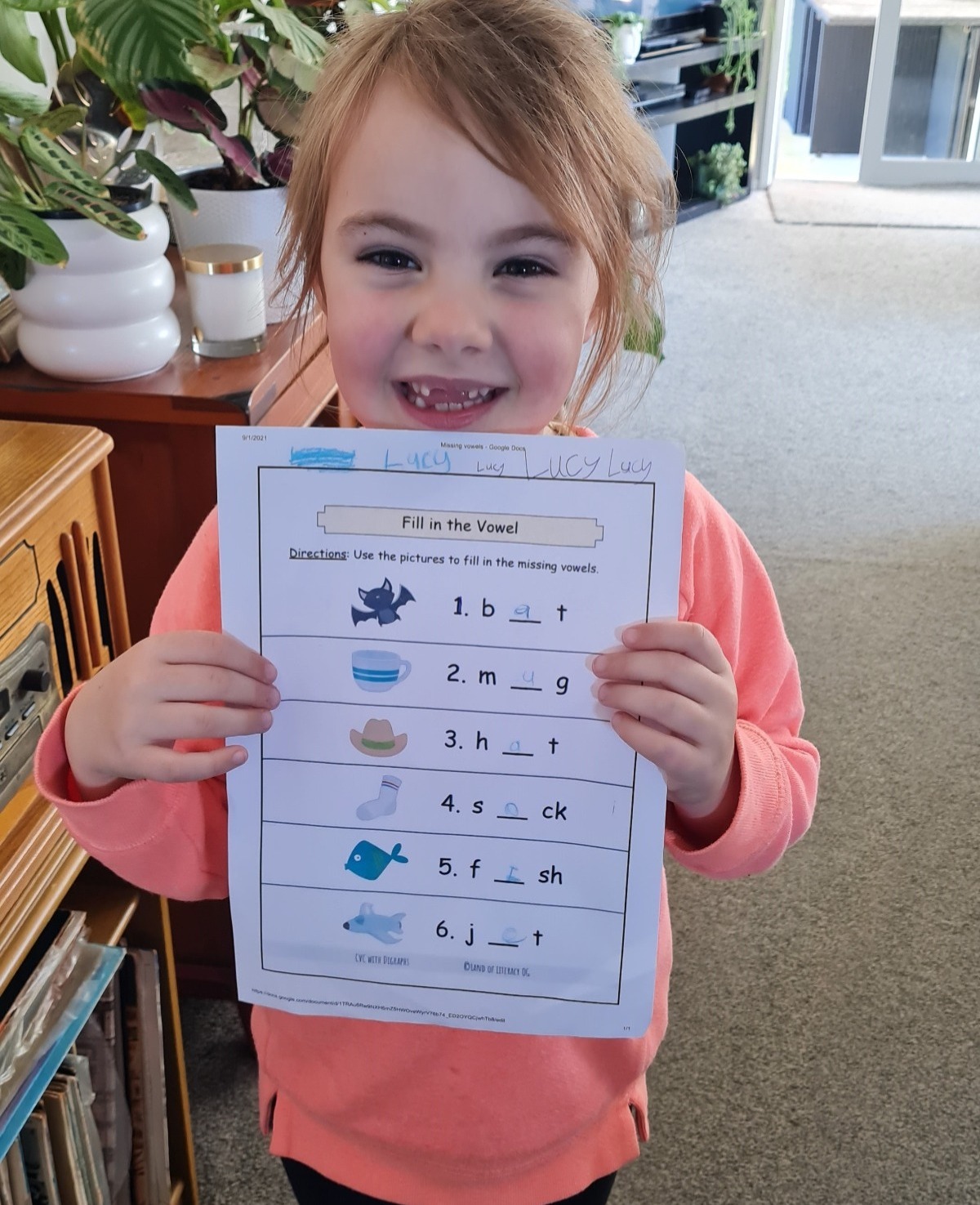 Lucy I am so proud of you being able to figure out the missing vowels. This will help you to become a super speller!
Lucy it is really great to see you having fun learning on Reading Eggs. I can tell because you have a lovely smile on your face!
Ruru Reading Challenge
Well done to all those children who participated in our Read to your Pet Challenge, took photos and sent them into us. Let's have a look at who read to their pet: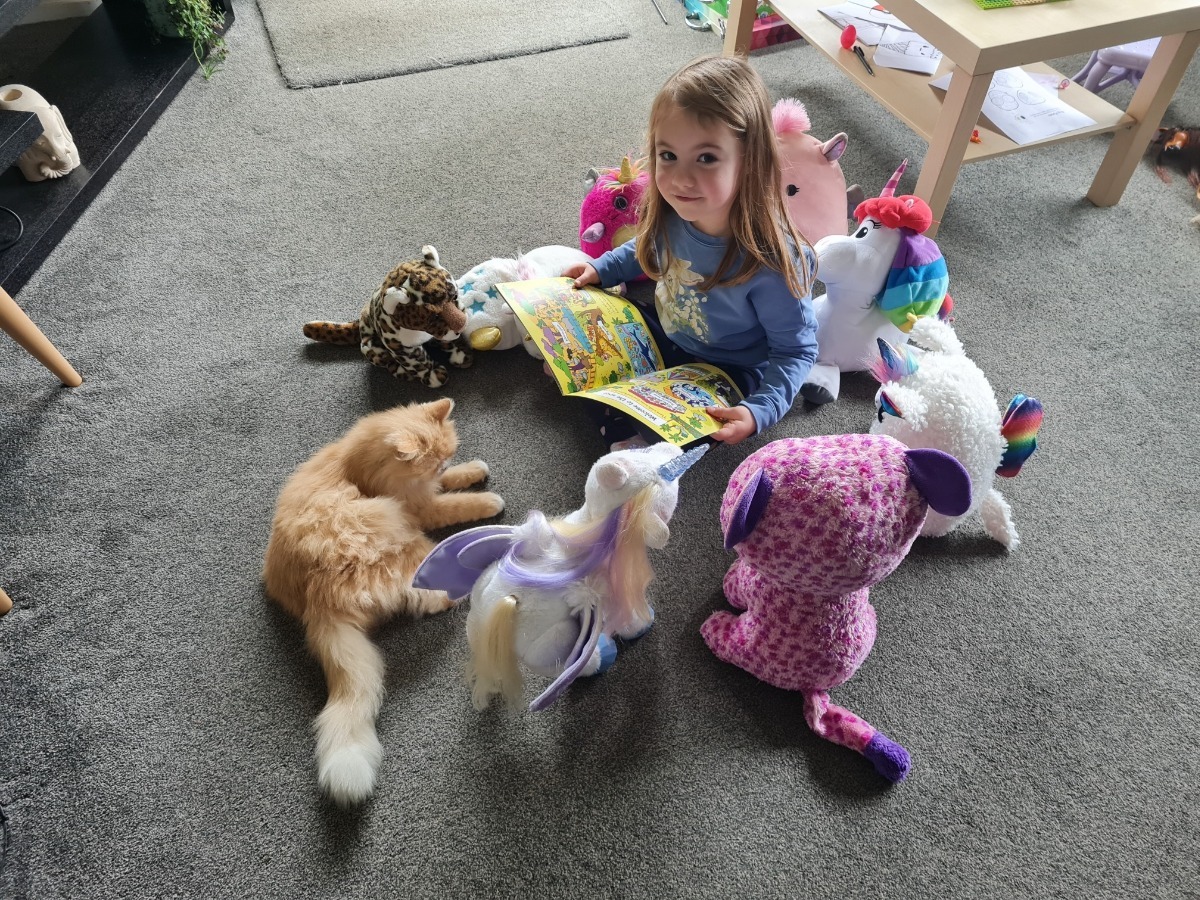 Here is Lucy reading to her soft toy "Spot the Zebra" and Yoda her 16 year old cat.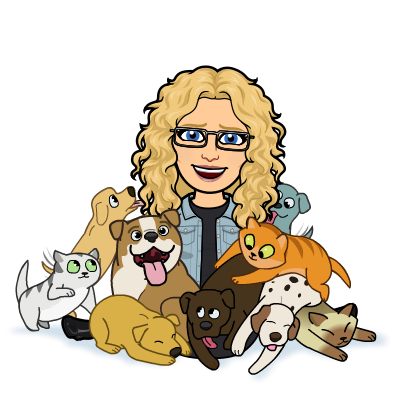 Here is Quade reading to his gorgeous rabbit. You look very comfortable in your chair Quade!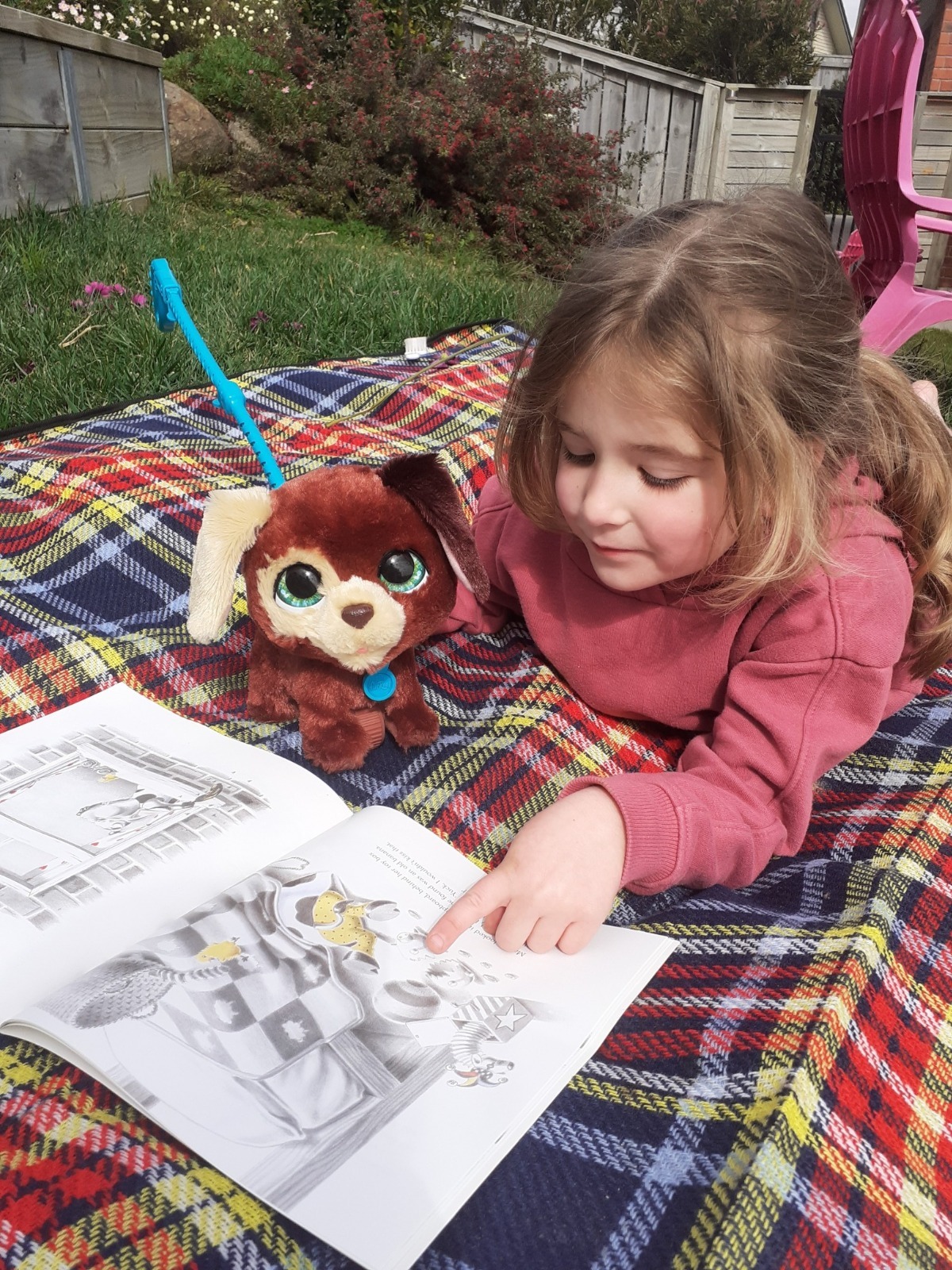 Here is Ariane reading to her soft toy "Fluffy" Reading outside on a picnic blanket looks like fun!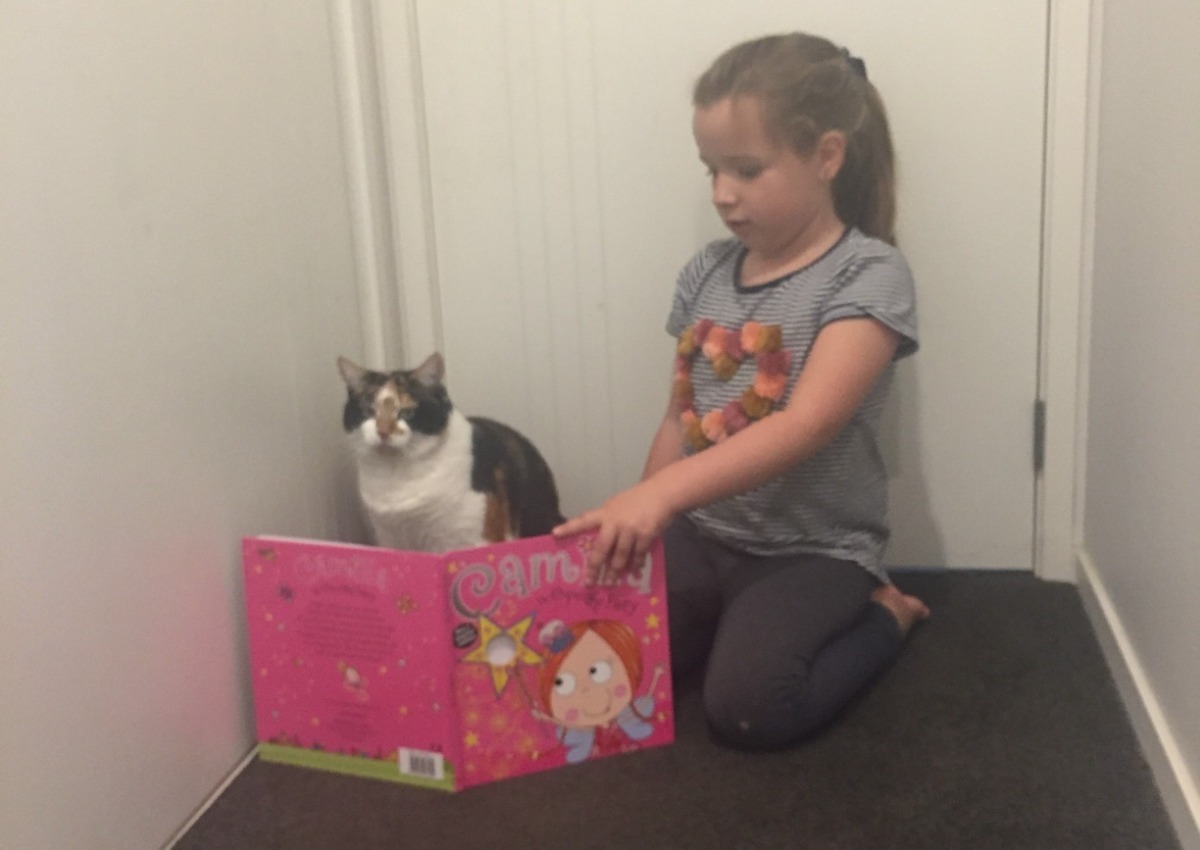 Here is a photo of Isla reading to her cat Molly. Molly looks like she is enjoying herself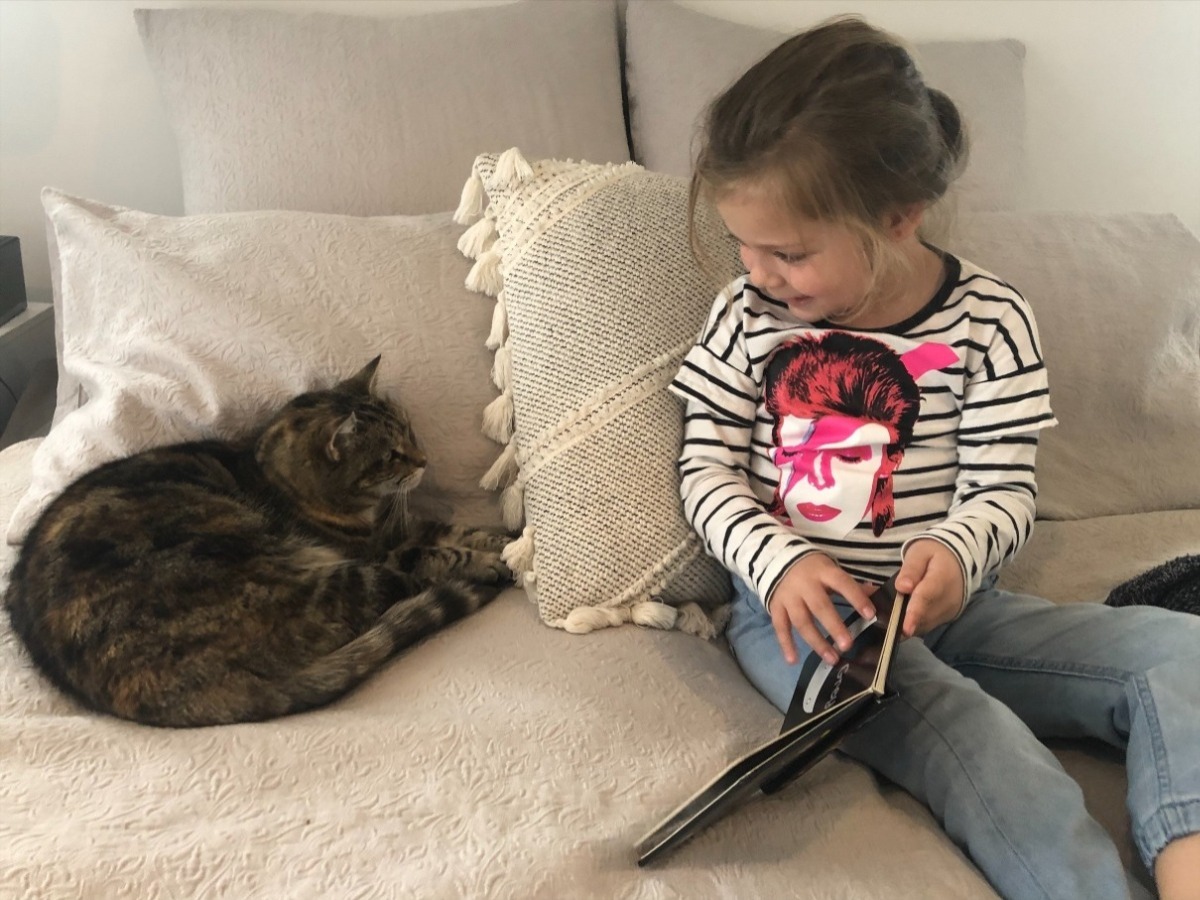 Here is Georgia reading to her cat on the couch. Doesn't she look like a teacher? Apparently, after a while, the cat ran away and hid. Just like cats do!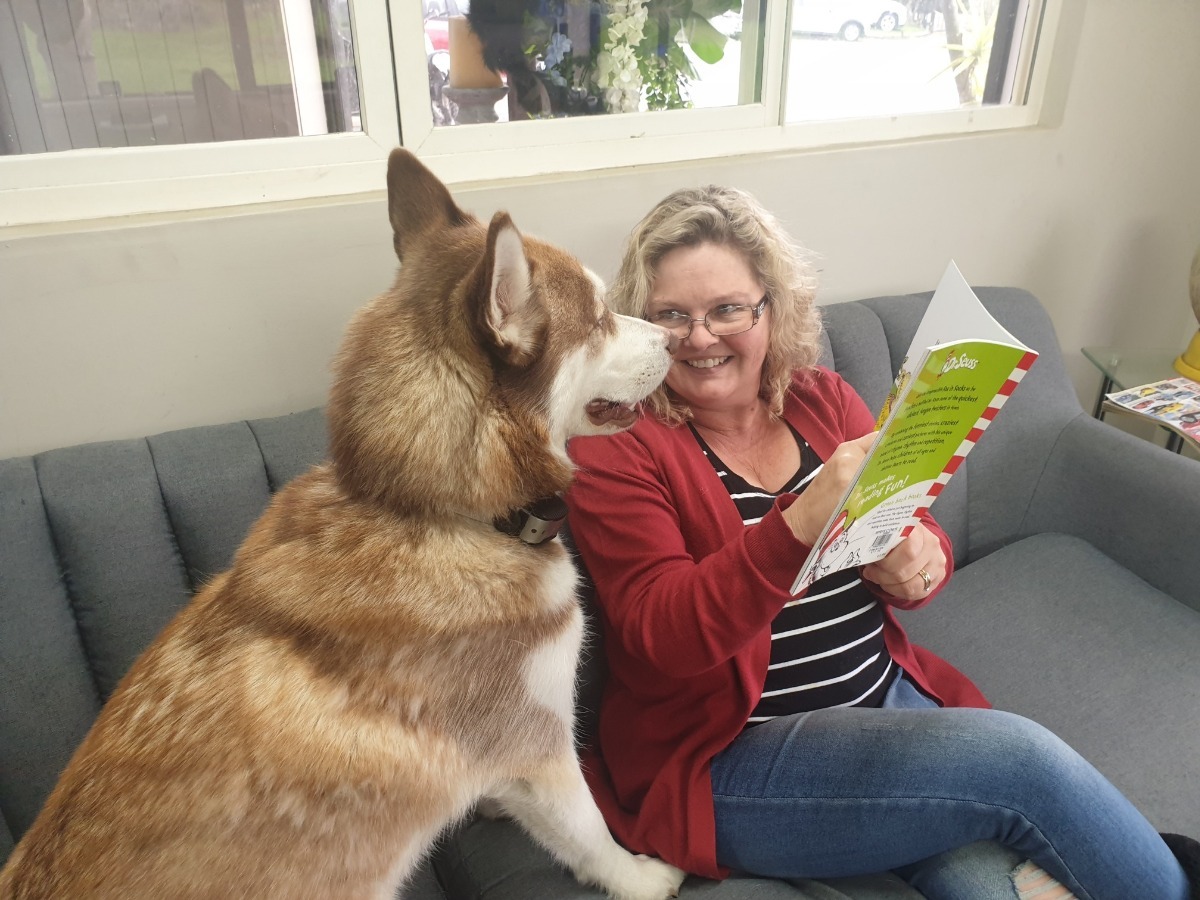 Here I am reading to my Siberian Husky "Sky" He spent most of the time trying to lick my face!
Here is Aroha reading to her favourite toy Una. It looks like they are having a lovely time reading in the sun!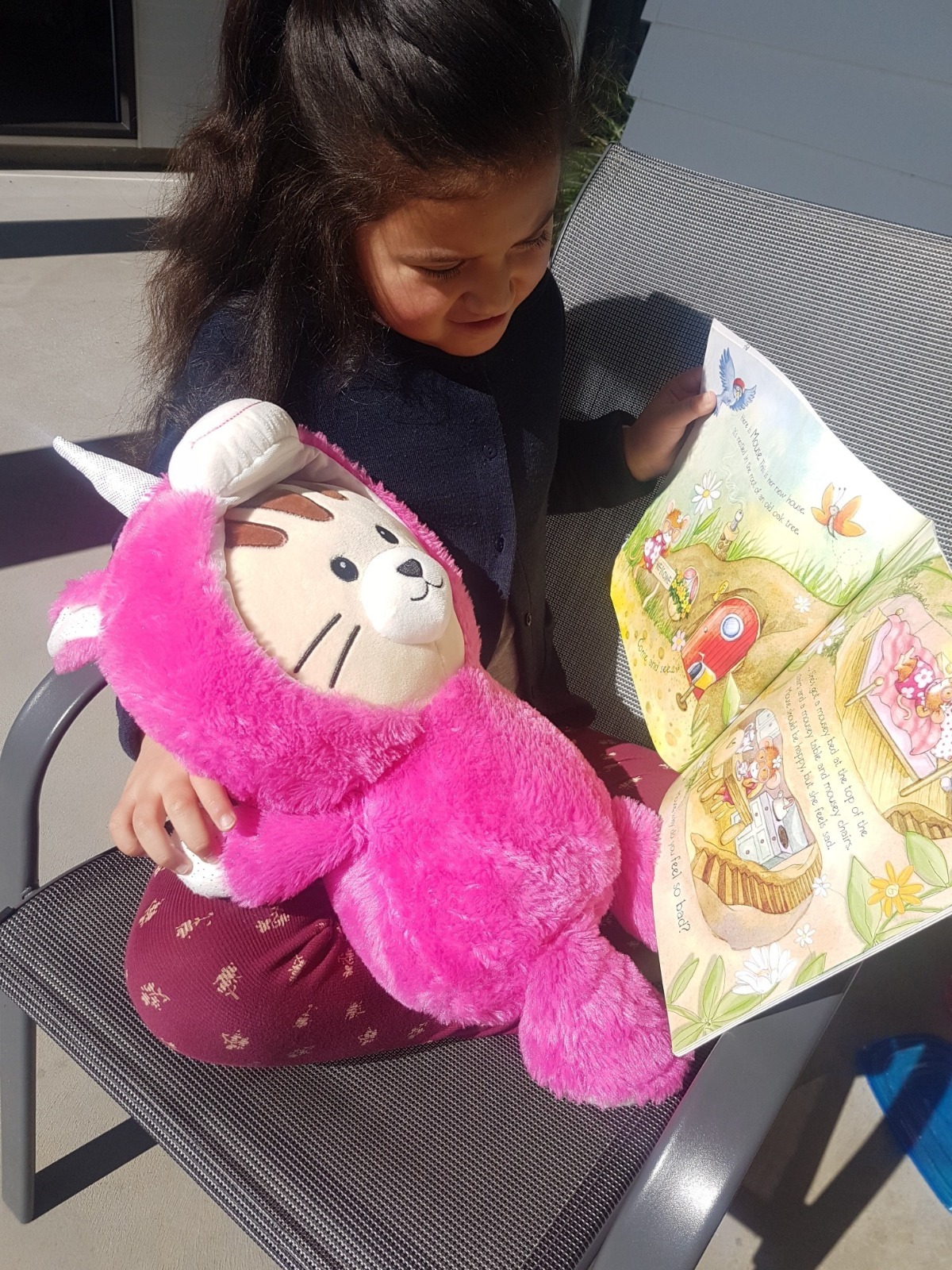 Quade has been very busy Learning from Home
Lego Challenge
Quade made the number 100 out of Lego. It is a very colourful 100! Hey, Quade, I can see you hiding in this picture!
The Domino Tower
Quade used his initiative when he found the building of a house out of cards was a wee bit tricky. So he thought that he would use these tiny domino blocks and built a PHENOMENAL tower. That takes skill Quade.
I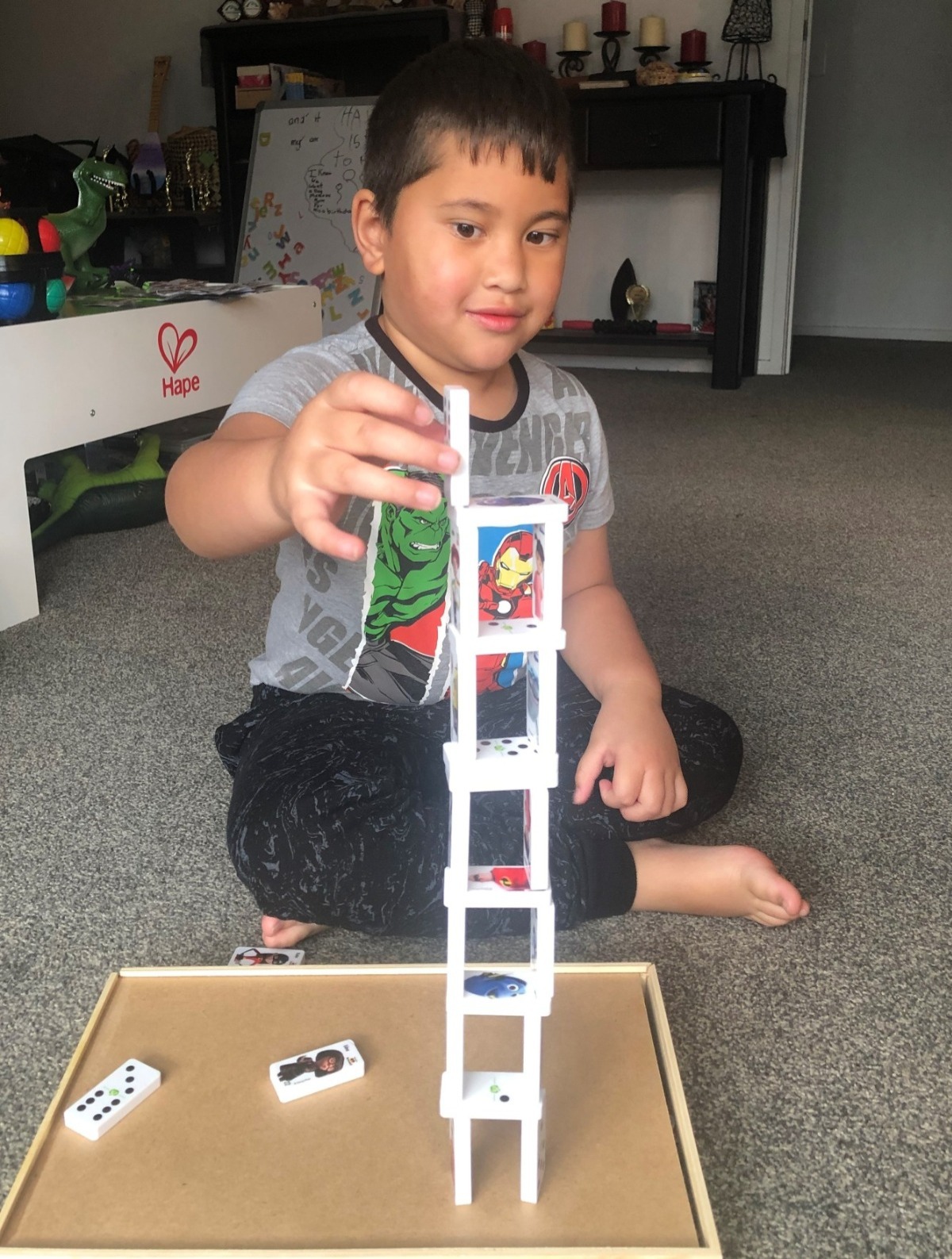 Isla's Learning from Home!
Lego Challenge
The 100 that you built with Lego is well made Isla. I really like how Conor put the animals in the middle!
Isla I am so proud of you Isla. You are really focusing on your Learning at Home! Keep up the great effort!
Reading
I love how you are doing your group reading. Did you enjoy the book "Hoot, Hoot!"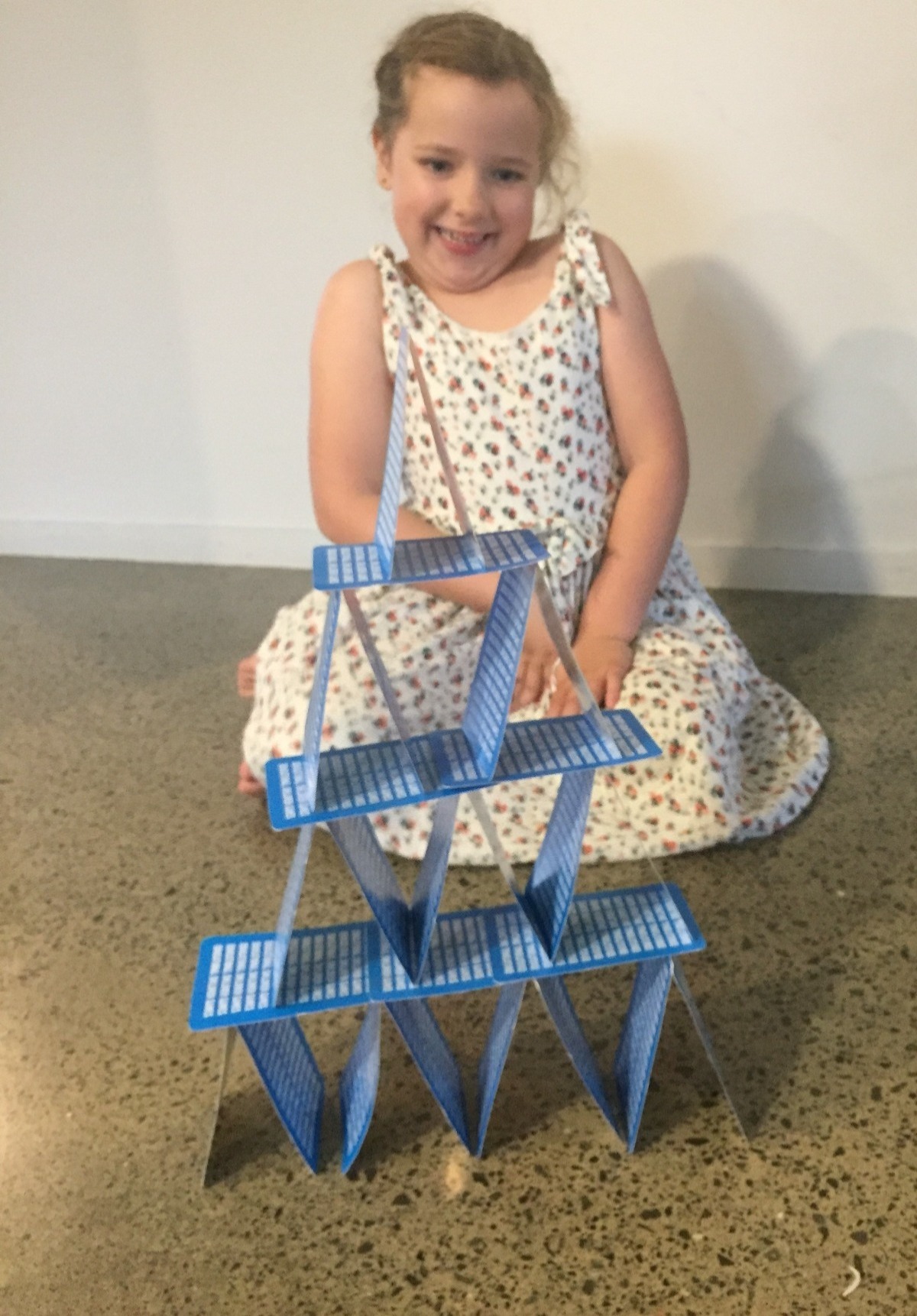 Card Challenge
I understand that the card challenge was really tricky Isla but look, you did it! What a clever cookie you are!
Let's look at drawings of Bluey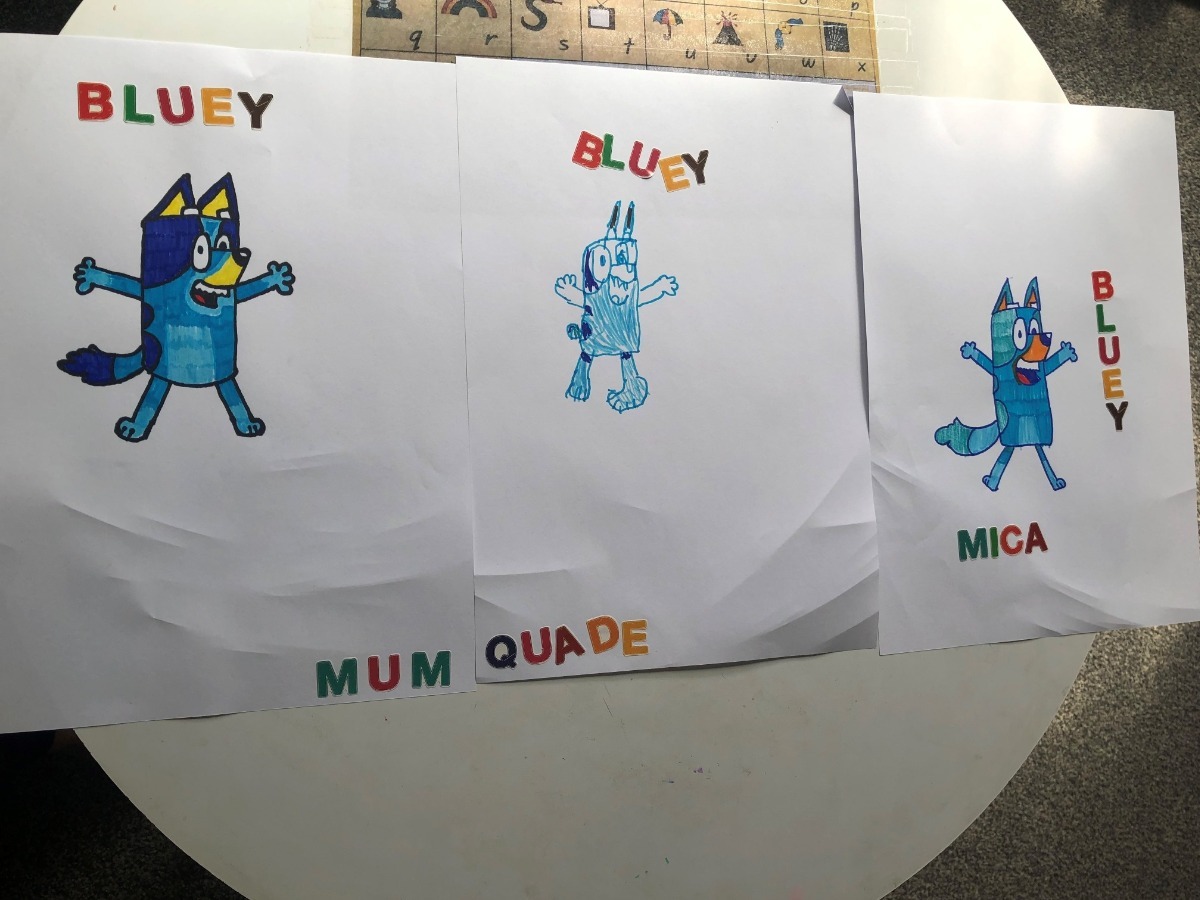 Quade's Bluey Drawing
Quade drew many drawings of Bluey by following the steps on the YouTube tutorial. All your drawings are detailed and are detailed. Ka pai!
Reeves Bluey Drawing!
Your drawing of Bluey is very detailed and I can see that you have spent so much time on drawing it and colouring it to the best of your ability. Keep up the great work!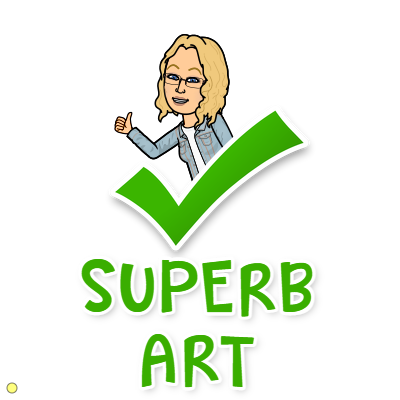 Aaliyah's Learning From Home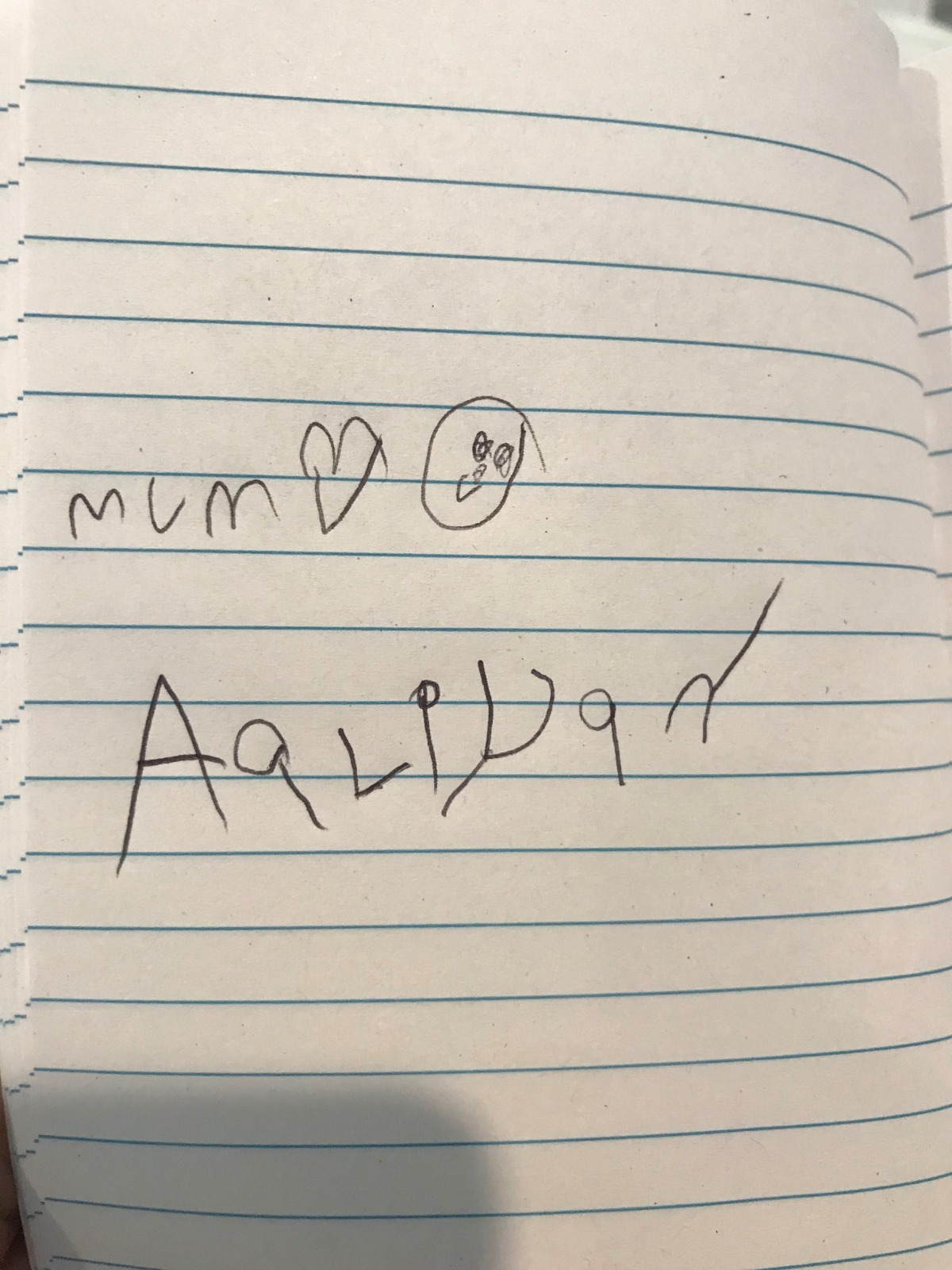 Name writing!
Aaliyah has been practising writing her name. Keep up the great work!
Handwriting
Aaliyah is practising the formation of alphabet letters. What a super effort!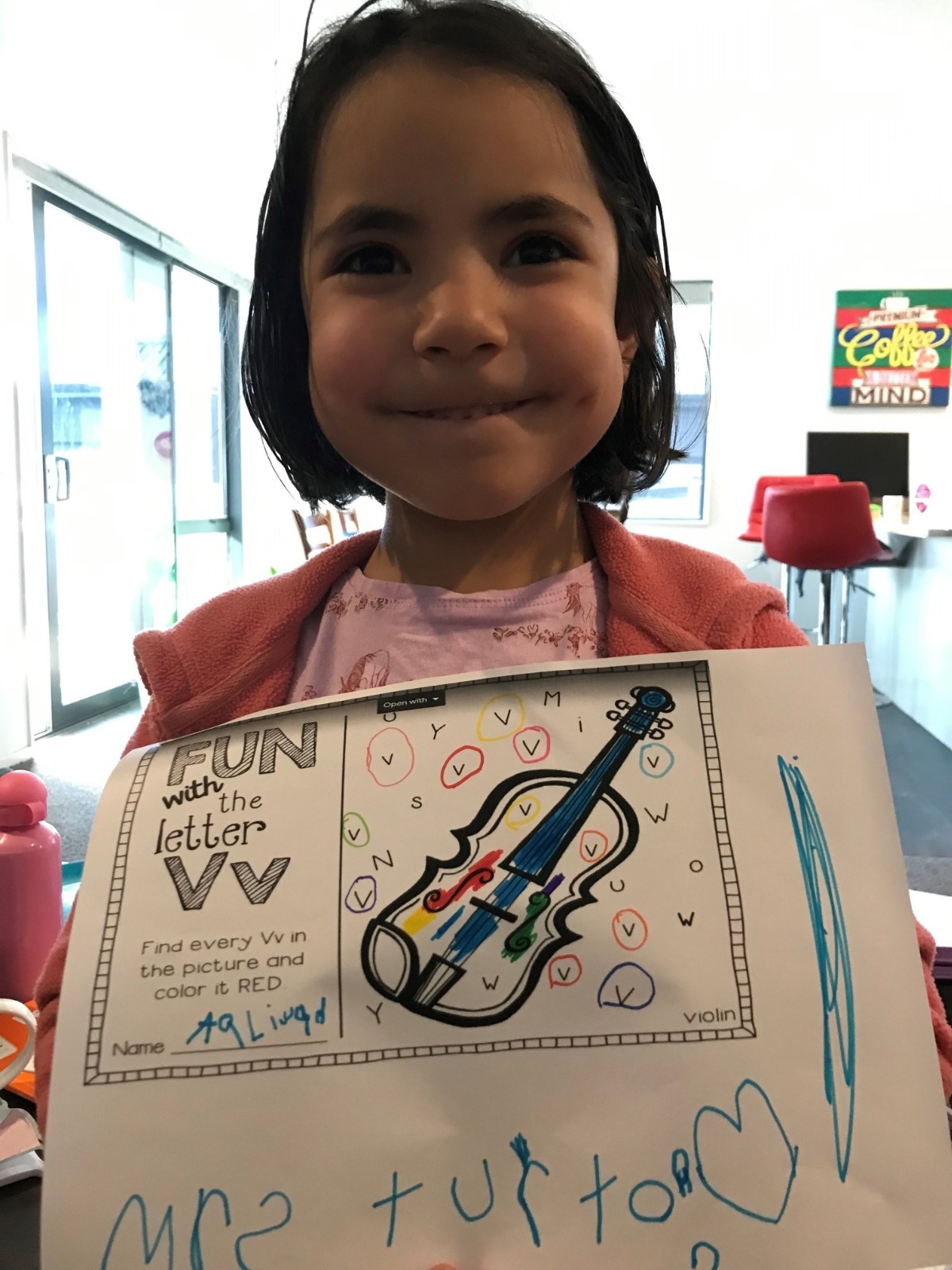 Keep up all the hard work Aaliyah, you are doing a wonderful job and Mrs Turton is very proud of you!




Fun with the Letter V
Aaliyah has been a "Clever Cookie" by circling all the capital Vs and lowercase vs. I can see that you really tried hard and you made it so colourful.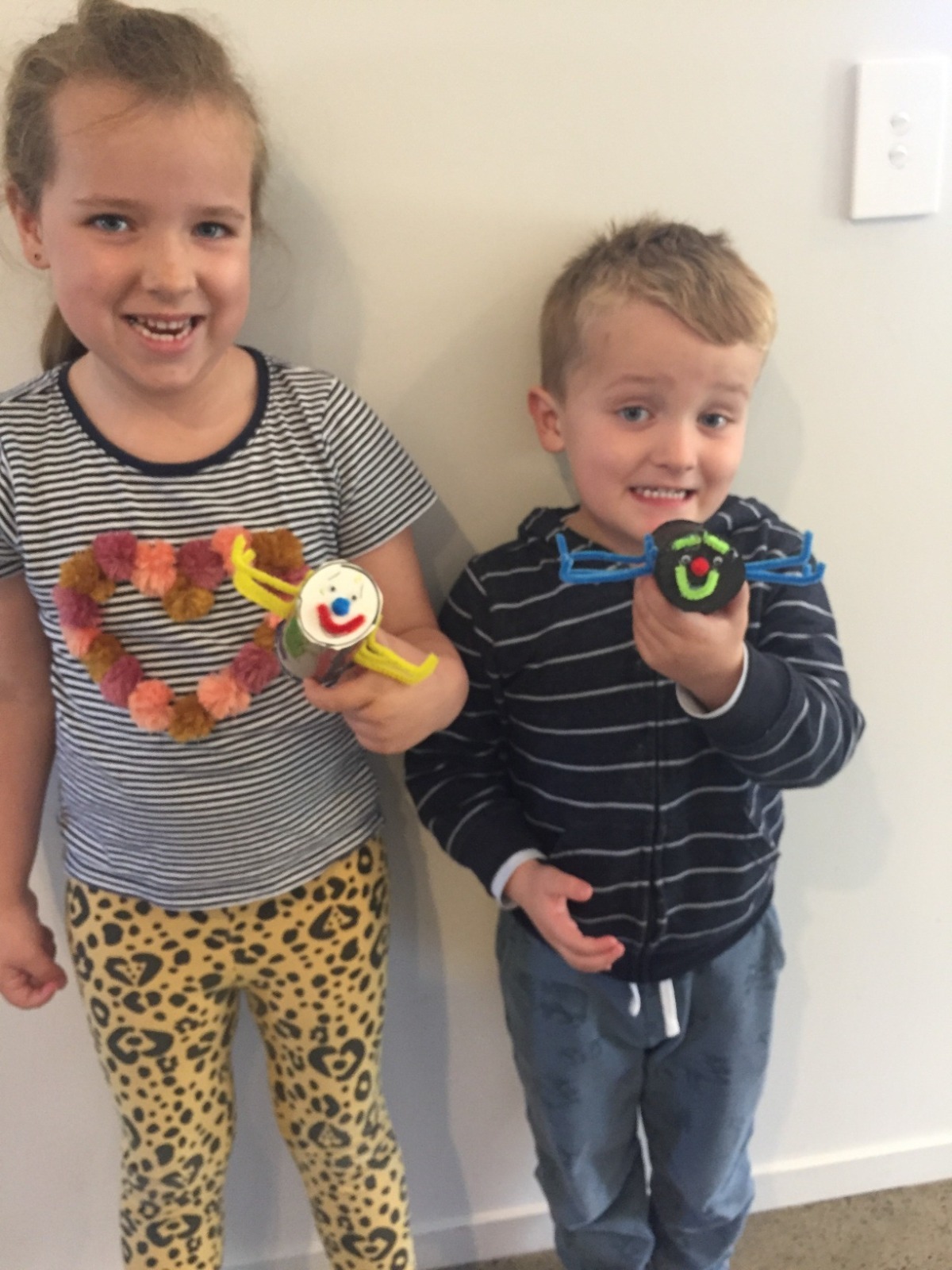 It looks like Isla and her brother have been having fun making upcycled critters. I really like how they have used the pipe cleaners for body parts.
Look, the upcycled creatures are enjoying hanging out.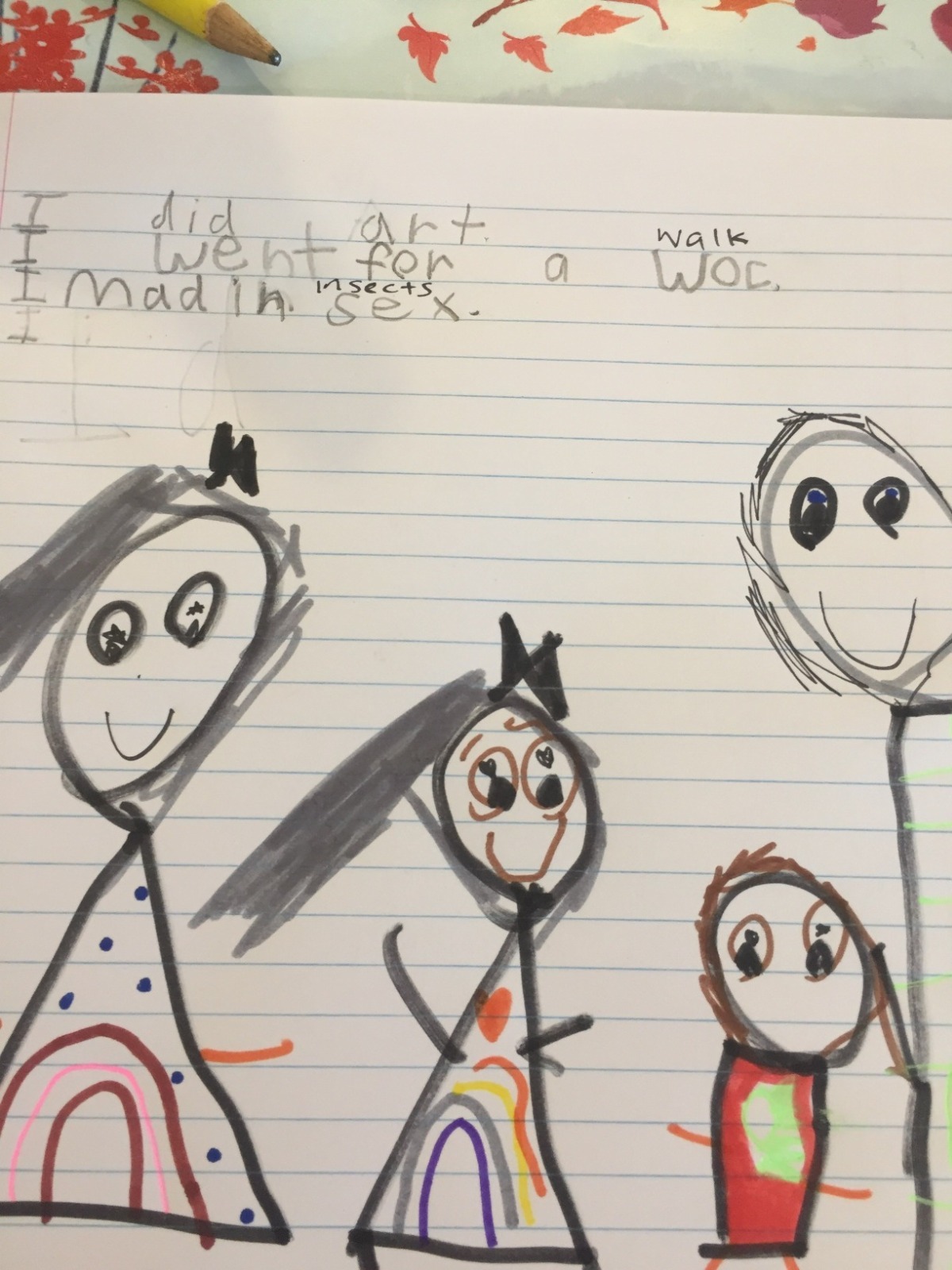 Isla has been writing about what she has been doing while learning at home. Let's have a look at what she wrote:
I did art. I went for a walk. I made an insect.
I am so proud of you Isla with all the learning that you have been doing! Keep up the great work!
What has Bella been up to?
Bella has been very busy at home doing Reading Eggs, drawing and enjoying kids Yoga.
She has also been taking the opportunity to go for walks around the neighbourhood with her big sister and parents enjoying the fresh air!
Keep up the great effort with your learning Bella!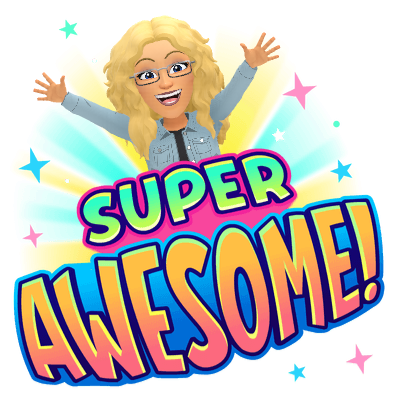 Lucy's Learning from Home
What starts with V?
Lucy is working hard on identifying the items in the picture that start with the letter v.
Keep up the great work Lucy and I cannot wait to see more of your learning!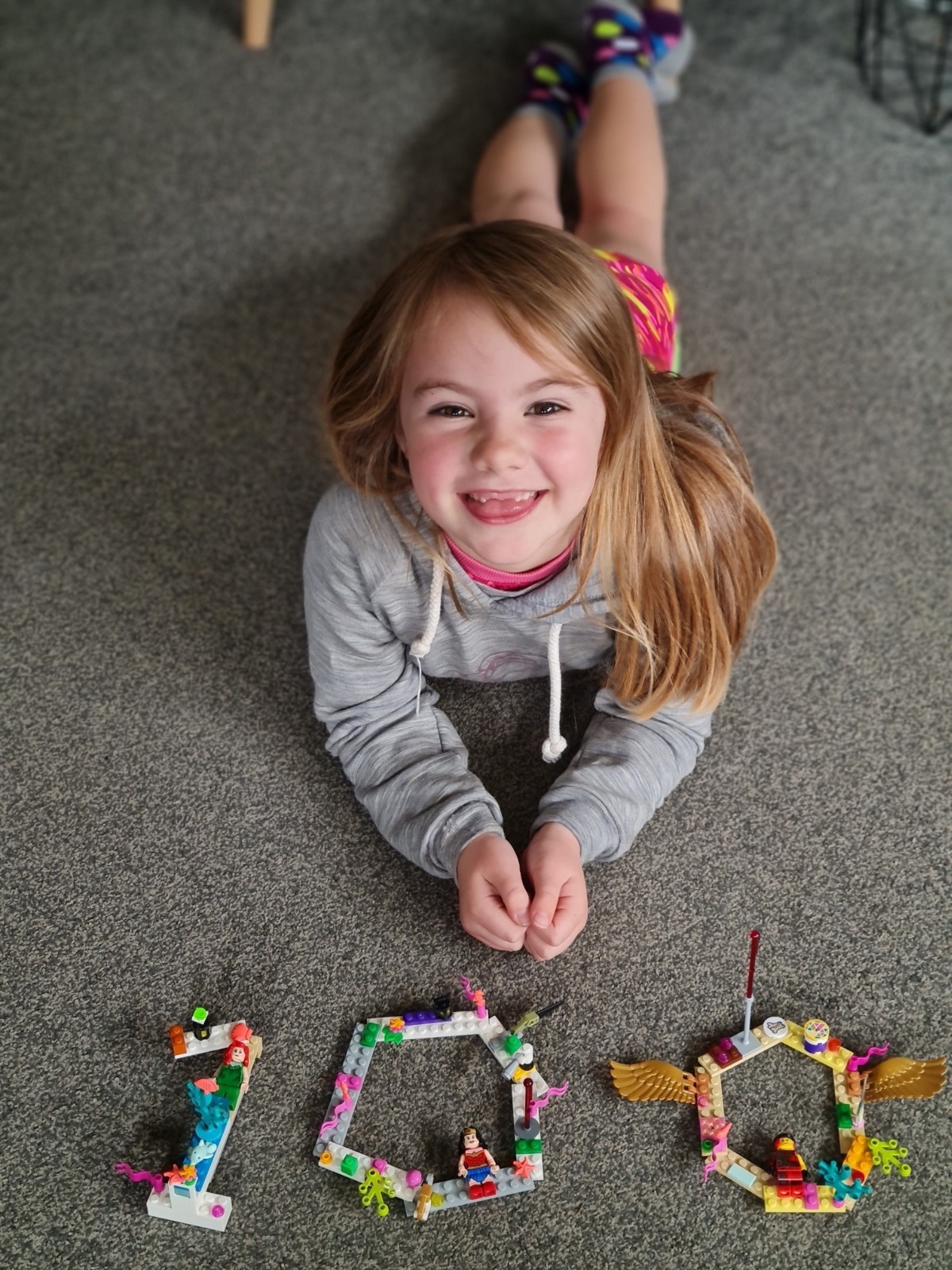 Lego 100!
Lucy worked on one of our Ruru Challenges and made the number, 100, out of Lego.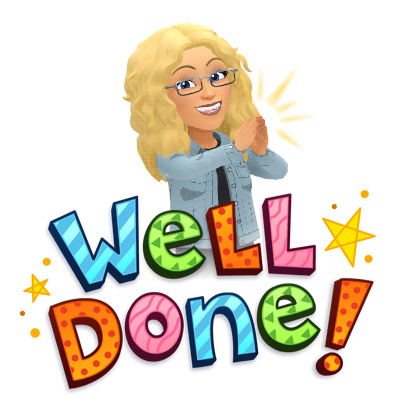 Look at what Quade has been up to!
Story Writing
Quade is using his alphabet sound card to help him write a story. It is great to see you writing Quade!
Time for Phonics
What a great learner you are Quade.... it is wonderful to see your learning your letter names and sounds.
I am very proud of you Quade...keep up the great effort!
Family Time
Quade and his family are having a wonderful time colouring in outside in the sun. Looks like fun!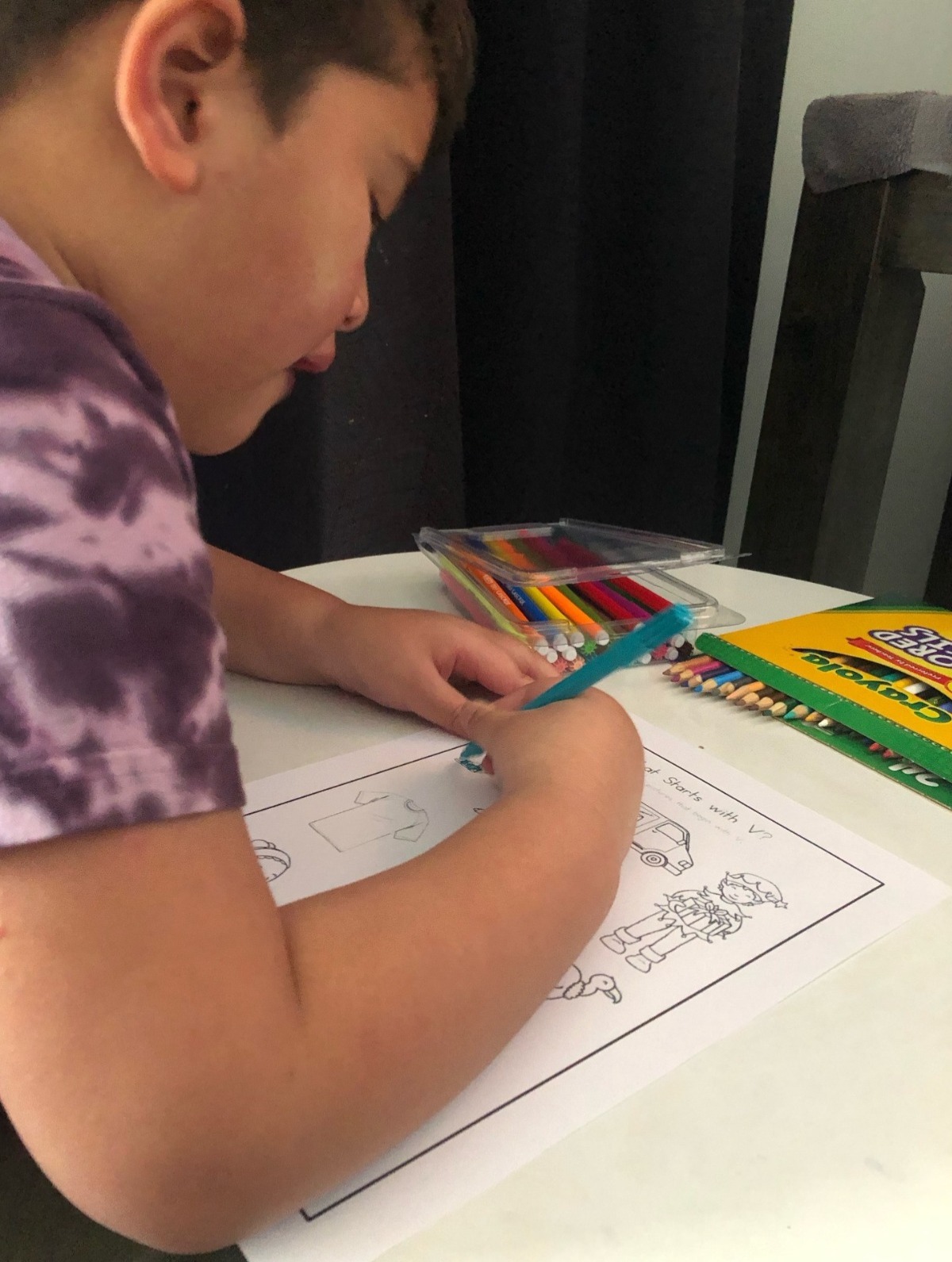 Letter of the Week
What start's with the letter v? Quade is finding out.
Reeve's Learning From Home Week 4
Reeve beginning his writing
I like how you are using your sound card Reeve to support you in your writing.
The end product!
I can see that you are trying very hard with your Godzilla writing and I love the illustration Reeve!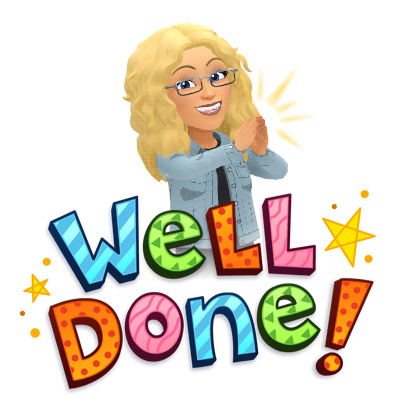 Isla's Learning From Home Week 4
Starting the day off right!
Here is Isla beginning her Phonics lesson in a fun way.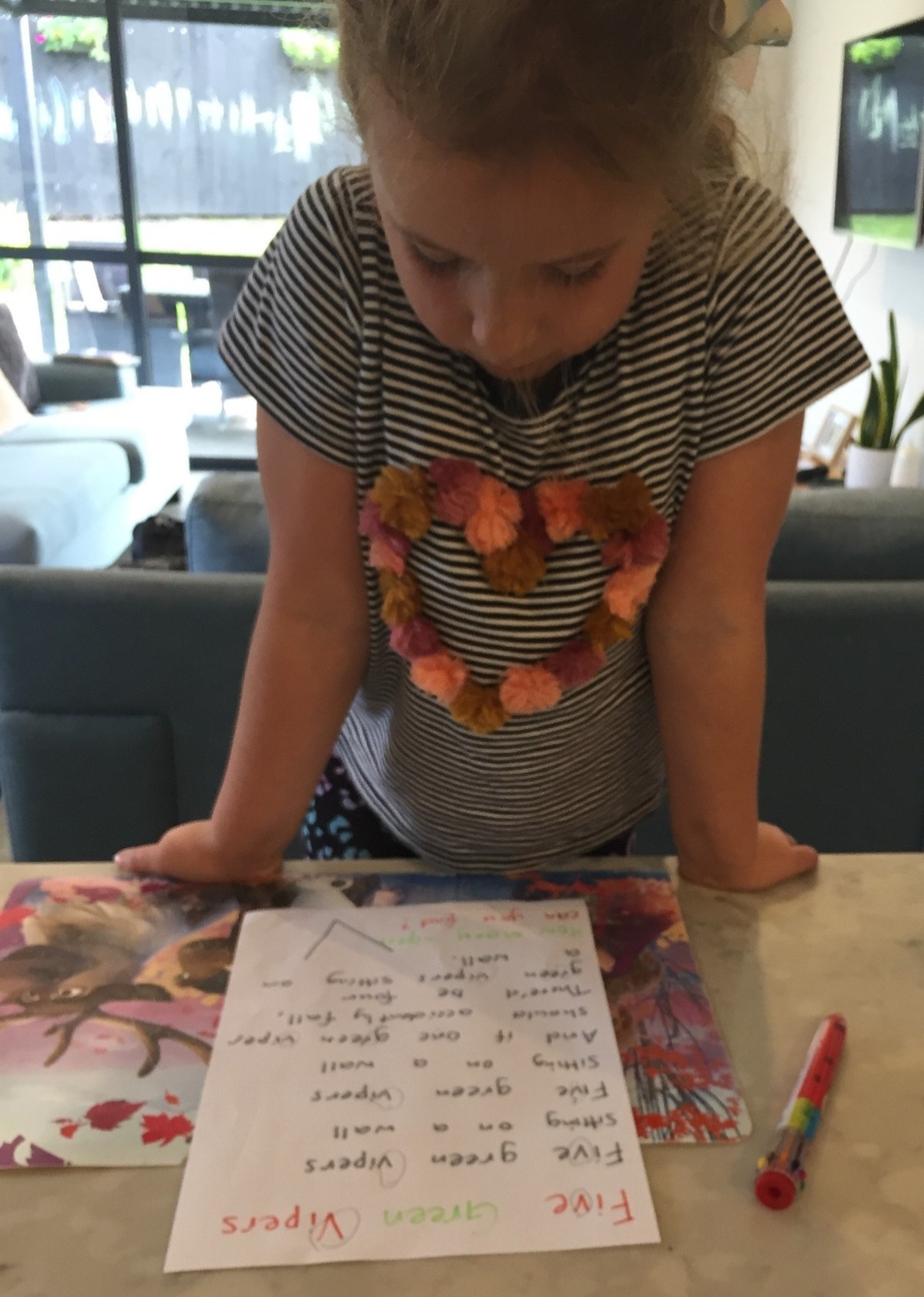 Reading
Isla is reading the poem "Five Green Vipers". Our focus is on the letter v!
Keep up the great effort with your learning Isla!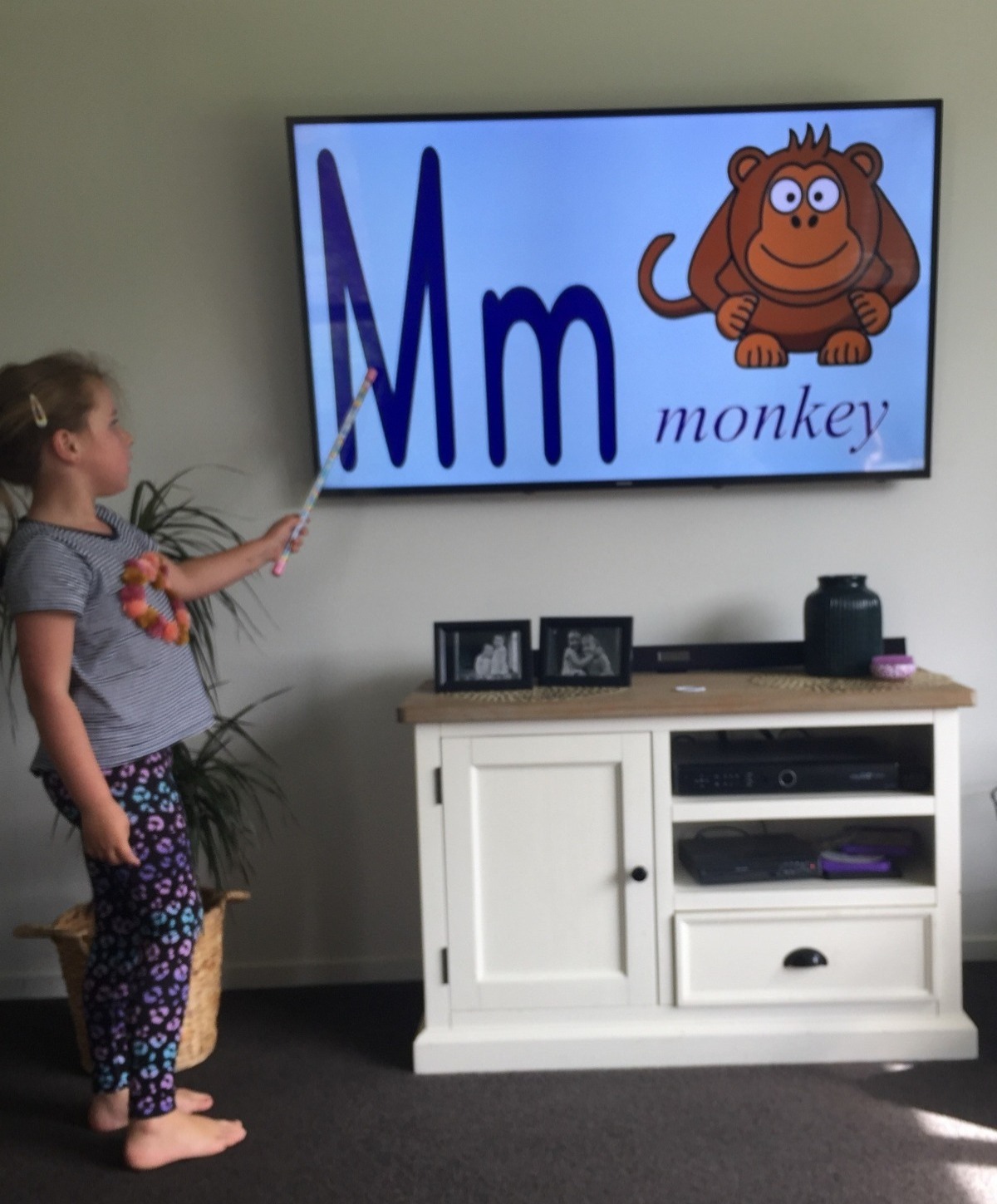 Phonics Time
Isla is learning her letter names, sounds and words that start with that letter. Keep up the great work Isla.
The Fire Truck came to Pokeno school
On Tuesday the 11th of May, the Pokeno Volunteer Fire Brigade came to Pokeno School to talk to the Ruru Whanau about their role in the community and what their job entails. We learnt about their protective fire uniform, the functions of the equipment in the Fire Engine, what we need to do to keep ourselves safe in a fire and the list goes on. We are so thankful for our Pokeno Volunteer Fire Fighters.
For the children in Room 11, it is essential that they focus on learning their alphabet letter names and sounds. Below is the workshop that I use with my children in my class. Please take the opportunity to view this workshop with your child as it will support the development of their letter and sound knowledge.
Maths Learning
If you would like to support your child with mathematics during lockdown, the below slideshow will be able to support you in doing so. Take care and be safe.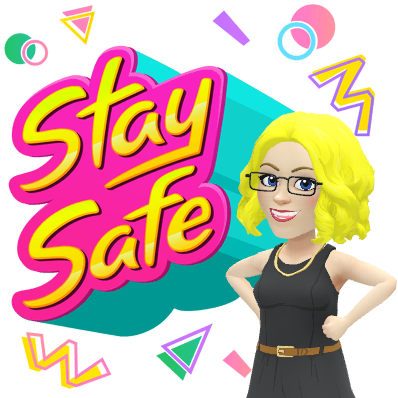 Learning from Home Week 4
Let's see what some of the students from Room 11 have been up to: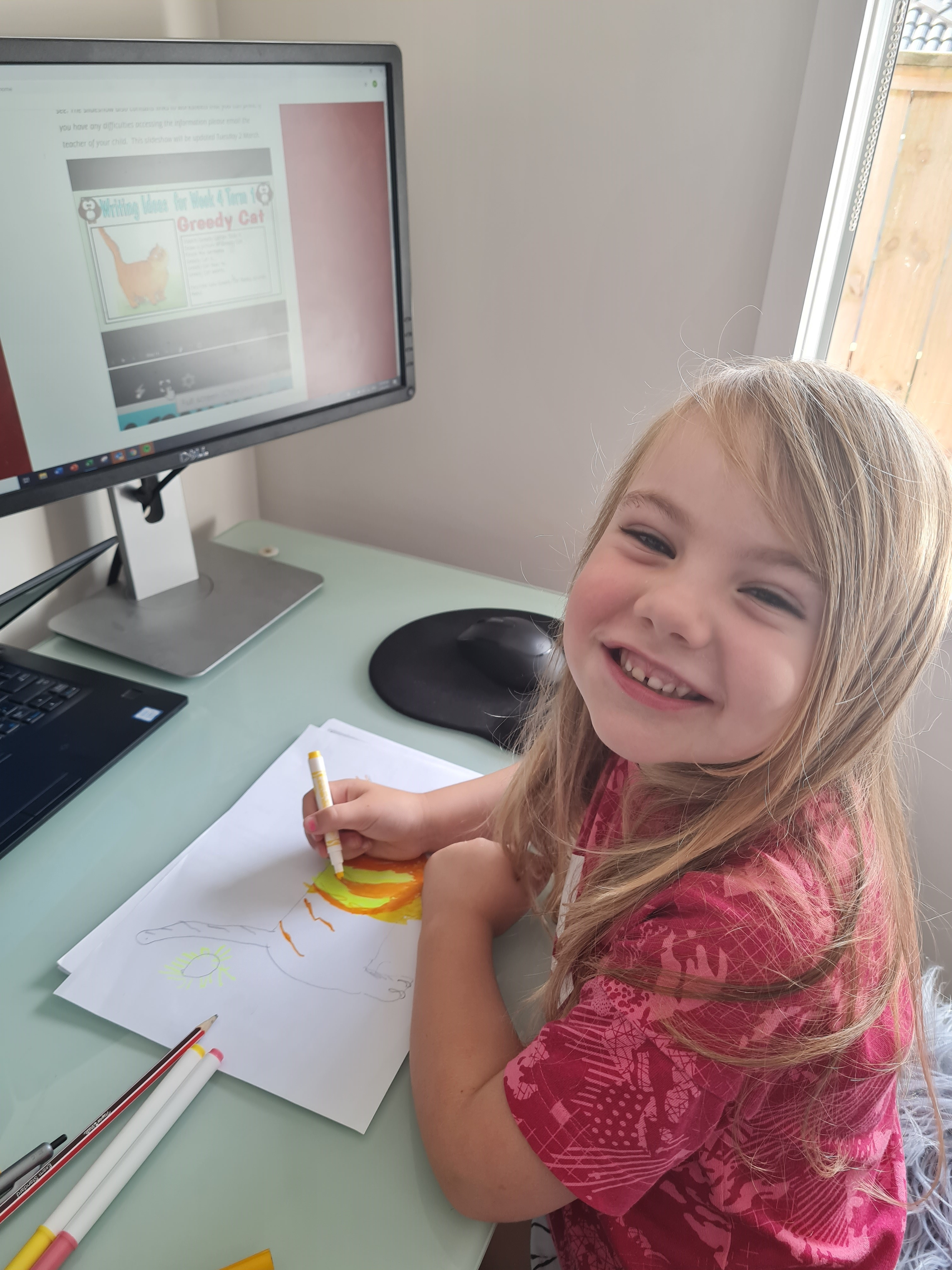 Greedy Cat
Lucy watched our big book "Greedy Cat" on our Learning from Home workshop. It looks like she enjoyed the story.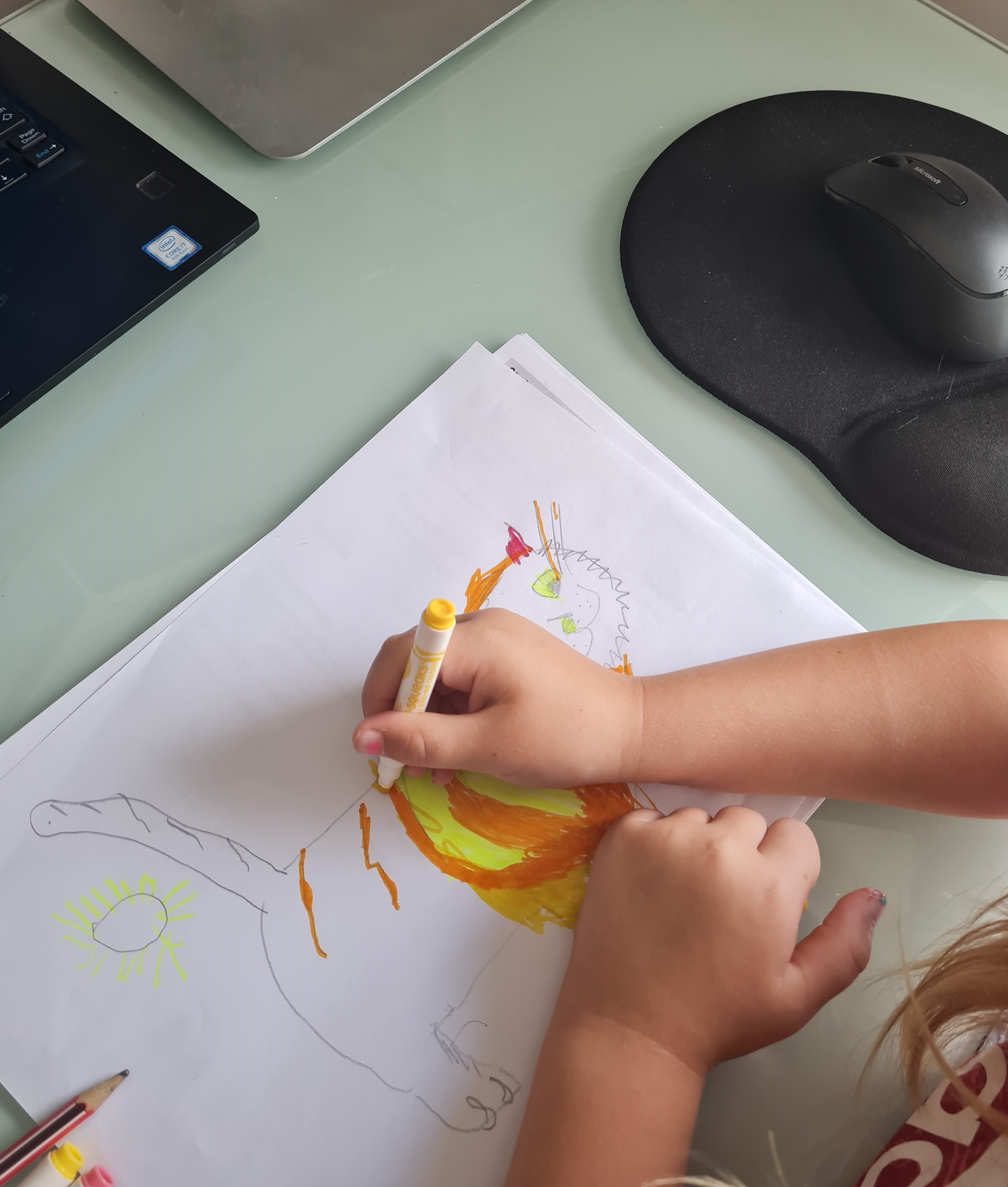 Greedy Cat
Look at the detailed picture that Lucy drew of Greedy Cat. What a superb effort!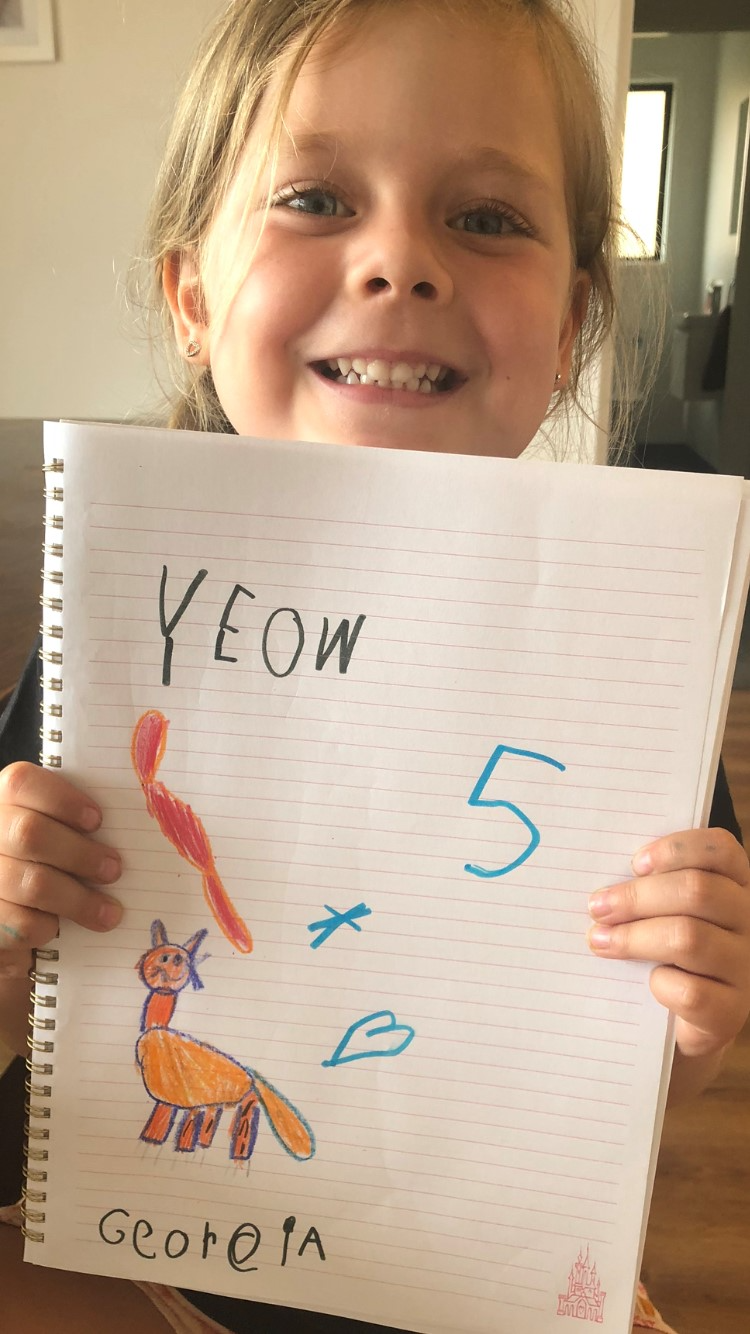 Welcome to Room 11 Georgia!
Georgia has been enjoying all the reading provided and has particularly loved the story "Greedy Cat".
She enjoyed the story so much that she drew a picture of Greedy Cat with all the sausages that he tried to eat....Naughty Greedy Cat!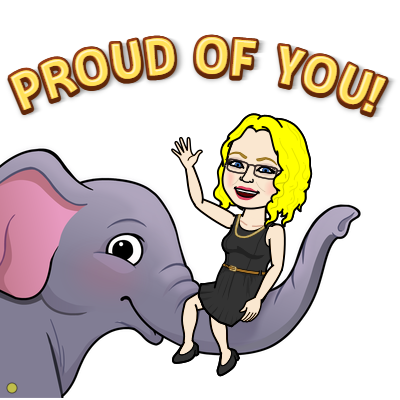 Week 1- the beginning of our learning journey
In our first week of learning, the children in Room 11 learnt many skills. We learnt how to manage ourselves when we enter the classroom, to use equipment correctly, to complete puzzles and to complete craft based activities. Let's have a look at what we did....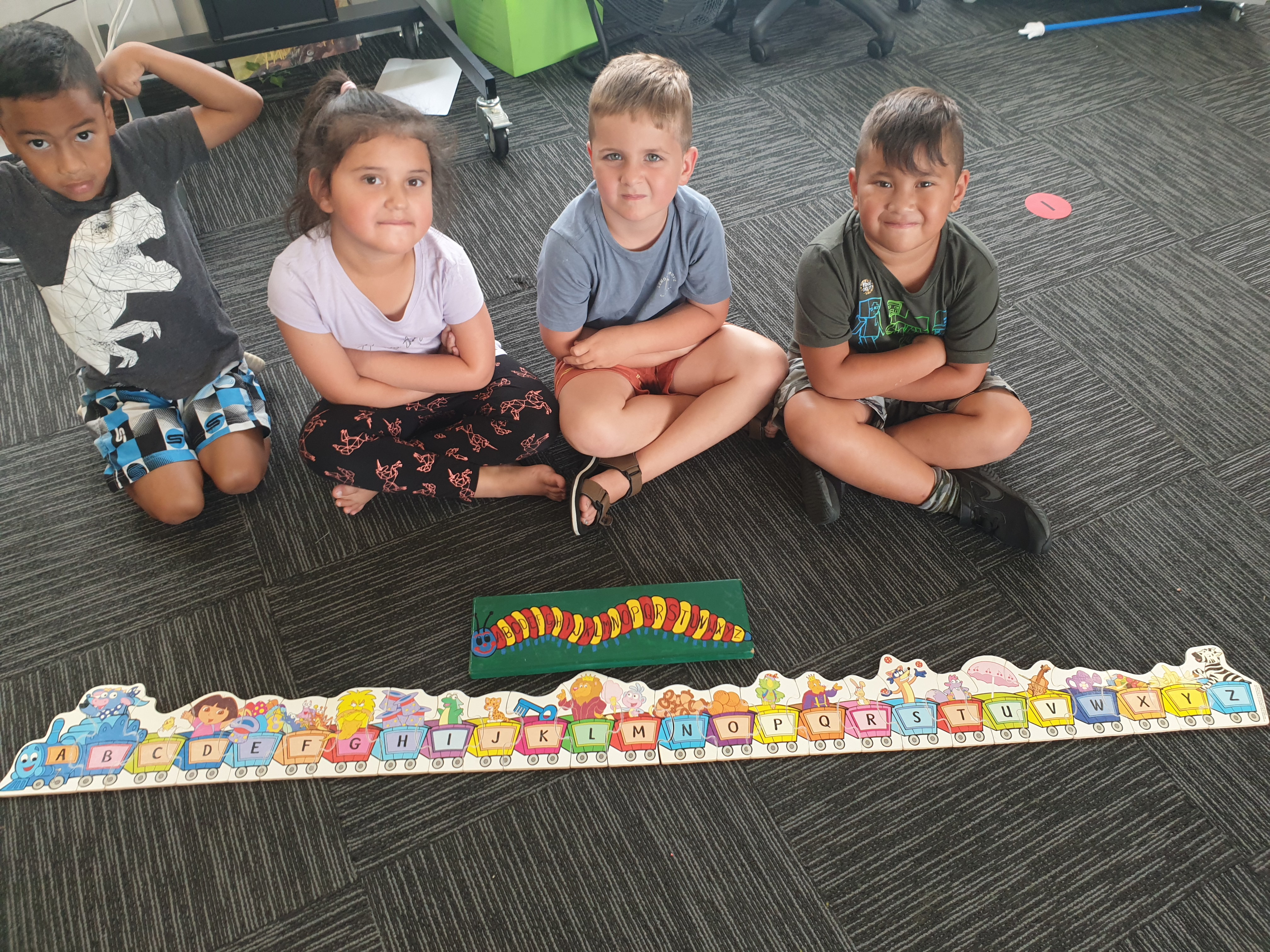 The children learnt how to put an alphabet puzzle train together by using our alphabet caterpillar to support them with the alphabet sequence. What clever learners they are!
Valentines' Day!
The children worked hard on their "Be Mine" bees for their Mums for Valentine's Day. Aren't they gorgeous!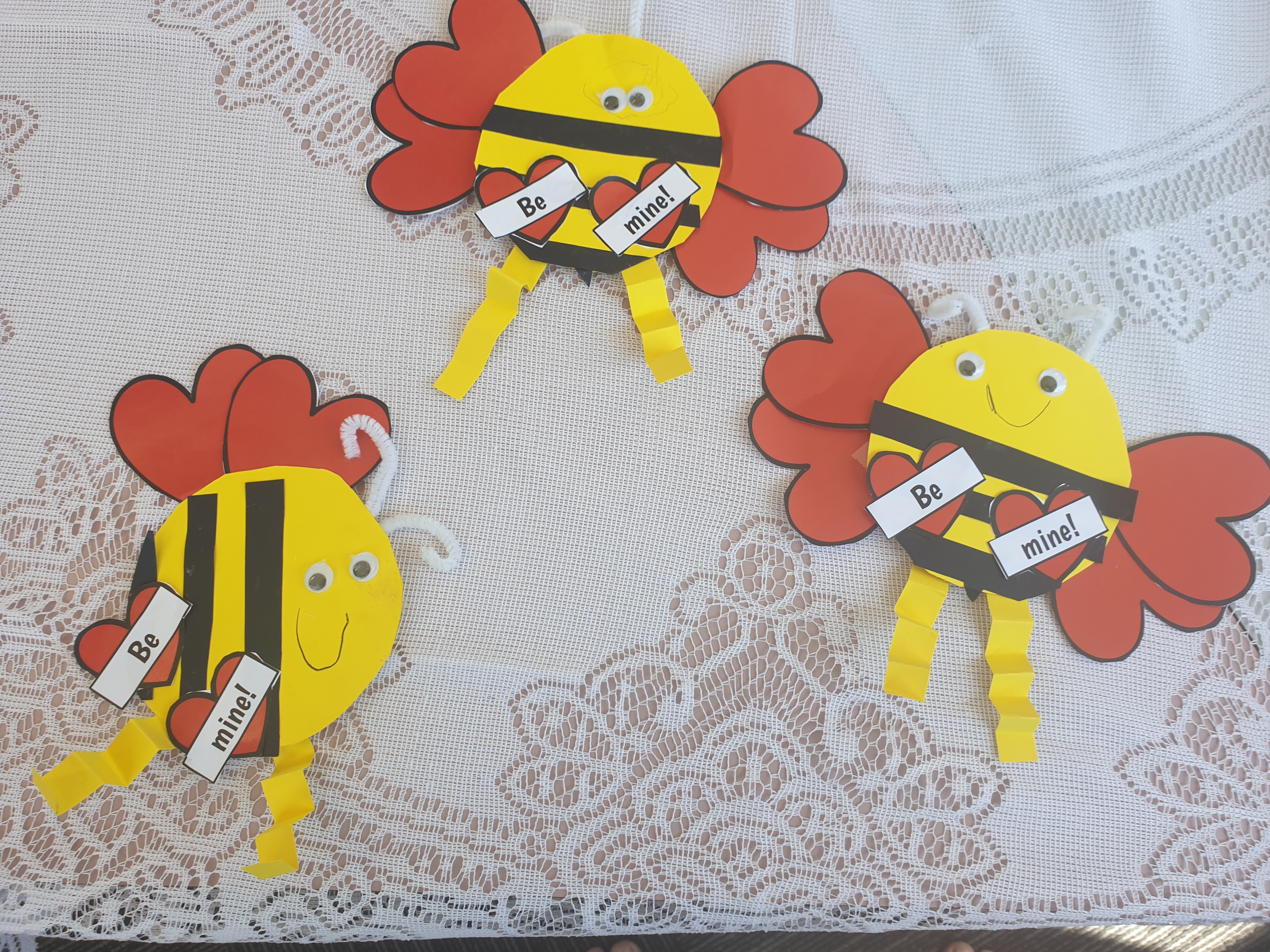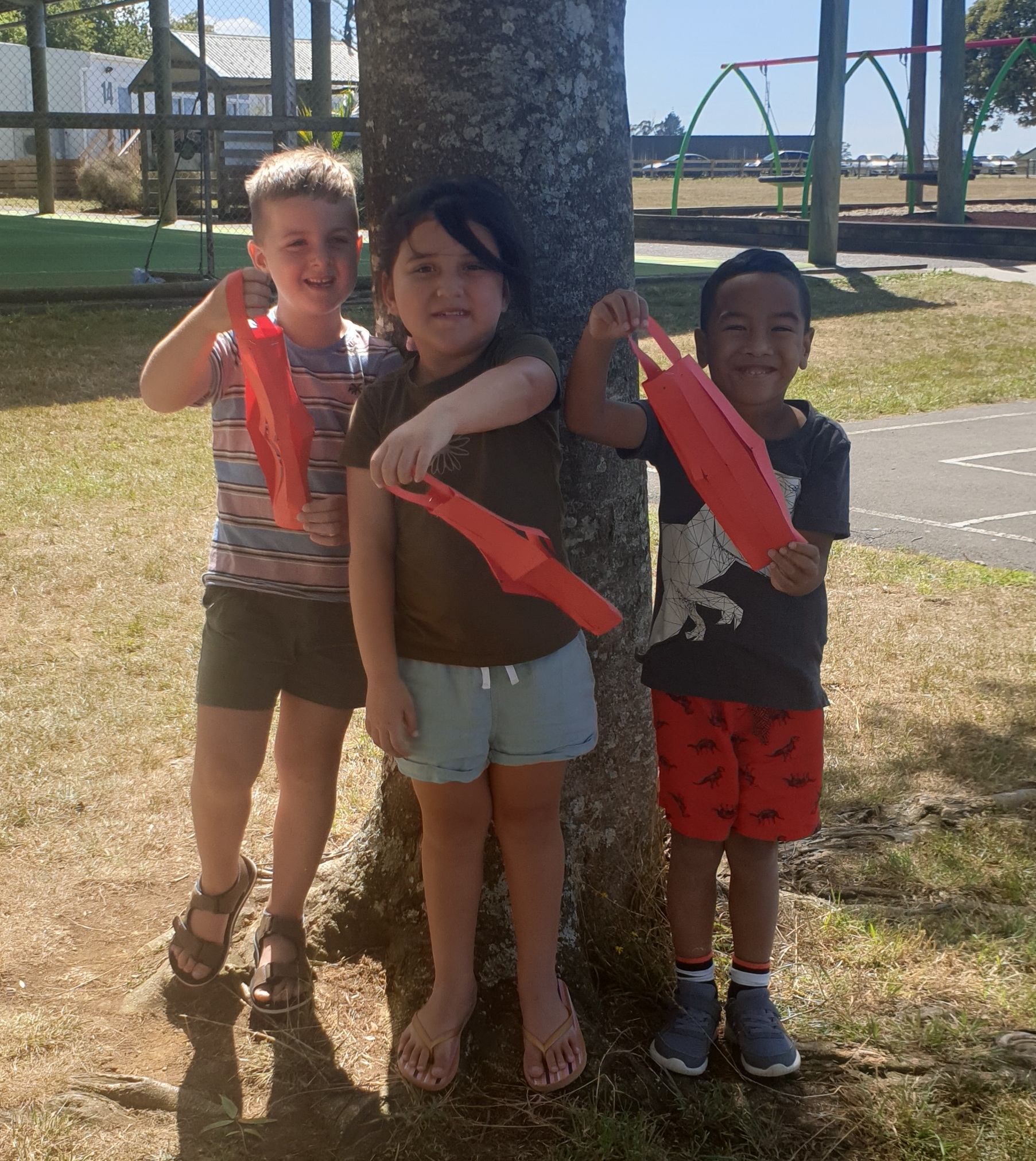 Chinese New Year!
Friday the 12th of February was Chinese New Year! The children in Room 11 learnt that the celebrations happen for 16 days. At midnight of Chinese New Year, everyone celebrates by eating dumplings.
We made paper lanterns to celebrate Chinese New Year. We are very proud of our creations!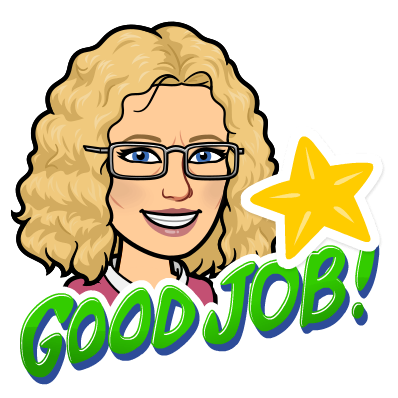 I am proud of all the learning that you have completed this week! Keep it up Learners!