Kea Whanau: Learning at Home
Part 2
To say we learnt a lot in the last Lockdown is an understatement. We learnt a lot, very quickly which has influenced the way we are doing things in this Part 2.
So in Part 2 of this Home Learning for 2020, expect emails from Kea Whaanau Teachers on a Tuesday, this will have our ELetter which highlights the Learning for your child for the week, alongside this is also their homework which was sent home in Week 3 of this term.
Click on the Links below the graphic to download all you need for Week 5 learning.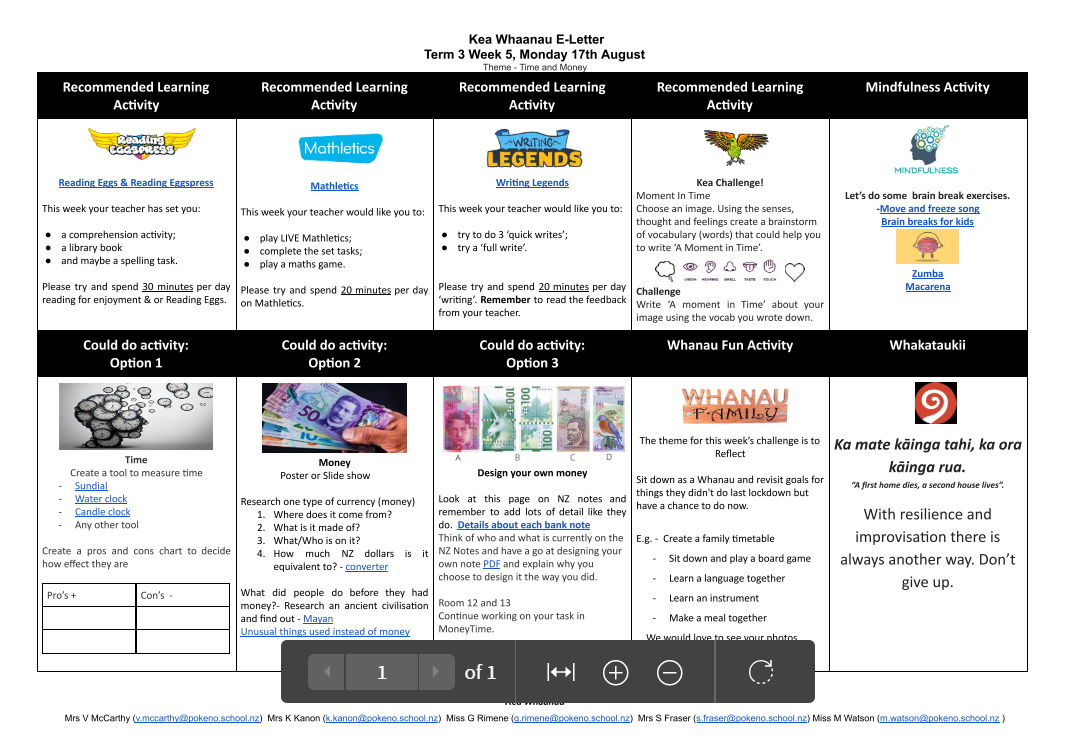 Kea Whanau: Learning at Home
Kia Ora Whanau
Welcome to our support for Learning at Home during this unusal time.
Please use this 3x3 link to help support your child/ren with learning at home. Some of this information is also avaliable on our class webpages.
We have created a Recommended Learning Folder. This includes Mathletics, Reading Eggspress and Essential Spelling. We have provided a list and the links to YouTube Essential Spelling. Alongside this is a Spelling Folder that can support children in learning spelling words.
Please keep Reading and Writing at home. There is a folder within the grid that supports you with Literacy websites for both Writing and Reading. Working with your child to put information into their own words, this is valuable as a life skill.
We have included Inquiry around Disaster + Survival and Treaty of Waitangi Task boards, children can choose activities in a range of learning contexts, that will appeal to all.

Virtual Field Tours are a great way for families to learn more about our world.
A really important tab on the grid is our Kea Whaanau Fun, these are activities to do as a family, they are fun and included to help you create balance in what is happening at home. Miss Paulette has also added an Art Project on observational drawings, we look forward to seeing these and children making the most of Youtube tutorials to help them develop their skill in this area.
We would love to have learning shared with us during school hours: photos, writing etc. If you are happy for us to update our class pages as a forum of sharing please let us know. We are happy to answer questions and support you and your whanau in this learning journey.
Contacts are as followed
Room 13 - m.watson@pokeno.school.nz
Room 12 - s.fraser@pokeno.school.nz
Room 10 - g.rimene@pokeno.school.nz
Room 9 - k.kanon@pokeno.school.nz
Room 8 - v.mccarthy@pokeno.school.nz
As we believe every family is different, we will not be setting a timetable for you. We encourage you to break the day up with what works for you and your whanau.
We are all in this together.
Kea Whanau