welcome to room 5
Term 1 2021
Our theme in Room 5 is "Don't give up!" and we have been talking a lot about what it is that great learners do. Great learners make mistakes, try and try again and learn about their brains. Here is where we started....isn't it beautiful?!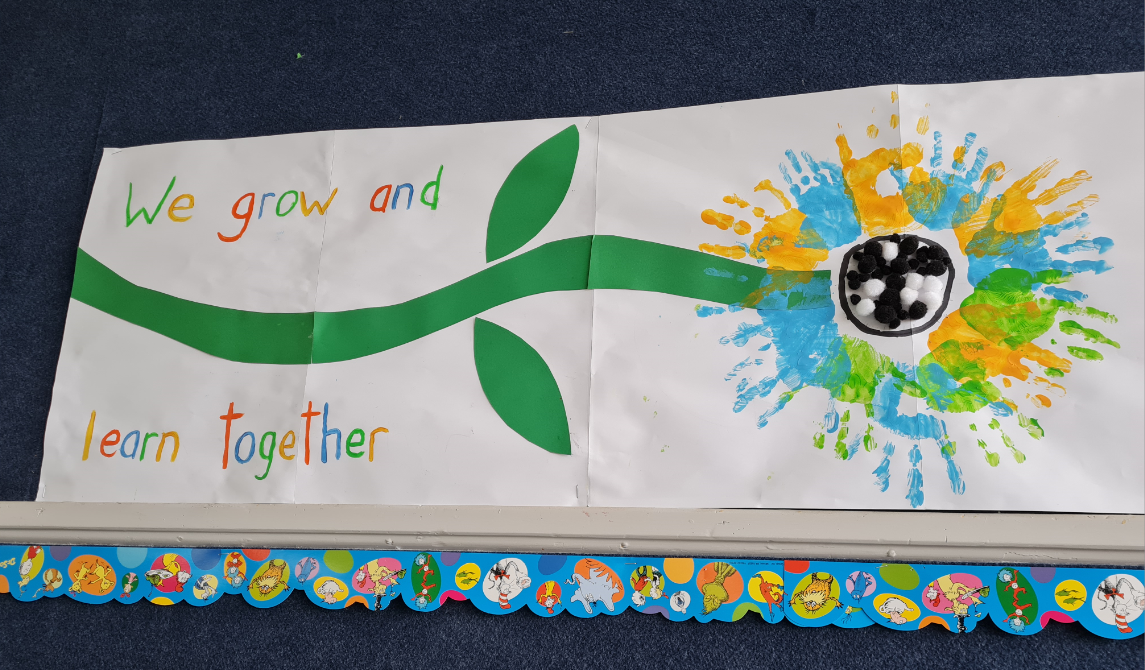 We grow and learn together
Growth Mindset
Learning about our brains and how we can grow them through challenges is an important part of our learning to learn unit and our "don't give up" theme. Here are a couple of videos we have watched in class if your child would like to watch again at home.
For the children in Room 5, it is essential that they focus on learning their alphabet letter names and sounds. Below is the workshop that I use with my children in my class. Please take the opportunity to view this workshop with your child as it will support the development of their letter and sound knowledge.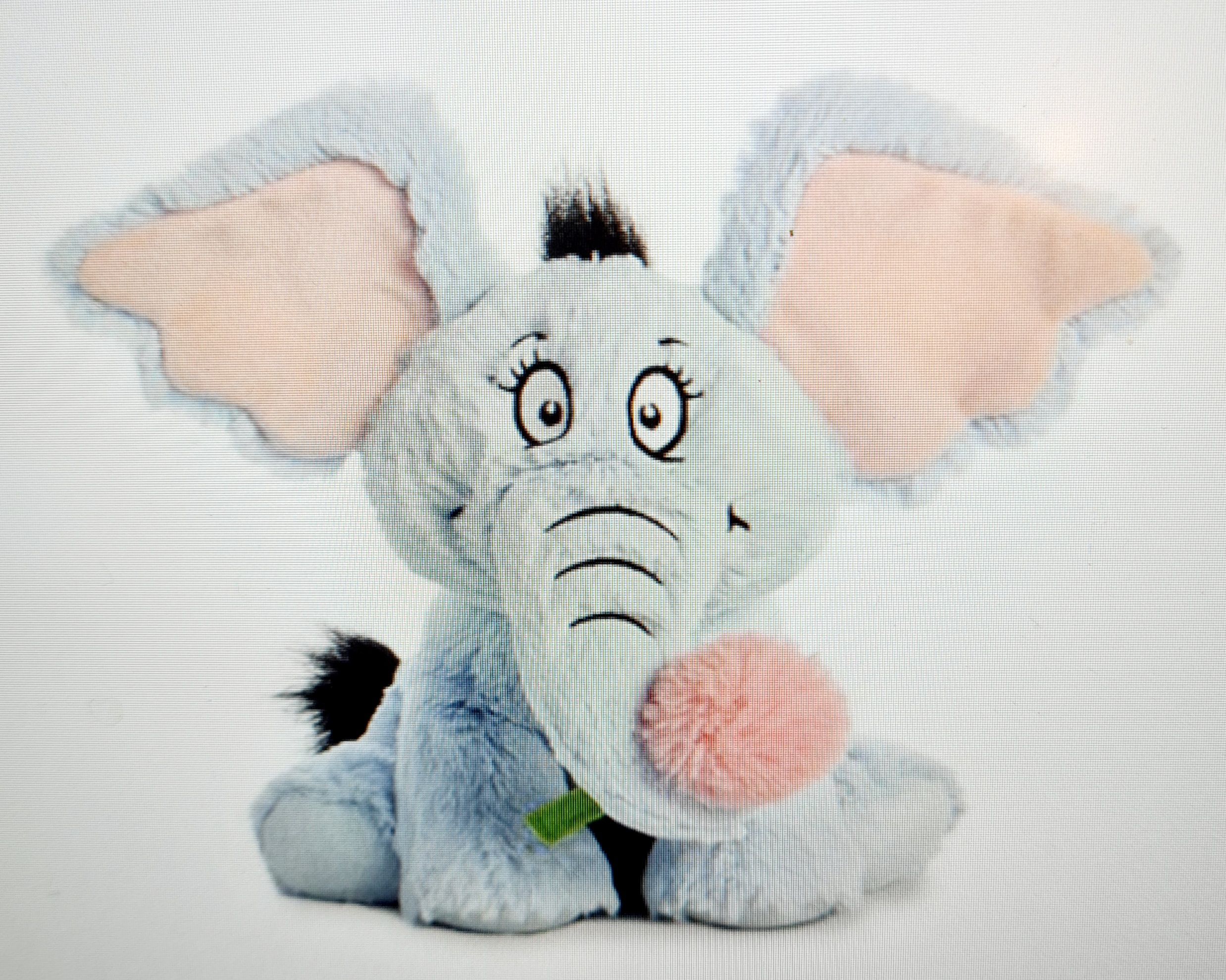 The children are excited about our class mascot Horton who is on his way from sunny Fiji (he sent us a postcard)! Horton will join us in our learning journey and will be going home with one family each week for a little adventure - fun!!
"Don't give up! I believe in you all! A person's a person, no matter how small!"
- Dr Seuss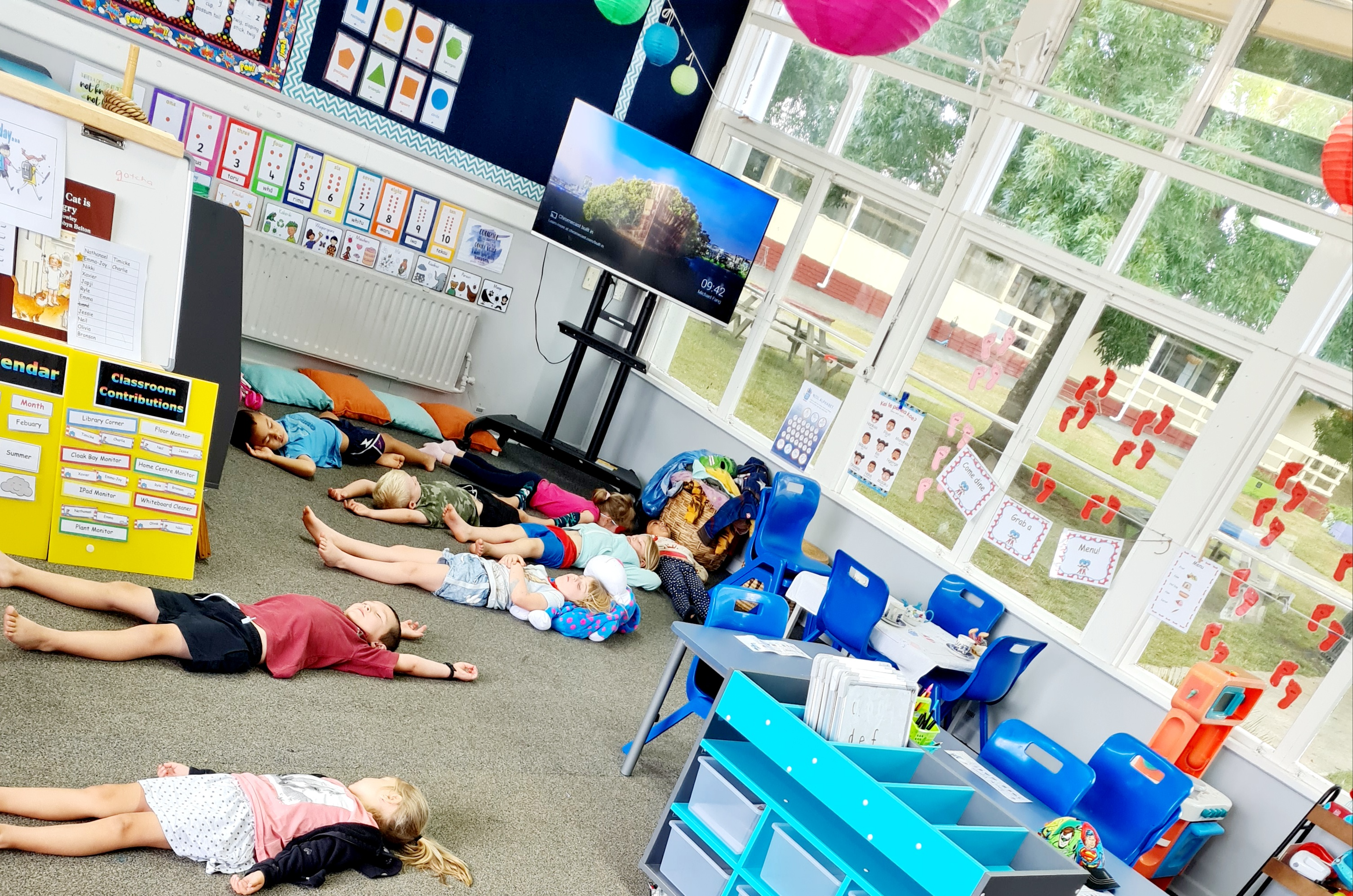 Room 5 practice mindfulness! Learning how to relax, breathe and take breaks is part of being a great learner.
What else have we been up to?
The children have been settling back into school life following the holidays, getting to know each other and exploring the their new classroom and different activities. The class shop and dress ups have been a huge hit! Role play promotes the development of social skills, interpersonal skills and oral language, and the children have unknowingly been engaging in mathematics through shop exchanges with their play money.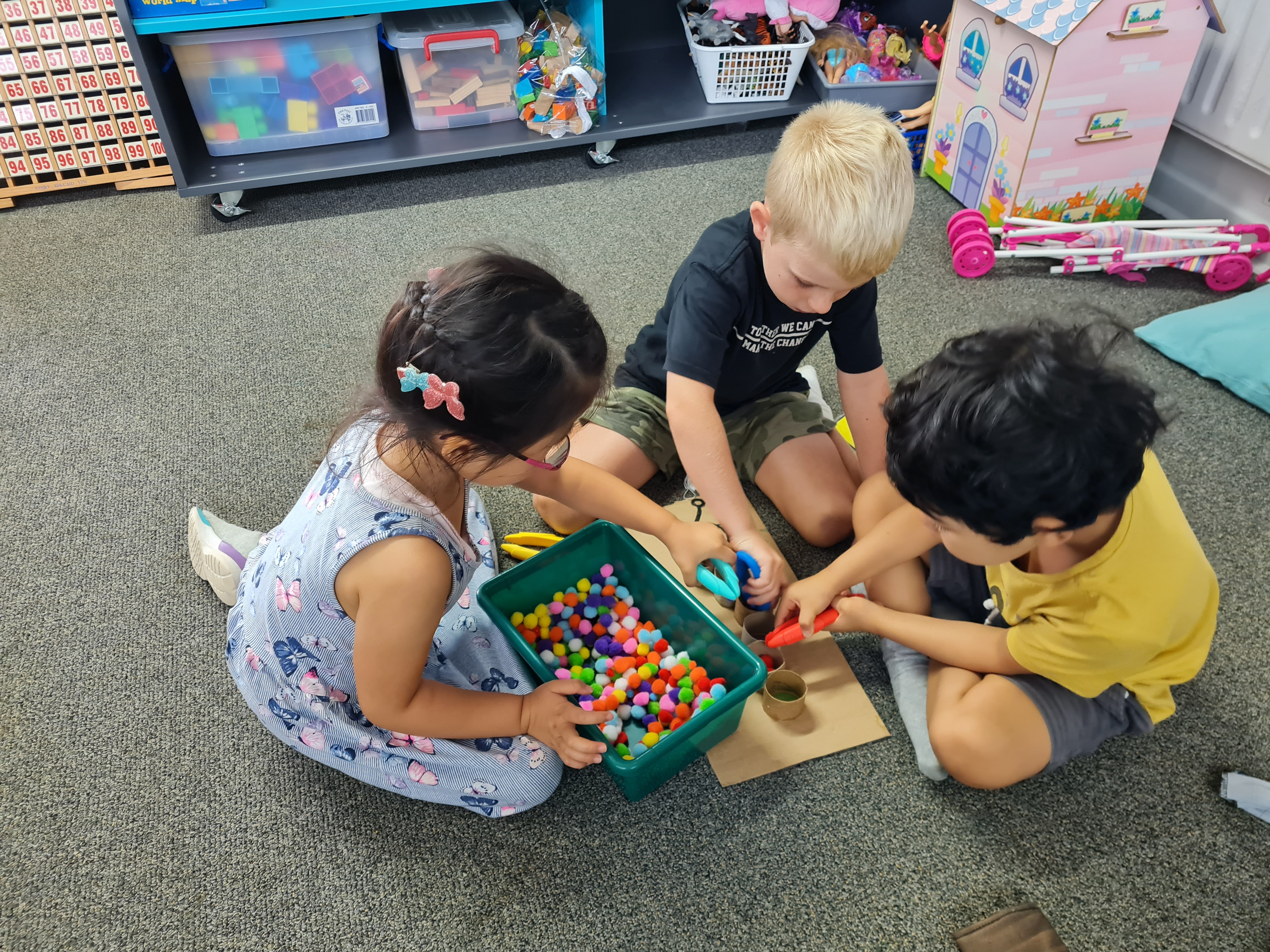 Ryle, Charlie and Emma practicing team work and fine motor skills with a pom pom sorting activity.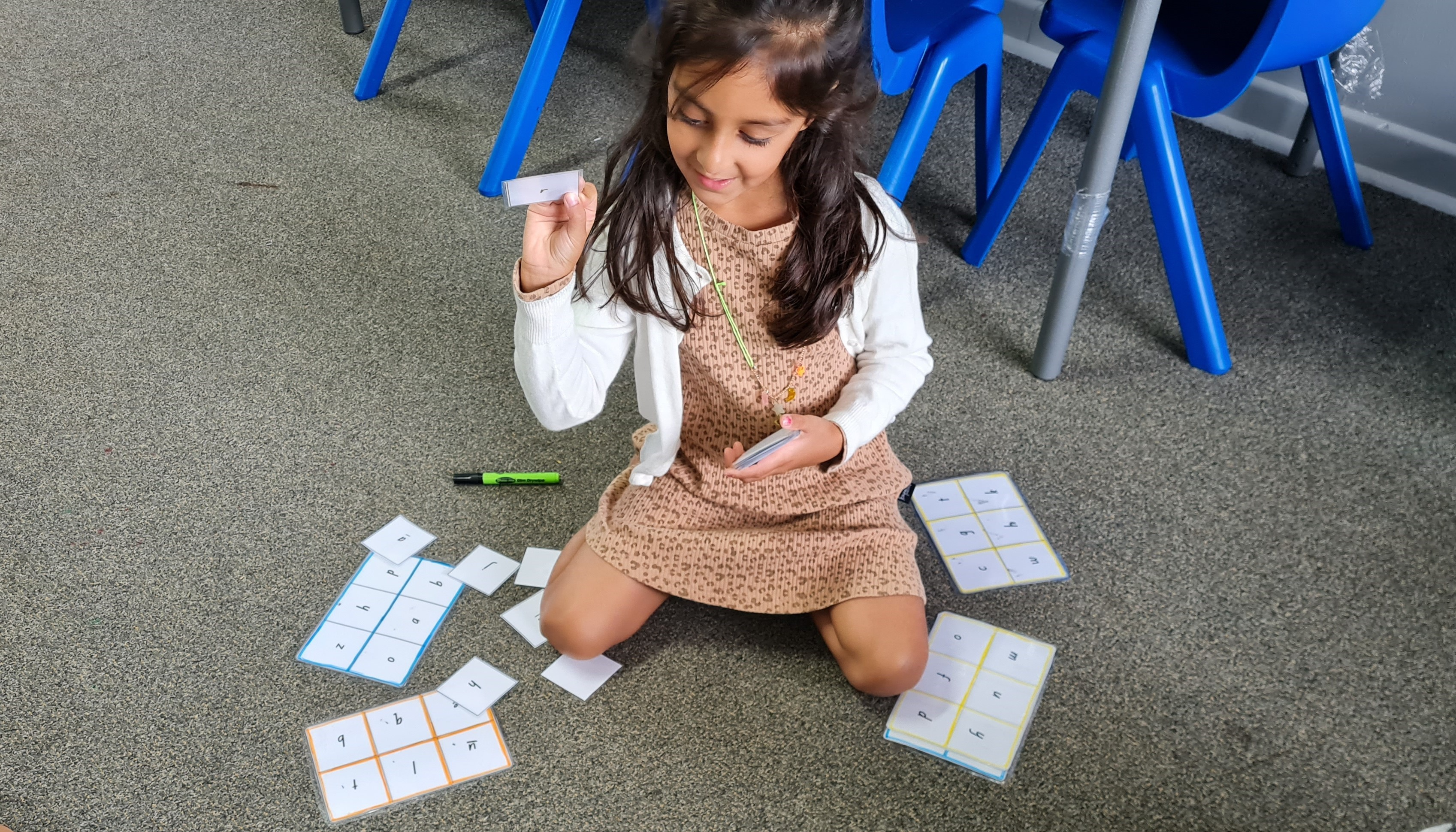 Jessie and friends demonstrating the school value of Ako - learning and teaching together with a game of alphabet bingo.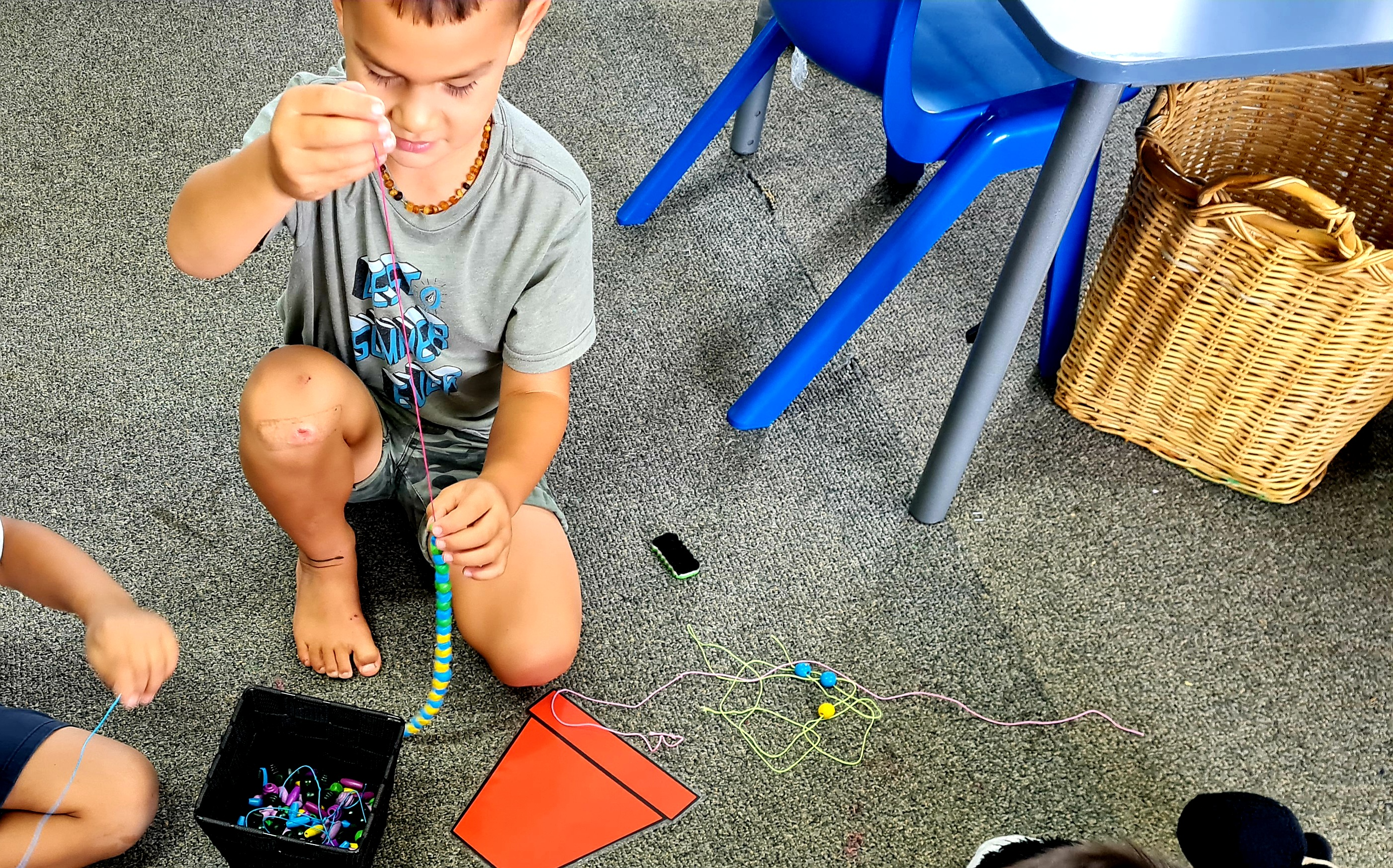 Bronson focused on a threading task to strengthen fine motor skills and explore patterns - Ka Pai!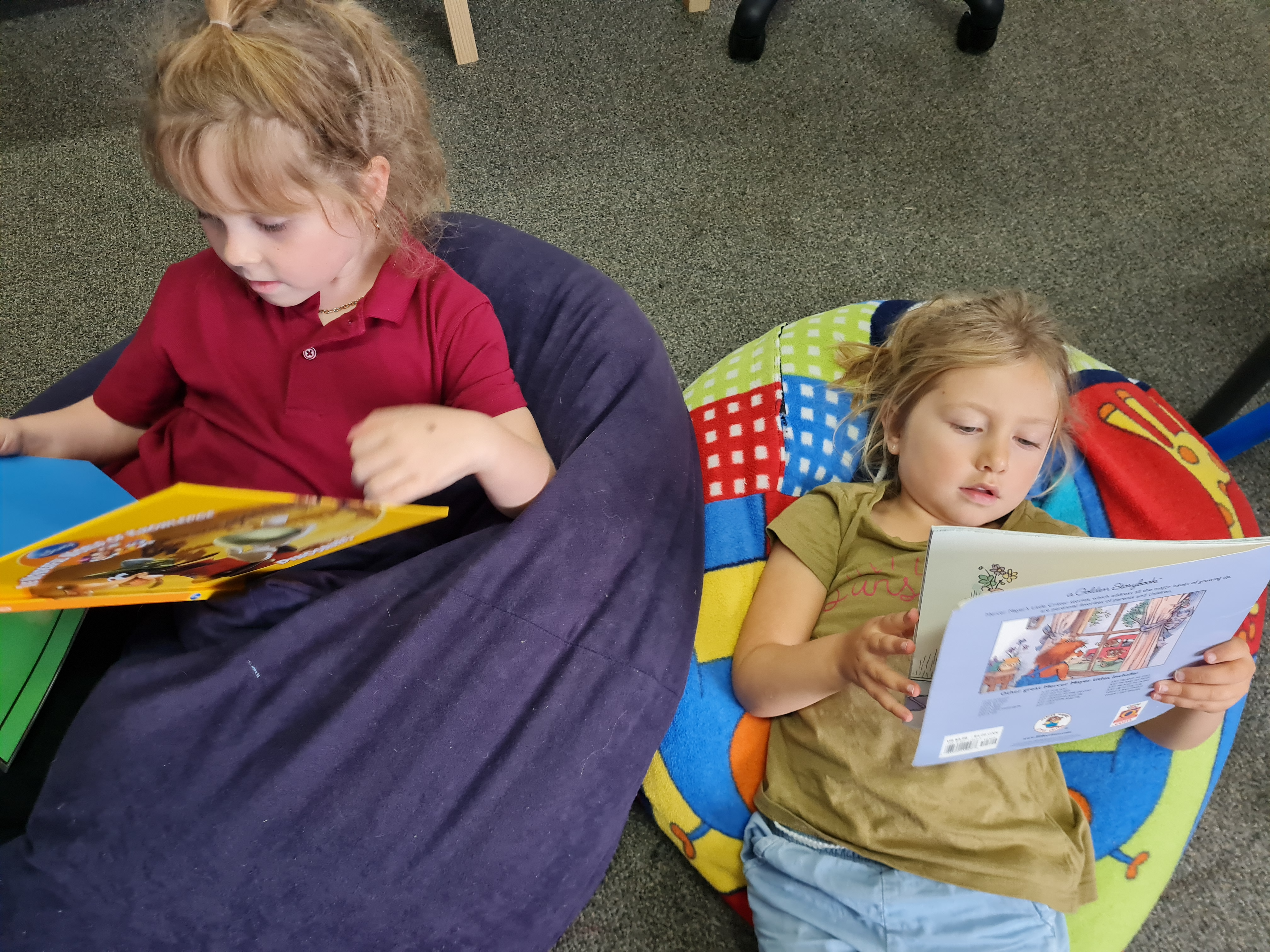 Olivia and Timicke choose their own book which helps promote an enjoyment of reading.
Miss Foord prepares a sensory activity to help learn high frequency words. Sensory play supports learning by strengthening neural pathways and the children just love the multisensory approach!
Term 1 week 3.
The children have continued to practice their learning tasks and moving around the room independently as we begin reading and writing rotations this week.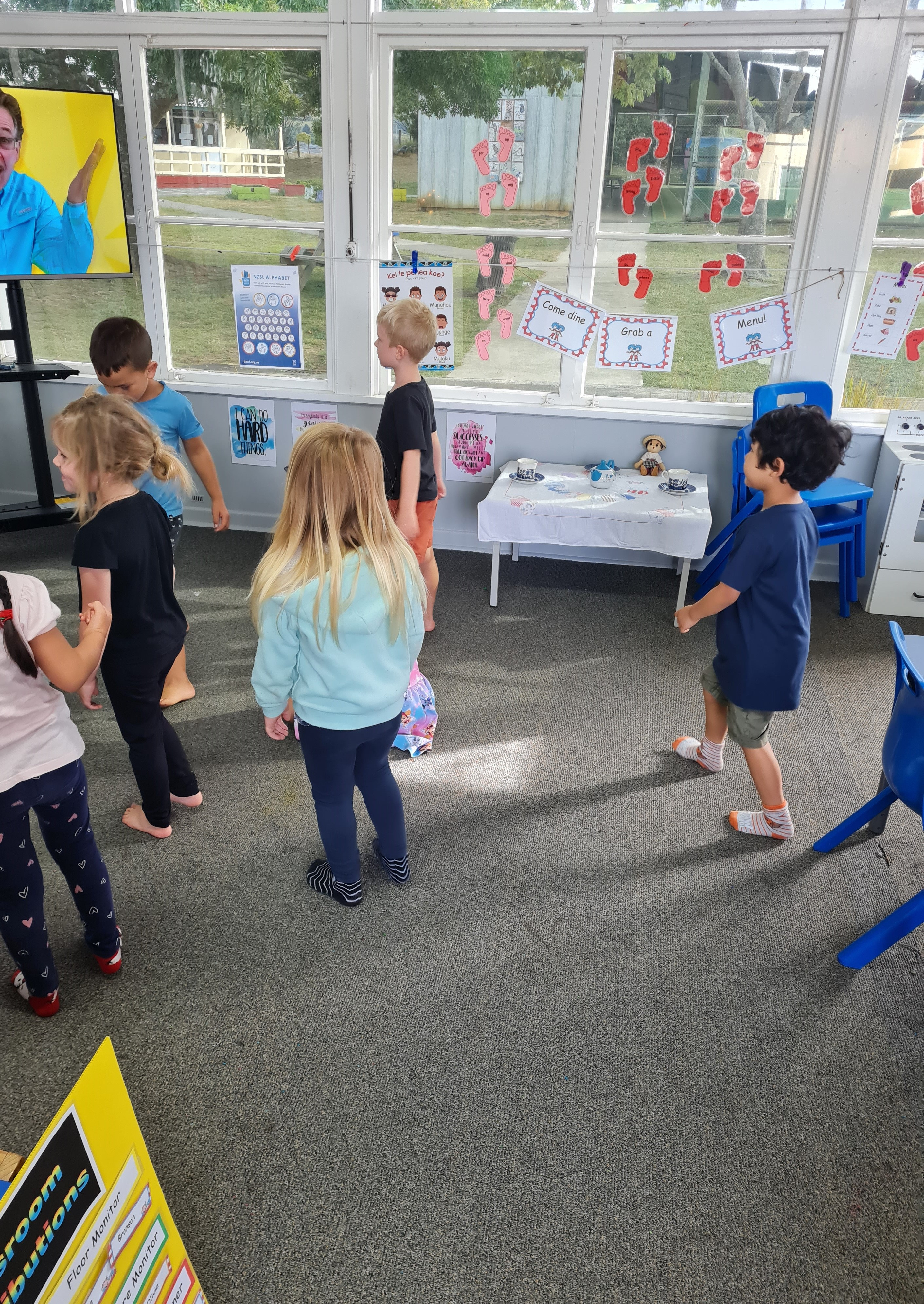 We are learning about whole body listening - using our eyes, ears, brain, hands and heart to listen to our friends.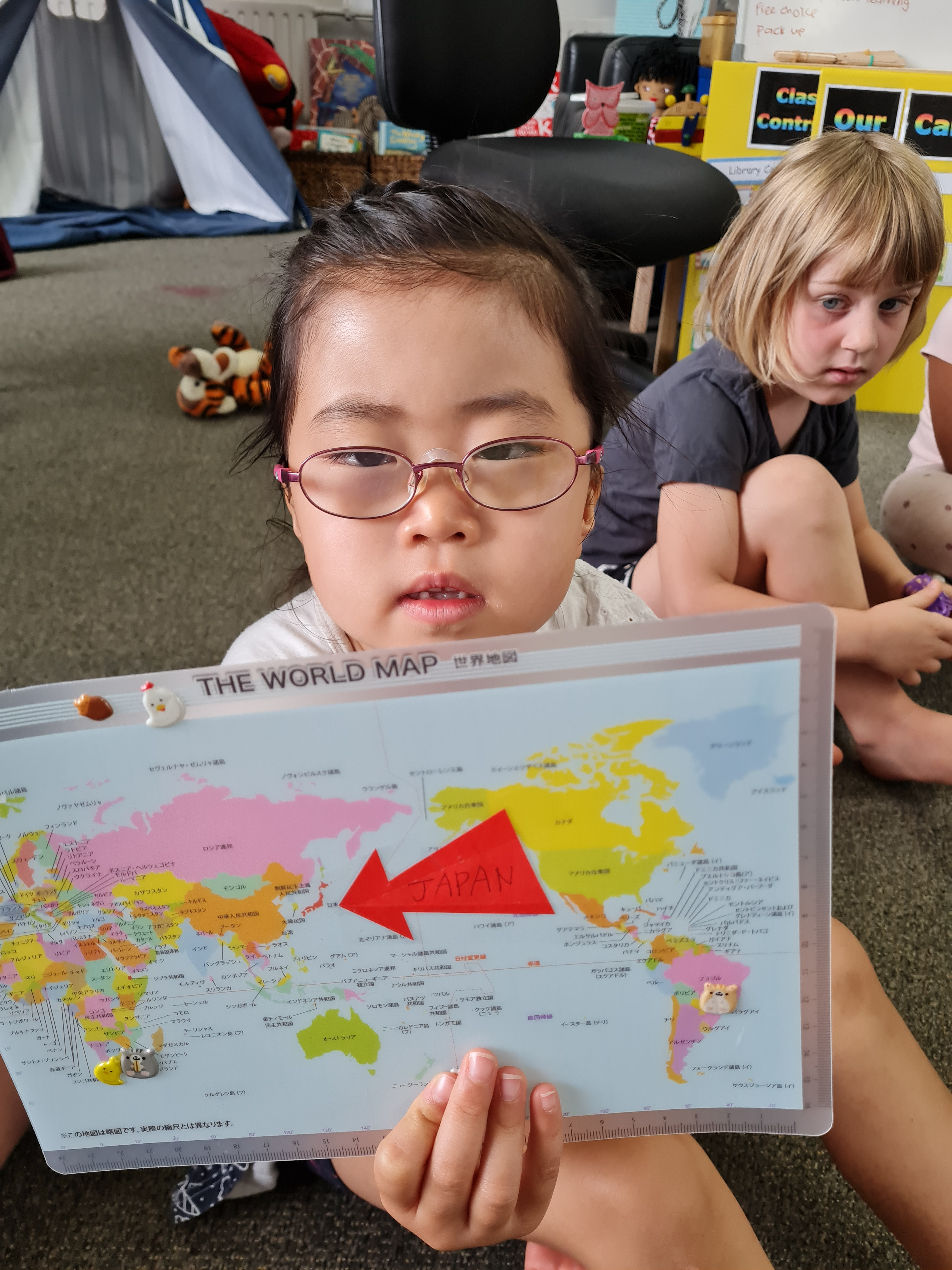 Following on from our whole body listening exercise Emma-Joy and Emma share items that are special to them. This builds confidence while their peers demonstrate manaakitanga (care and respect) and kotahitanga (celebrating each other).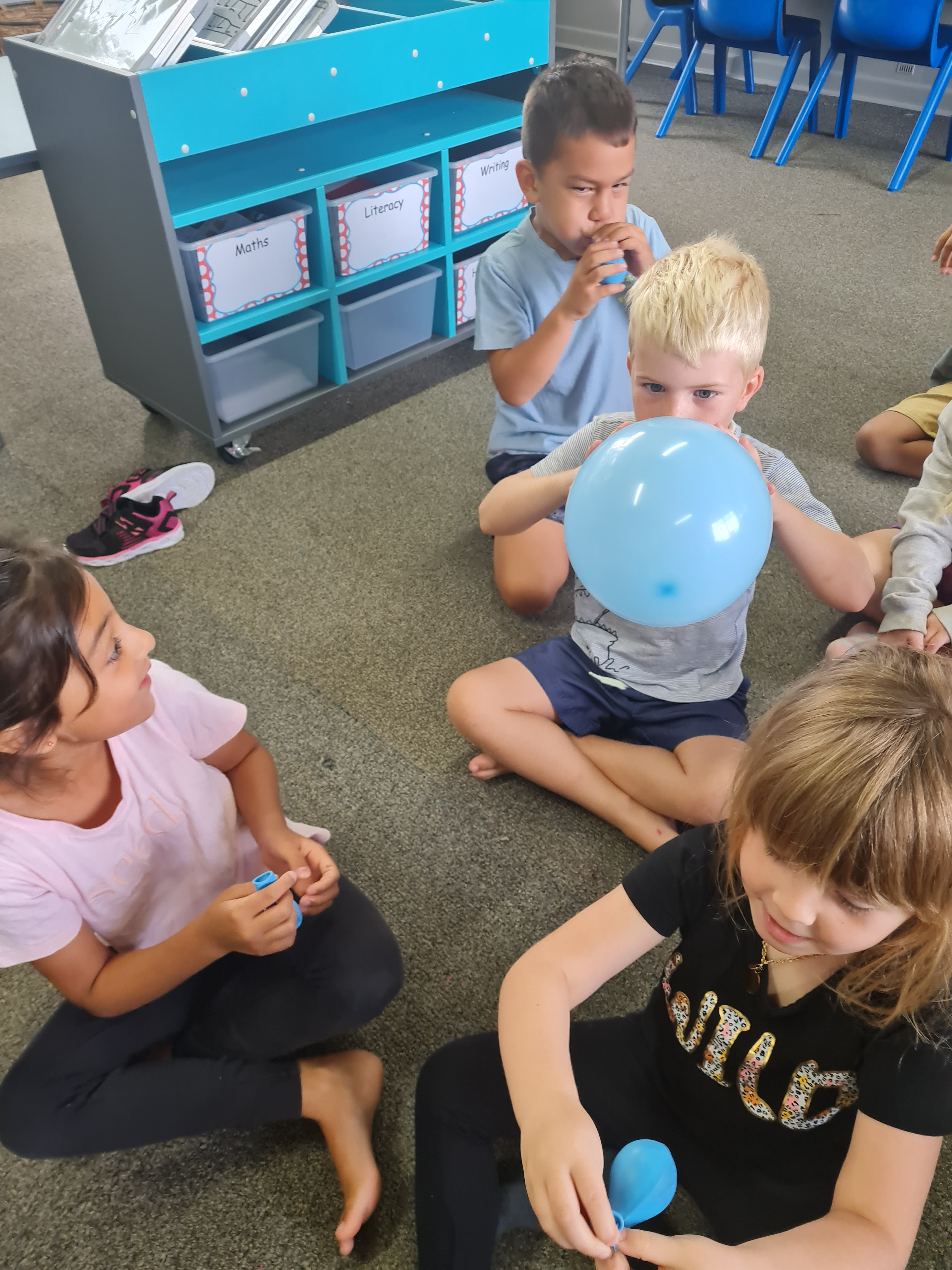 Balloon mania! The children had fun with balloons and then we brainstormed some language to use in our writing.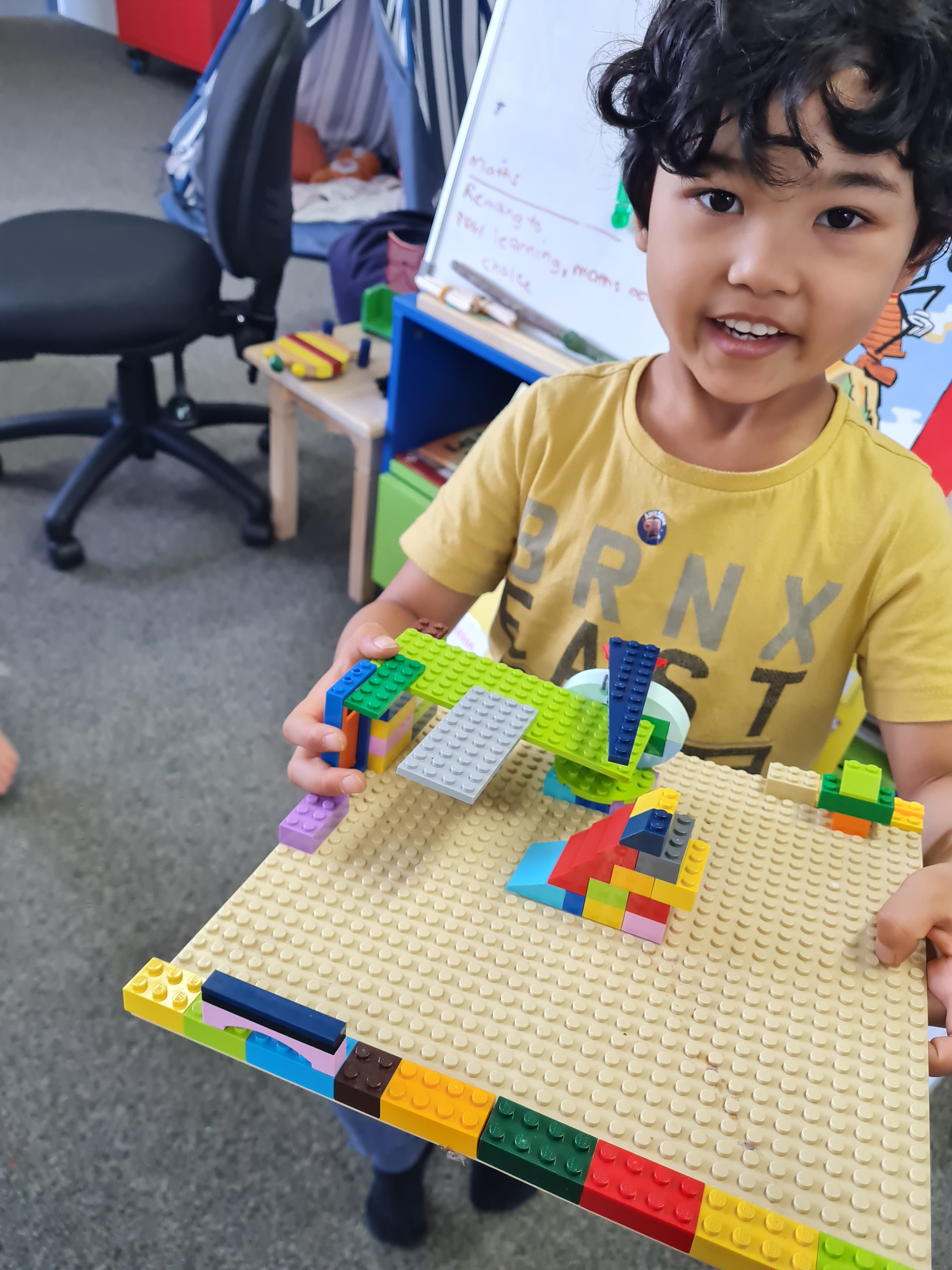 Ryle worked hard on this awesome lego creation. Lego has so many benefits - fine motor skills, spatial awareness, perseverance and creativity to name a few.
Bronson and Ryle so engaged in this sight word fishing activity - making learning fun!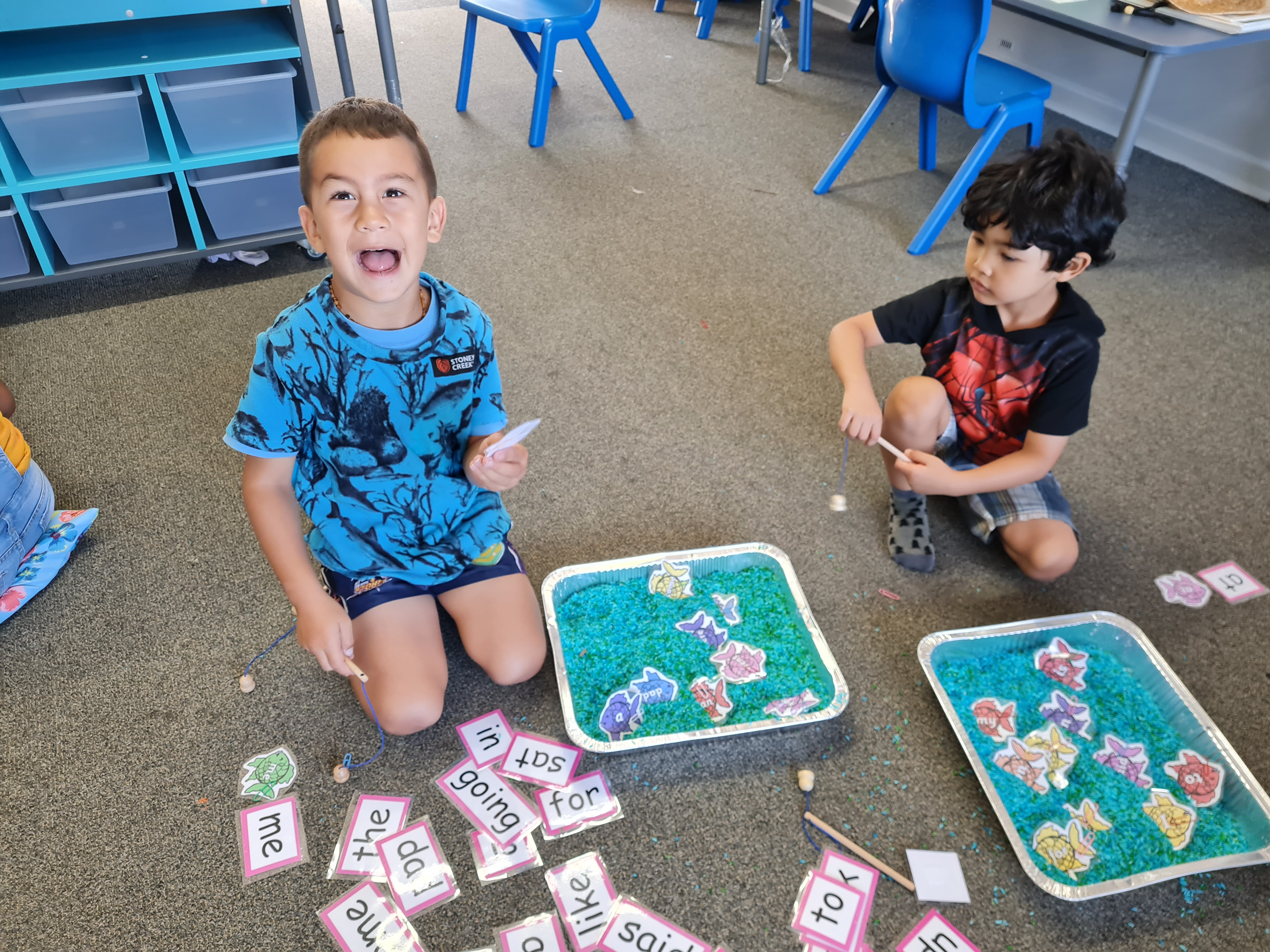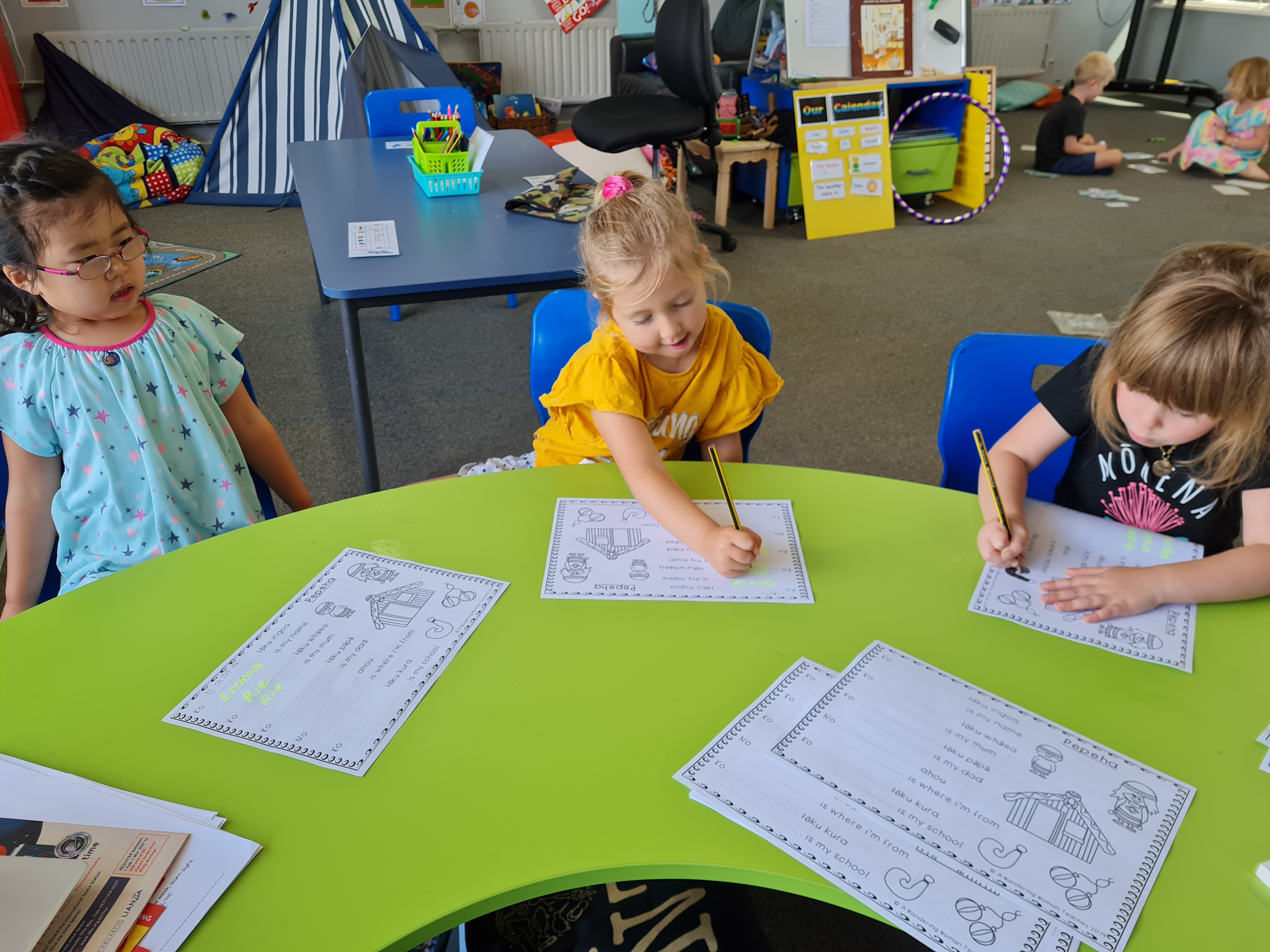 The children have been working on writing and saying their pepeha - introducing ourselves in Te Reo Maaori.
Algebra is a mathematics focus for this term. The children copy patterns and then predict what will come next. Pebble patterns also develops fine motor skills.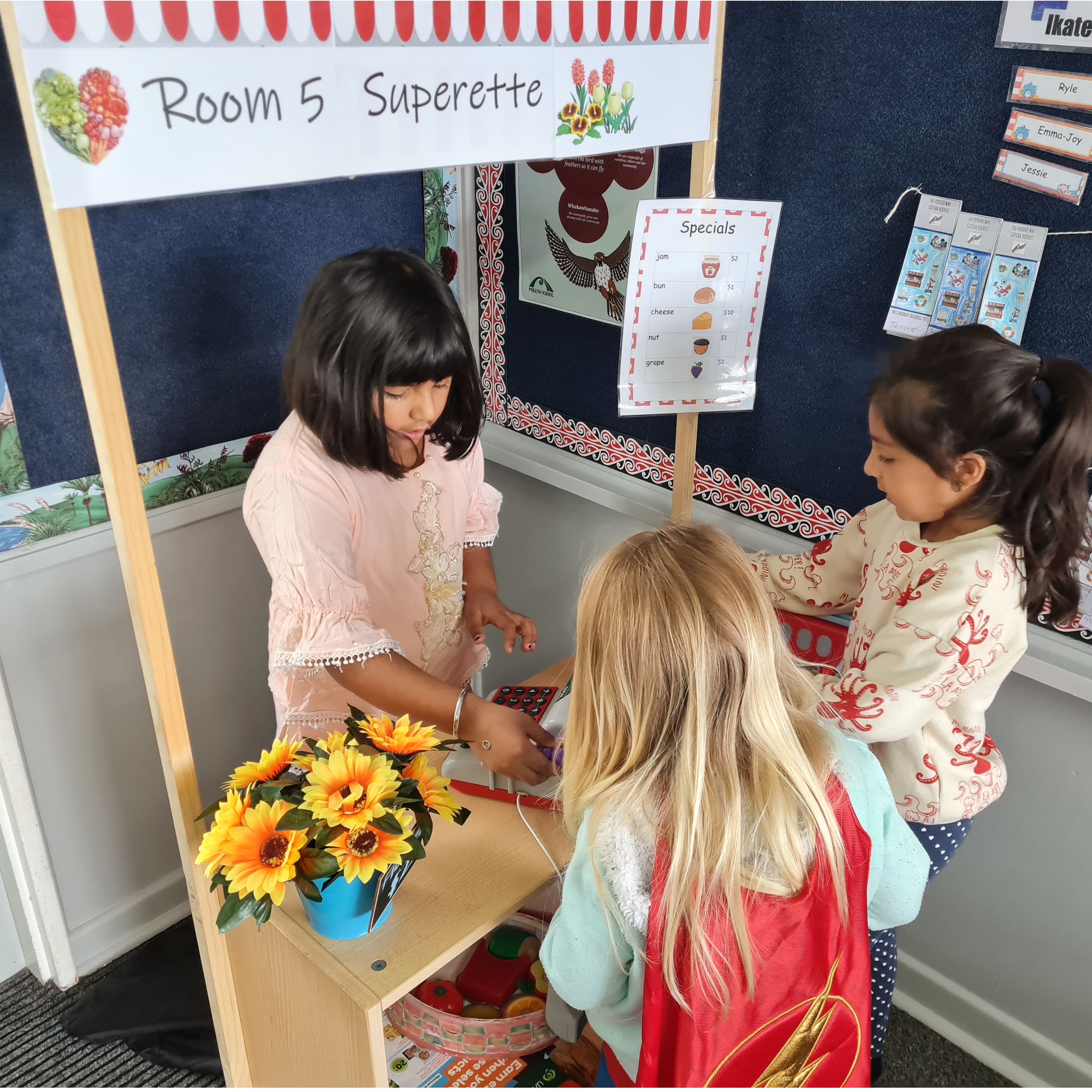 Japji, Nikki and Jessie explore the class shop developing oral language, interpersonal skills, creativity and number sense.
Lockdown and home learning 2021
Take a look at what our lovely room 5 have been up to during 2021 lockdowns.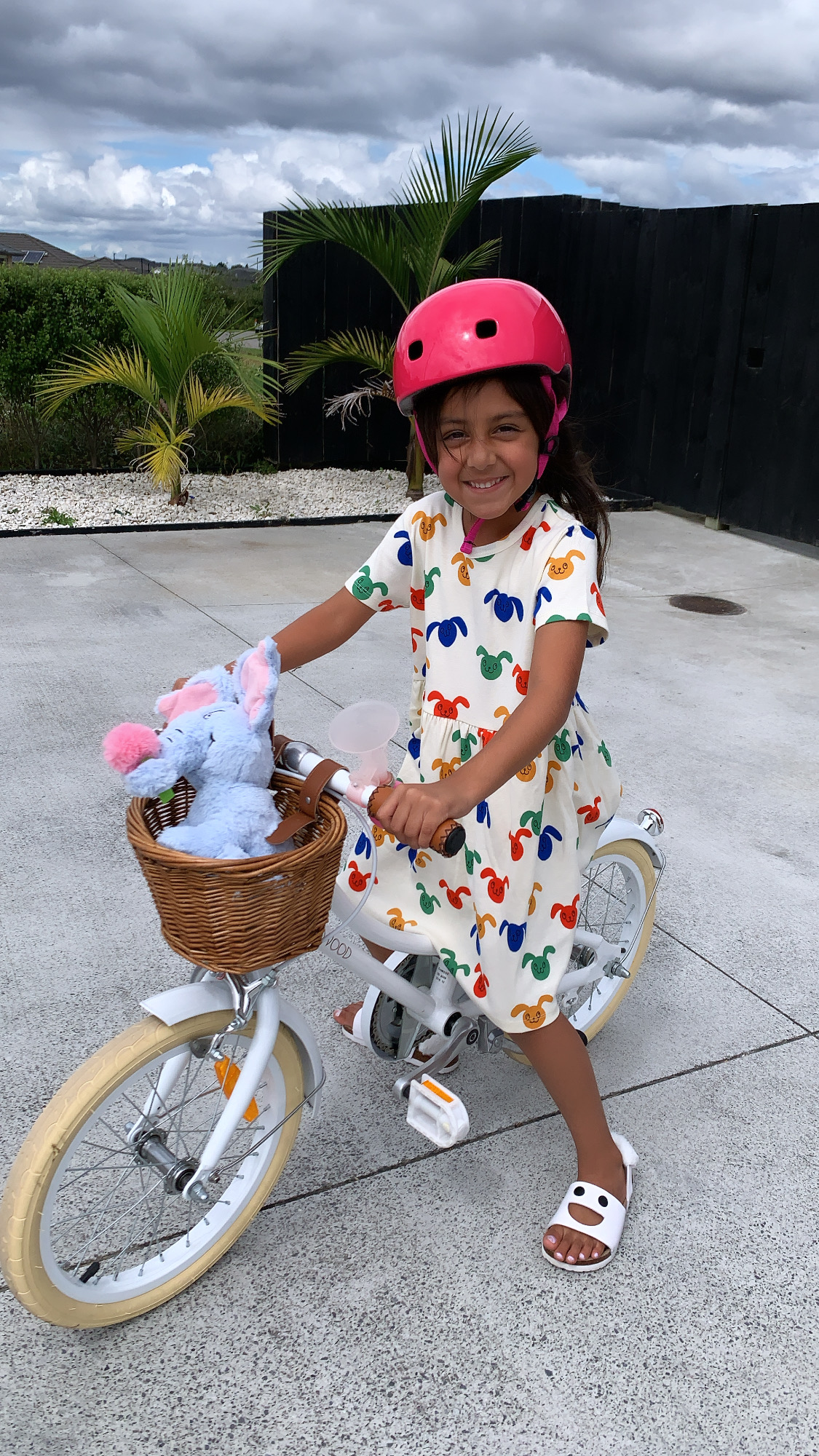 Helpful Horton is helping Jessie with her baking! He looks like he's enjoying the bike ride too!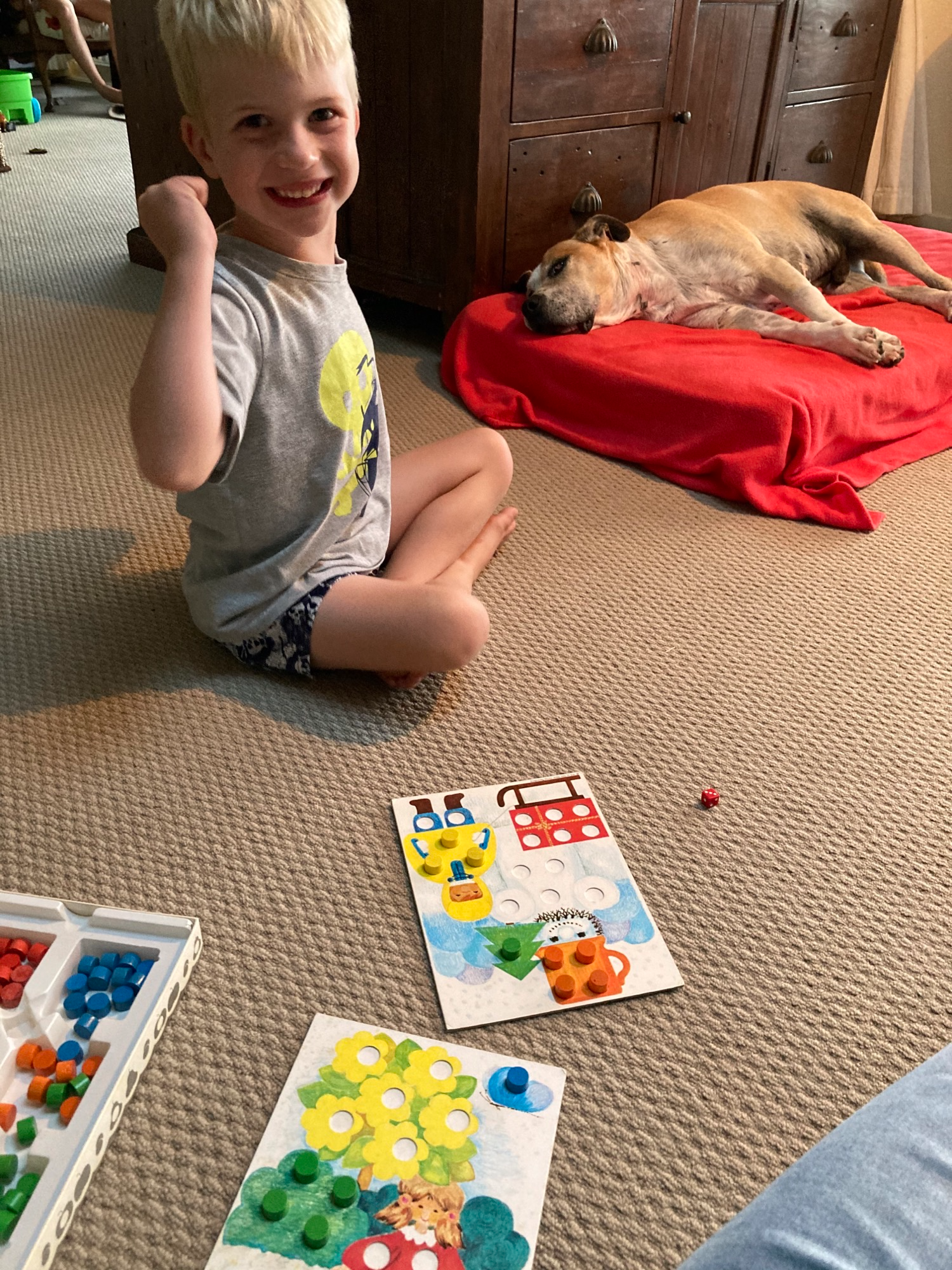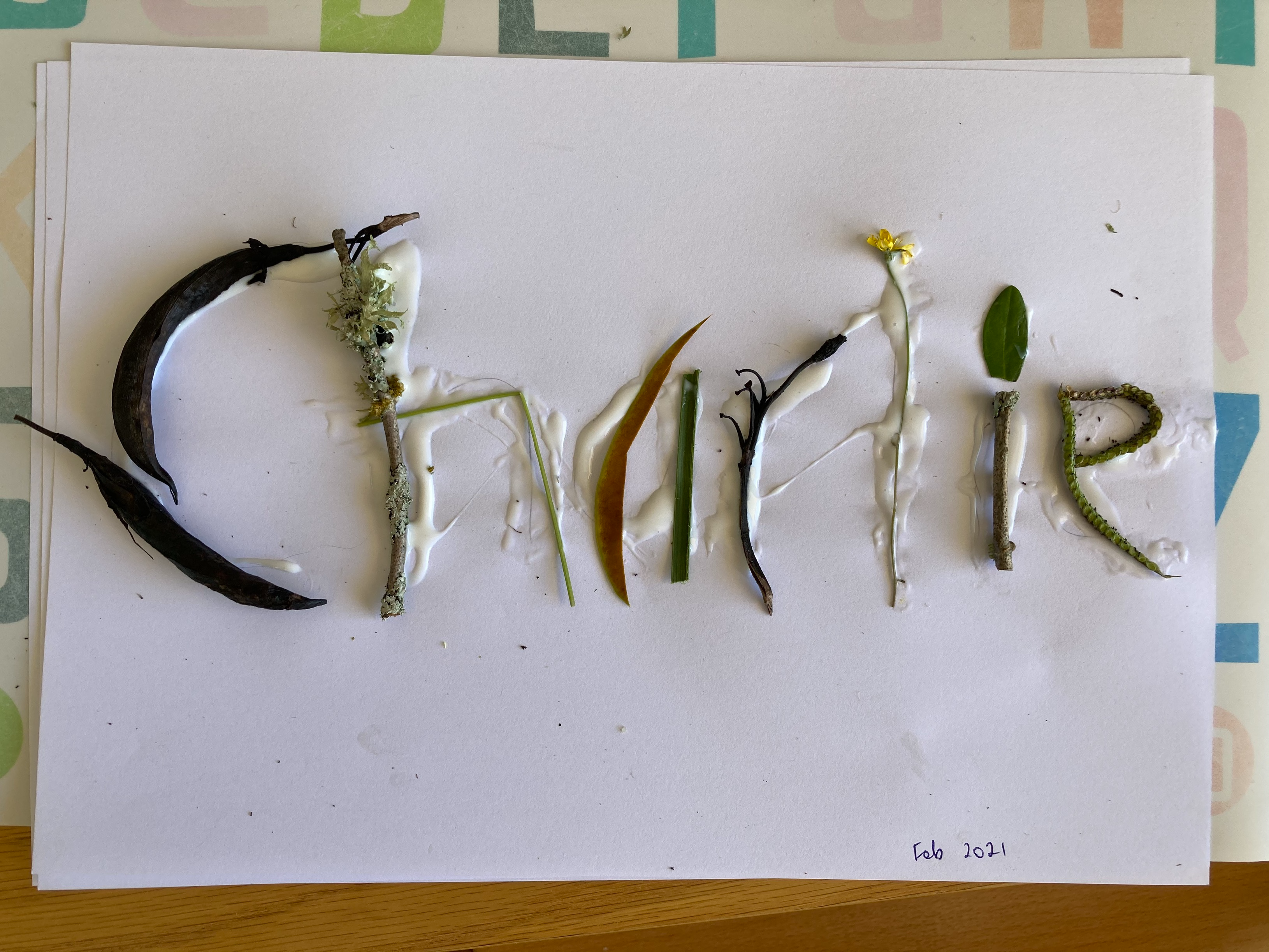 Charlie has written his name using items from nature. How cool! And here he is beating his Mum at quips.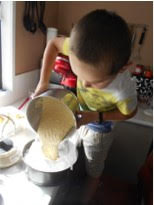 Neil doing some yummy baking and puff painting!
Japji learning her sight words, Ka Pai!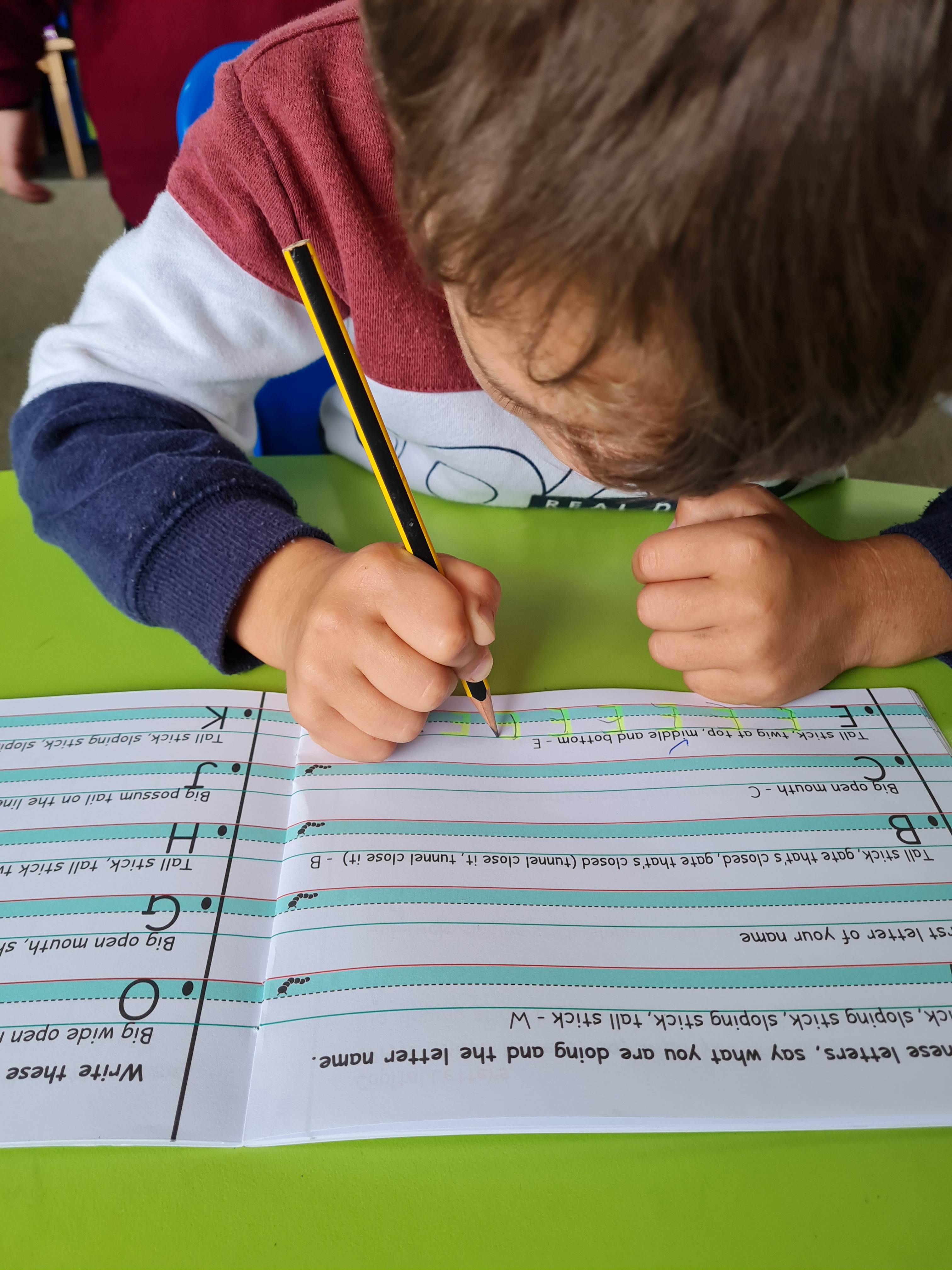 We practice handwriting every day with activities for both letter formation and the development of hand muscles for pencil grip and control - whiteboards, chalk, stencils, colouring, lego, tweezers, threading beads and workbooks.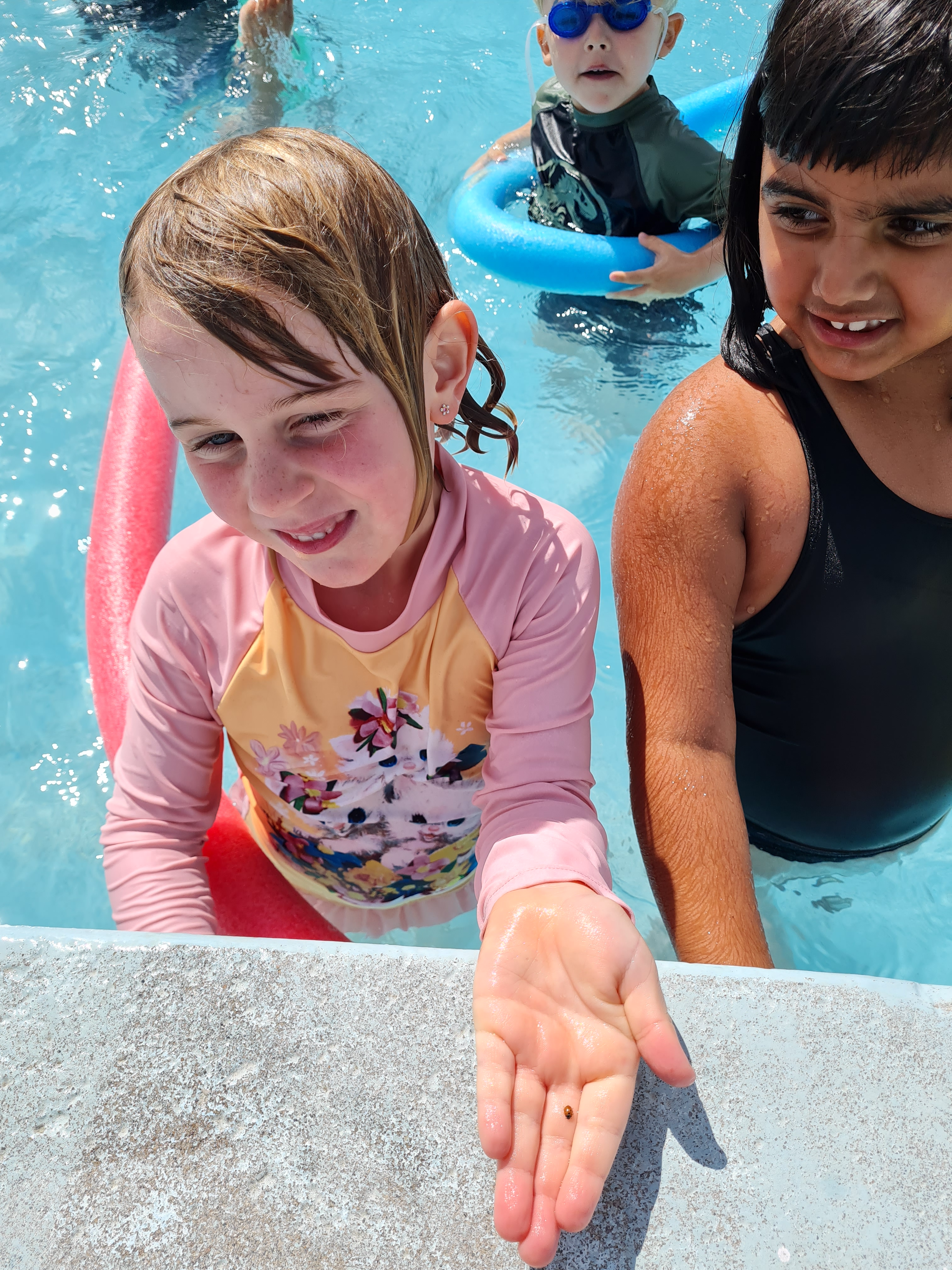 We have been learning about friendship, kindness and manaakitanga. We show acts of kindness and respect every day in room 5. Here is Nikki helping Nathanael to feel better and Emma-Joy and Japji showing kindness to all things big and small saving a ladybug from the pool.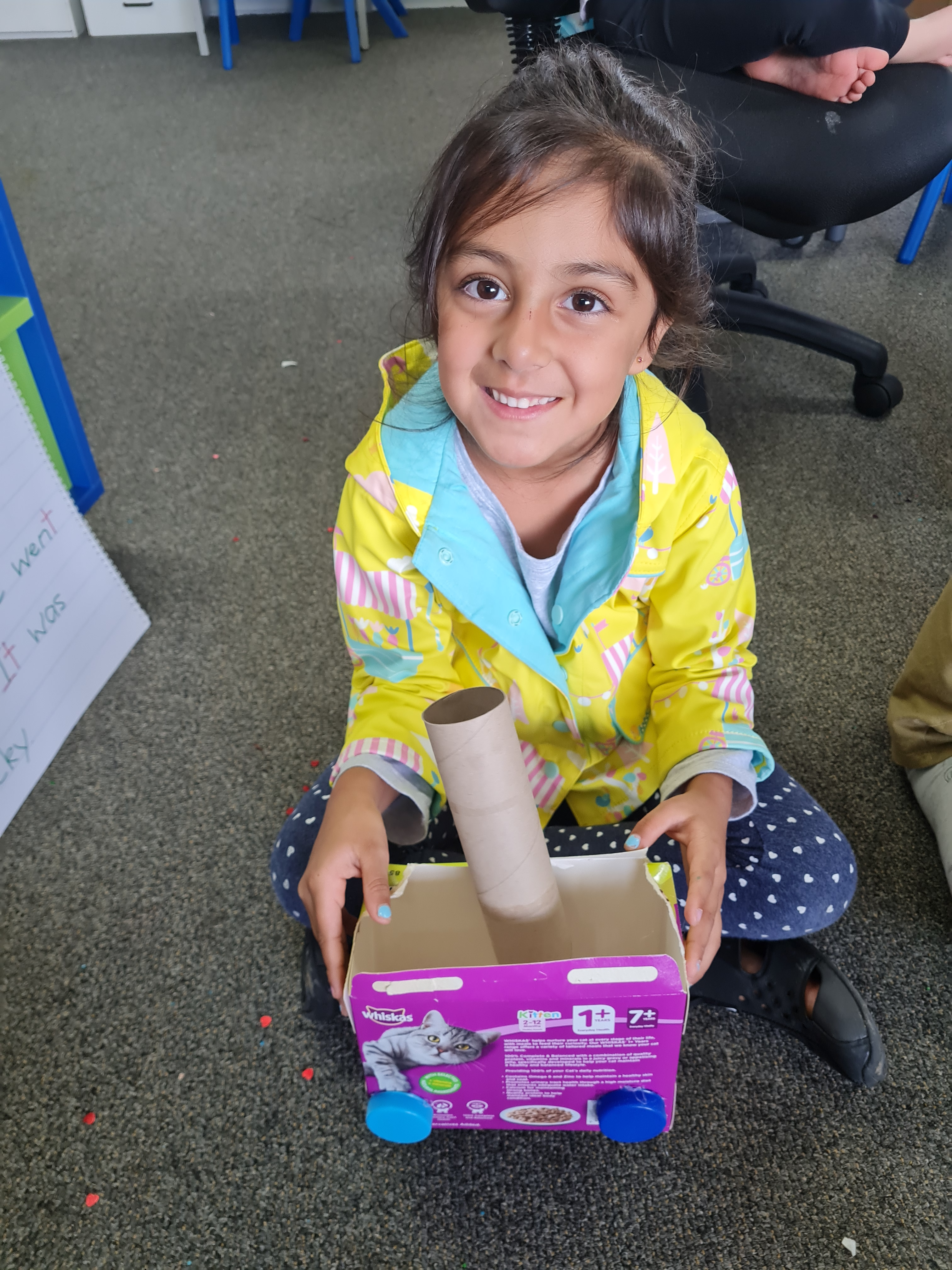 Check out Charlie's jet plane and Jessie's train. Loose parts play has so many benefits including creativity, curiosity, self expression, and problem solving.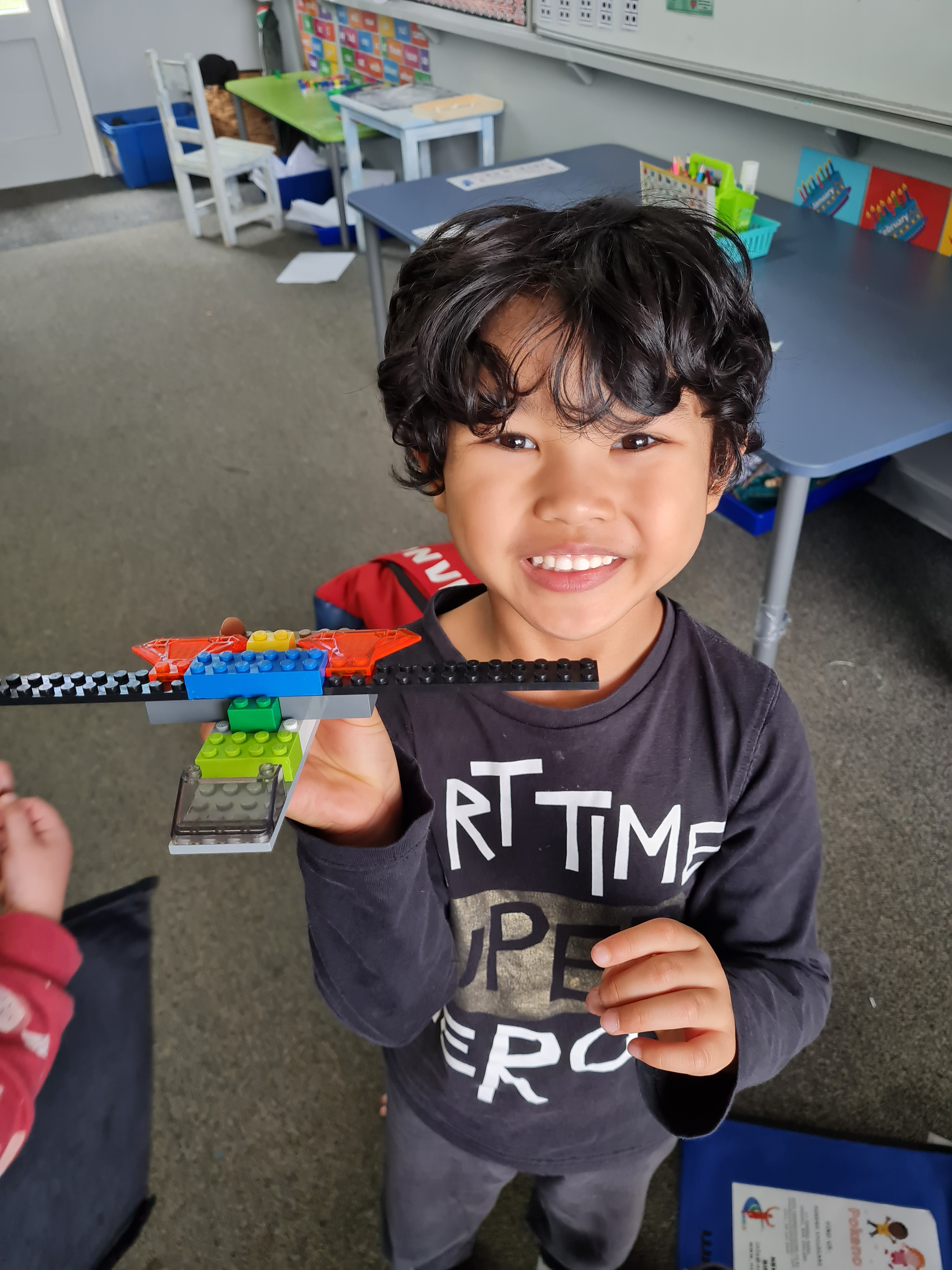 More wonderful creations by Xavier, Ryle, Neil and Bronson. Mobilo is a new addition to our classroom and it's very popular!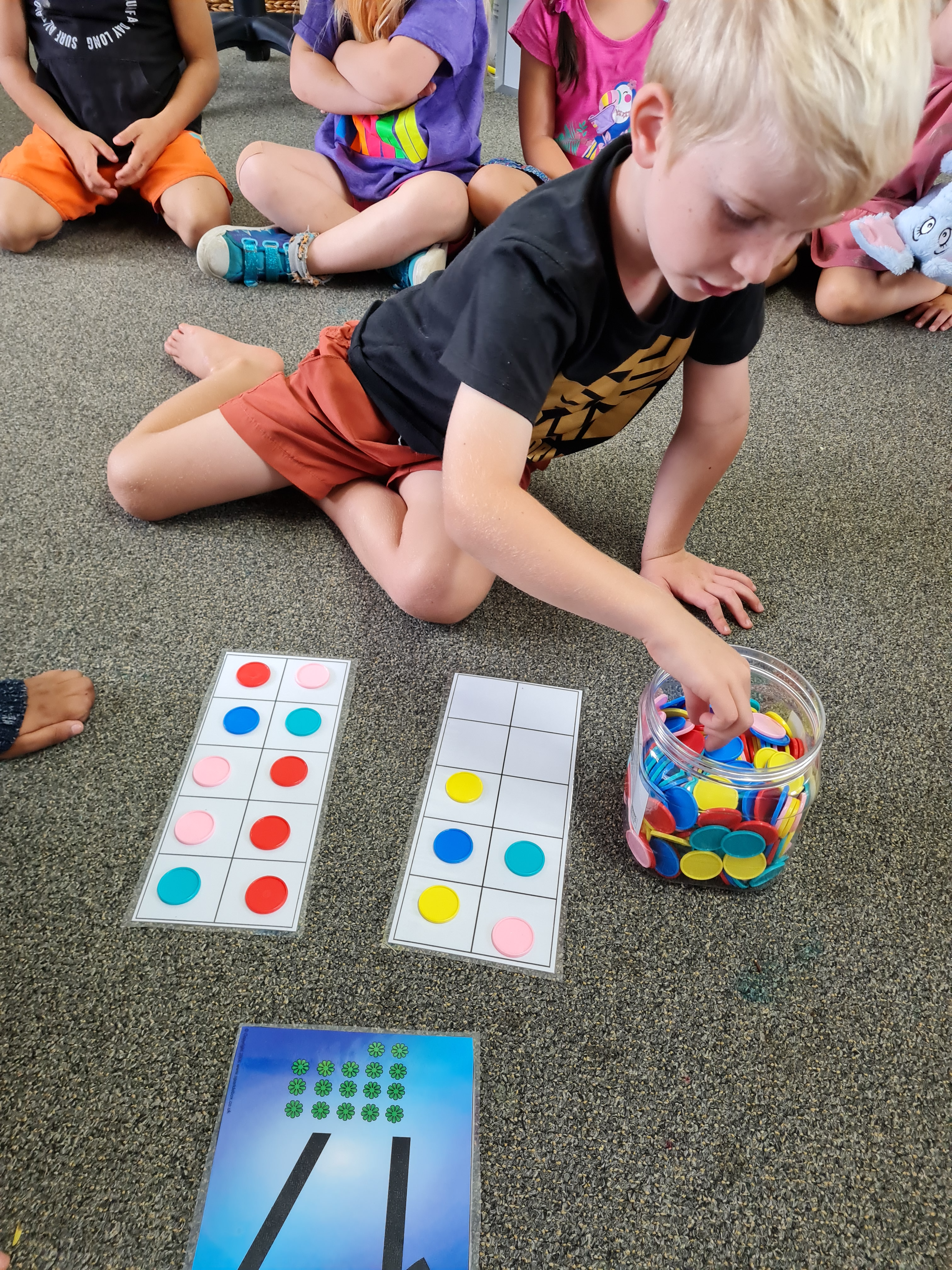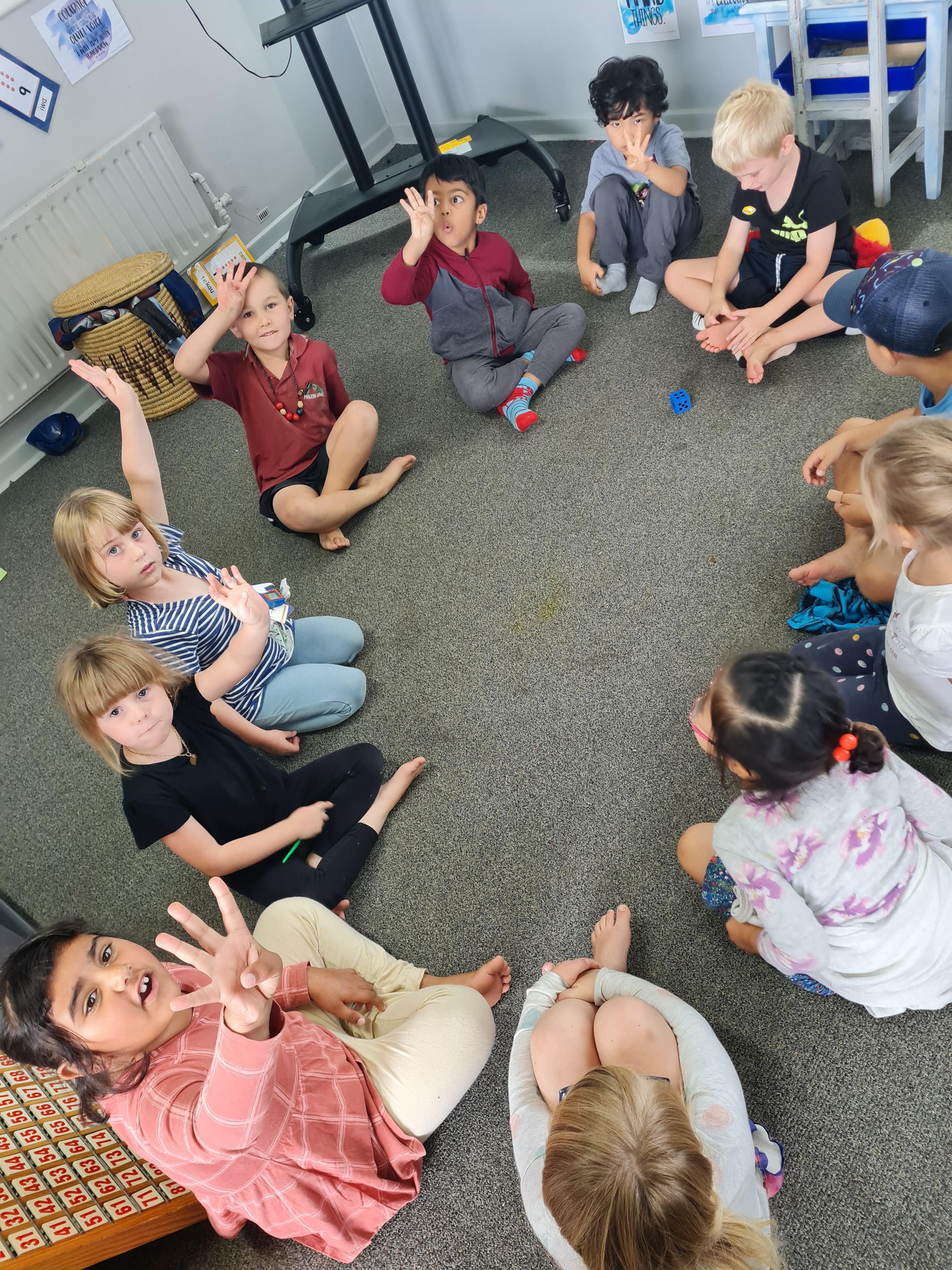 Hands on maths activities to support number sense and the ability to identify number patterns quickly.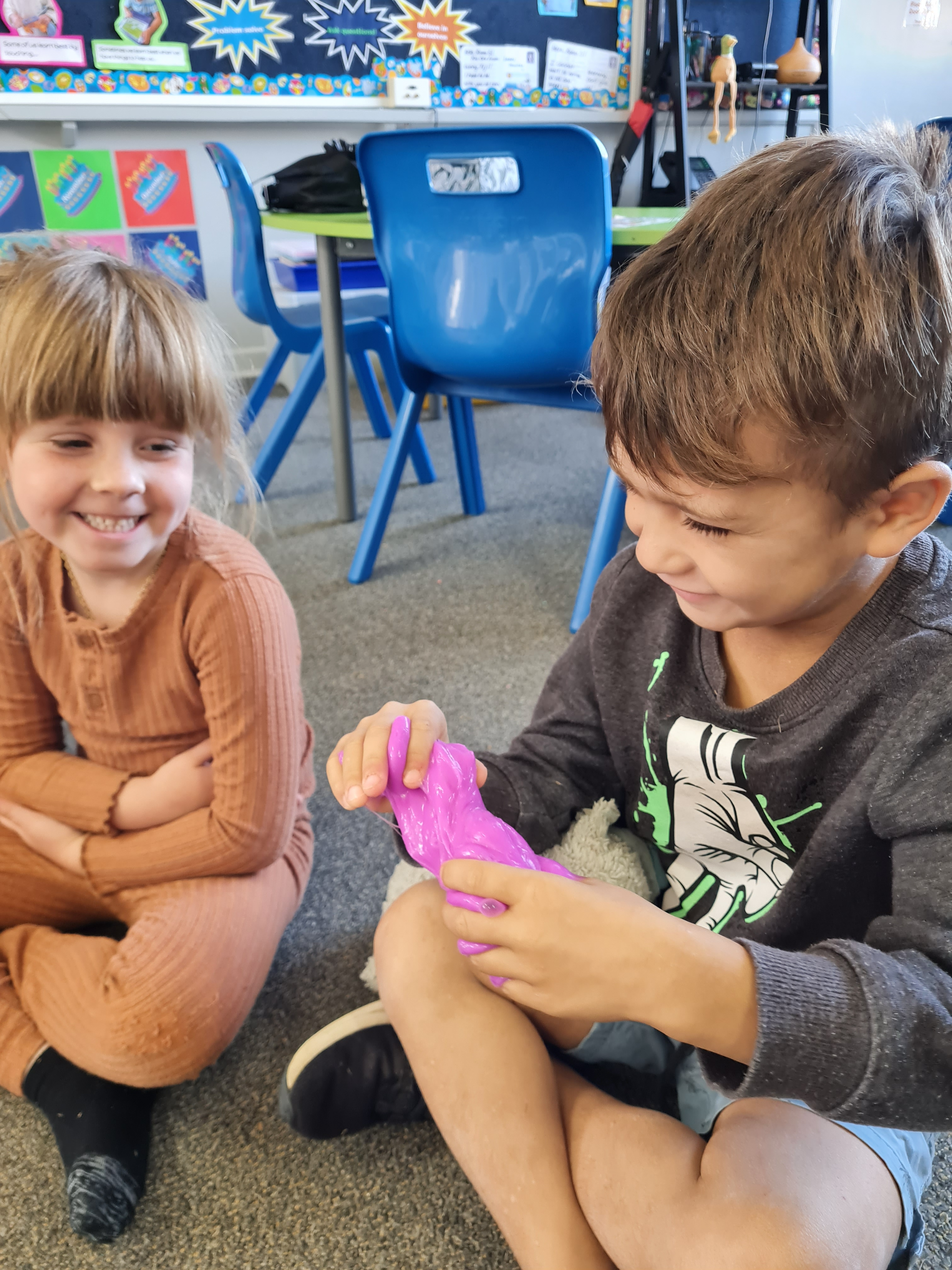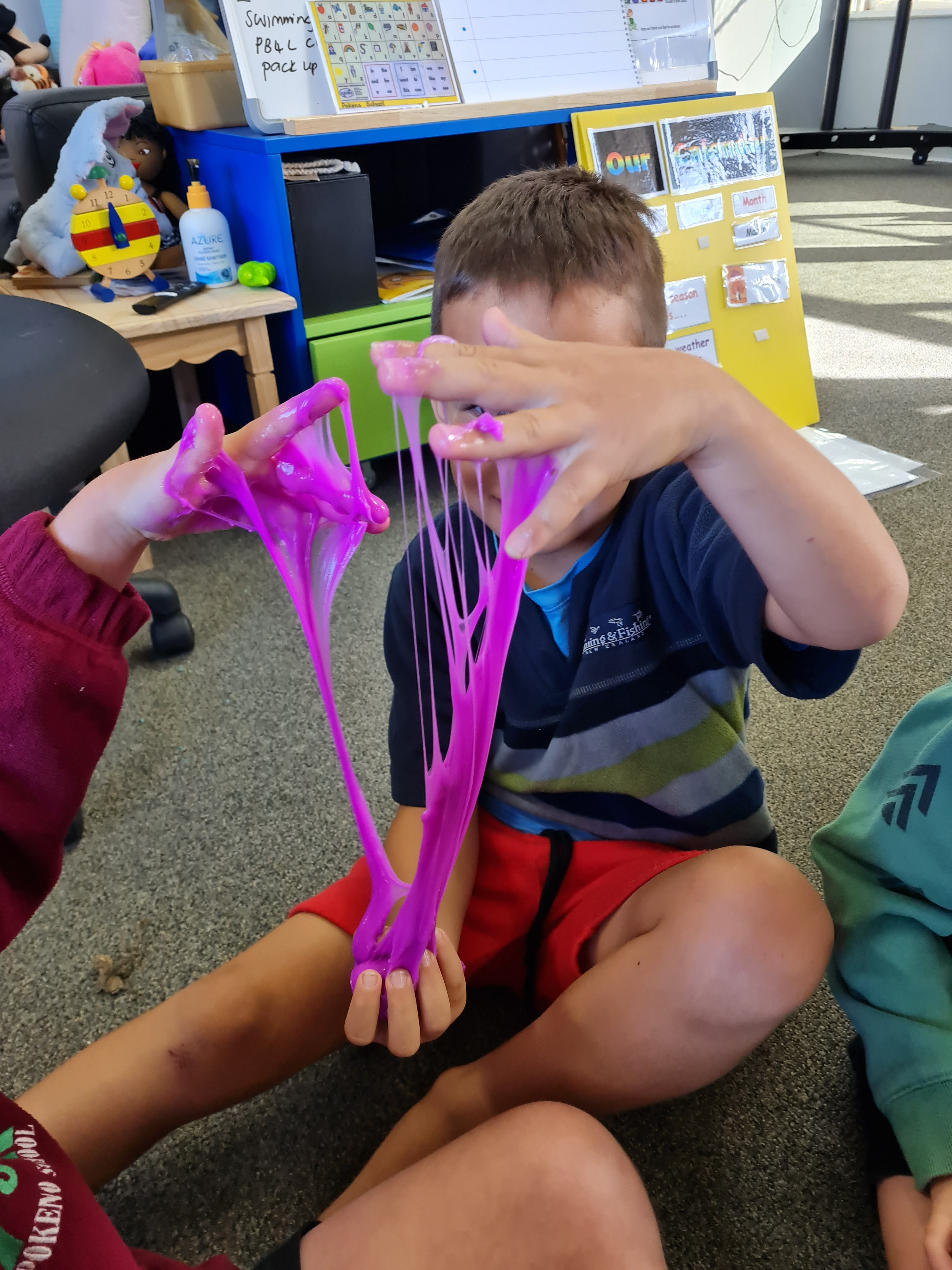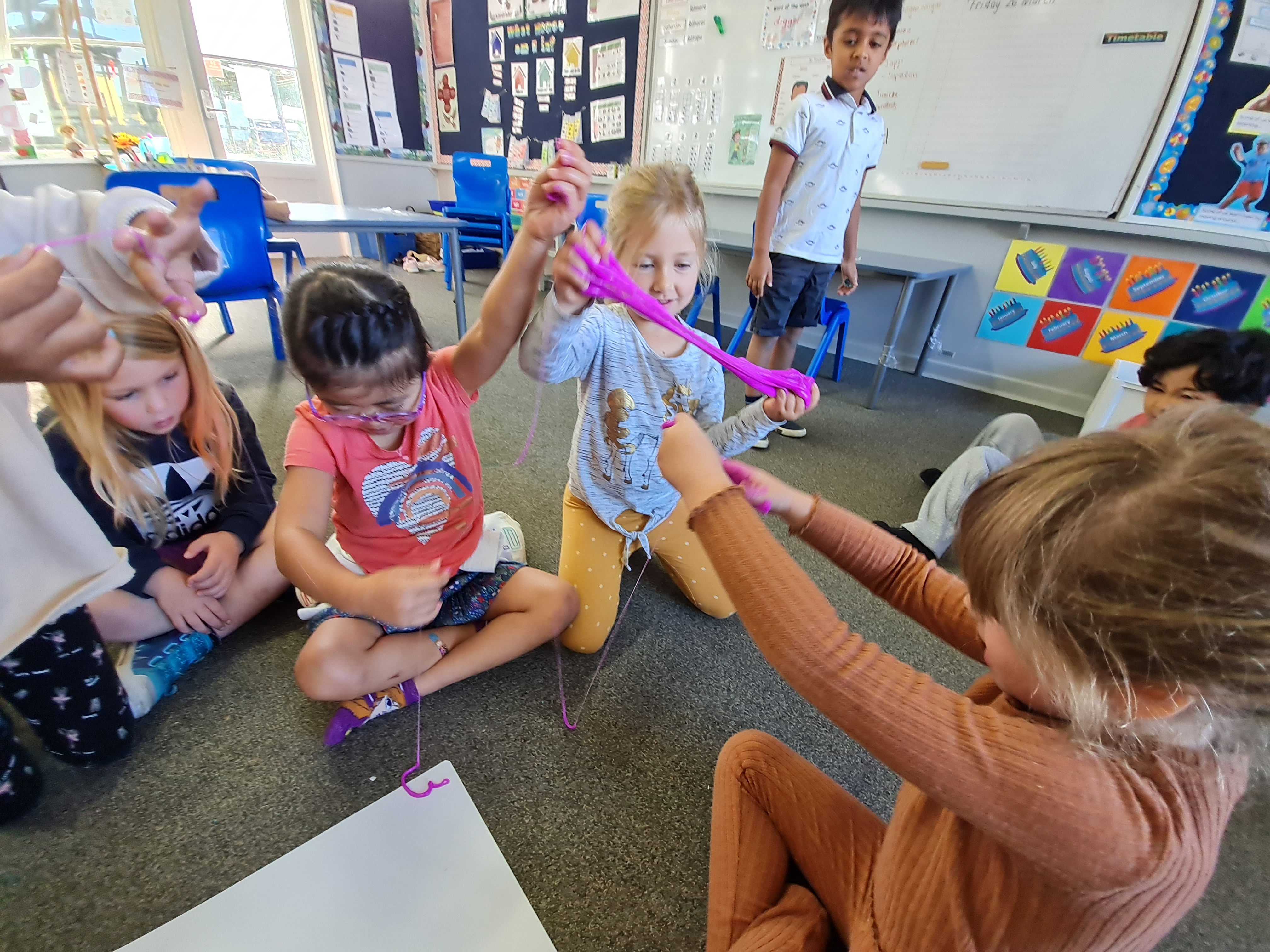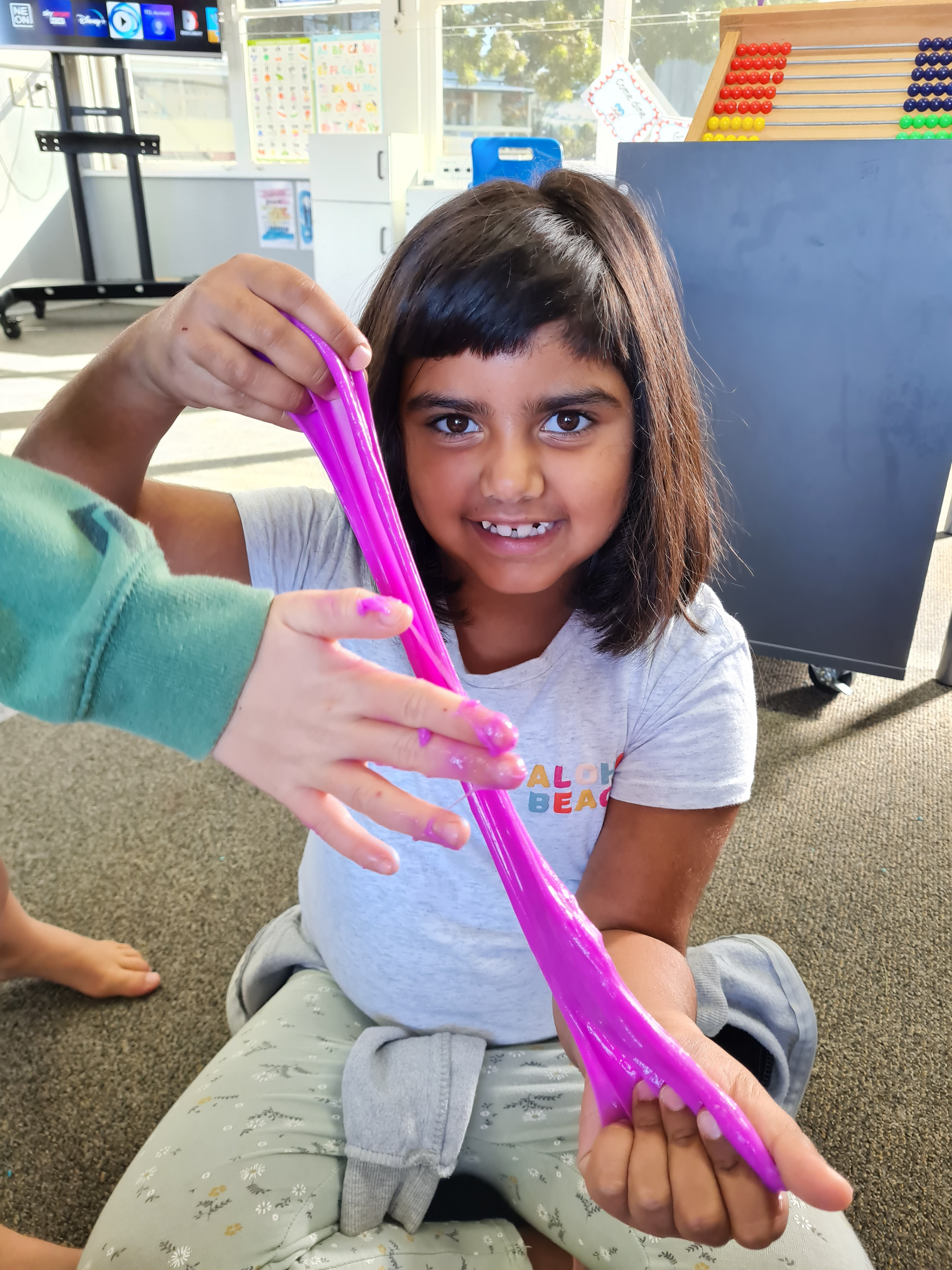 Language experiences help to generate oral language before we write. Here the children play with slime and describe how it looks, feels, smells and sounds.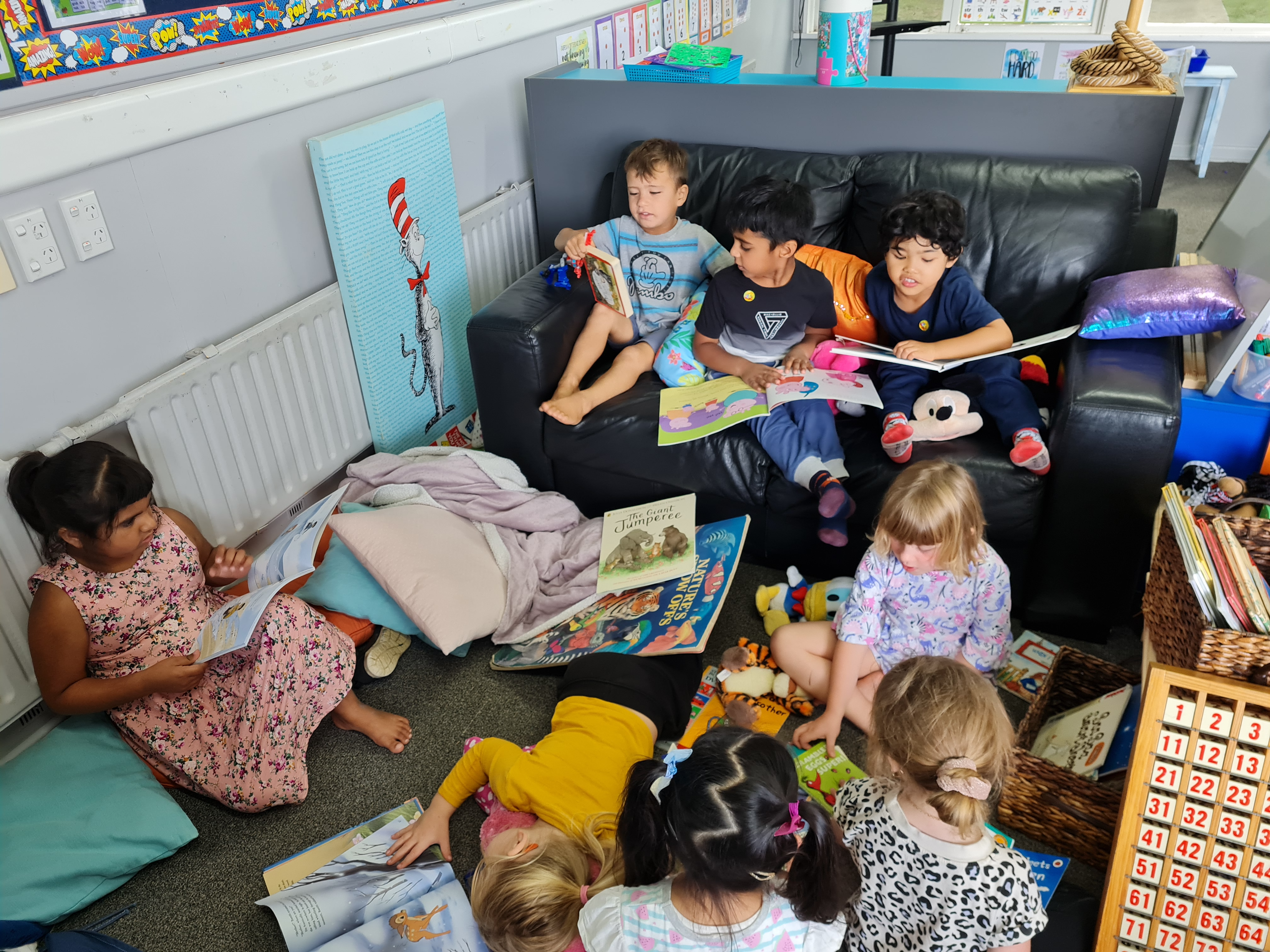 Silent reading helps to promote a love of reading, especially when we talk about where we have been "around the world" while engaged in our books!
Our learning to learn display.
All ready for our Easter Egg Hunt :) Have a happy and safe Easter Room 5 Whaanau!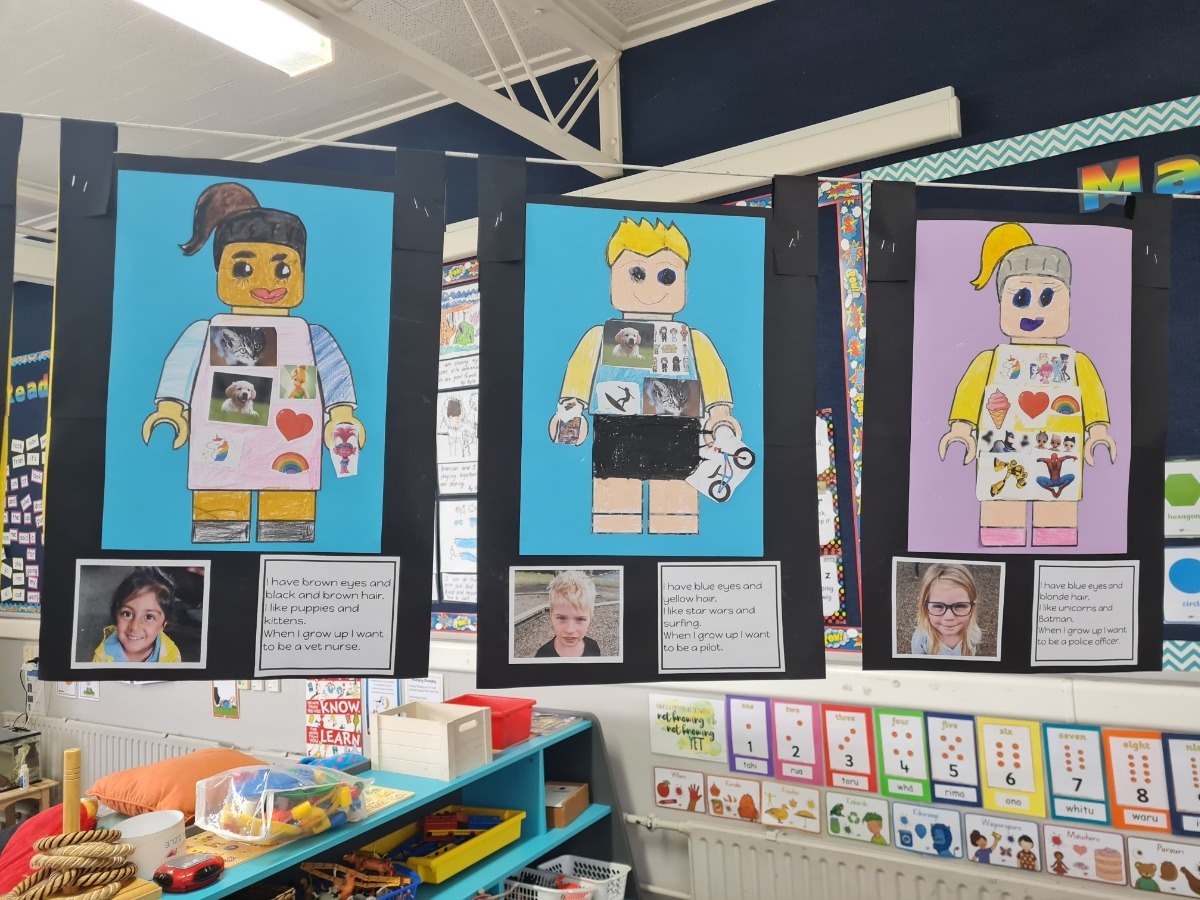 Our self-portrait Lego art. We learned about lines and proportions to create our faces using different mediums. We celebrated our diversity!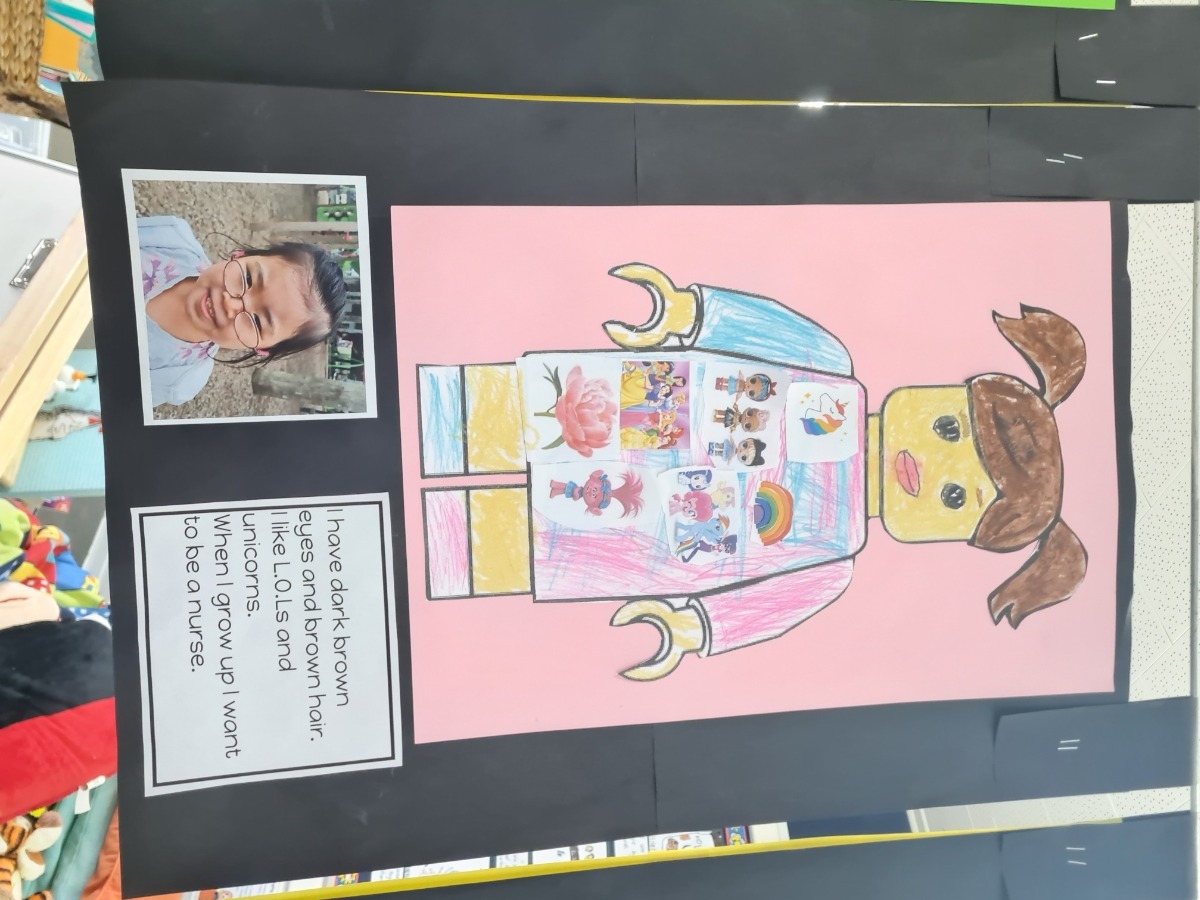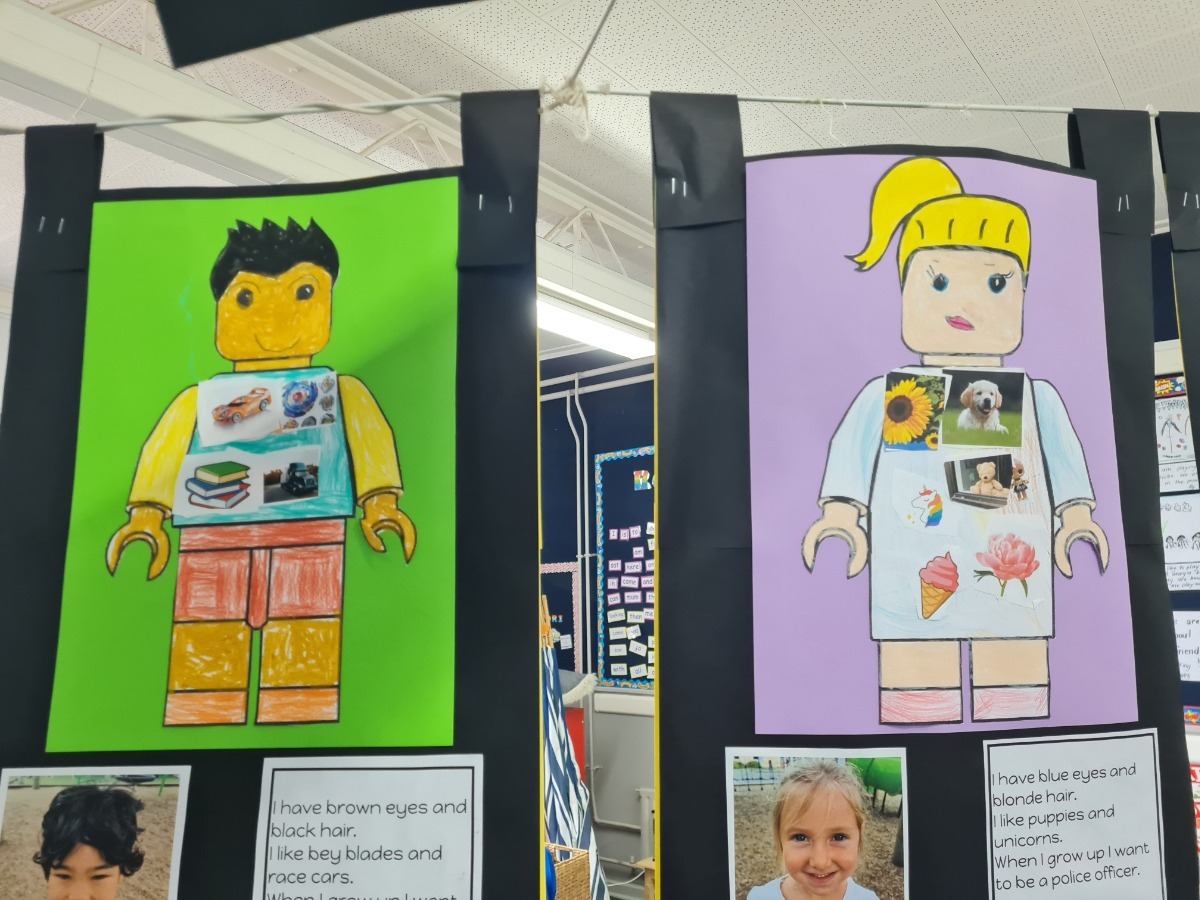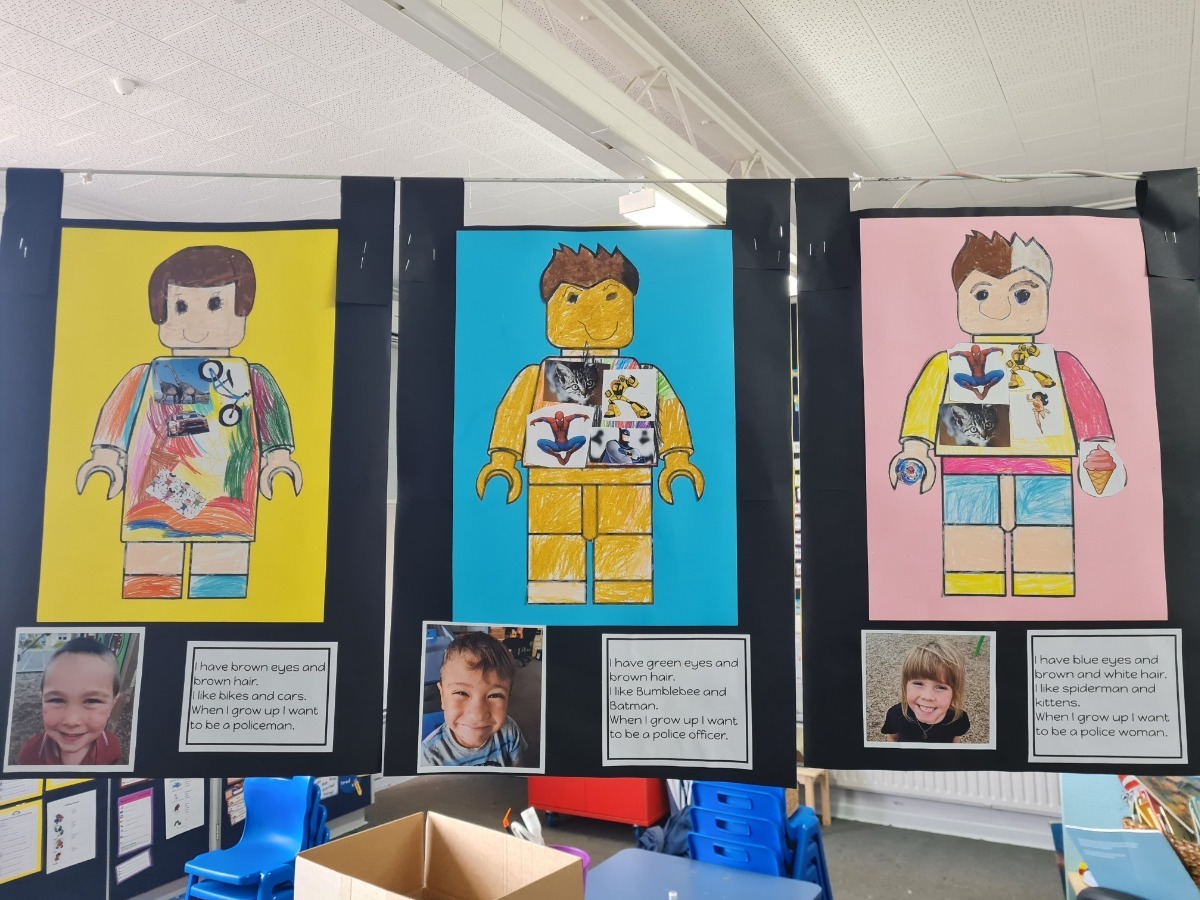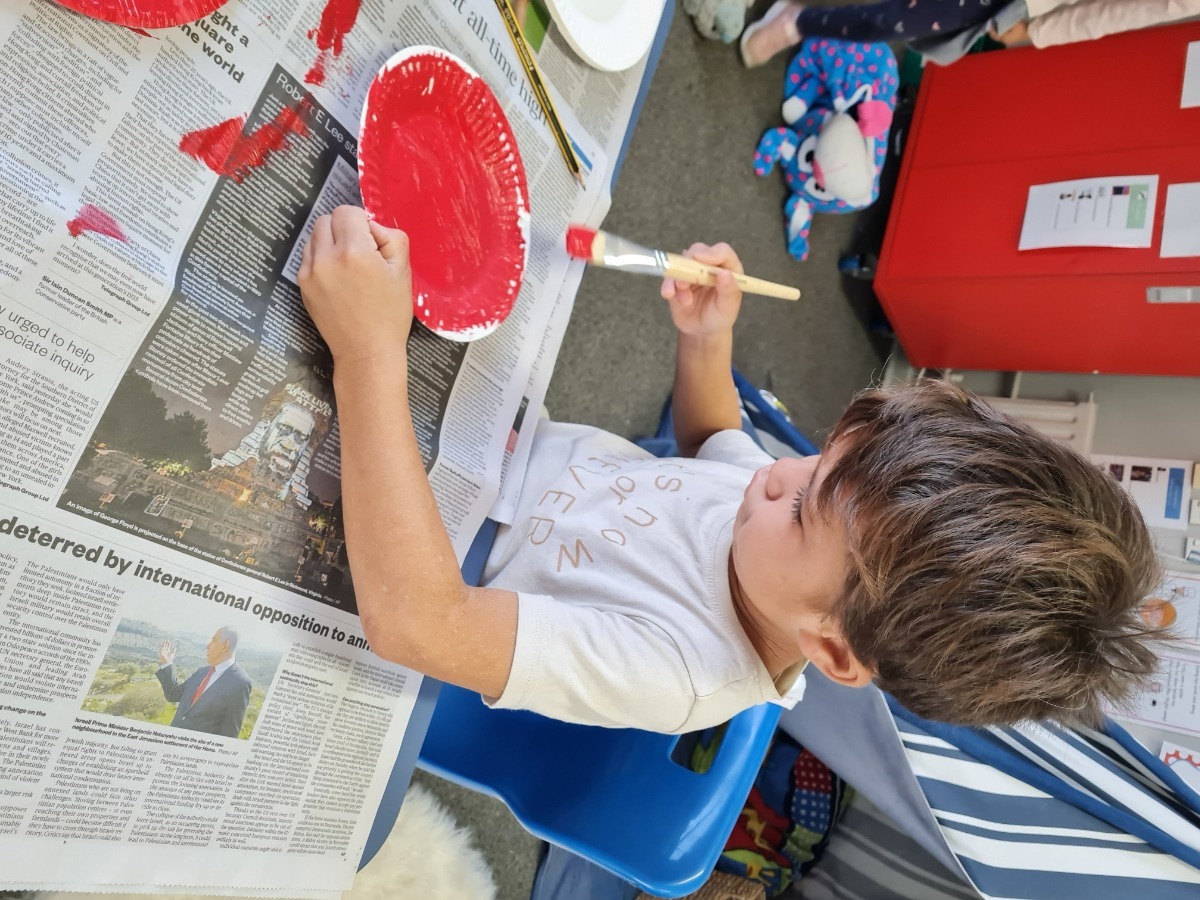 We read a beautiful story called ANZAC Ted by Belinda Landsberry and talked about those before us who have kept us safe. Then we did some poppy art.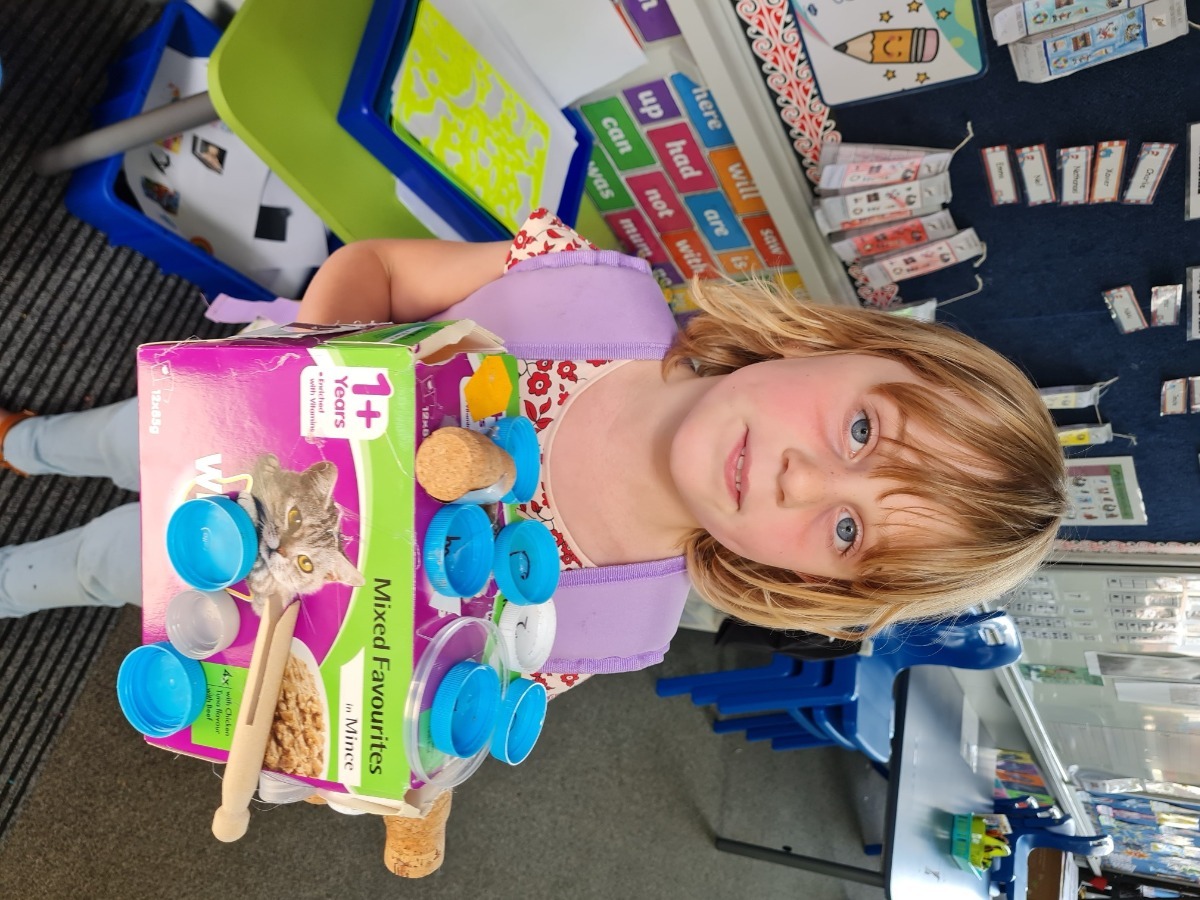 Loose parts play continues to be a highly popular choice in our classroom. Check out Emma-Joy's candy train!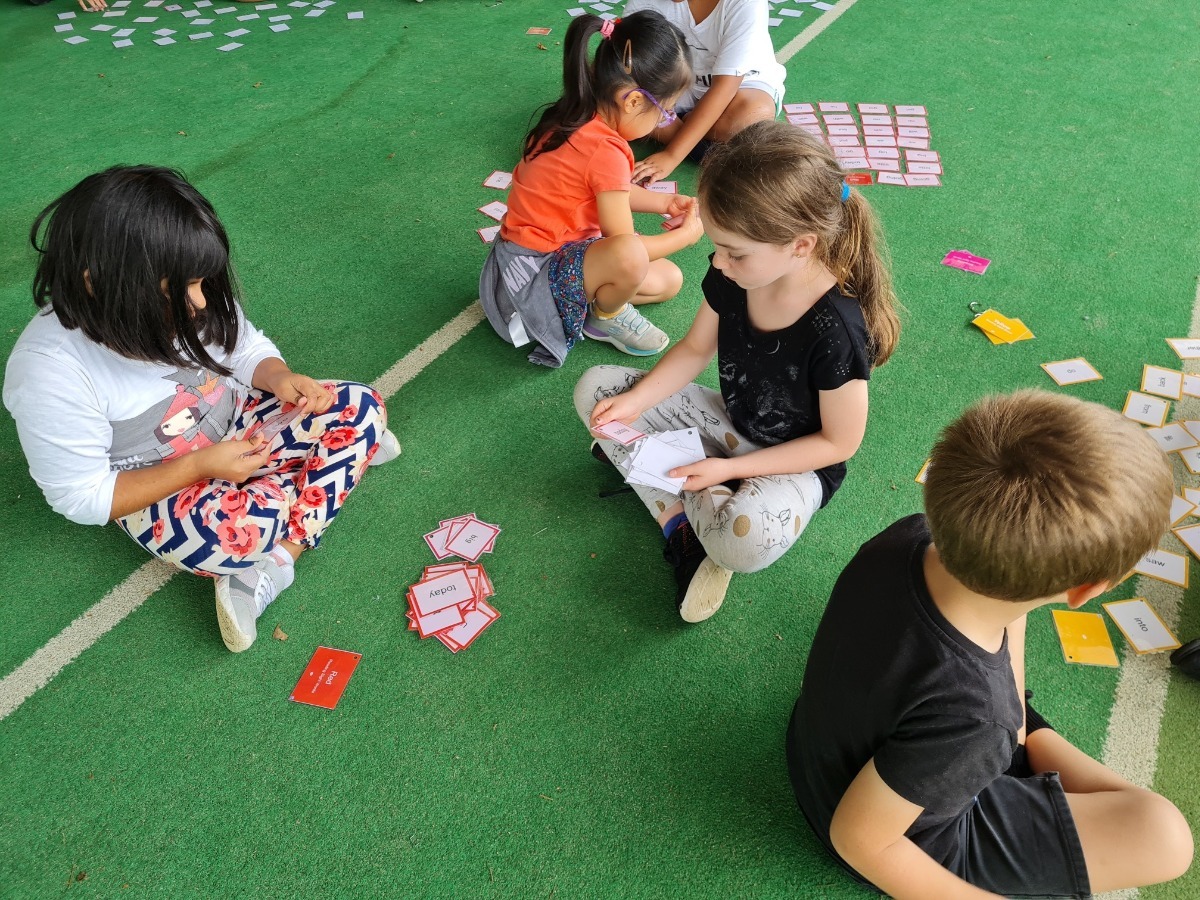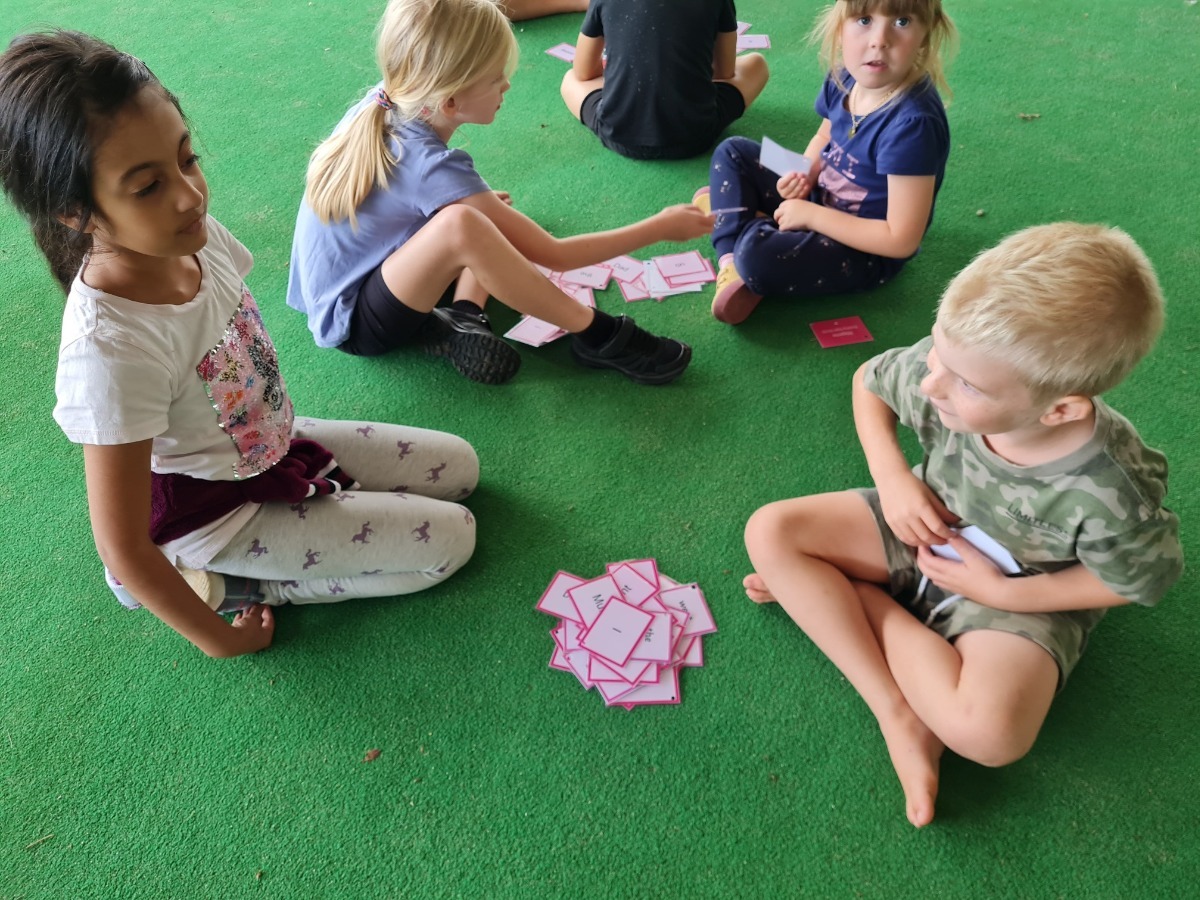 Here the Tamariki are with their buddy's during buddy reading, where they practiced their sight words with fun games. This is a highly valuable time for Room 5!
Week 1
This week the tamariki have been settling back into routines. We started our 'must do may do' system during reading time. The tamariki must do 2 activities and then they choose from 5 different literacy based activities to work on at their own pace, increasing autonomy over their own learning. Here are some of your superstars completing their chosen tasks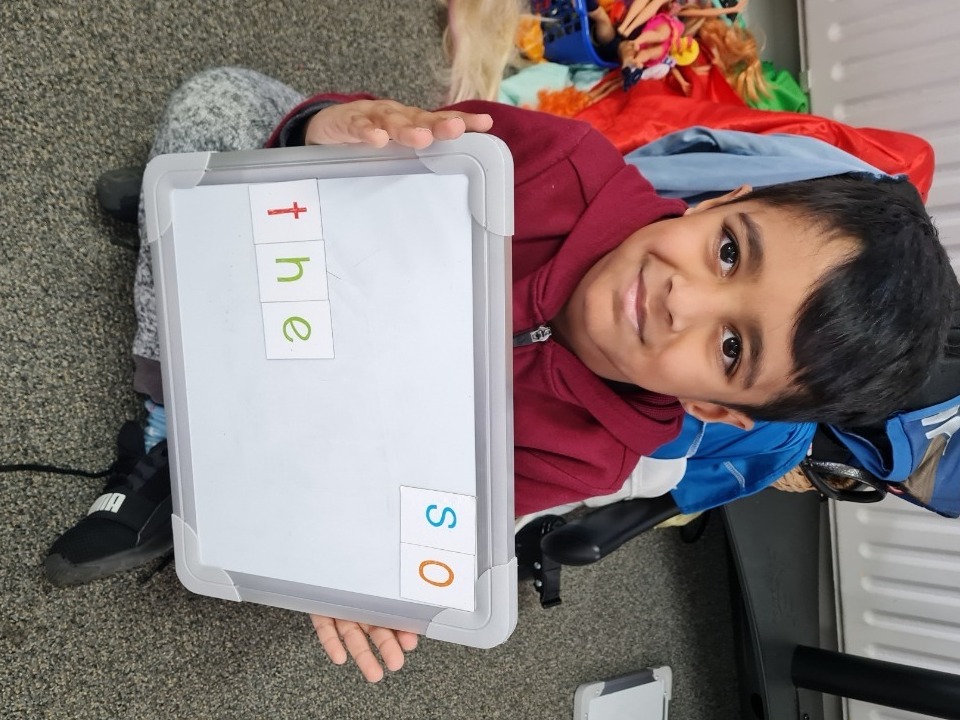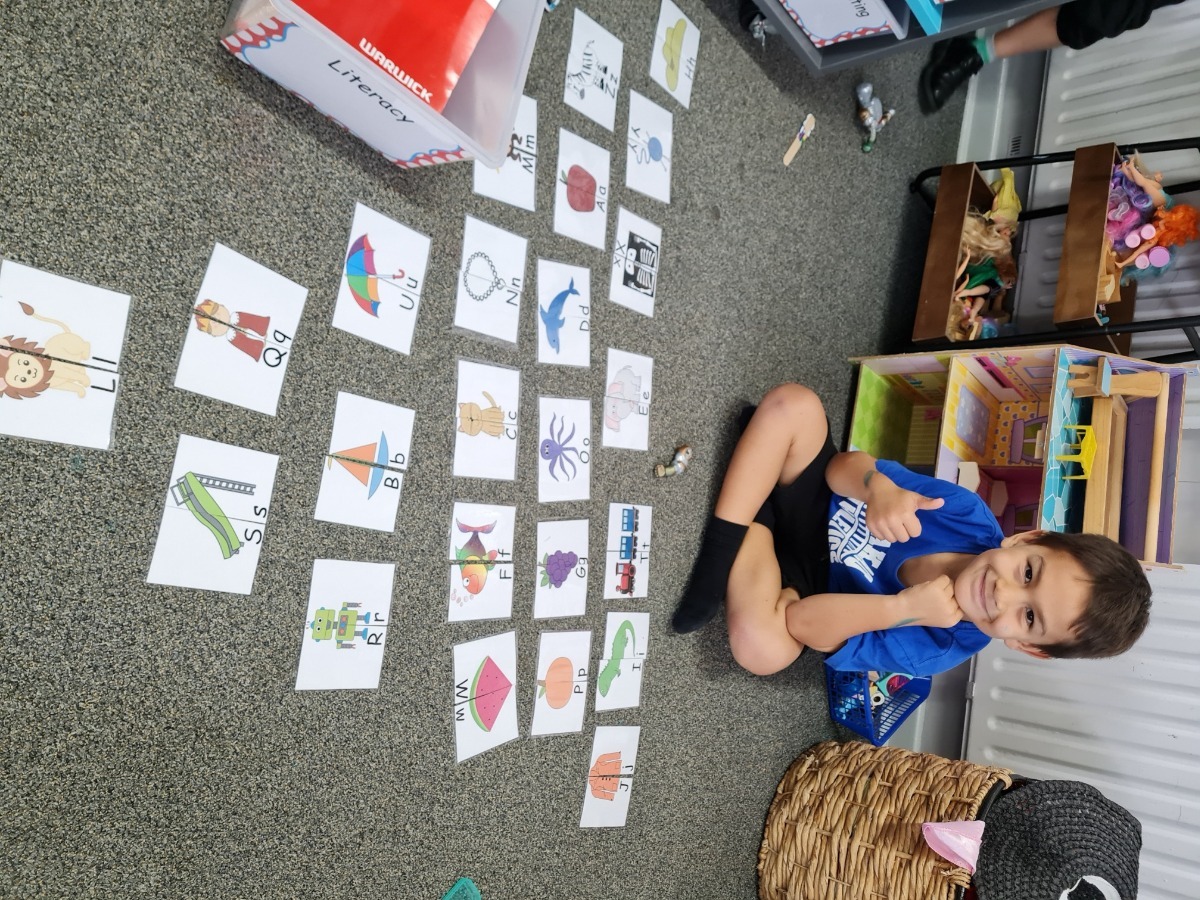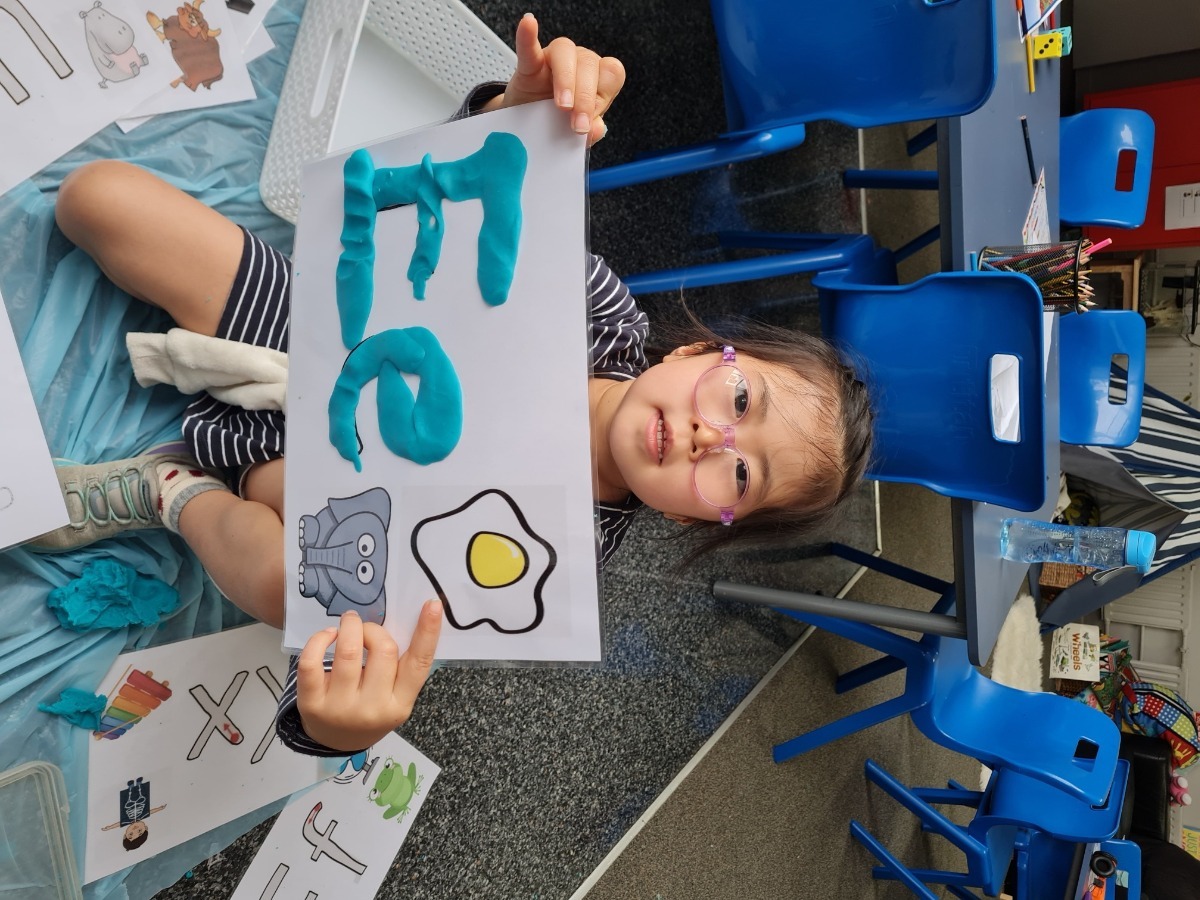 Manaakitanga is one of Pokeno School's values. Here is Charlie displaying kindness to Olivia ensuring she is taken care of on the playground equipment with her broken arm. We absolutely love seeing acts of kindness like this!
Week 4 Oreo and Fluffy visit - our writing language experience
Oreo and Fluffy - two loving and sociable pet rats visited the Ruru Whaanau to support our tamariki with a language experience. Language experiences encourage our tamariki to explore, think and feel. Such experiences enrich tamariki speaking and listening and lead on naturally to their reading and writing. What a wonderful time the children had. Did anyone come home asking for a new pet rat? :)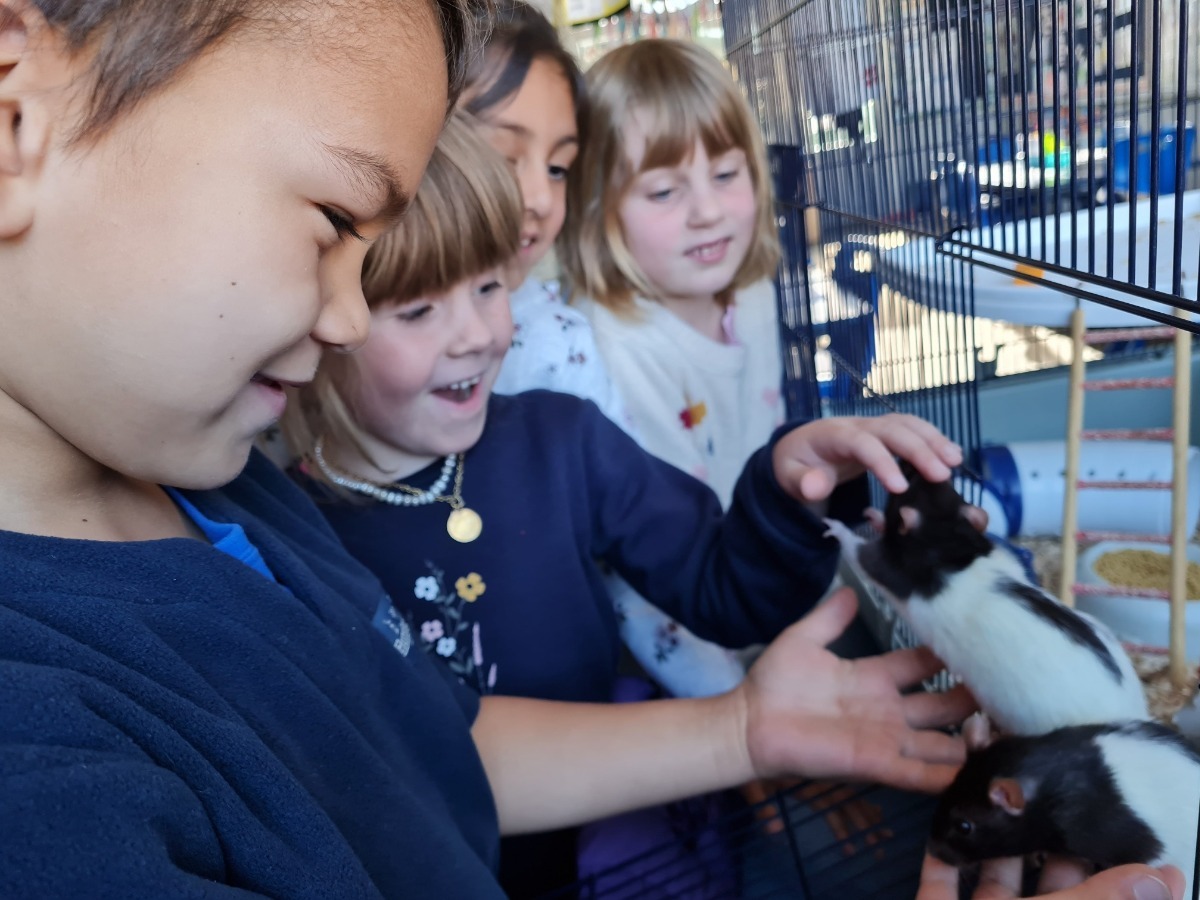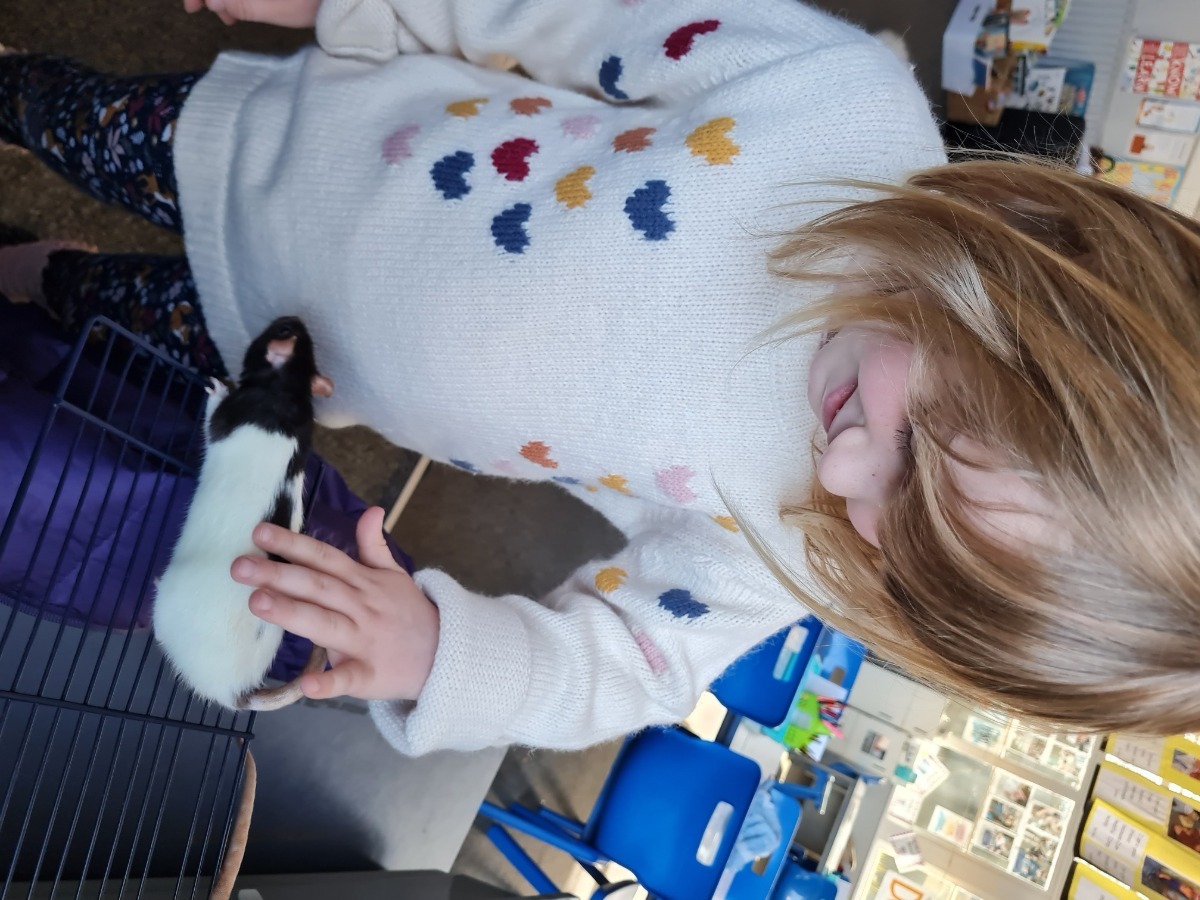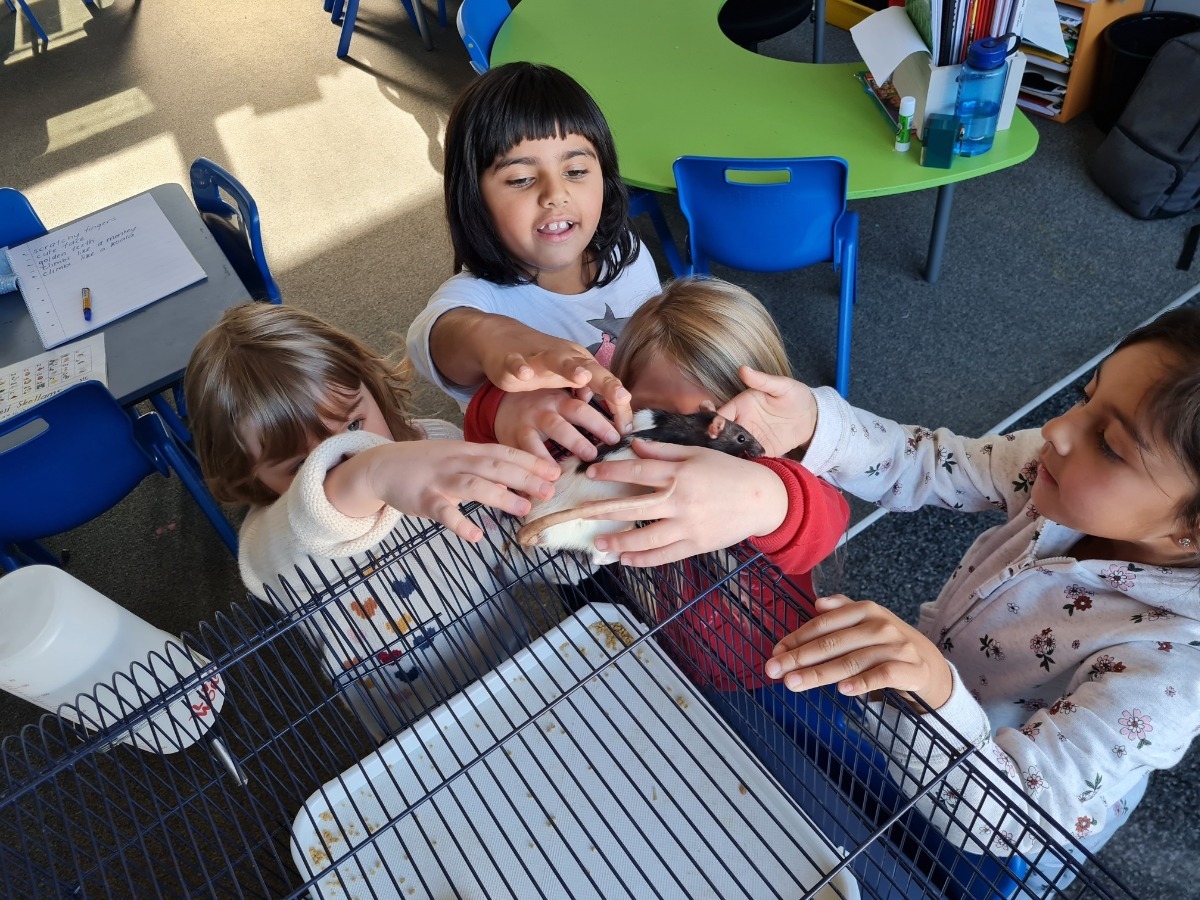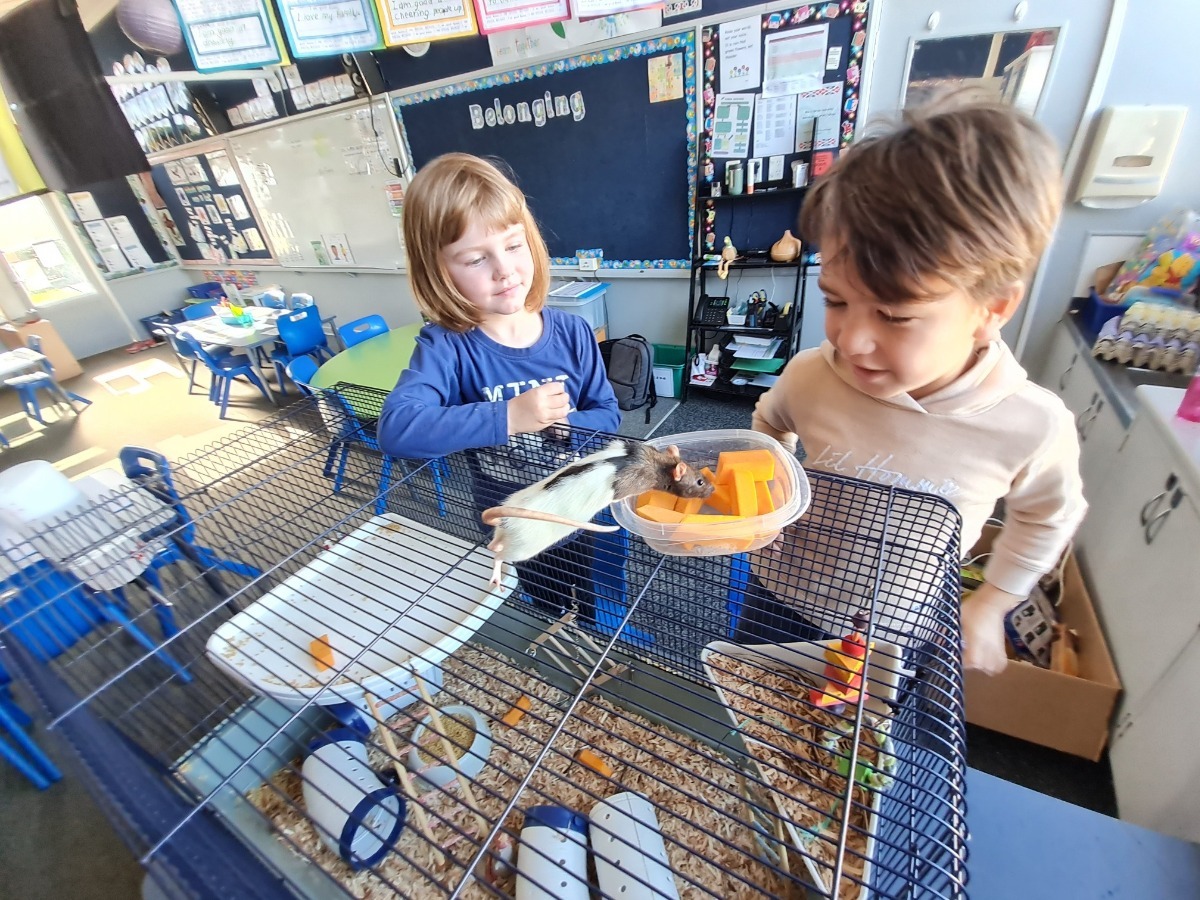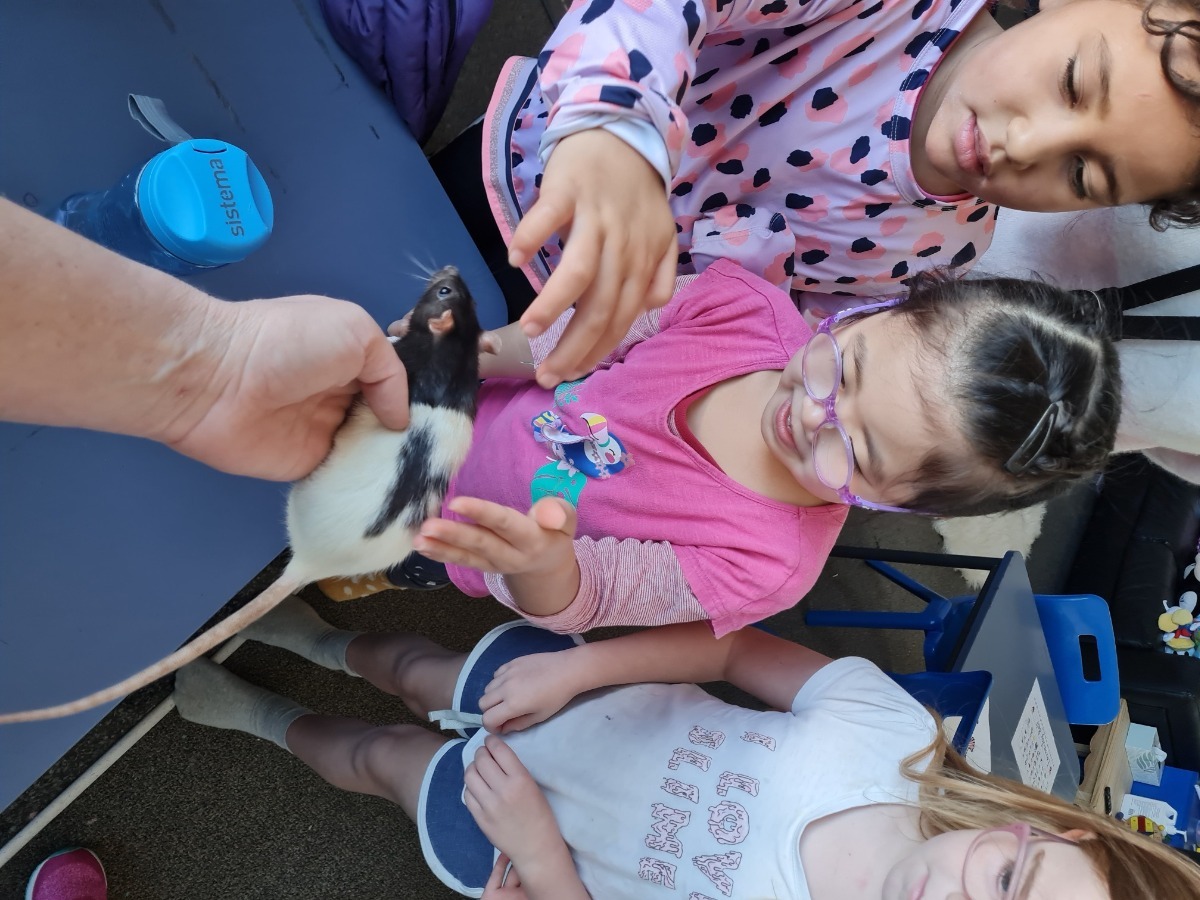 Week 5 Life Education Trust
Room 5 learnt about 'warm fuzzies' and 'cold fuzzies' this week and how to be a good friend through the adventures of Harold and Bunny. Thanks for the visit Life Education Trust!