Room 2 is a Year 1 class and we are SUPER learners! Check out what we have been up to!
Term 4 - celebrations of the world
TERM 4 - LEARNING ABOUT CULTURES OF THE WORLD
This term, we are learning about Cultures around the world and how people celebrate their cultures. We are learning about this during our reading and writing time in class and on Fridays we are doing special dance, drama and music lessons as well.
HAPPY DIWALI!!!
In Week 4, we learnt about and celebrated the Indian celebration, Diwali. We learnt that Diwali is often celebrated for 5 days. Diwali is the celebration of light.
Rangoli Patterns
During Diwali, people make rangoli patterns out of special powders. These patterns are to welcome people and have special significance. We were very lucky to have Shiya, Vansh's sister, come to our class to help us make our own rangoli patterns.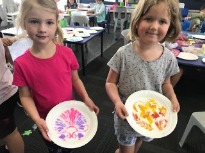 Chinese New Year Celebrations - Week 3
This week, we have been learning about the Chinese New Year Celebrations. We have made dragons with Mrs Hughes on Monday and we wrote stories and published them with Mrs Houghton too. Here are some of our great stories and dragons below.
Chinese New Year
On Chinese New Year, people light up lanterns. The lanterns are different colours. Some are orange and some are red. On Chinese New Year, Chinese people have special food to eat. They have dumplings. On Chinese New Year, there is a parade. There are dragon dances. They use big sticks to hold the dragons up.
BY ROSE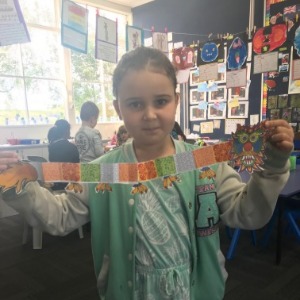 Chinese New Year
I read a book about Chinese New Year. There were colourful dragons in a very loooong line. There were people holding the dragons up.
BY ARGISON
CHINESE NEW YEAR
I like Chinese New Year because you get to stay up until midnight and you get to say "Gong Xi Fa Cai" ("Happy New Year"). That is why I like Chinese New Year and you get to eat dumplings. There are dragons in the Chinese Parade.
BY PAISLEY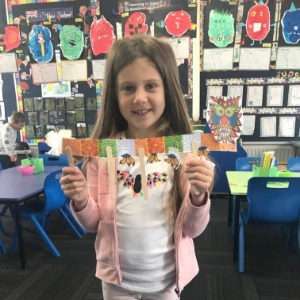 CHINESE NEW YEAR
We read a book about Chinese New Year. My favourite part is the dragon. I liked the red and gold patterns. It's amazing how the people are under it. I also like the dumplings. They look delicious. I love how my family comes to my house to eat the delicious looking food.
BY AIMEE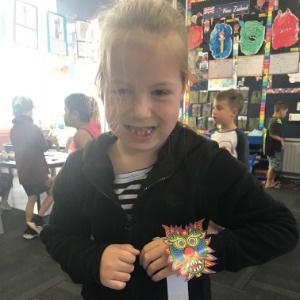 Monday, Week 5, Term 3, 2018
Some of the best learning happens when the children are in charge. "Play is the work of children" was once famously said by the great Educationist Maria Montessori. And it is true! In Room 2, we balance our learning with Mrs Houghton with self directed 'play based learning'. Today, we did lots of learning through play. Check it out below.
Lucas' Construction
Today, Lucas made this excellent three storied tower block....or so I thought. "I love your tower Lucas" I said to him. "It's not a tower," he replied, "it's 100 beds!" I love the imagination of 5 year olds. Every day I get amazed at what they can come up with.

LEGO building
The children ALL wanted to build with the LEGO tape Miss Bruce got us. Drake and Tyler were some of the first to try it out. They had lots of fun building!
AMAZING ADDIE'S NUMBERS!
Today for Maths, Addie chose to go outside to write some numbers. When I came outside to see what she had done, I could barely see her.......her number line was soooo long she was just a teeny dot in the distance! I love the amazing attitude to learning she has! Go Addie!!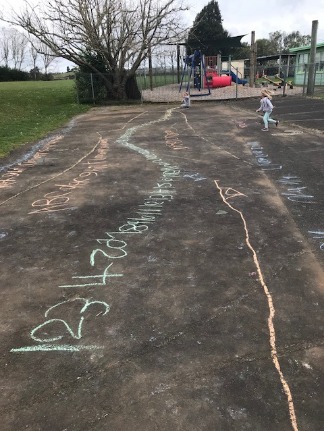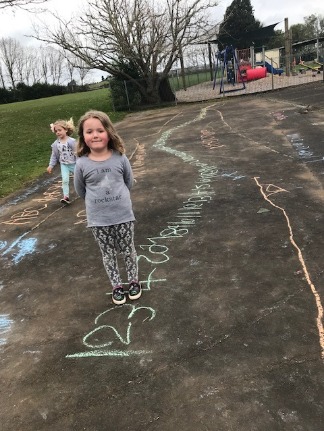 Robot creation at the Art Table
Today, I put lots of odds and ends out on the Art table along with glue and cellotape. I was curious to see what the children would come up with. This afternoon, it became a robot creation centre. All the boys at the table, decided to make a robot and I was impressed with how original they all were! Tomorrow, we are going to write some adventures about the Robots....watch this space!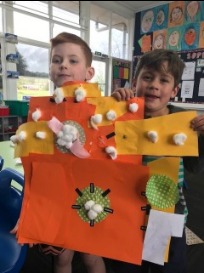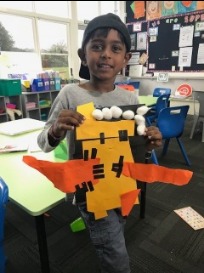 Friday, Week 4, Term 3, 2018
For the last 7 weeks, Room 2 has been very lucky to have Miss Georgia Bruce as our 3rd Year Student teacher. She is in the final year of her degree and so got to teach us for 3 weeks all on her own and also taught lots of other lessons and helped us out with our writing and reading. Mrs Houghton isn't sure how she is going to cope being on her own again! Luckily for her, Room 2 students are fabulous and she knows they will all try their hardest to make her not miss Miss Bruce too much.
Here is a photo of Miss Bruce with our class on her last day. We will miss you so much Miss Bruce but know you will be back to visit us again!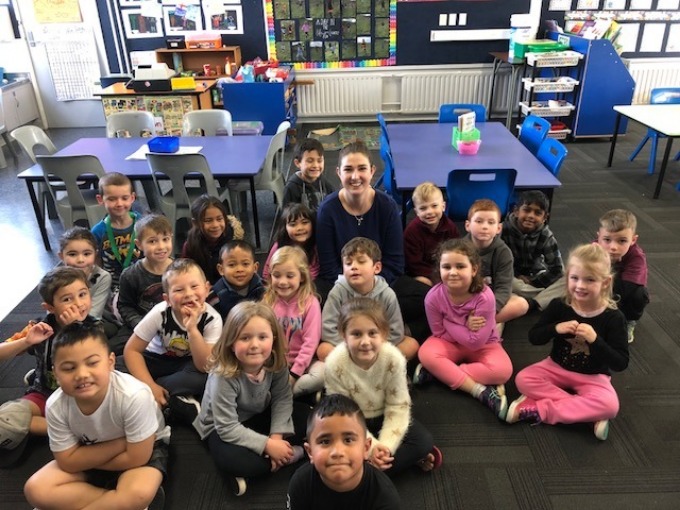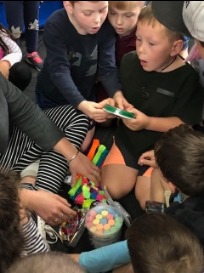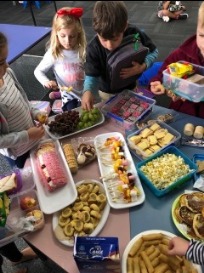 CROSS COUNTRY - TERM 3
We trained really hard for cross country. Here are some great pictures of Room 2 students being SUPER runners!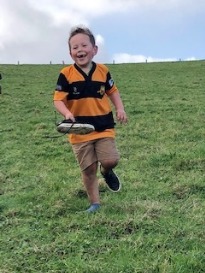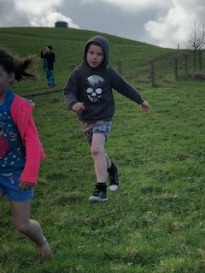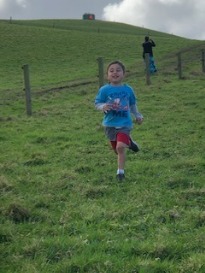 Tuesday 07/08/18
Today was Lincoln's birthday so he got to choose the colour we used to make our playdough - and he chose blue! He had fun stirring it too.
Making play dough was a fun before school activity for the children. They loved helping me measure the ingredients and then mix it in our container. It was a popular activity during Action Stations today too!
WONDERFUL WRITERS - Monday, Week 3, Term 3
One of the greatest things about teaching Year 1 (besides the fact I LOVE my amazing class), is seeing them make progress so quickly. Today these 4 fantastic writers blew me away with the progress they have been making. Writing by themselves, writing so many sounds they can hear and writing lots of ideas in their stories - you are definitely SUPER Writers Jack, Brooklyn, Paisley and Tyler!!
:)
Mrs Houghton
Week 2, Term 3
Last week we learnt about how the Cathedral in Christchurch fell over in the earthquake. We were very interested in earthquakes and what they did. So today we made our own earthquake. We built some towers out of blocks. We made the earth shake by banging on the floor....then the building shook and shook and then it.....broke!! We wrote about our earthquake in Room 2.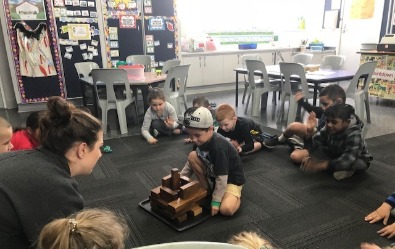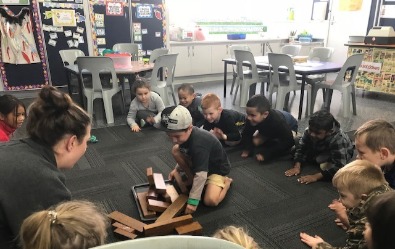 Vansh's writing
I saw an earthquake. The blocks broke. There was an earthquake in Christchurch. The houses broke.
Addie's writing
Today we made an earthquake. My dad was at the earthquake in Christchurch.
Indi's Writing
At Christchurch the earthquake knocked over the buildings.
Rameses' writing
The building exploded. The earthquake broke.
Lockie's writing
When I was 4, I went to Christchurch. Today we made a Christchurch earthquake.
Brooklyn's writing
Today we made an earthquake. We made it because the church in Christchurch broke.
What to do in an earthquake.....
Wednesday, 1st August, 2018 (Week 2, Term 3)
Today, we watched a video to learn more about how the tectonic plates move during an earthquake. Then we did some writing about it.
Here is Rose's explanation of what to do in an earthquake:

In an earthquake, the tectonic plates move. When the tectonic plates move, it makes an earthquake that shakes the earth. Some people get scared. Some people do not get scared. If you have an earthquake, you can get under a table and hold the table leg. If the table moves, you can move with it. If you are out of your home or your classroom, find an open space on the ground, curl up in a ball and cover your head with your hands and you will be safe. When the earth has stopped shaking, you can get back up again and play again. By Rose



Week 1, Term 3:
Learning about New Zealand
This term we are learning about our country New Zealand. We started in the first week by looking at the map of New Zealand. Some of us thought the map was the map of the "world"! We really loved finding out where in New Zealand we all live. Then we got to look at some famous landmarks around New Zealand and place them on the map. We were really sad to hear about the big earthquake in Christchurch and wanted to learn more about it. Miss Bruce said she would organise some activities for Week 2.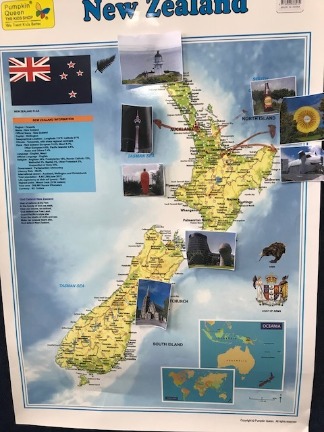 terrific train tracks - Week 1, Term 3
During Maths time, the students have loved making elaborate constructions that have become more and more complex. On Monday, they made a very impressive train track that had a bridge that went from one table to another. I am looking forward to seeing some more amazing train tracks created!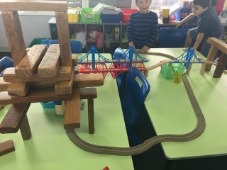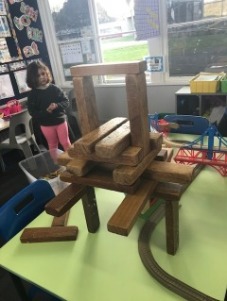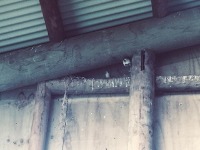 wonderful writing in room 2
Week 1, Term 3, 2018
On Tuesday morning, our student teacher, Miss Bruce, took us out for a walk around our school so we could look for interesting things to write about. We saw the playground, and had fun walking on the lines under the roof. Then we heard the birds chirping in the roof. We went and looked at them. We saw a Mum and Dad bird with their babies and could see their nest too. The parents flew away but the 2 baby birds stayed and watched us. One of the babies was very playful and kept going behind the pole and then out again - like he was playing a game with us! After our adventure outside we went and wrote some awesome stories. Here are some below:

Drake's Writing
I loved the baby bird and it was playing hide and seek. It's chirping was quiet.
Paisley's Writing
I went to see a bird in it's nest and I heard it chirping.
Faye's Writing
I saw a playground and I saw a bird and I saw a yellow slide.
Lucas' Writing
I saw some birds under the roof and birds can fly fast. Birds are cool - some birds are slow and some birds are fast and some birds land on the ground. Some birds like to eat flowers and some birds are fast.
Rose's Writing
I saw baby birds playing hide and seek. One said, "chirp."Then the other said "churp."One said, "I love you." The other said, "I love you too." I love birds.
This year, we have been counting our days at school. We have counted them in Te Reo and English and added sticks to our place value cups. We have also got really good at counting in 10s and adding 10s and 1s together. To celebrate reaching 100 days of school we had a party.
Here are some photos of our great day.
Our 100 day glasses and party hats
Before our party, we made glasses that said '100'. We coloured them in then Mrs Houghton lamintated them for us. We also made party hats and got to decorate them how we wanted. We looked AMAZING in our glasses and hats!!
At the end of our party day, Mrs Houghton asked us what we loved the best. LOTS of us said we loved playing with the balloons best! We did some great activities with our balloons. We put music on and practiced hitting them in the air. Then we tried to hit our balloons in the air 100 times without them touching the ground. Then Miss Bruce timed us - we had to see how many times we could hit our balloon in the air in 100 seconds. We had so much fun!!
After morning tea, we went outside. We tried to see how many times we could jump in the air in 100 seconds too! We got pretty puffed out trying to jump for 100 seconds without stopping but we all did our best!
Here are some photos we got of us enjoying our 100 day activities.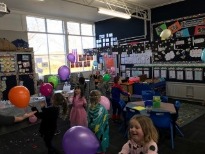 We enjoyed writing and reading poems in Term 2. We managed to do some great buddy reading of our poem books outside on a fine day. Elle, Argison and Rose were also amazingly brave and confident as they represented our class at the Junior School Poetry Recital. We were so proud of them all!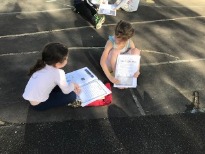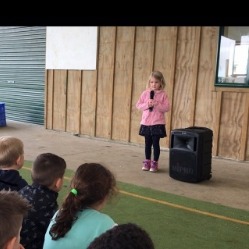 Whiteboard Learning
Everyday we practice our phonics learning on our mini whiteboards. The children love to use these during free learning time too. Look at all the words Jack wrote!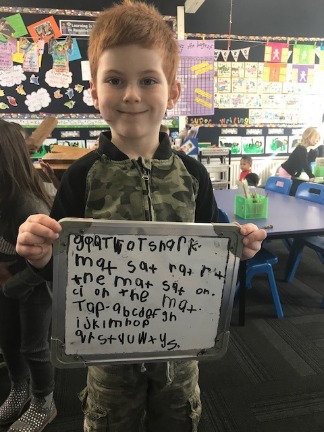 Learning through games
We had fun playing a snakes and ladders game with a twist, all the pictures were 'sh' words and we had to SAY the word when we landed on it. The children played so nicely together too.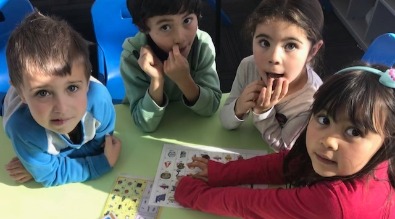 Construction Time!
This year, whenever the children get to do Maths or Free choice Action stations, building with our wooden blocks is a definite FAVOURITE! And the children love me to take photos of their elaborate creations so here are a few. They show all the problem solving, co-operation, compromising and especially creativity that the children use in their 'learning through play' time.
CELEBRATING MATARIKI
We learnt about how some families celebrate Matariki with breakfast. So this week we are making Reewena bread and a traditional loaf as part of our Matariki Celebration.

On Monday we peeled our potatoes, cooked them and added some flour and sugar Now we need to leave the mixture to grow and change.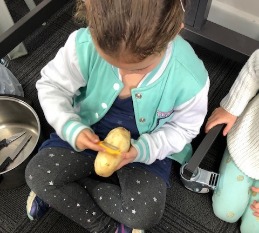 bread making - part 2
After letting our 'bug' of potato, sugar and flour grow for a few days, it was time to turn it into bread. We had to stir in lots of flour first. Then knead it, and knead it and knead it. Finally we put it in the oven and cooked it. We also made some traditional bread in the breadmaker. Both loaves were delicious!!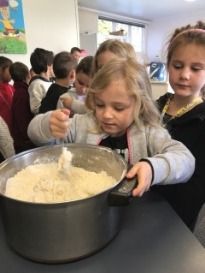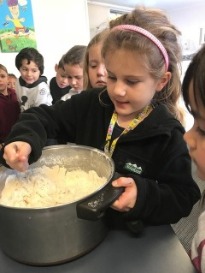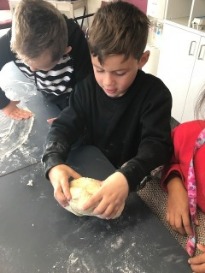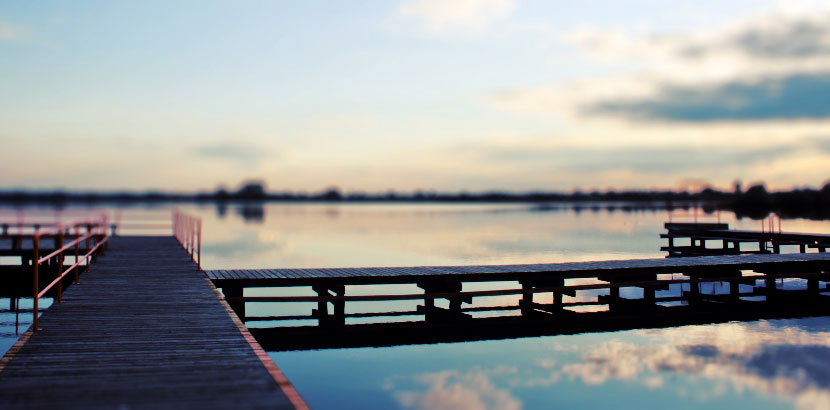 Winter
In winter
I smell marshmellows
I see leaves falling
I feel cold
I love winter
by Rose
Winter
In winter
I see dirty mud puddles
My skin feels cold
I smell puddles
I hear rain
I love Winter
by Elle
Winter
In winter
I smell fallen leaves
I see the icy slide
I feel snow
I hear rain
I like winter
by Argison
Winter
In winter
I see the leaves falling
I feel the wind
I smell dead flowers
I hear the leaves blowing
I love winter
by Brooklyn
Winter
In winter
I smell leaves
I see grey sky
I feel green muddy grass
I hear rain on the roof
Winter

by Lincoln
Winter
In winter
I smell fresh air
I see the slide
I feel my skin getting cold
I hear leaves blowing
I love winter
by Jack
MAy - Mothers' day art.
The children created some FANTASTIC mosaic inspired Hearts for their mothers. They had to rip the tissue paper and make a pattern then glue it on. They also wrote a really special card to their Mums telling them why they loved them so much. Mrs Blakie and the children also did a very cute story and piece of art in a photo frame for our Mummies too. We hope ALL the mothers who read our page had a fabulous day and felt very loved!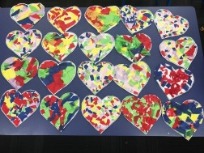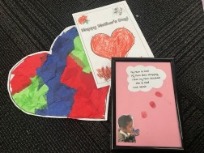 LEARNING THROUGH PLAY!
We are learning through play in Room 2 this year. Students get to choose different "Action Stations" to work at when not doing specific learning tasks with Mrs Houghton. Here is an amazing creation Lucas made - what excellent problem solving and pattern skills!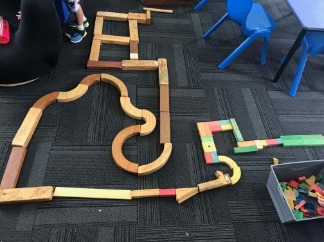 Learning the Alphabet
In Room 2, we are learning the alphabet and our sounds through singing about them. Click on the photo to hear our song and sing along!