Kia ora nau mai ki te akomanga ono
Welcome to room 6
"we are unbeLEAFable learners"
Room 6 went to Willy Wonka's Chocolate Factory!
We have been reading Charlie and the Chocolate Factory by Roald Dahl. We loved the book so much we turned the story into real life and went to the chocolate room. It was an amazing time getting to try all the delicious sweets and chocolate so much so we created some beautiful writing from it.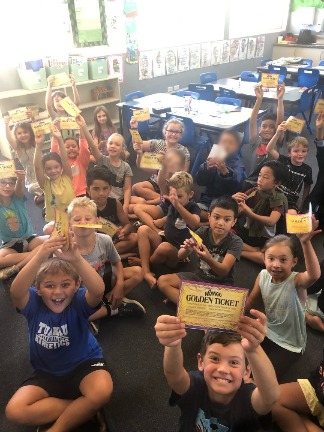 CHOCOLATE ROOM WRITING
We have been learning to use our senses to add detail to our writing.
Read below to see some completed pieces;
As I slowly clambered through the very tiny door my breath was taken away. My heart was beating like a million rocks were falling off a cliff. I could see the dangling lollipop vines tangled in each other. There was an extremely tall elevator in the far corner of the room with a smooth and silky dog barking from inside the glass elevator. As I ran down the stairs I slowly picked up a buttercup and slurped the lemonade out from the hollow inside. I felt my taste buds burst with delight like they were boogieing at a party. The melting chocolate was slowly making its way down my throat and into my tummy. I could taste the sourness of the gummy worms shooting at my tongue like a confetti cannon had been let off. After scoffing all of the delicious goods a sugar rush came over me and I started running all over the chocolate room. Scampering over the rainbow nerds I felt them crawl through my toes like sand. I ended up at the glass elevator where I made my way up to a new level of the room. During my journey up the elevator I could see candy floss cloud that I so desperately wanted to open the door for, so I could stuff my face with all the candy floss. My heart was broken when my time in the room had come to an end, walking back up those stairs I was devastated to be leaving but I knew the time I had in their was a memory that was going to last forever.
By Kate.
Term 2 week 3 narrative writing
This term we have a focus on creating narratives for writing. We had a go at creating a narrative based off this still image of Shaun Tans 'the lost thing'