STEM Challenge
17.05.19
Today's STEM Challenge was to experiment and design a catapult that creates the longest distance and highest flight.
We did really well!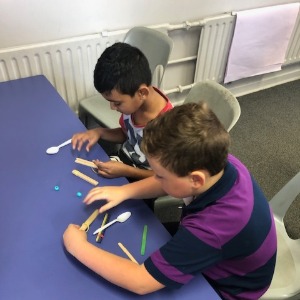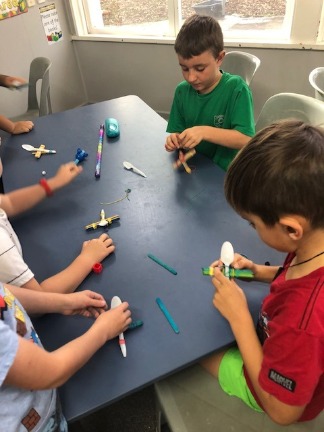 Geometry
17.05.19
We are learning to sort, compare and classify 2D and 3D objects such as triangle, square, oblong, circle, oval, pentagon, hexagon, diamond, box, cylinder, and spheres. We are also learning to describe shape attributes in our own language. Today for maths we used the art works of Paul Klee as inspiration for our geometry pictures.
The art is based on the book The Cat and the Bird by Geraldine Elschner and Peggy Nille.
Library Day!
06.05.19
We got to go to the library this afternoon. Well, okay the giant shipping container outside our classroom! We had a fabulous time reading in the sunshine with our friends.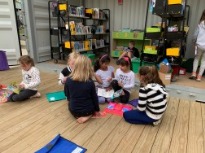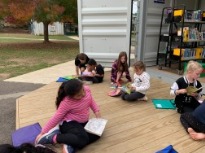 Handwriting
06.05.19
This week we have been learning to develop uniformity of letter size and shape for the letter 'Tt'. We began our week with a complicated colouring page that had lots of things starting with the letter 't'. How many can you find? Click on the link to see more of the fabulous colouring in efforts from Room 5.
Shapes
03.05.19
Today for maths we took inspiration from several cubist artists then participate in a variety of art based activities to develop their knowledge of 2-dimensional shapes. Room 5 were encouraged to use their own language to describe their works and the shapes they have used.
Today we were learning to:
Name 2-dimensional shapes: triangle, square, oblong (non-square rectangle), circle, oval, pentagon, hexagon and diamond.
Describe shape attributes in their own language.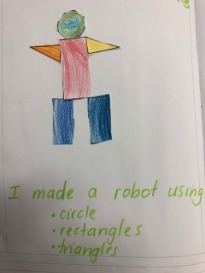 First Day Back!
29.04.19
We jumped right on in to learning about being able to inference when we are reading.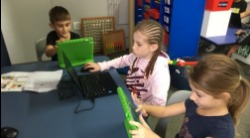 Room 5- Blast oFF and Reach for the stars!!
Kia Ora, I am Miss Fraundorfer or as the children call me - Miss F! I am excited to get to know the children and Whanau's of Room 5, 2019! We use the theme - Blast Off and Reach for the Stars! to base our learning to learn on.
Hi, I am Charlie Bob!
I love to work along side the astronauts of Room 5, and help them reach their Stars (Goals). Every Friday Miss F chooses the Star of the Week and I get to go home with them for the weekend. We go on adventures together and then the super star gets to share about our adventures on the following Monday!
Here I am pictured showing Manakitanga on the mat with my class mates.