Term 2, 2018 Highlights
Term 2 has been a busy busy term for Room 7. We have packed a lot of learning into our 10 weeks. Here are some of our highlights:
Electives
We all got to choose an activity that we wanted to do. We had lots of choice e.g. dancing, art, Kapa Haka, textiles, card making and crafts. We all learnt lots of new skills and look forward to doing Electives again.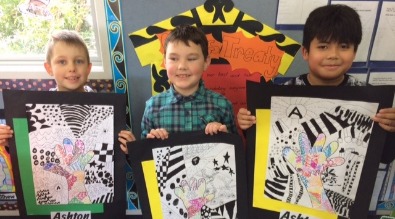 Sign Language with Harley!
Harley has been teaching Room 7 Sign Language. We've loved learning this language and teaching our families. We look forward to more lessons with Harley next term.

Year 3/4 Soccer Tournament
The year 3 and 4 Soccer Tournament in Pukekohe was a fantastic day where all students, no matter what their experience or skill level had a chance to have a go. They played fair and were excellent sports people. Our Mixed D team came in 3rd Overall. An awesome result for kids who have had very little experience in playing Soccer.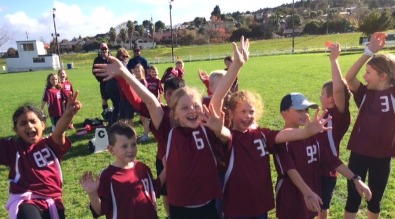 Starlab
We had a visit from Starlab. We learnt lots of cool things about space and our solar system. We also got to hold real meteorites.
Junior School Poetry Recital
We all learnt a poem and recited it to our class. These boys performed their poem in front of the Junior School and our parents. They did an awesome job speaking in front of an audience and did Room 7 very proud.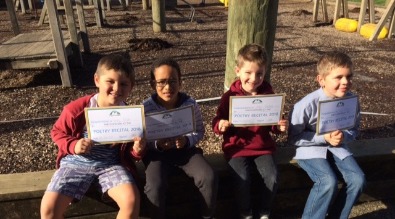 Gymnastics
We were lucky enough to get some gymnastics lessons from Franklin Gym Sports. We learnt how to use the bars, the beam, jumping safely onto mats and over boxes.

We have a Dr Seuss theme in our room this year, and we just love his inspiring quotes.
Two of our favourites:
Term one, 2018
We have had a fantastic start to 2018. It has been a busy term, Setting up Learning to Learn.

We have:
Set goals

Classroom Treaty

What learning looks, sounds and feels like to us

Learning about ourselves and each other

How we like to learn and how we best learn

Pepeha

Setting ourselves up for success for the year

Self portraits
Portraits inspired by Romero Britto
Term 1 highlights
Learning about the amazing artist Romero Britto

Doing fast words on Friday has improved our vocabulary

Assembly - getting certificates for awesome learning

Dr Seuss reading challenge had has all reading in a bath with no water

Listening to a Class reporter each day
Statistics was a part of our maths program which we enjoyed learning lots about each other and our families

Making lots of new friends

Getting Duffy books was very exciting

Birthday cakes

We loved creating found poems

Gymnastics

Whole school sport

Kapa Haka

Having Mrs Meacheam in our class, teaching us lots of interesting things

Whanau Evening
Dr Seuss week - crazy hair day, crazy hat day, moustache day, green eggs and ham day, mismatched socks day

Being able to swim in our school pool everyday

Completing the Writing Kit which involved writing metaphors about ourselves and sharing information about our community with a school in Christchurch
We finally finished
Metaphors
We look part in the School Writing Kit this term. We wrote metaphors about ourselves and wrote postcards.
Hurunui College
We swapped our Metaphors and poster with Hurunui College. They sent us an awesome poster about their school and community.
We're all different and we all fit together perfectly
Mismatched Sock Day